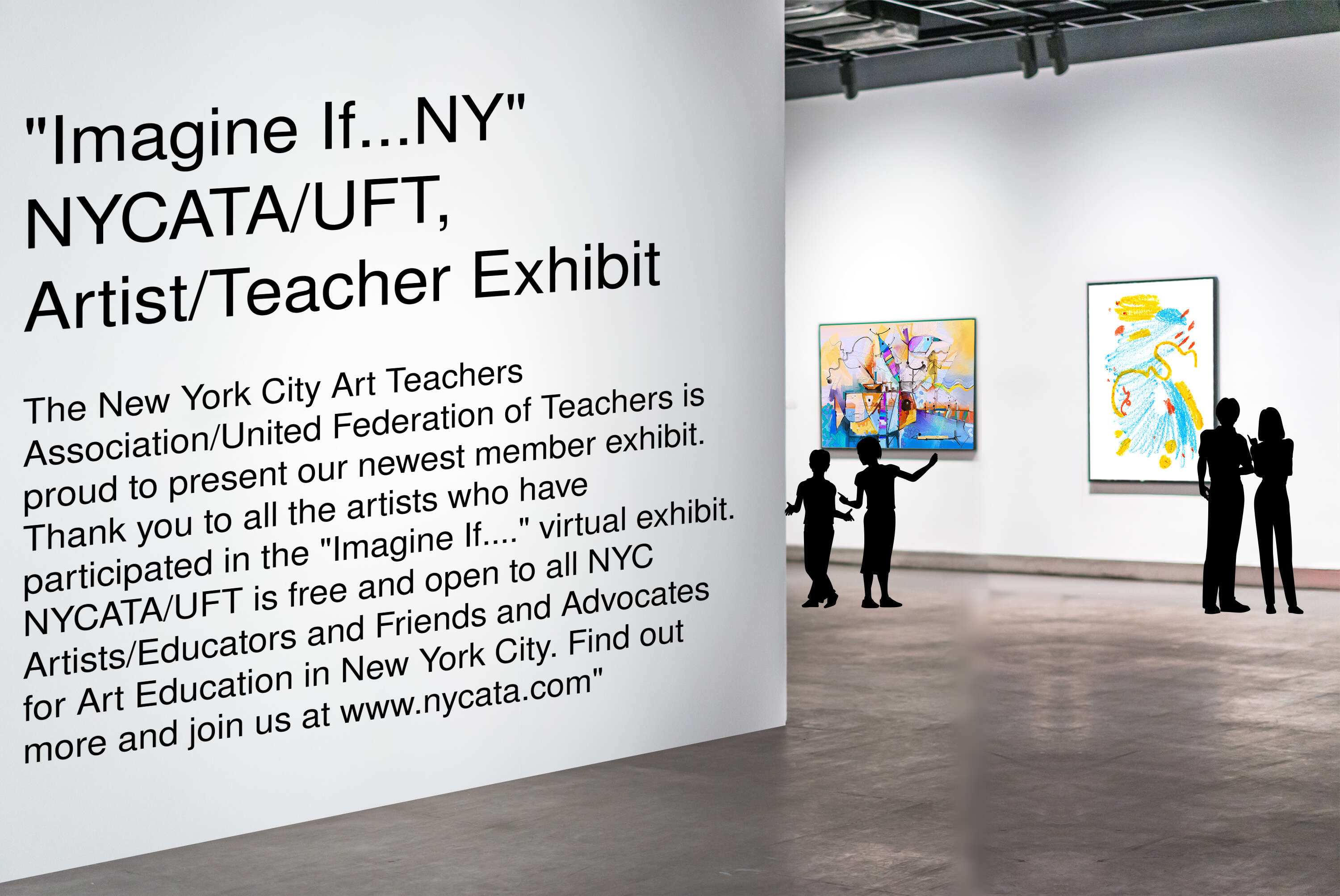 Alex Pajares, Coney Island Summer
I am a Social Studies and Art History teacher in Coney Island. Prior to becoming a teacher, I served with the Marines and worked at the Metropolitan Museum of Art.

Although familiar with various methods of artistic expression, I feel that photography is perhaps the most effective way for me to maintain a journal of my experiences. I have dedicated myself to photography for the last 15 years. I try to recreate the feeling of a postcard in my photos. At times, some of my photos have become postcards for friends and family. They are also great tools in class.


Coney Island Summer
Digital Photograph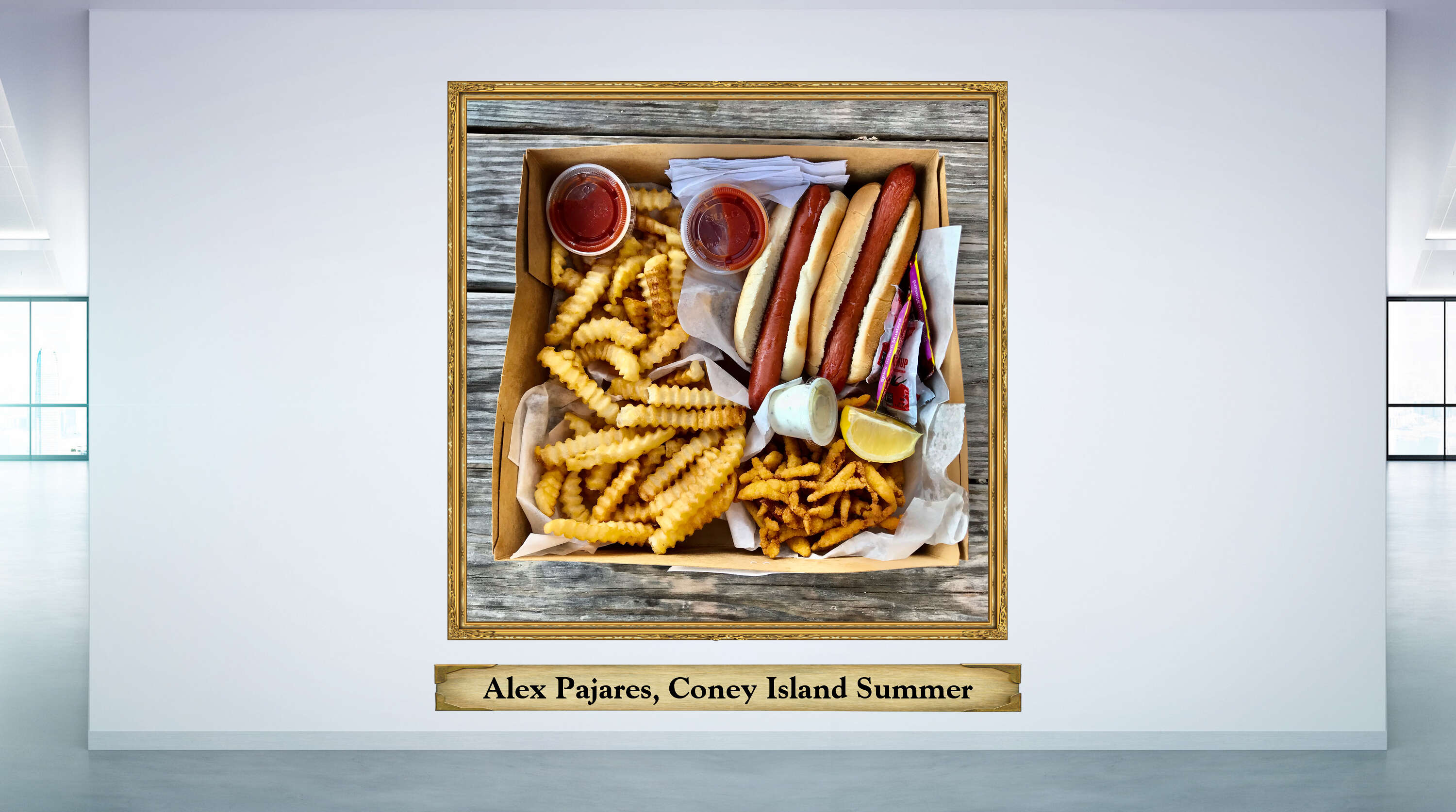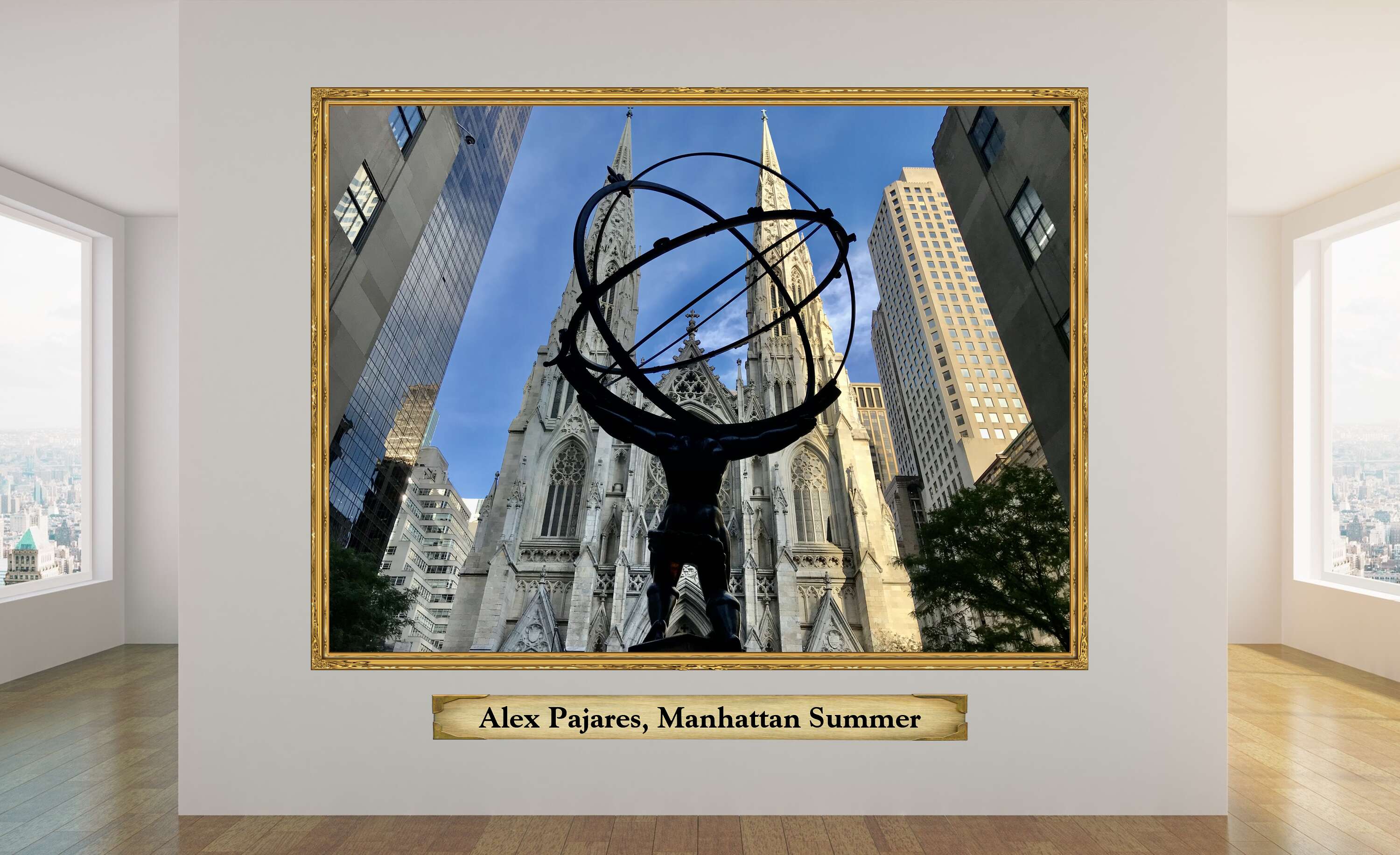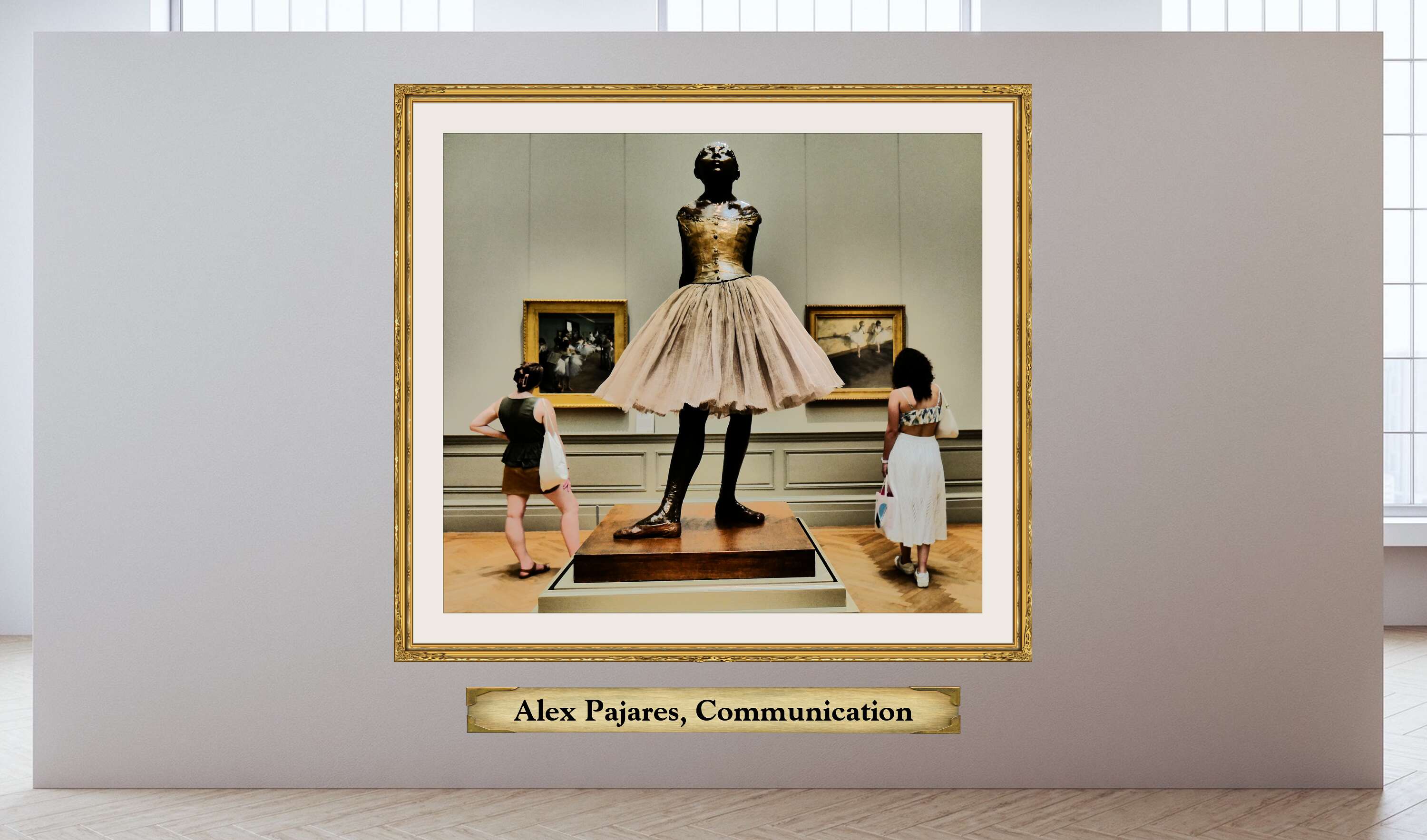 Alex Cruz, At Last
Several moments stay frozen in time where we wonder what's next. We often think back to what we imagined and what actually happened.

These frozen moments included a graduation reimagined 2 years after the first one on zoom.

Another moment where a child holds on tightly to a pride flag as their father supports them.
Frozen in time is a tree holding onto it's last bit of golden color in a world dark and full of dull tones. A bleak moment balanced against a blast of color.


At Last
11" x 14"
Digital Photography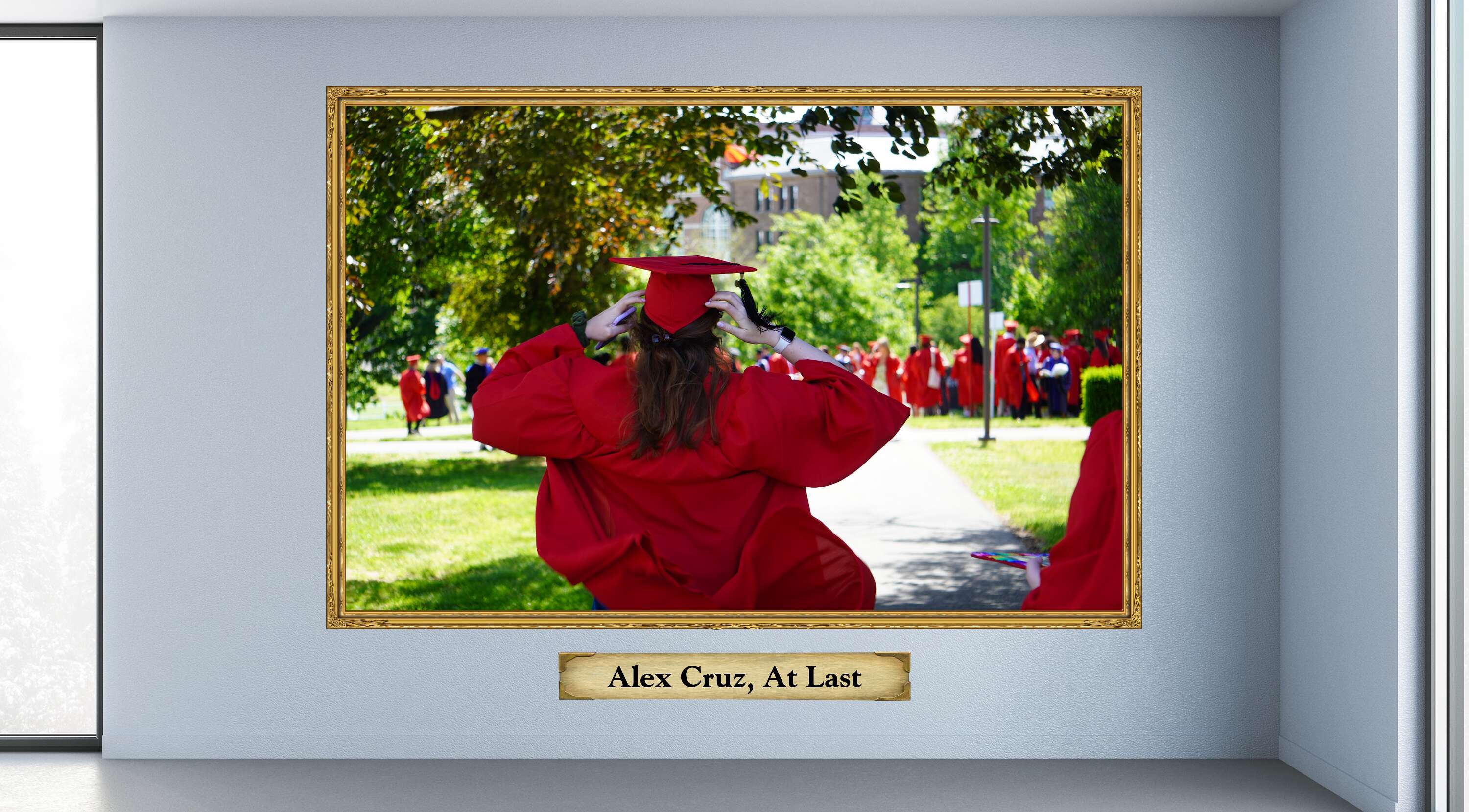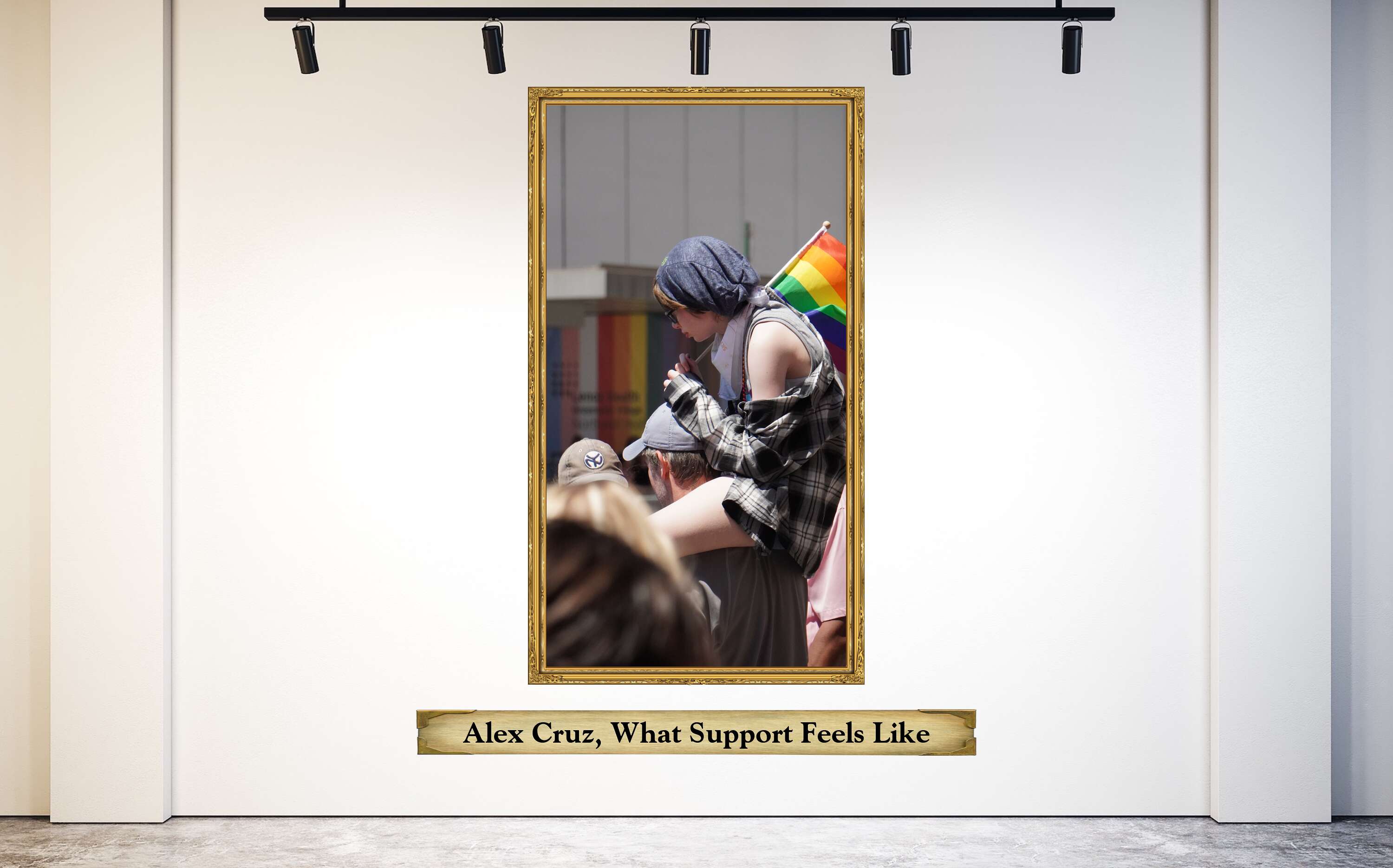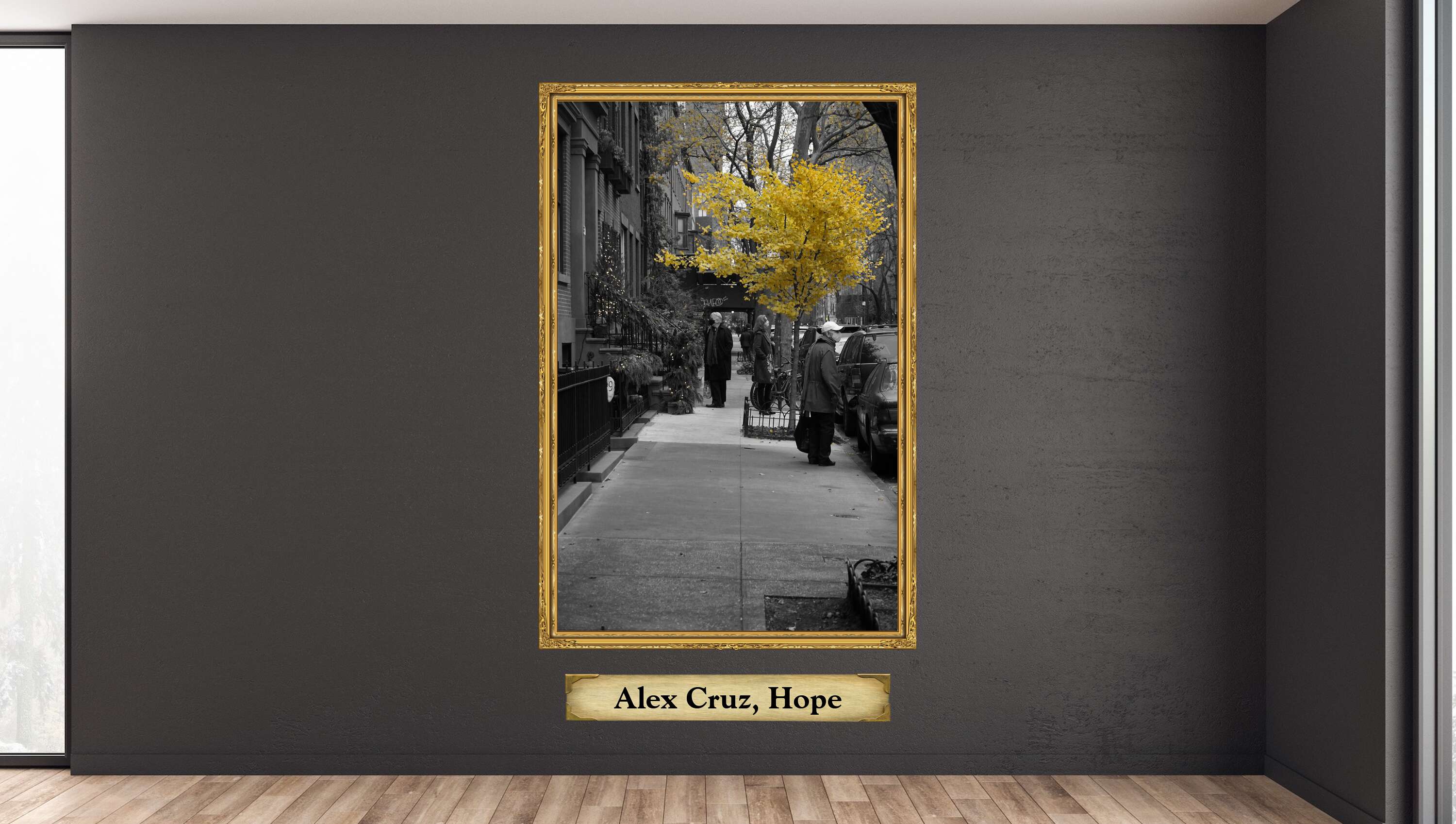 Billy Moro-Wey, Euphoria



The lady floating in the air is enjoying her early success in life,
and she is feeling euphorically happy. The whole world for her is
evolving in an exciting motion.



Euphoria
51 x 61 cm
Oil on Canvas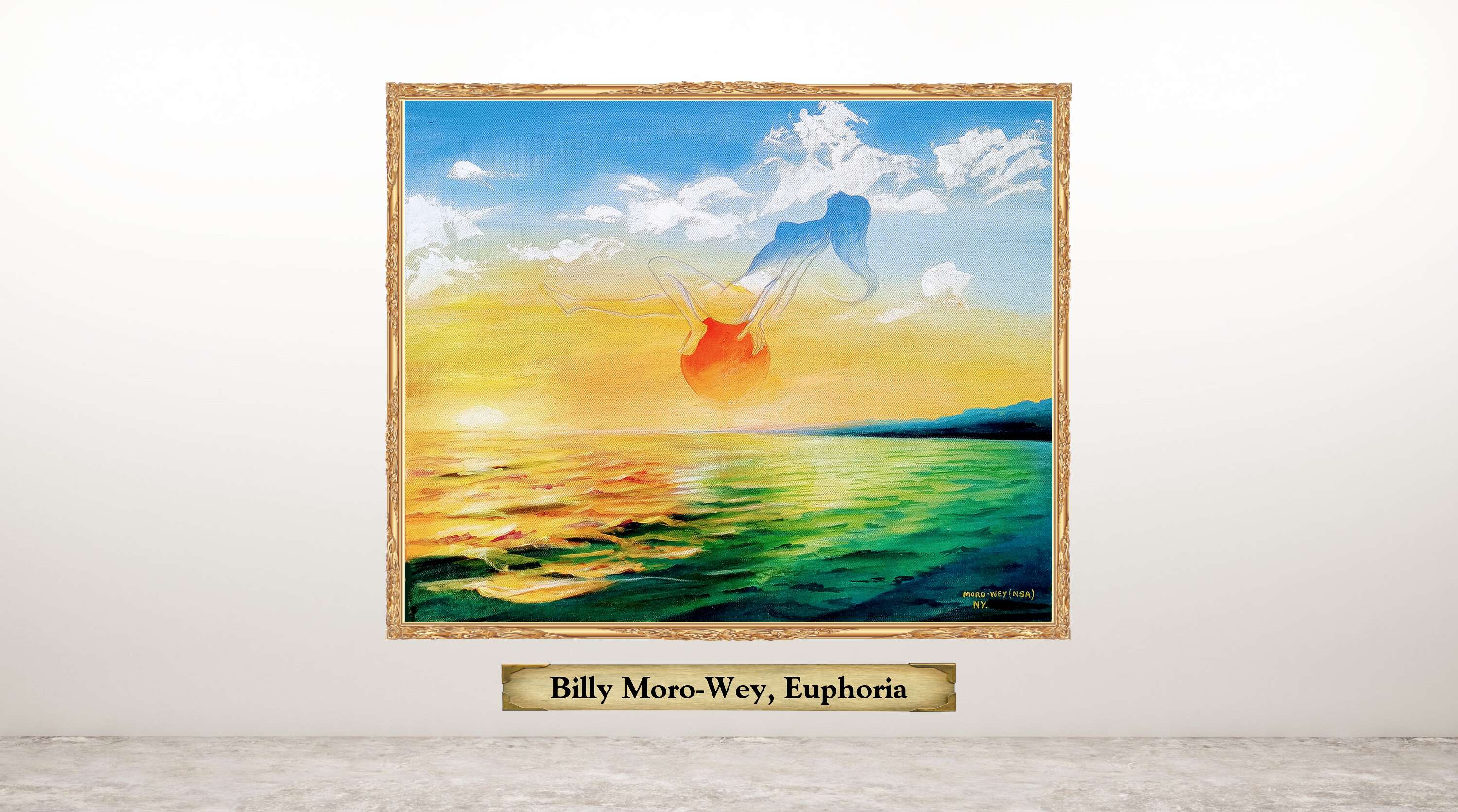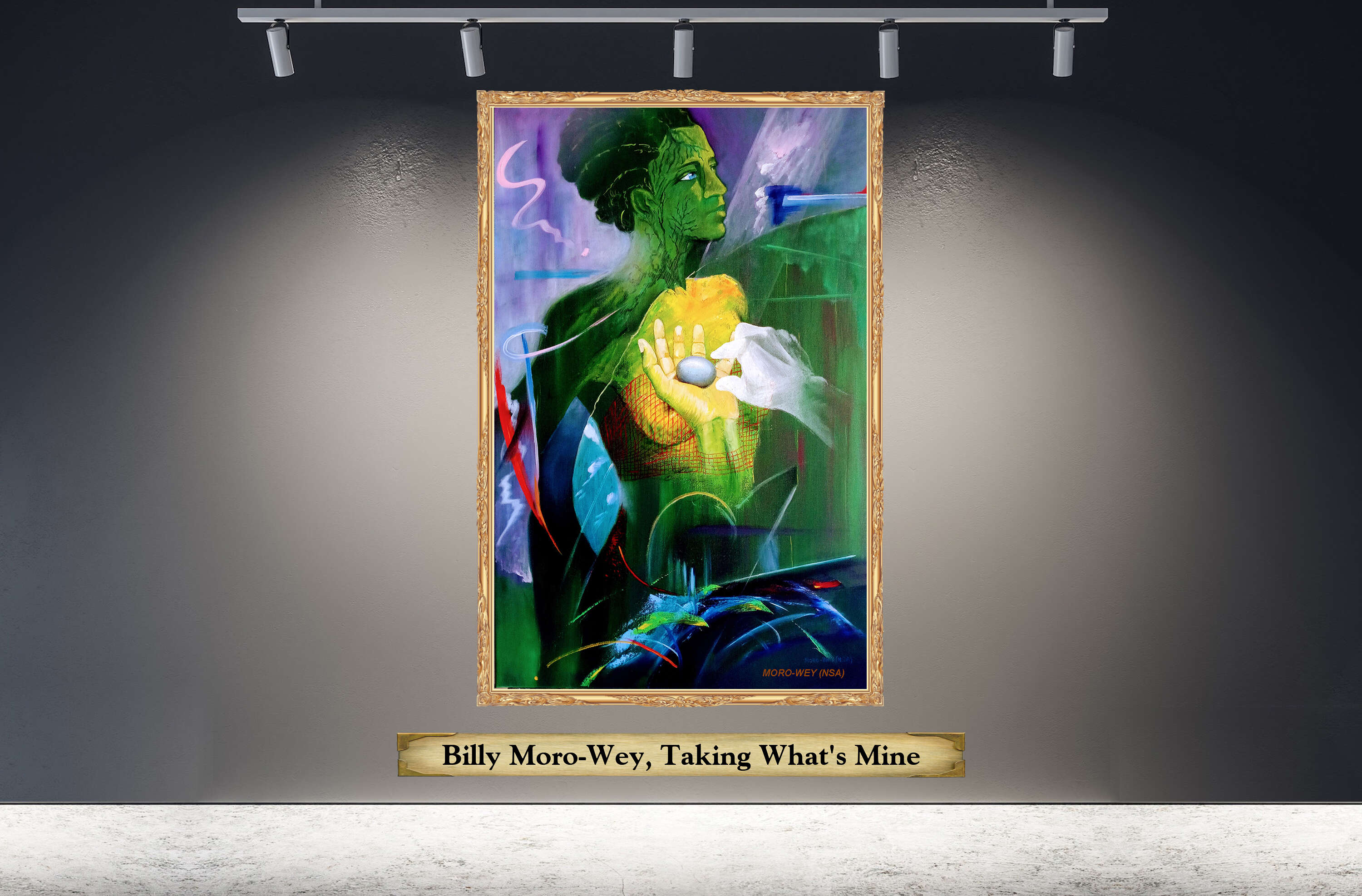 Billy Moro-Wey, Reflection


This is a moment of action captured and frozen showing the
reflection of vehicle washers on the body of a minivan. It's
another visual story about happenings in Queens, New York,
executed in soft pastel.


30 x 23 cm
Soft Pastels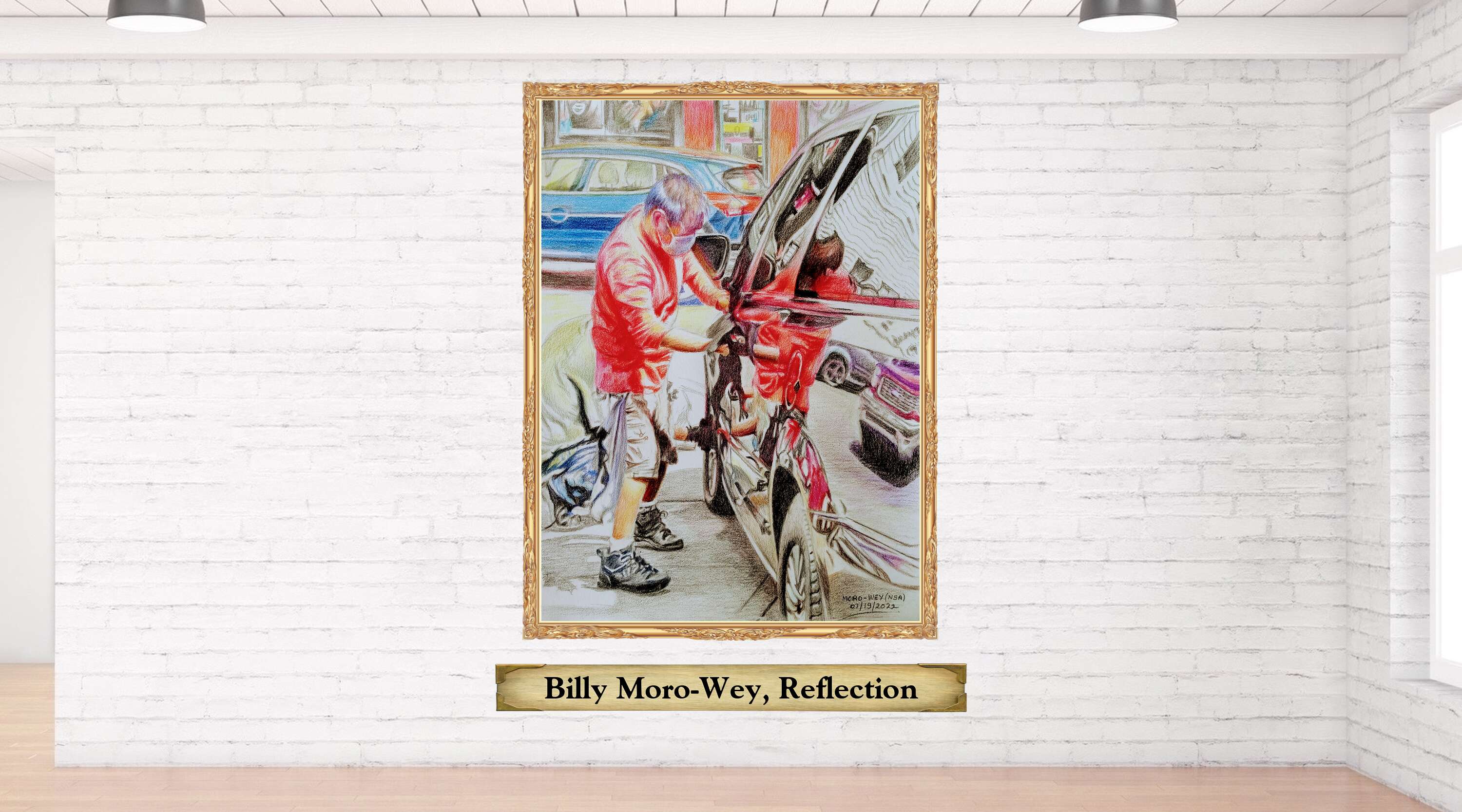 Amy Gilbert, Untitled
I create eco-friendly fiber sculptures by deconstructing garments that can't be donated due to damage and imperfections. These textiles are transformed and given a second life as abstract memorial portraits.

This piece is part of a series called "Matriarch" - floral sculptures representing influential woman in my life who have passed away. The textiles have qualities evoking each matriarch: their sense of style, color preferences and flower of their country of origin.

Matriarch 1 represents my friend and neighbor Berta. She was a metropolitan, elegant and enduring woman from Vienna, Austria which has the national flower Edelweiss. She died spring 2022 at age of 106.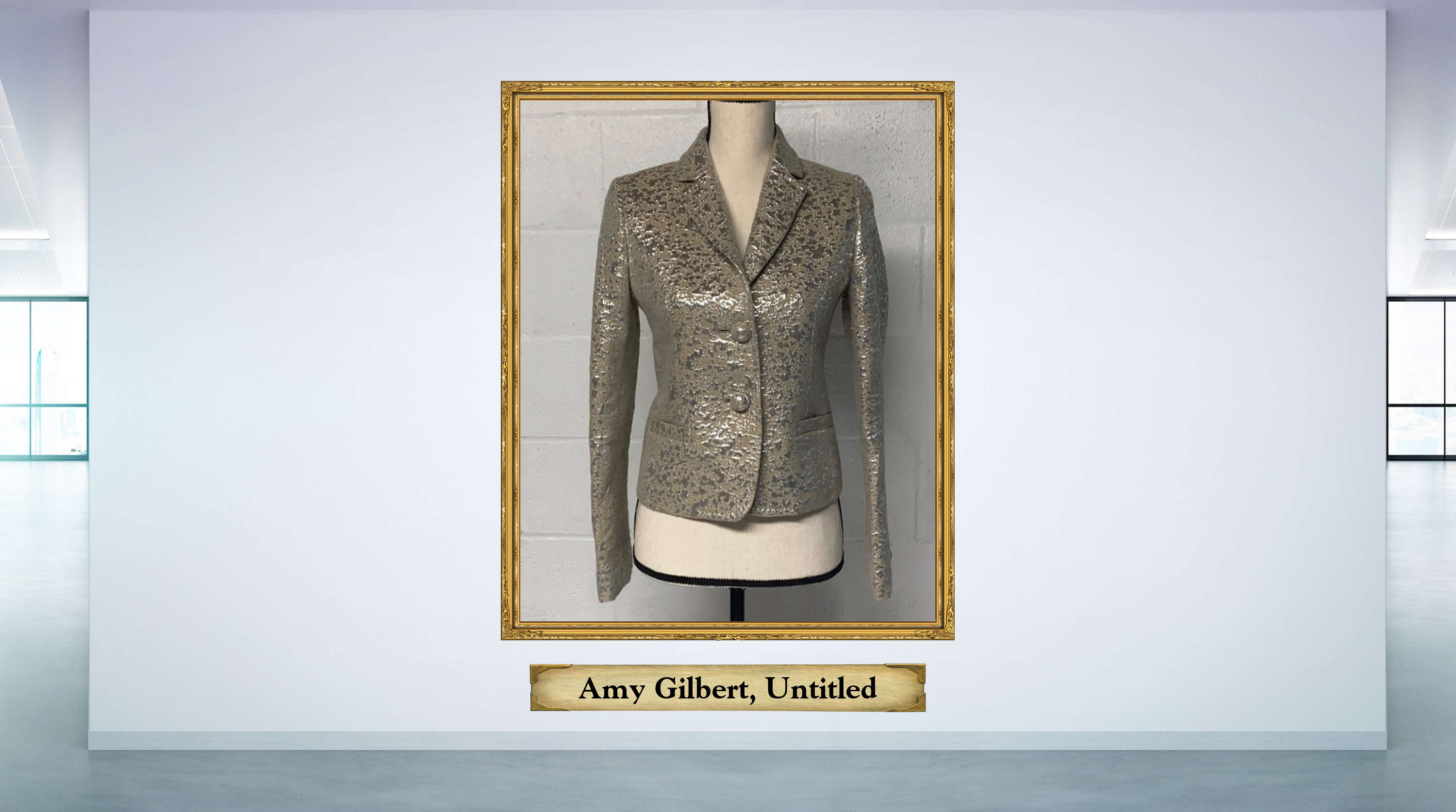 Amy Gilbert, Matriarch I: The Edelweiss Flower of Austria

Matriarch I: The Edelweiss Flower of Austria
36" x 36"
Textile (from deconstructed clothing) , beading, embroidery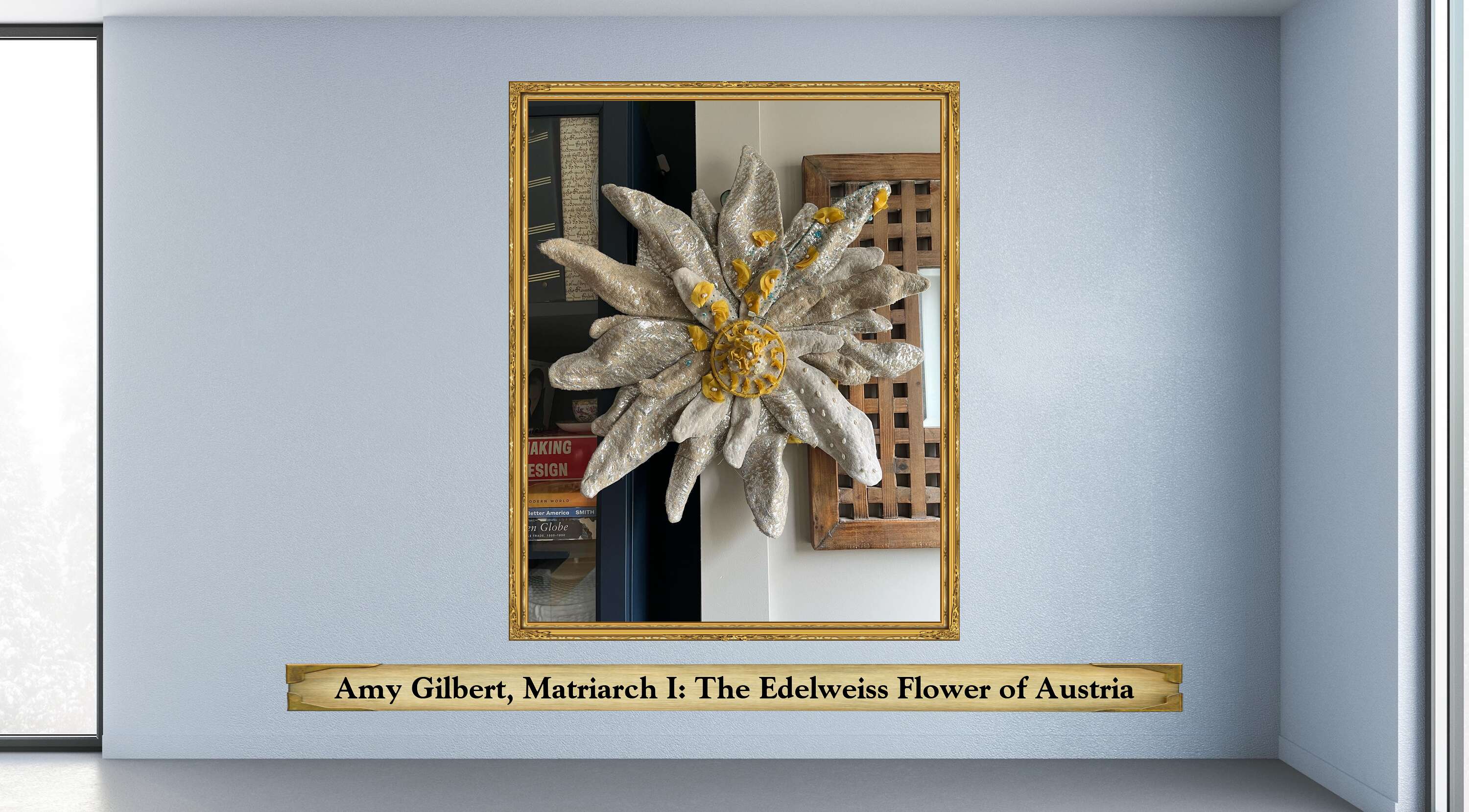 Erin-Marie Elman-Basti, Wash

My current work is an attempt to create a visual language that represents the modalities of my consciousness. My work calls attention to the universal surroundings of our everyday world, which often the world fails to notice. These compositions are manifestations of the positive and negative energies and senses when they are created. Through these drawings, I want you to feel the value of the mundane scenery of everyday life, their artesian potential and ability to influence ones mood and mind. .
I believe that the viewer will relate to each and every shape and form throughout these compositions. No reference, no erasing,
each line is a part of the puzzle and the reason why the puzzle exists.


7" x 10"
Watercolor on Paper
www.Bensonhurstbrat.com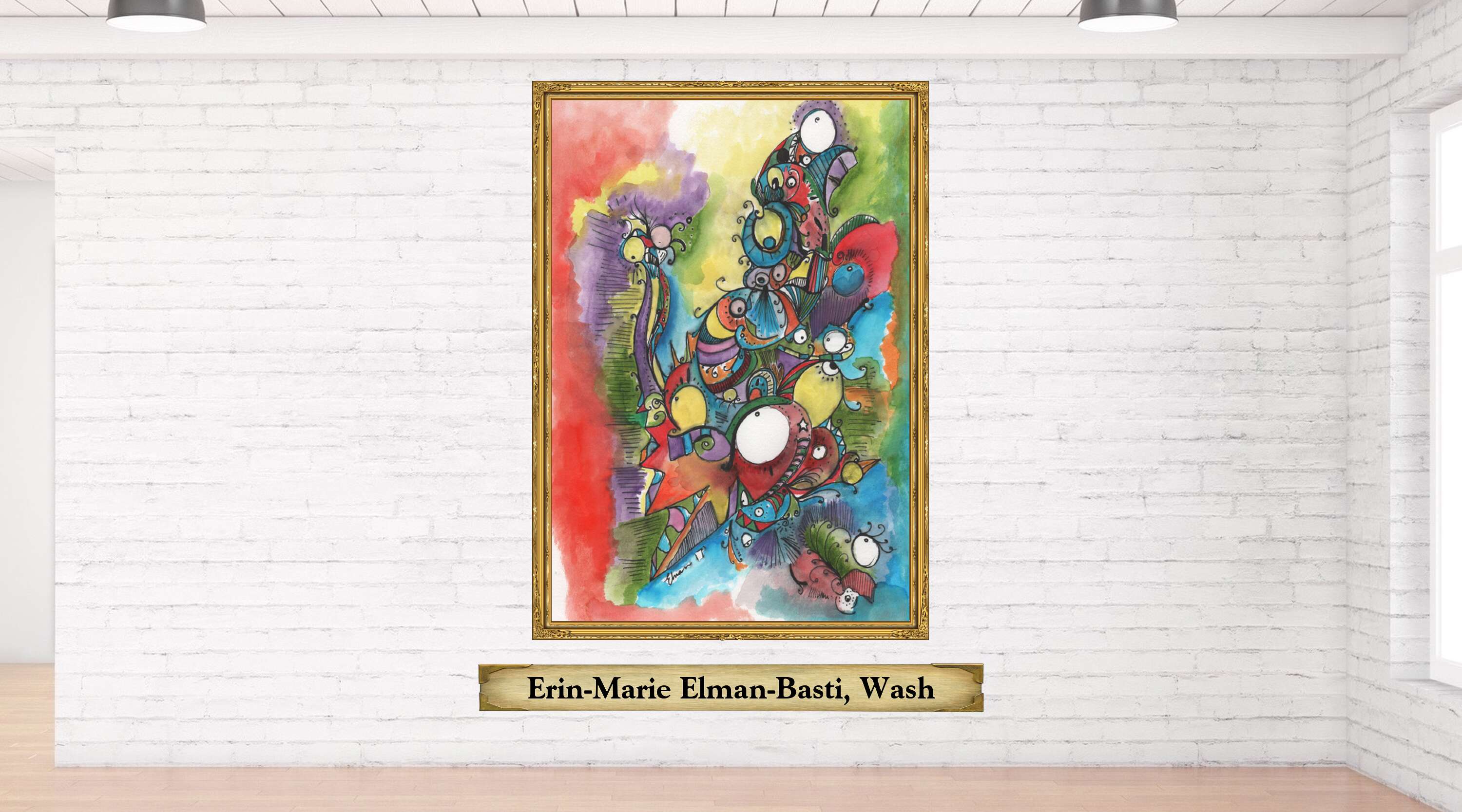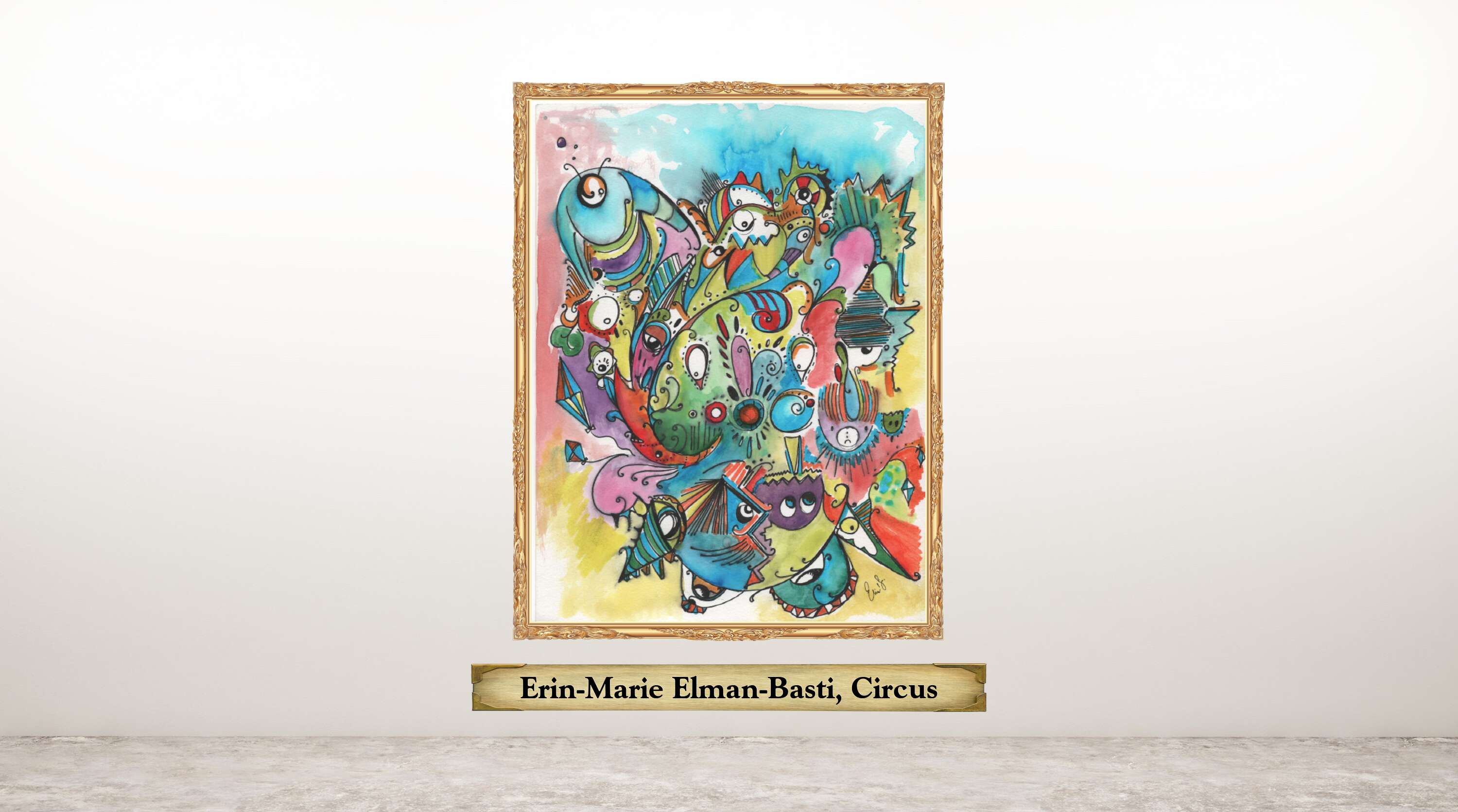 Ismael Aguilar, Blue and White Flycatcher

Life is good when you do what you love.
As an Artist, I work hard to create and develop drawings, paintings, and artworks that speak to me and to others.  Drawing takes me to another world that allows me to share my ideas, thoughts, and emotion. Lately birds have been a challenge, a wonder and have allowed me to be a better observer in my own art practice. I draw in graphite but also use other materials such as charcoal, paint (oil & acrylic), pastel (dry & oil), ink, and watercolor. I have also used clay, printmaking, and sculpture.
Truly enjoy creating mixed media artworks. I look for inspiration by looking deeply and being in the zone of creating something different and new. While at the same time borrowing and appropriating images to create
new narratives.


11" x 14"
Mixed Media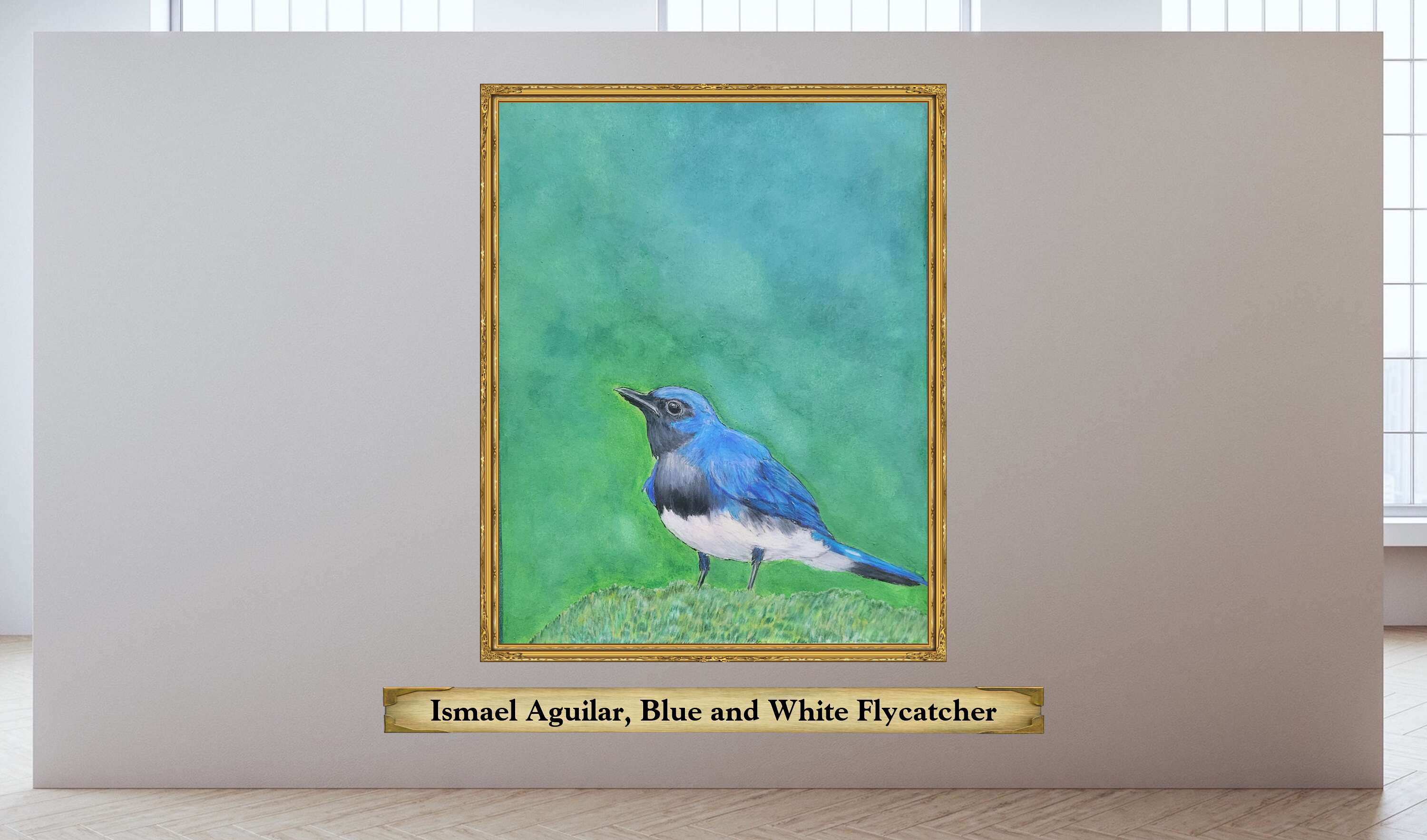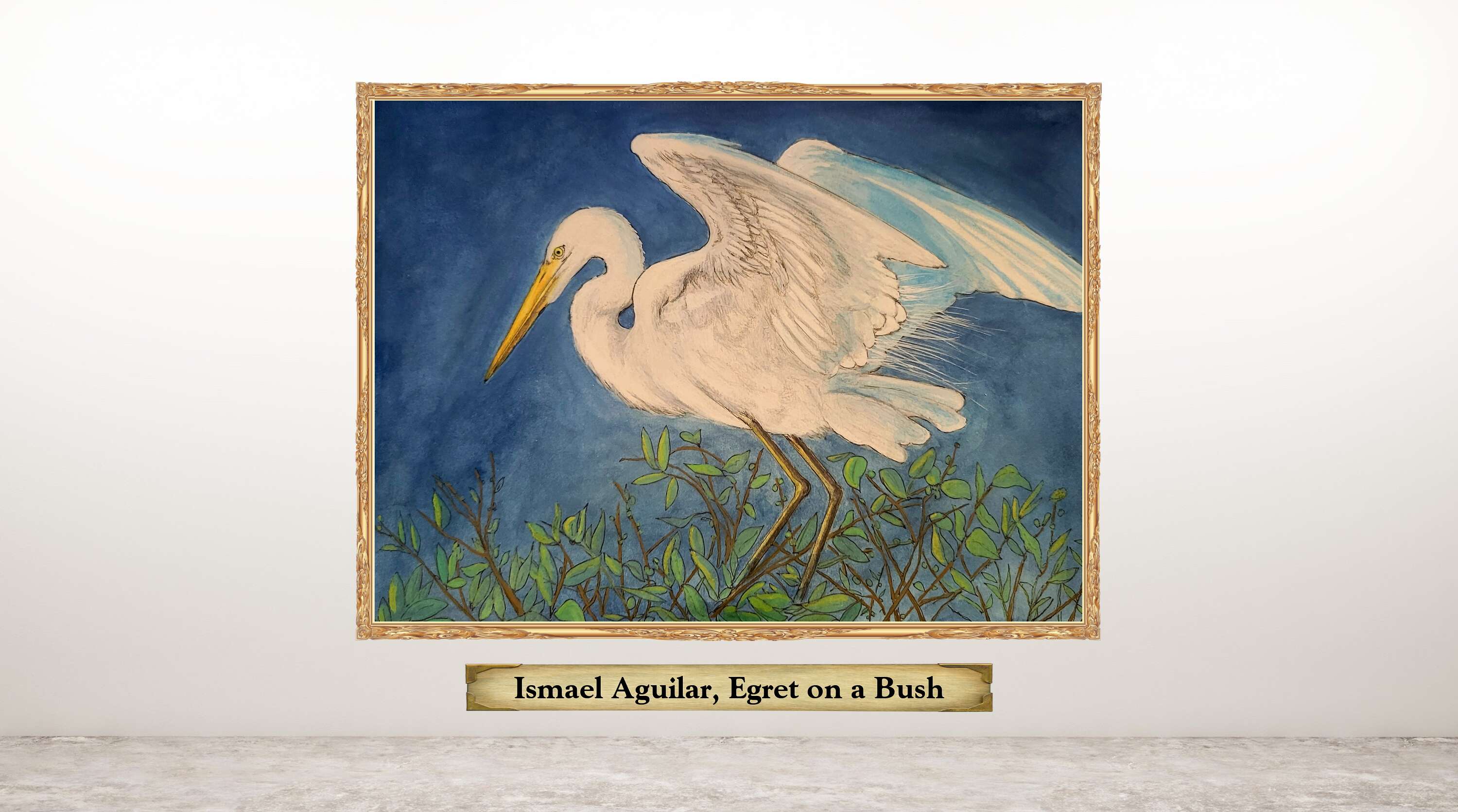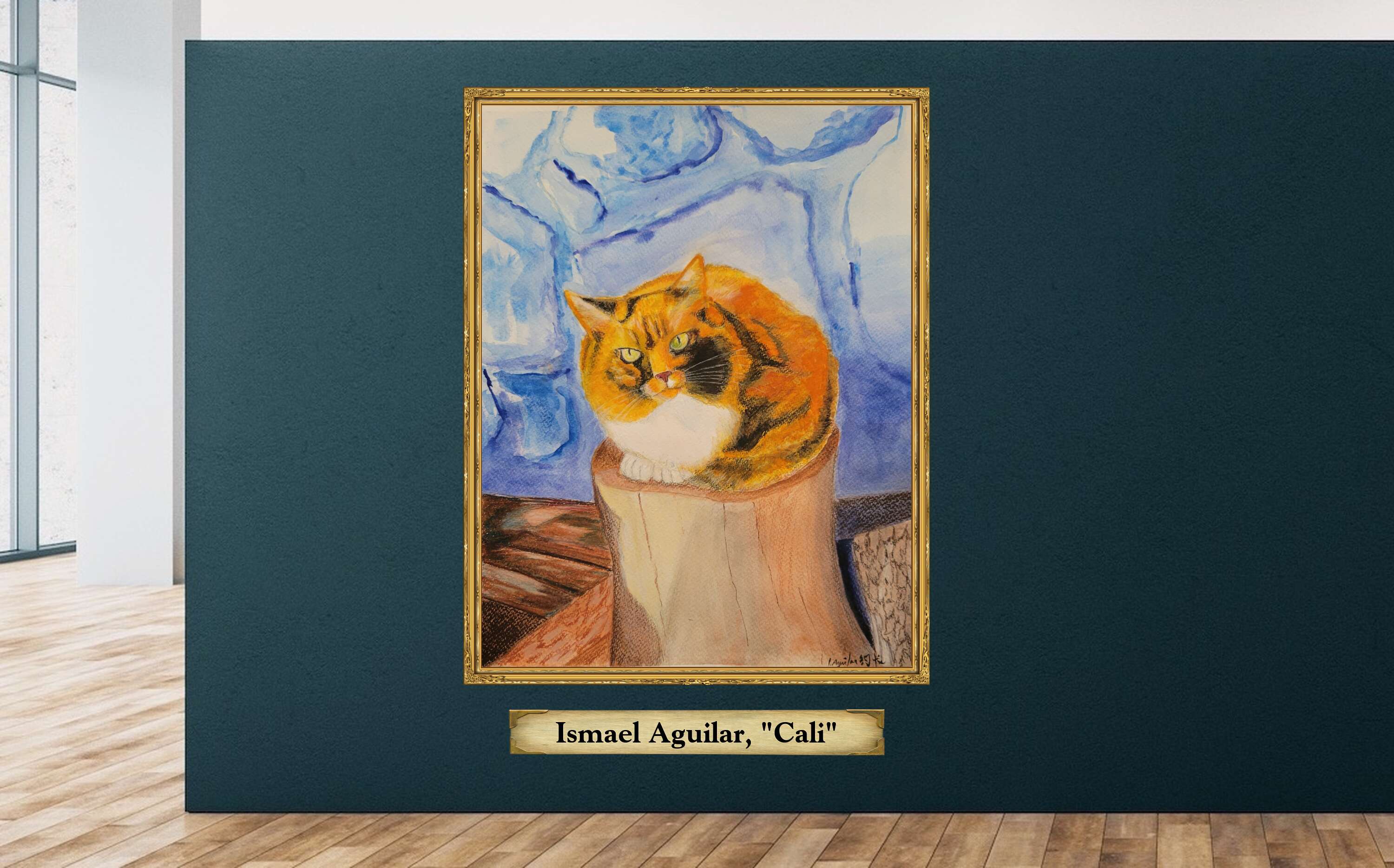 Jackie Cruz, Growing in Harmony
In the photo Growing in Harmony, I captured an image of how three different trees can grow well side by side. I imagined how we as humans should find a way to be different, but still live in harmony.



11" x 14"
Photography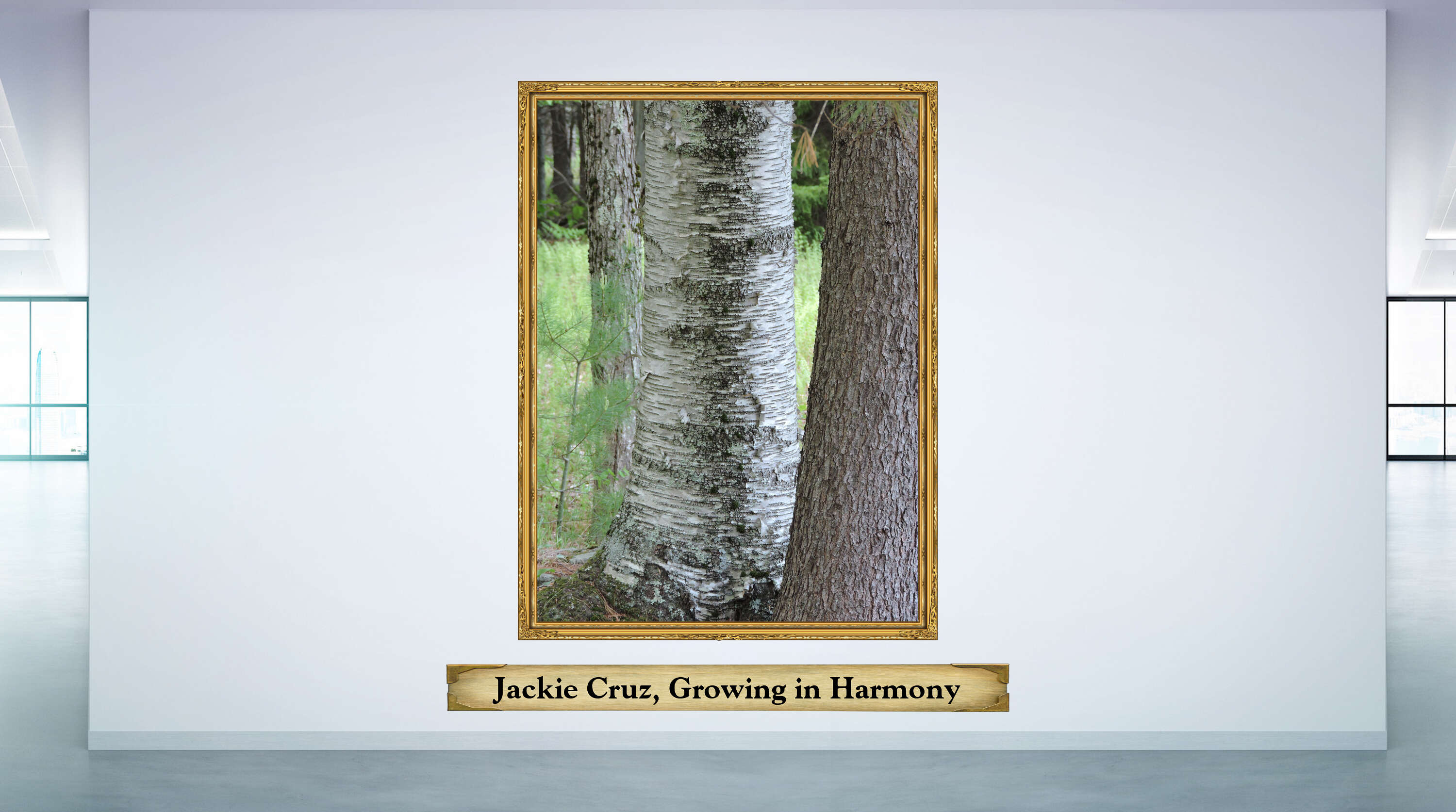 Jackie Cruz, Pride Flag Fly!


I noticed the colorful flag flapping gracefully in the sunlight above Red Hook. I realized that after many years of being in the shadows, people can now finally come out and live their truth, but then I remembered that some are still fighting hatred and violence.



11" x 14"
Photography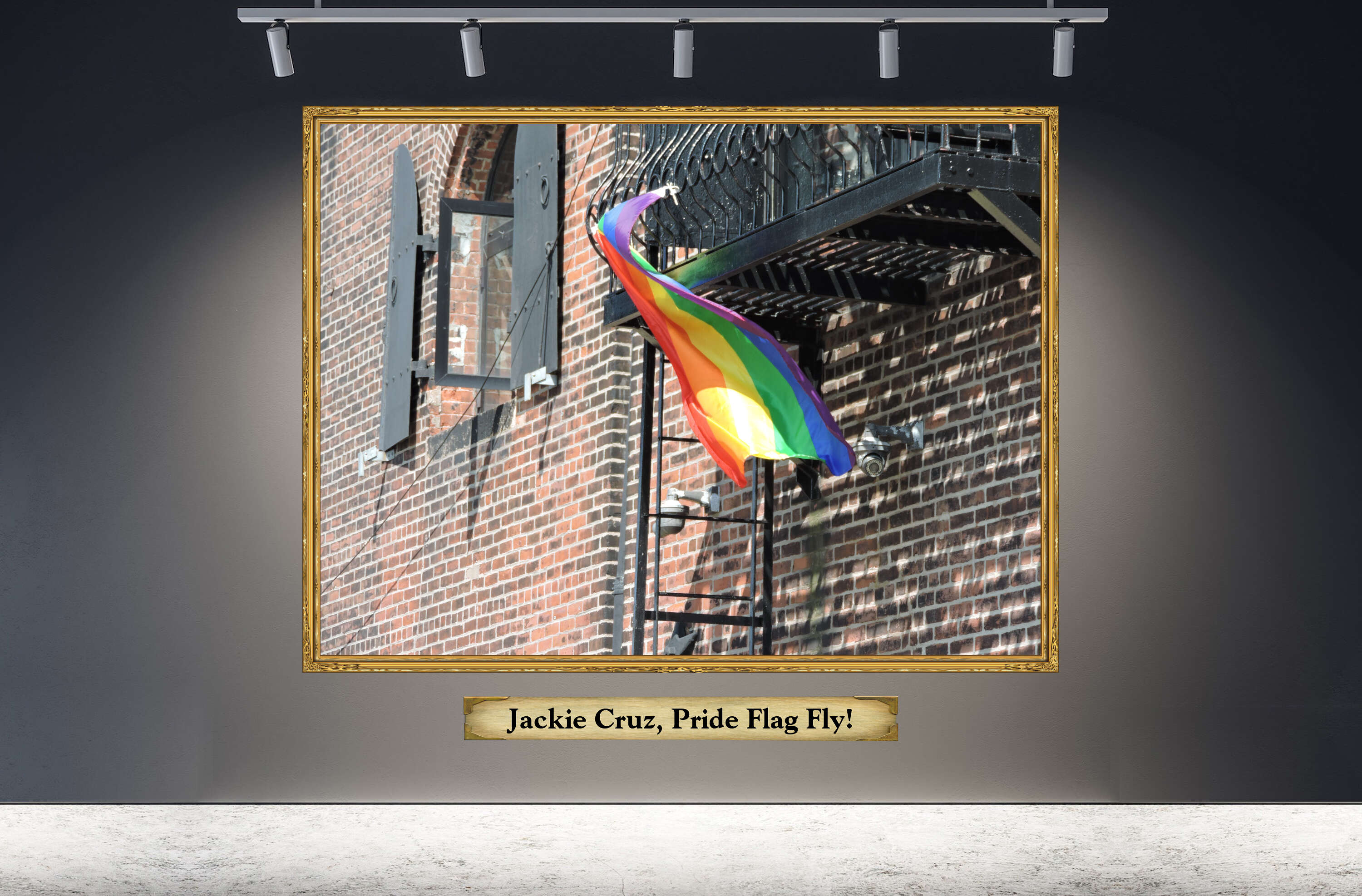 Jackie Cruz, Tree Creature

Tree Creature shows a weeping Elm in Prospect Park that has a magical quality. It seemed to take on an animated aspect. The branches look like creatures with mouths and eyes that moved in the breeze.




11" x 14"
Photography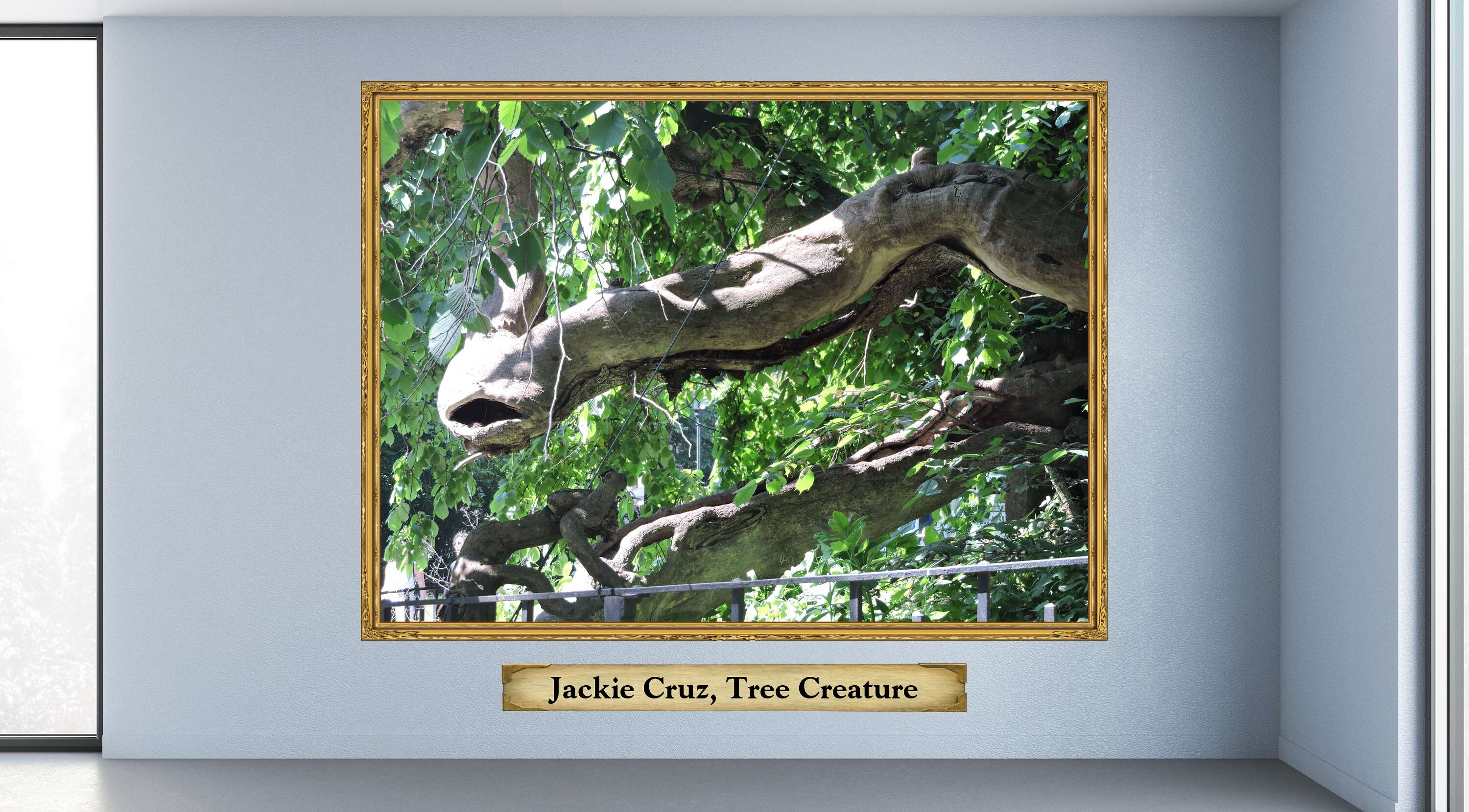 Jennifer Saftler, Untitled
Through the use of color and composition, I use the figure as a vehicle to create a specific mood or emotion in my work. Each figure exists in its own private world, introspective and searching helplessly for something that exists deep within. The size of my work has always been a direct result of my physical creative space. Over the past 30+ years, proper studio spaces have inspired me to work large, and a lack of space in small East Village apartments inspire my tiny paintings, whether on miniature canvases or matchboxes.


9" x 12"
Oils on board, balsa wood, plastic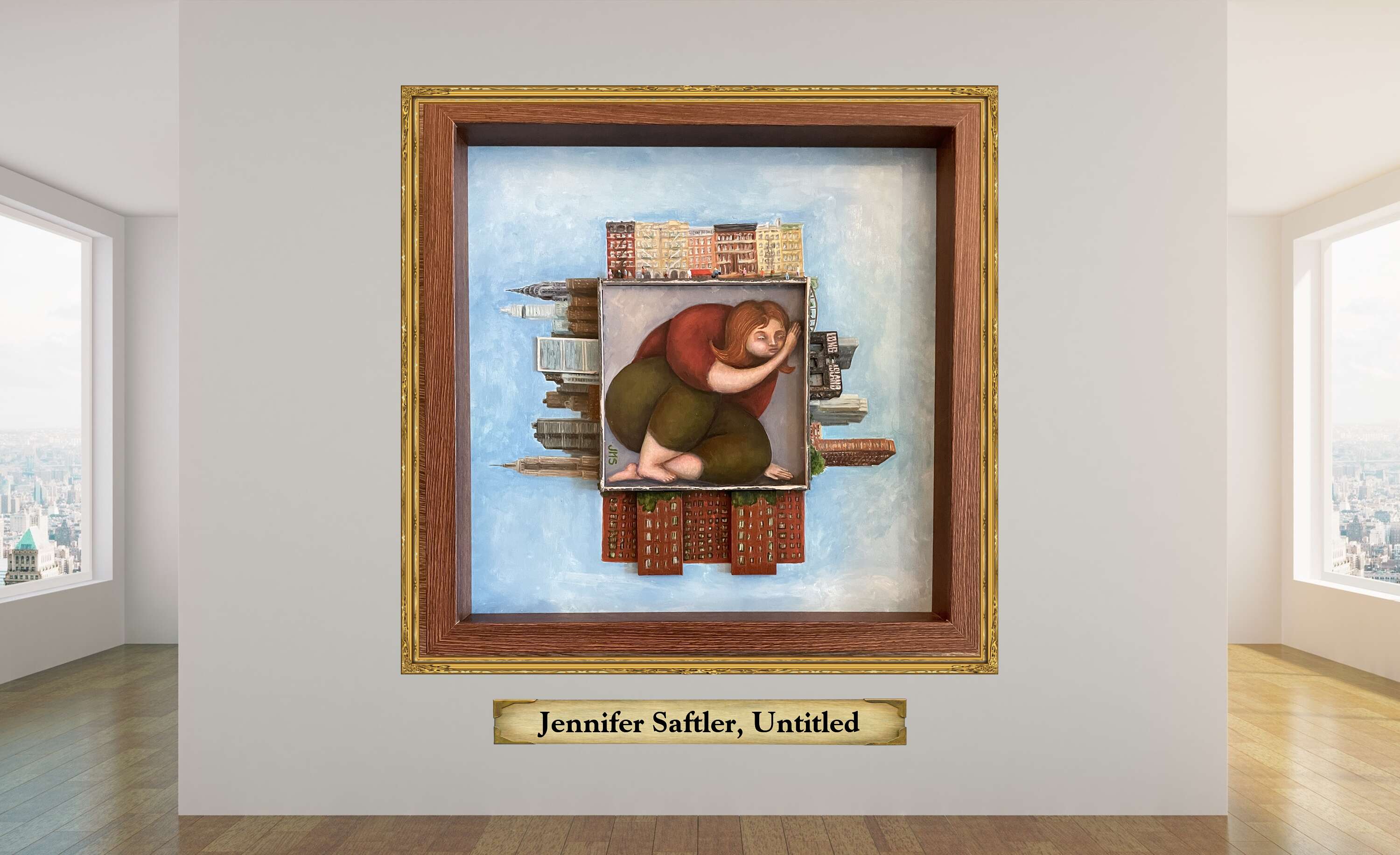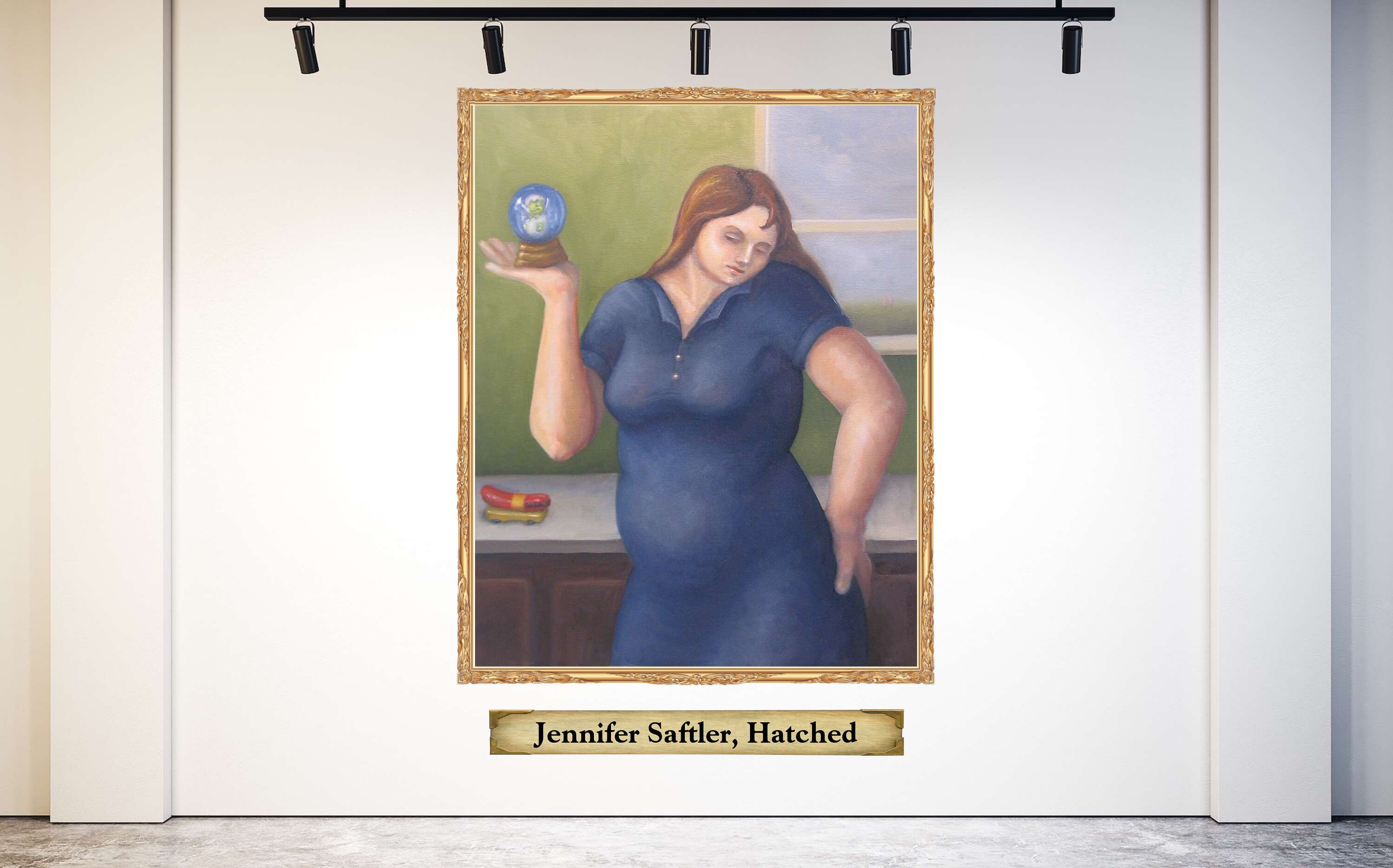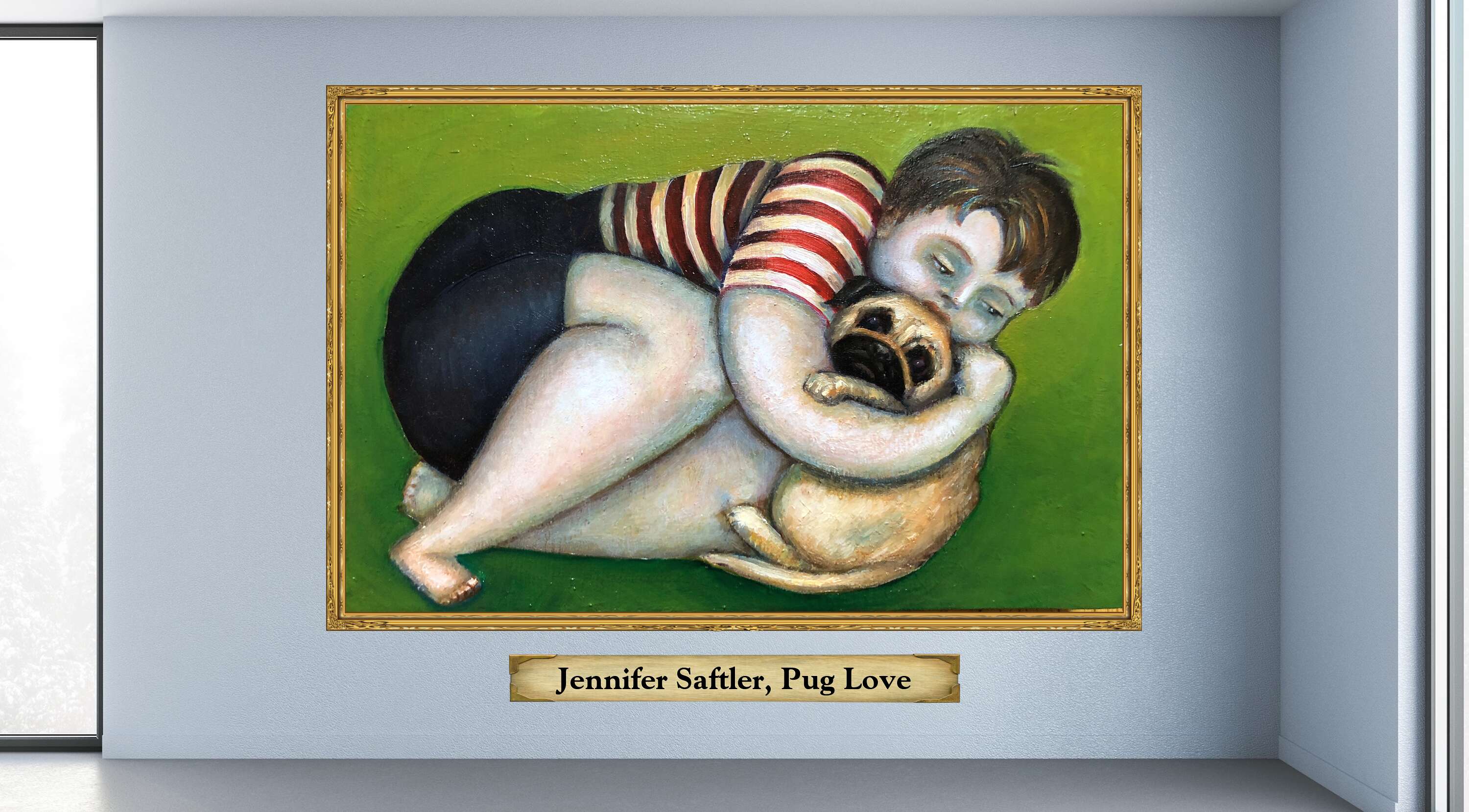 Joan L. Davidson, A Cosmic Journey


Imagine if a cosmic journey,
can be taken with a bicycle.
Riding through a green flowering earth,
rhythmic waves, a sky of blues and fluffy clouds, a sun-filled day and a moonlit starry night.


36"x36"
Oil on Canvas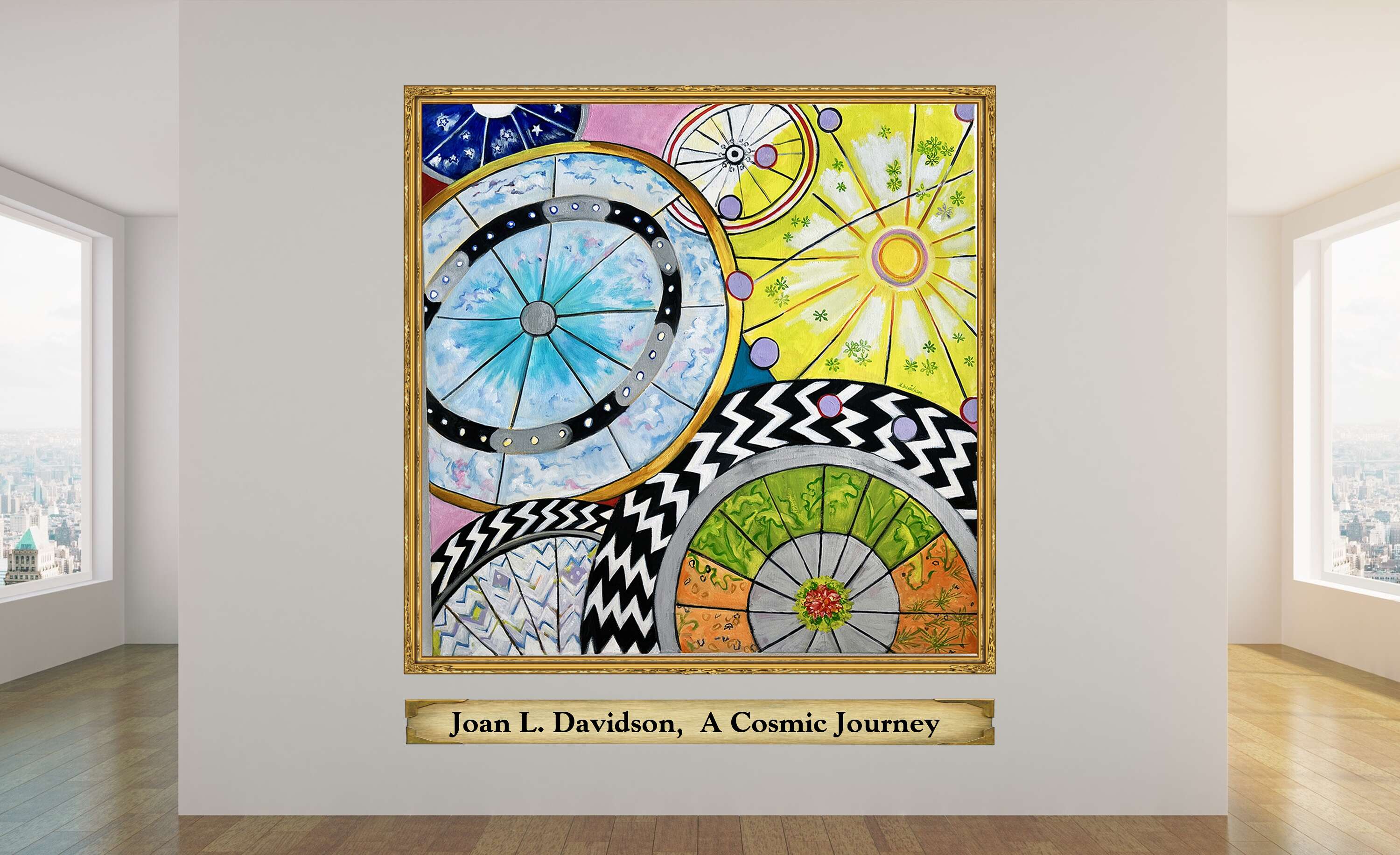 Joan L. Davidson Choose Life not Guns
The children, who had dreams of what could be contributed so much love and hope to their families and friends.
The teachers so compassionate and dedicated will join their students
all as ever sparkling stars.

11" x 8 1/2"
Digital (Procreate, Photoshop & InDesign)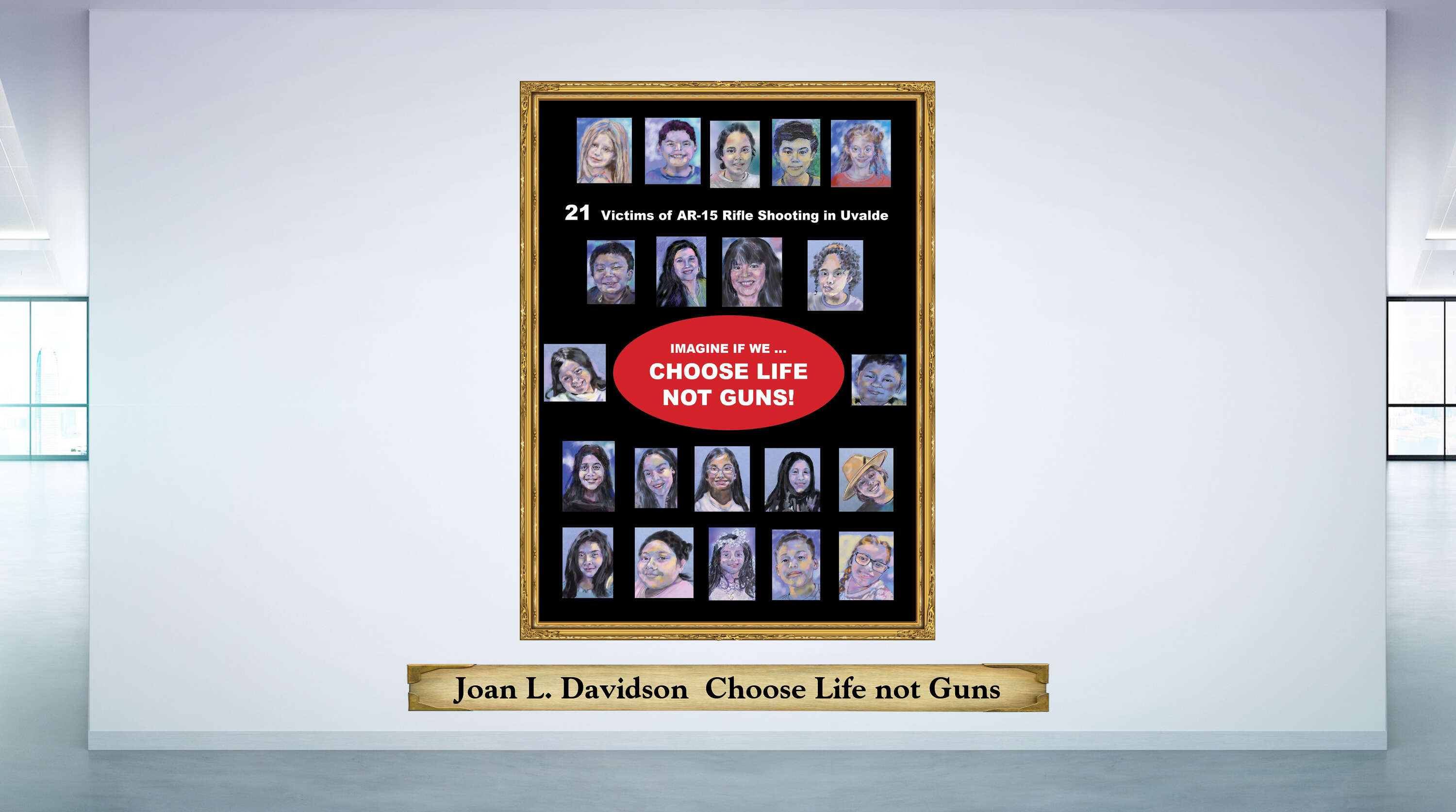 Joan L. Davidson, 21 victims of the AR-15 Shooting
21 victims of the AR-15 shooting, such a horrendous event compelled me to not only draw these beautiful spirits
but to record to remember a little about their life.



21 AR-15 Rifle Victims
11" x 8 1/2"
Digital (Procreate, Photoshop & InDesign)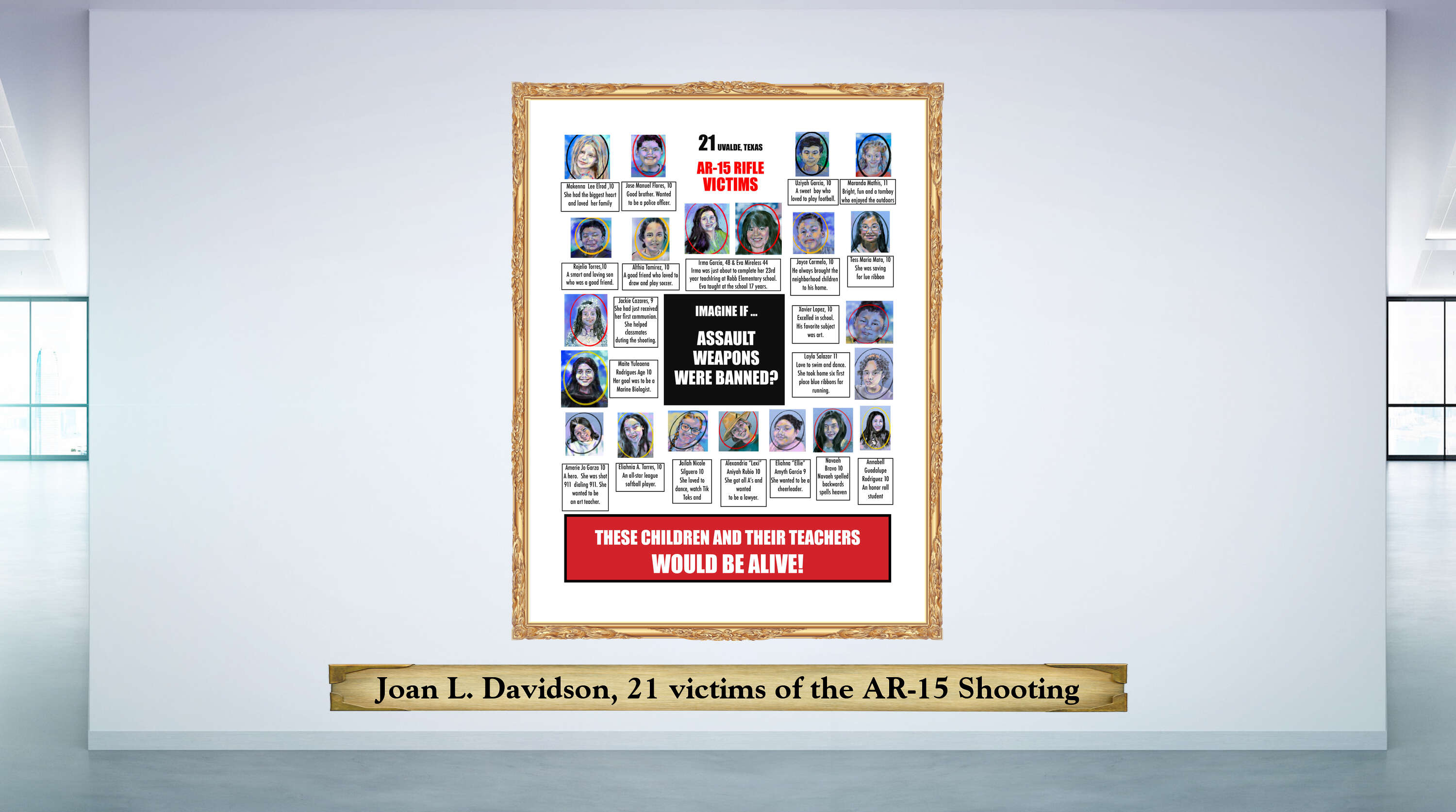 Laura Nash, Plants Rebound-Dyptich


Imagine a place for the eyes and the mind to wander. Living in this city, I am always in search of what we need more of, at a physical level. Nature and non-linearity as an antidote to our built environment.
As we have less and less of that around us, we must use our work and imagination to envision and create the kind of environment we want to be surrounded by.
In the several hospital visits I did over these past few years, I felt that I could produce work that could help people heal.


Plants Rebound-Dyptich
24" x 60"
Oil Paint on Paper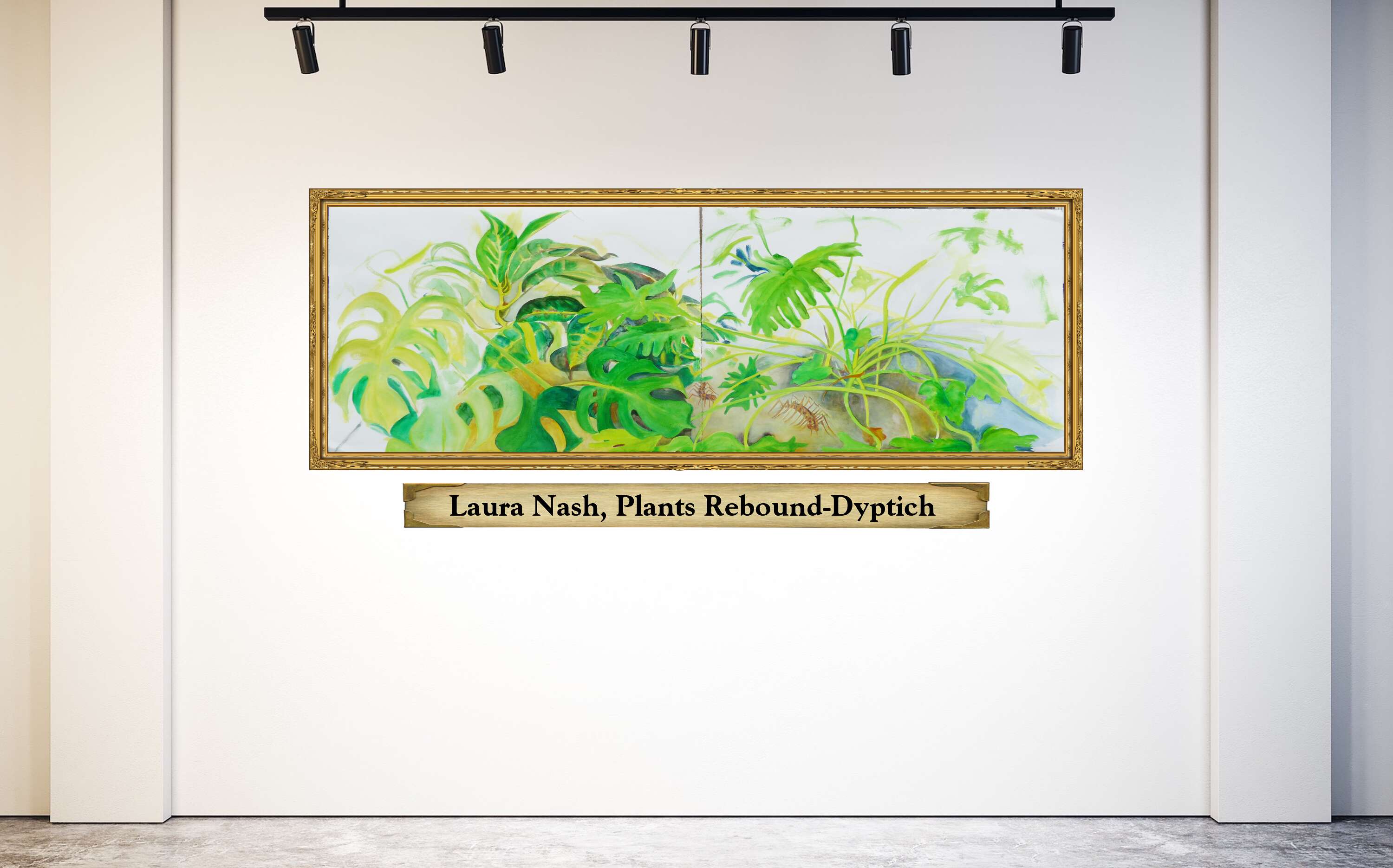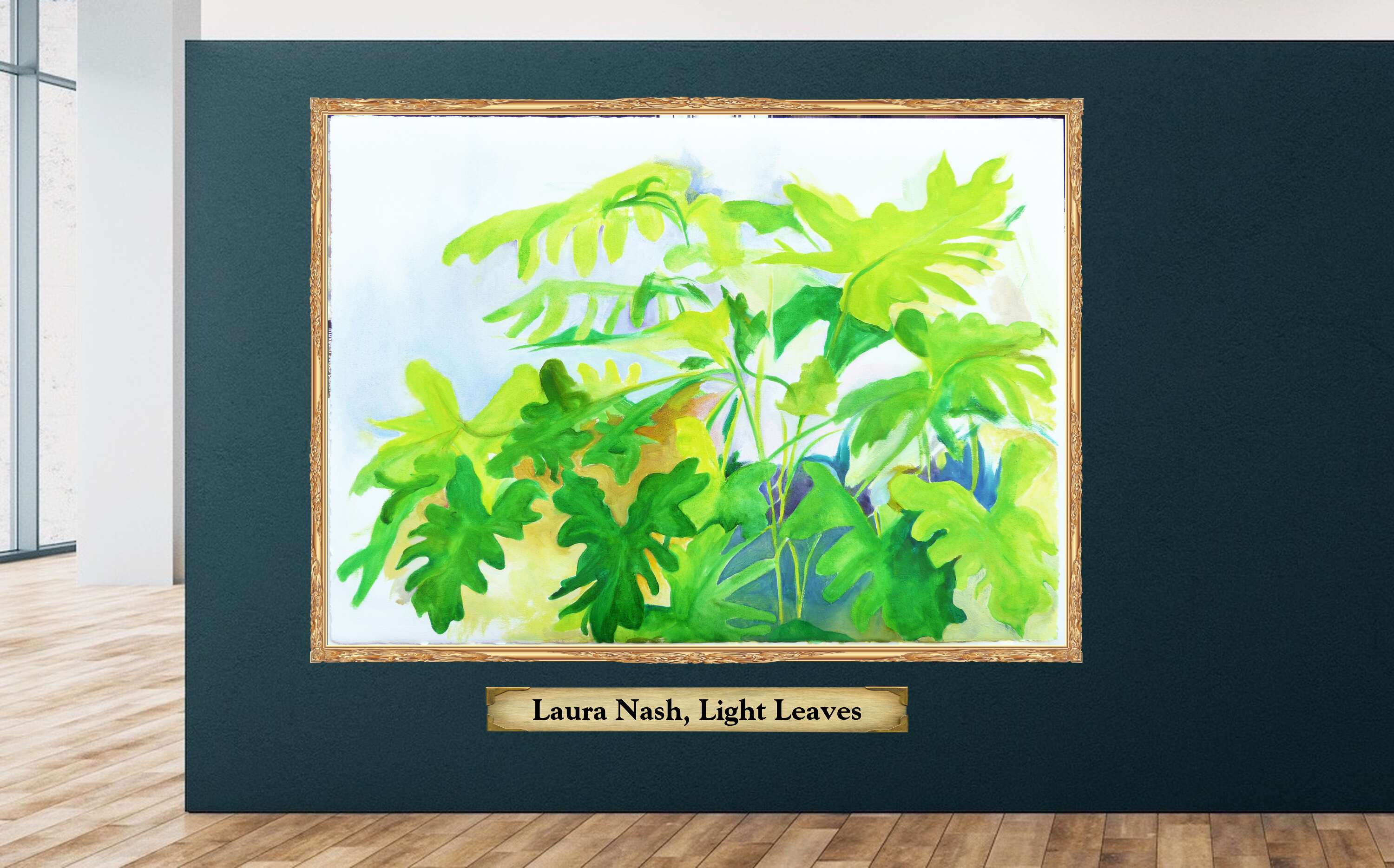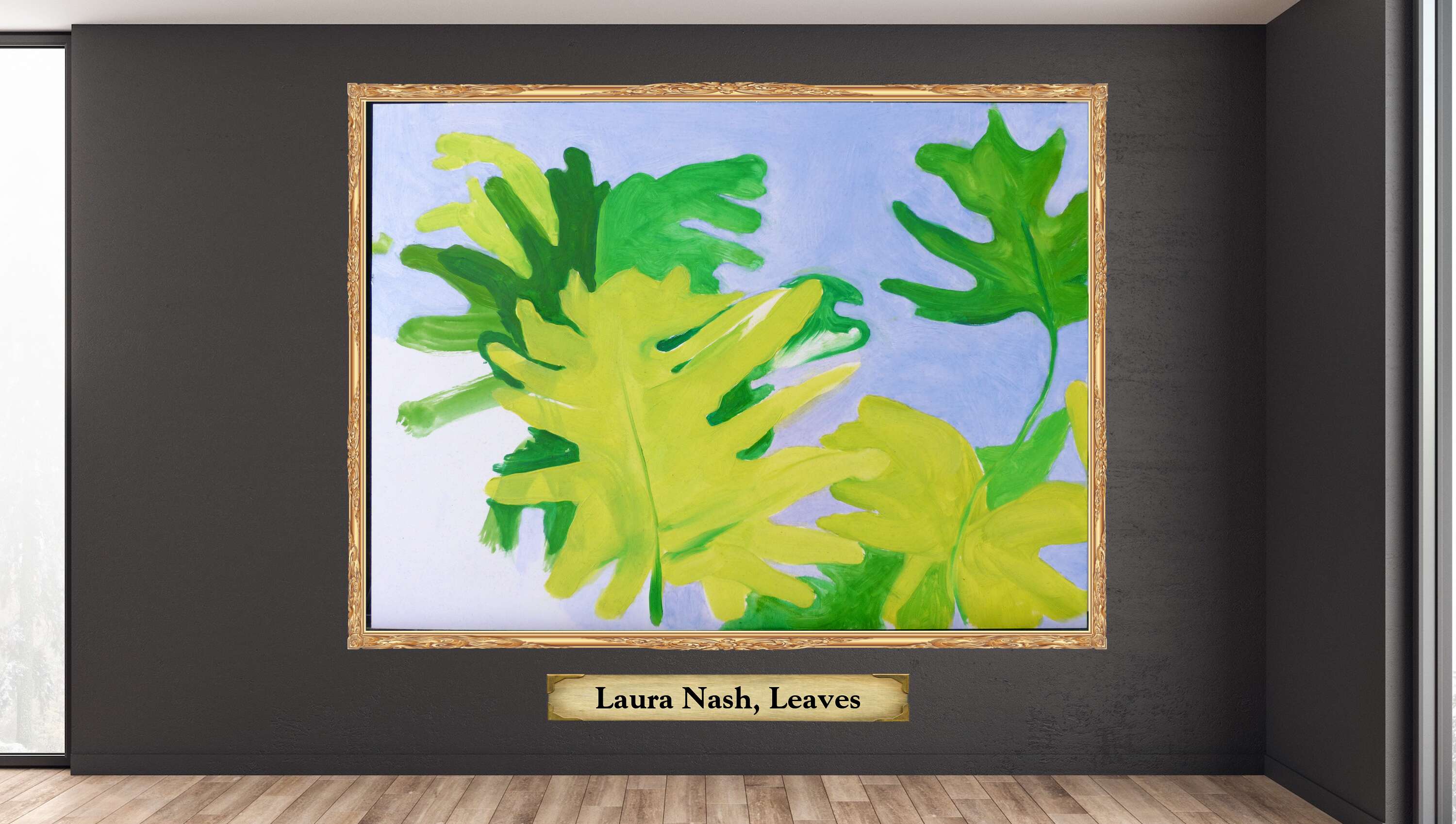 Lauren Rocco, A Glittering Feat
I am constantly in awe by the beauty that surrounds me in the city. When I walk the streets of where I live and work I feel transformed by years of creativity, innovation and culture. Imagine if
we all took more time to recognize the beauty that surrounds us. I hope that this work will inspire intrigue in others to celebrate and appreciate the beauty that exists within the layers of the urban landscape.


A Glittering Feat
8" x 12"
Photographic Digital Collage Transfer on Wood, Glitter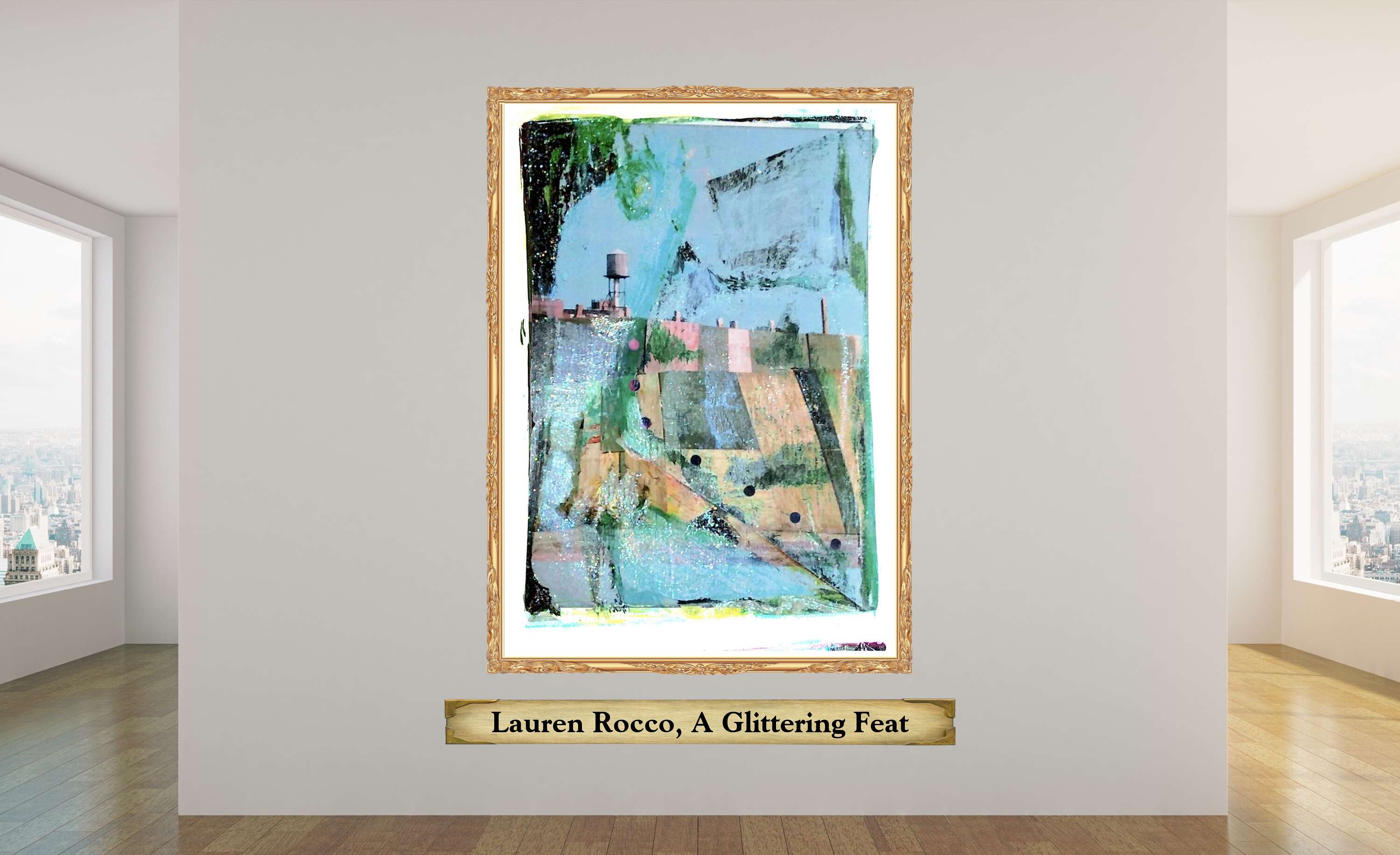 Lisa Kaplan, Third Immunotherapy
The first drawing was completed my first day of immunotherapy.
In March we watched our younger son in the St Patrick's Day parade leading his Company. This was less than two months before his deployment. After he deployed, I gave myself an assignment, not unlike the assignment of 300 drawings in 300 days my sons gave me in 2012. I would create 365 drawings in 365 days. The drawings, especially the first days were mostly collages, but then I added my penciled images to them. According to the National Guard, we are now considered "yellow families", but I still consider myself a "Blue Star Mom" as in 2012. The work is for my son's safe return.


After the Parade
6" x 9"
Mixed Media Drawing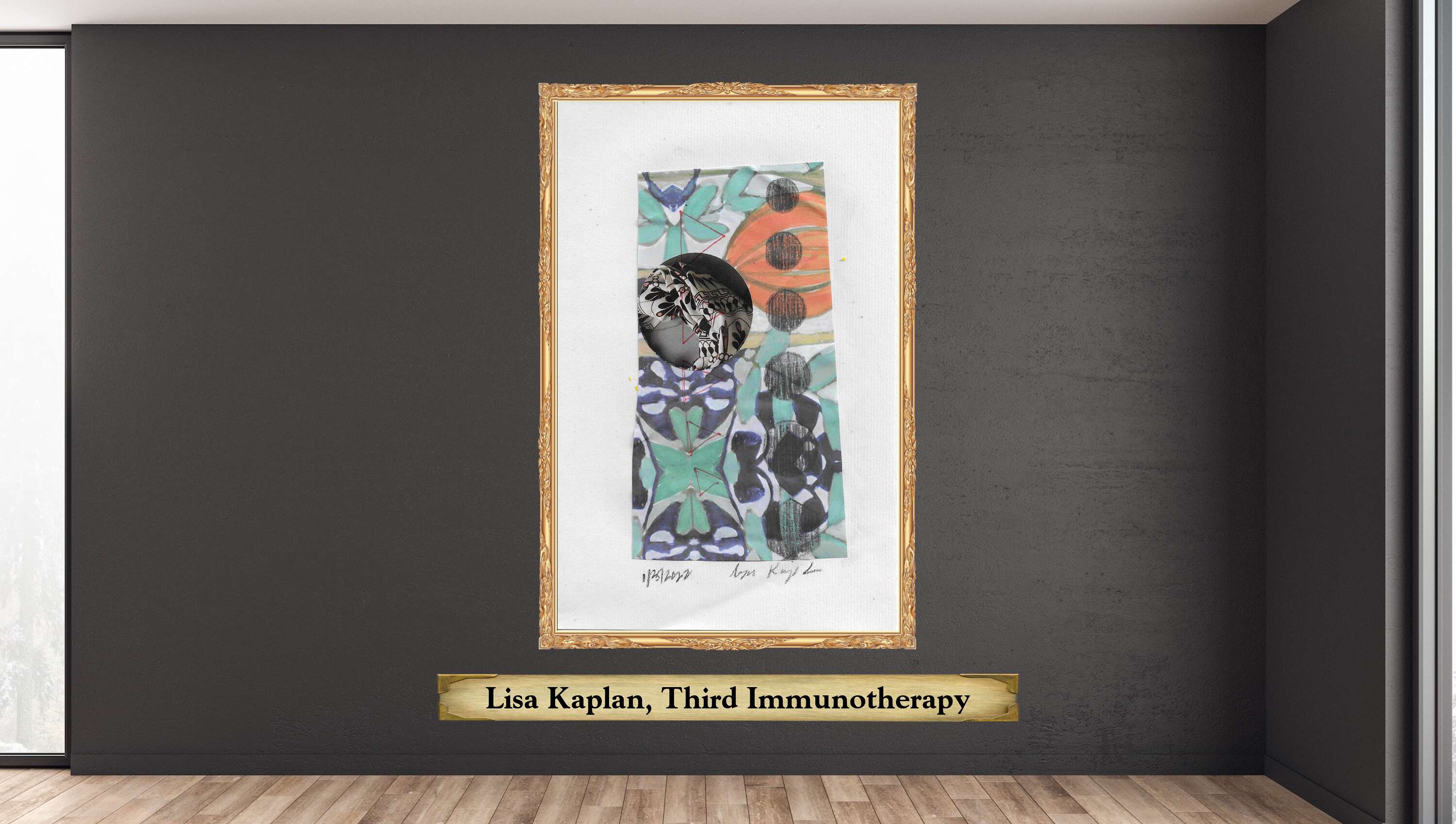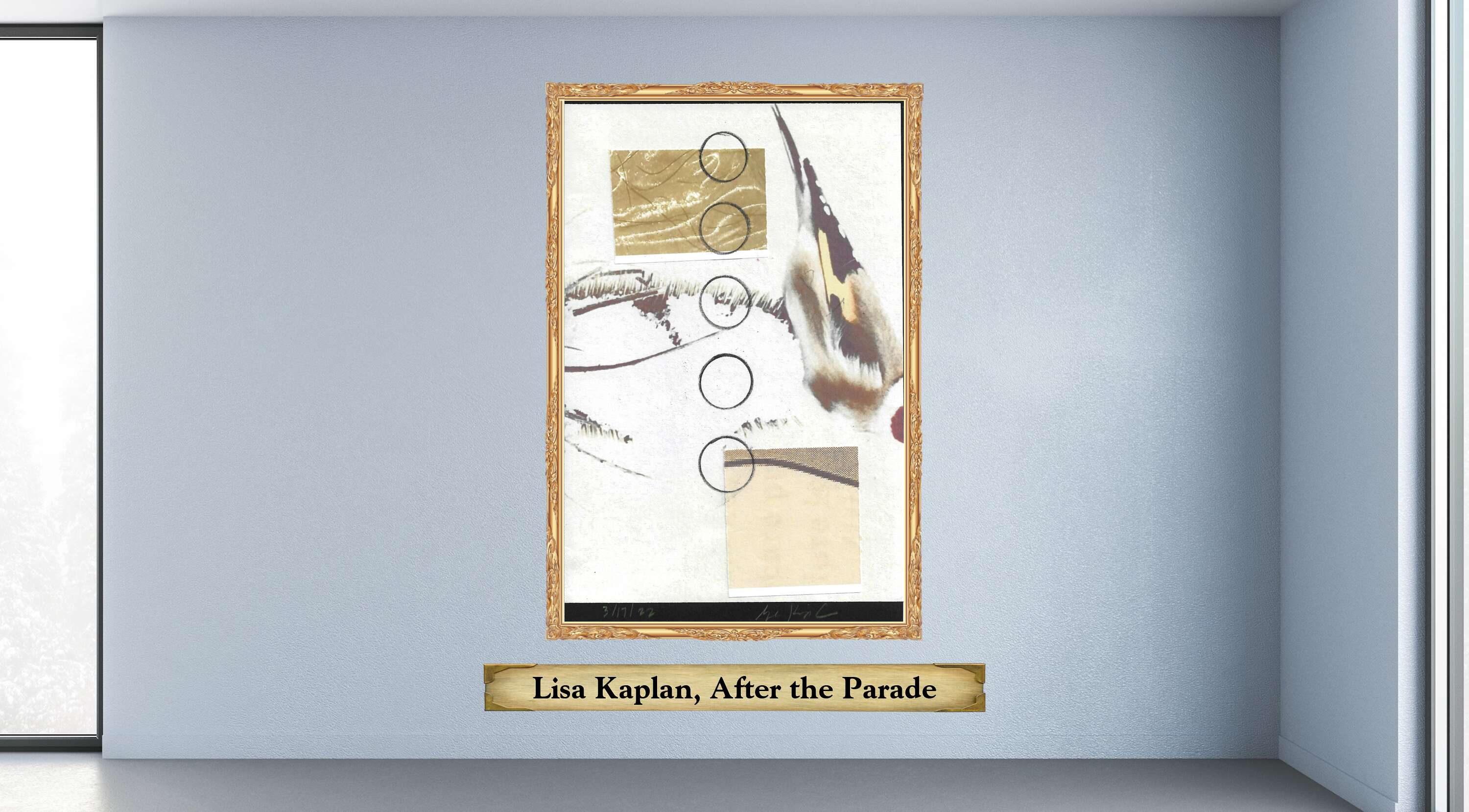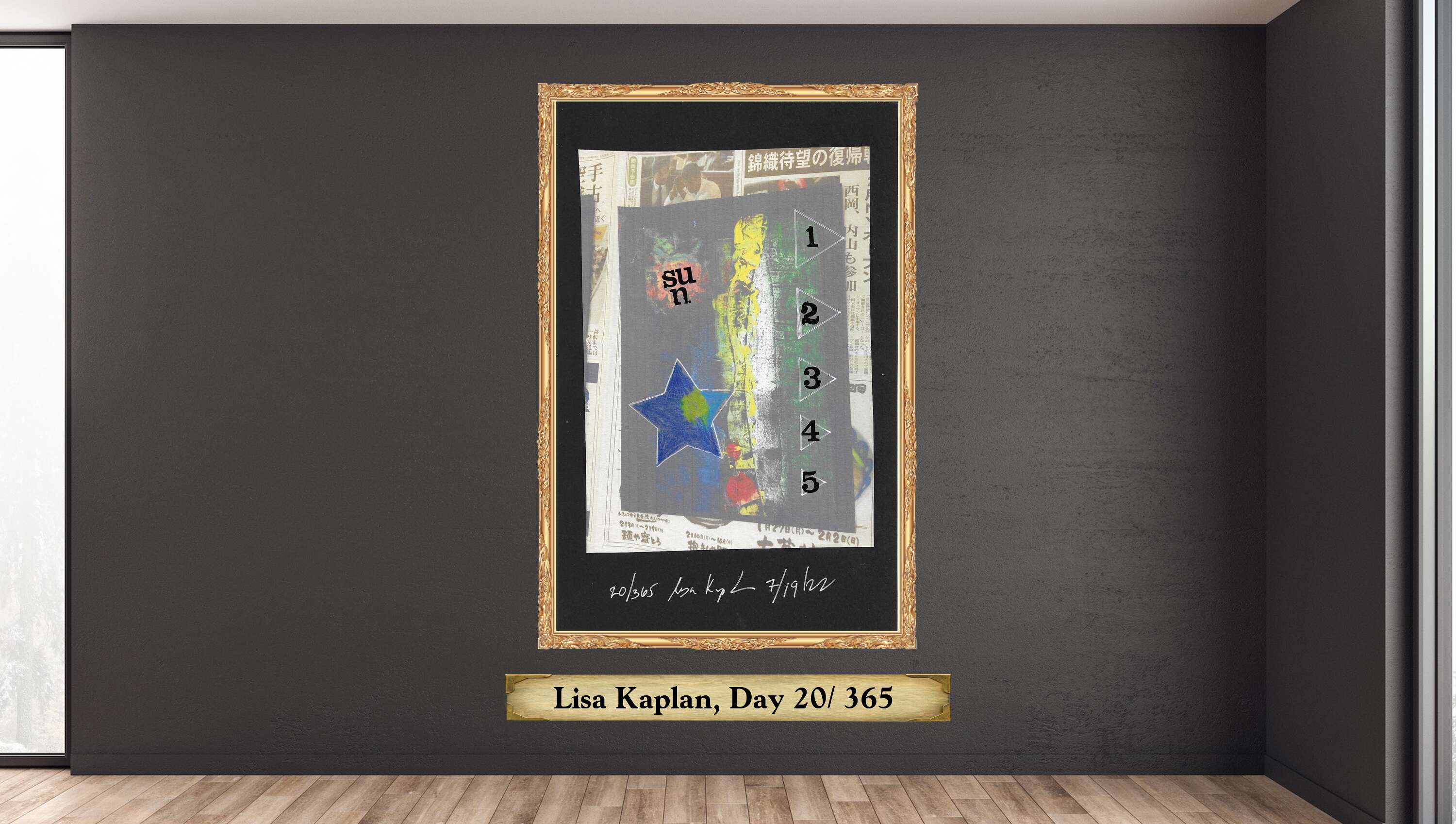 Lisa Banker, A Secret

Imagine :
Each crunchy leaf,
Each pebble and stone,
Every bit of bark on every tree trunk and branch,
Every atom in every droplet of water,
All the dust particles swirling and dancing in the air…
Imagine they held a secret.
Imagine their secrets were intertwined with ours.
Imagine that we could step out into nature, take a deep breath, look around, and nod, because we just knew.


A Secret
15" x 20"
Gouache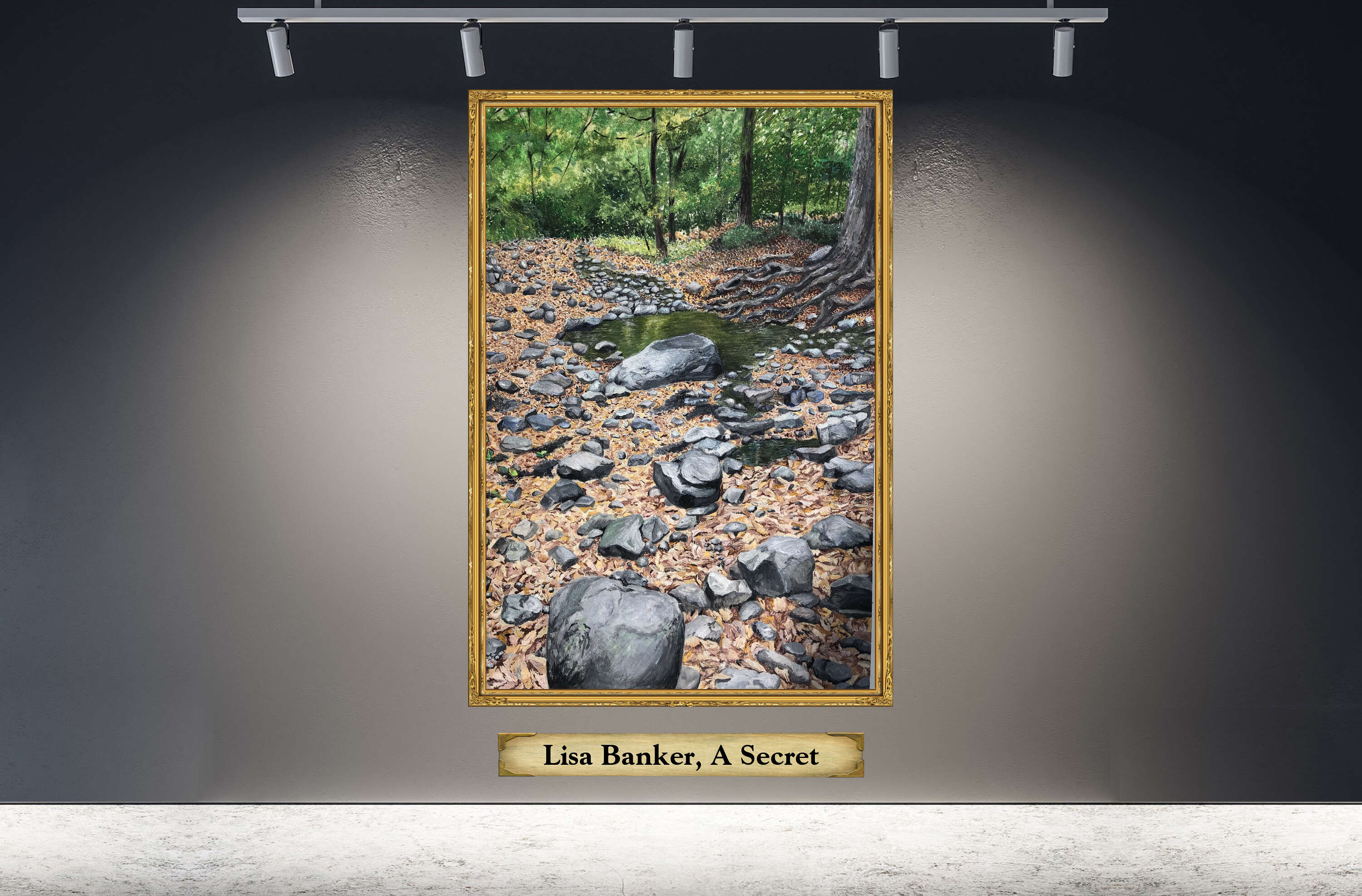 Mario Asaro, Yesterday Today

Ardmore Oklahoma - The chair and signage caught my attention. I imagined a nostalgic time from years gone by but the waitress and her mask serves to remind us that we are in a different time and place.



Yesterday Today
6" x 10"
Photography
Mario Asaro, Sunday Stroll

Not far from the cafes of Miami's garden district I was documenting public artwork in a poor section outside of Miami, As I was photographing this mural on a hot Sunday morning as a young child walked by. The juxtaposing of the mural and young boy makes the message and image stronger. I imagine a world without social strife and suffering, but more and more I see the divide widening.




6" x 14"
Photography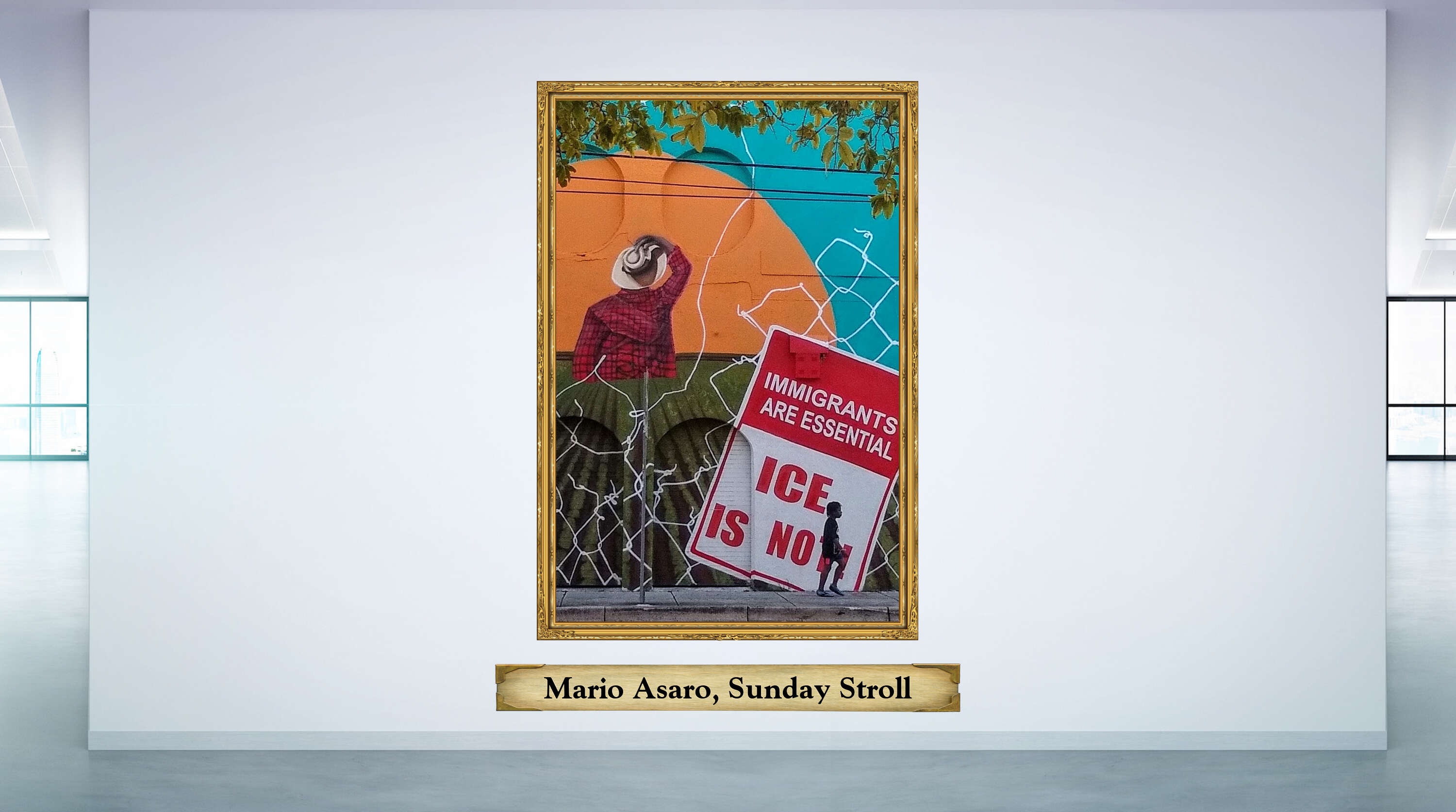 Mario Asaro, Looking at Me, Looking At You


While driving in rural North Carolina this police arrest on the side of the road caused me to pull over and start photographing, as one of the officers bent down to pick up evidence the officer on the left shot me a glare that made me glad I was not the subject of his small town justice. The composition is a strong as the imagined fear and doubt it puts in viewers mind


Looking at Me, Looking At You
7" x 15"
Photography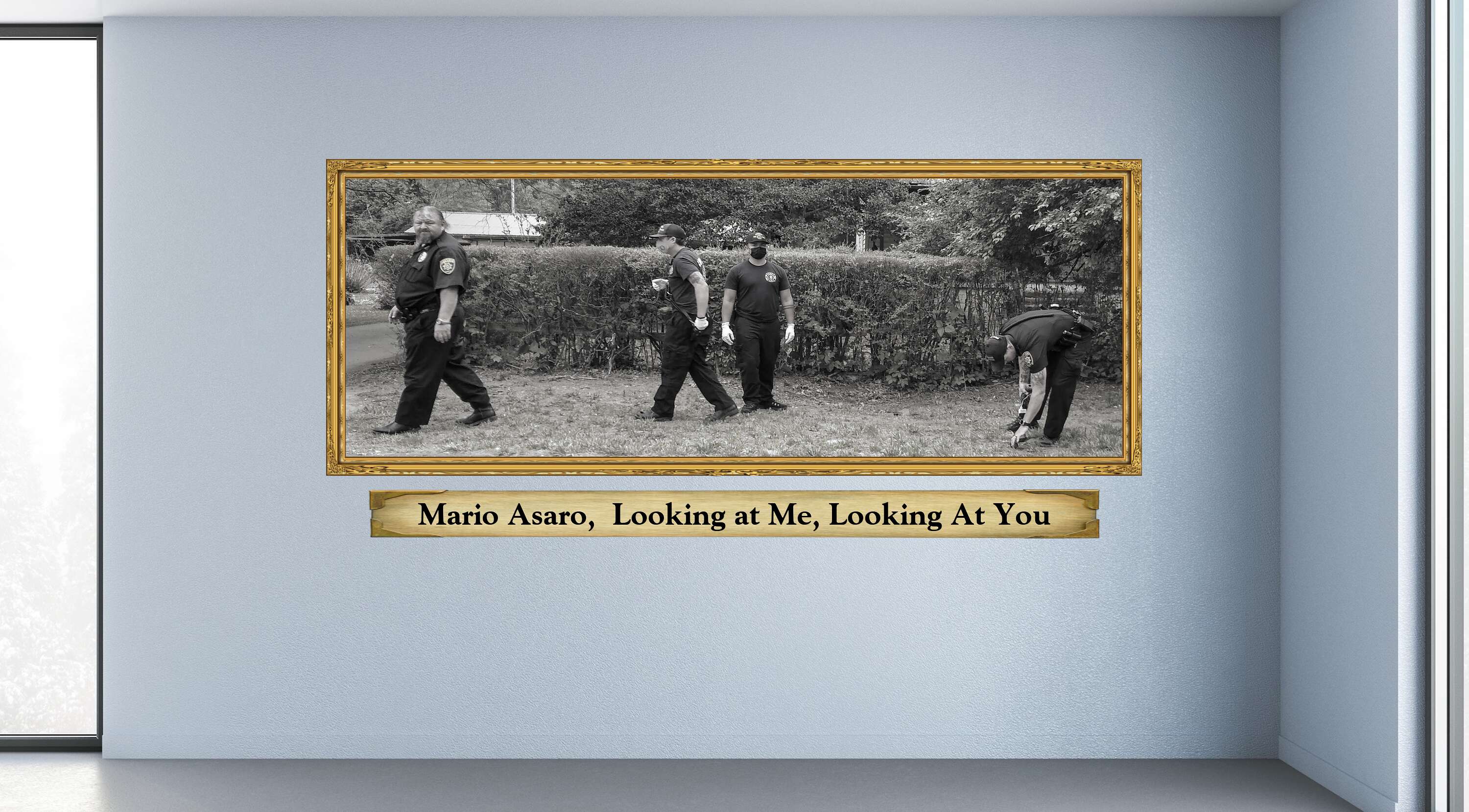 Rachel Vine, Flowers Dance
These artworks were created around the same time for an ongoing period on and off during the pandemic. I found a deeper connection to nature and found the healing power of nature to be very critical in helping myself and others work through the difficulties of the times we have been living. In this case; specifically- flowers. I have been ongoing studying herbalism and during the start of the portrait, I was participating in an intensive 3 day virtual creativity workshop that was being hosted in Hawaii. I was in NYC at the time. Fortunately, I have also been to Hawaii several times and have a strong personal connection with the islands. The power of the flowers in Hawaii is very strong from the the sights and smells all around. I did not finish the painting at the end of the workshop and was excited to continue to develop the painting over a period of time along with the other artwork.


Flowers Dance
6" x 10"
Acrylic and Gouache on Paper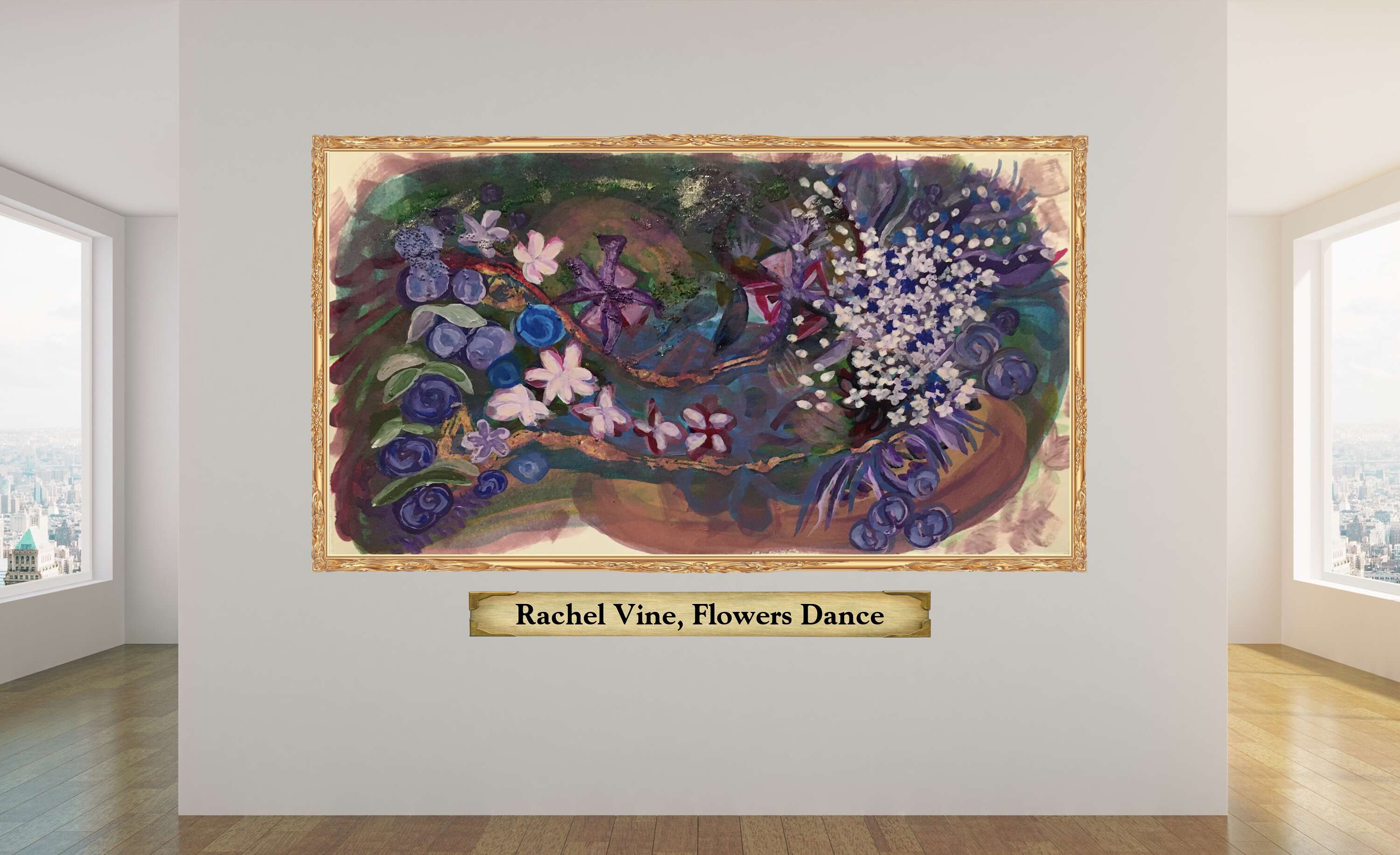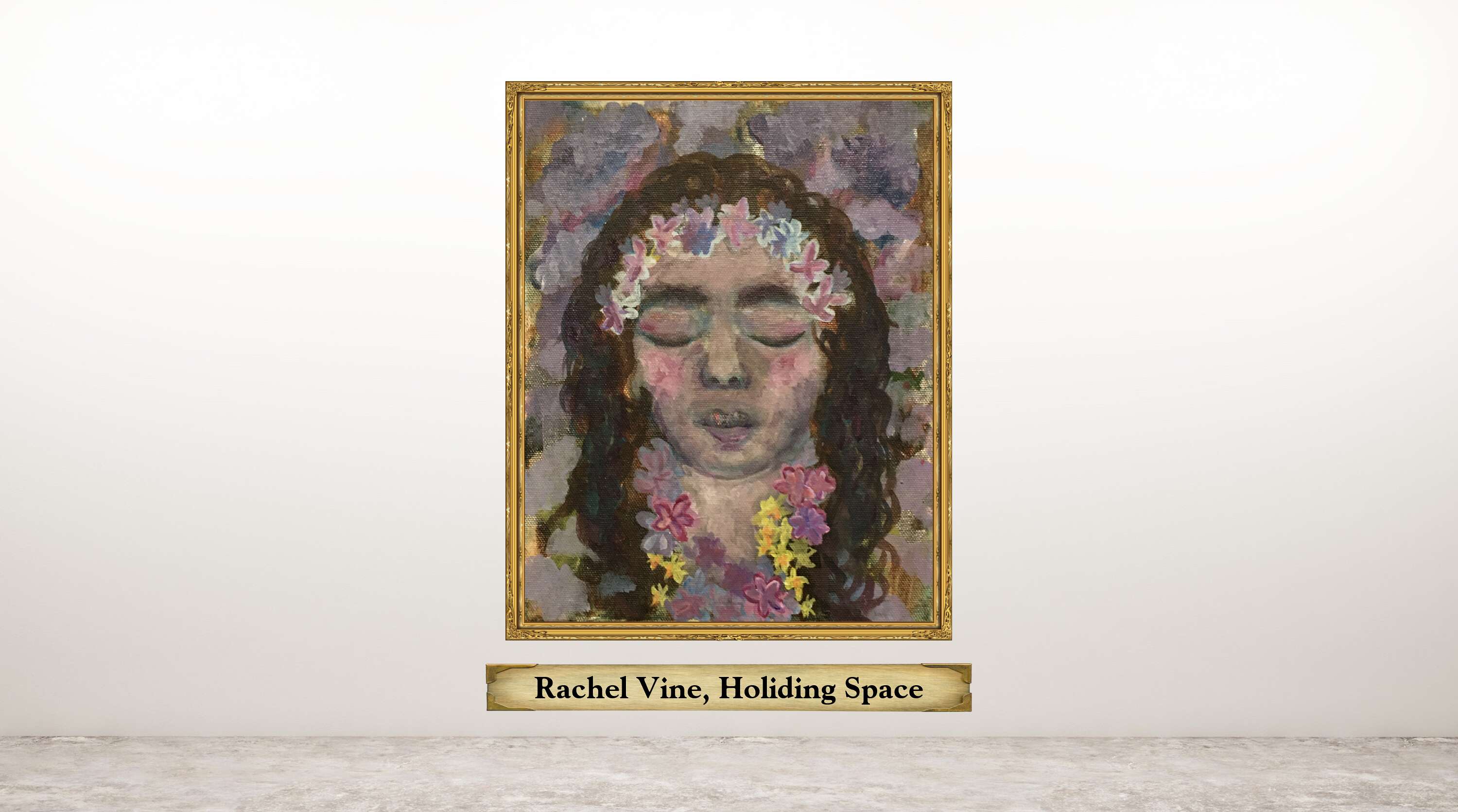 Angelica Pomales, And She Grows


I enjoy working in an environment where my creativity is encouraged, & encouragement must start from
day 1.  Everyone should feel safe in Art as it welcomes everyone. I am so proud to be able to learn, as well as
inspire others to keep on being a creative force. Despite this being an extremely difficult & uncertain time in the world, it has helped me feel excited for the future. I am grateful that I have been safe during this time but also
that I have the chance to grow more. I look forward to helping the youth find more meaning in their Art & to feel
good at being an Artist!


MIXED MEDIA: gold wooden frame, plastic, paper, fabric, & ribbon flowers, plastic and fabric, dollhead cupcake toppers, nail polish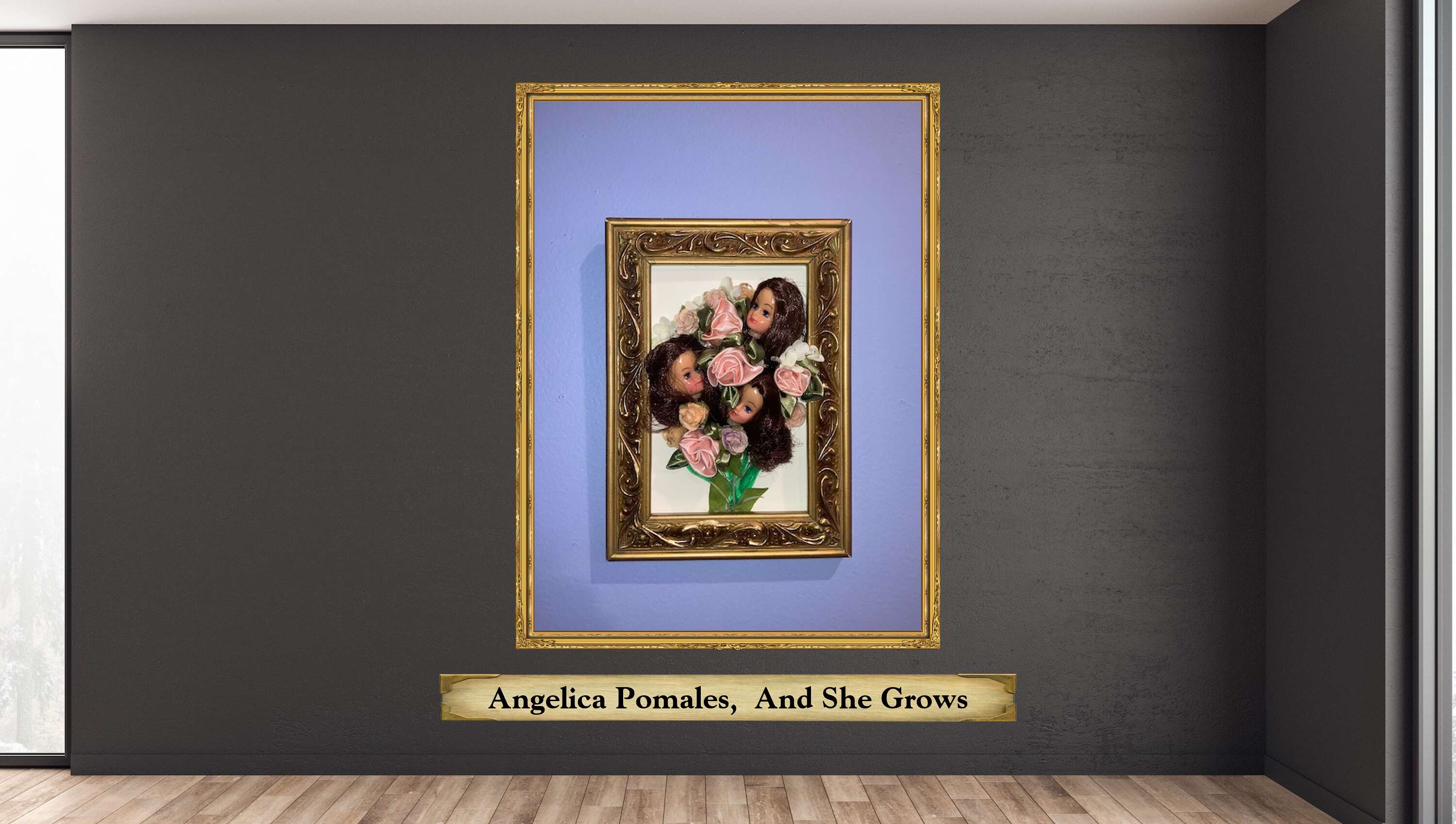 Angelica Pomales, PRETTYWHENUCRY!

PRETTYWHENUCRY!
4"H X 4"W
MIXED MEDIA: magazine print, nail polish, Glitter on Canvas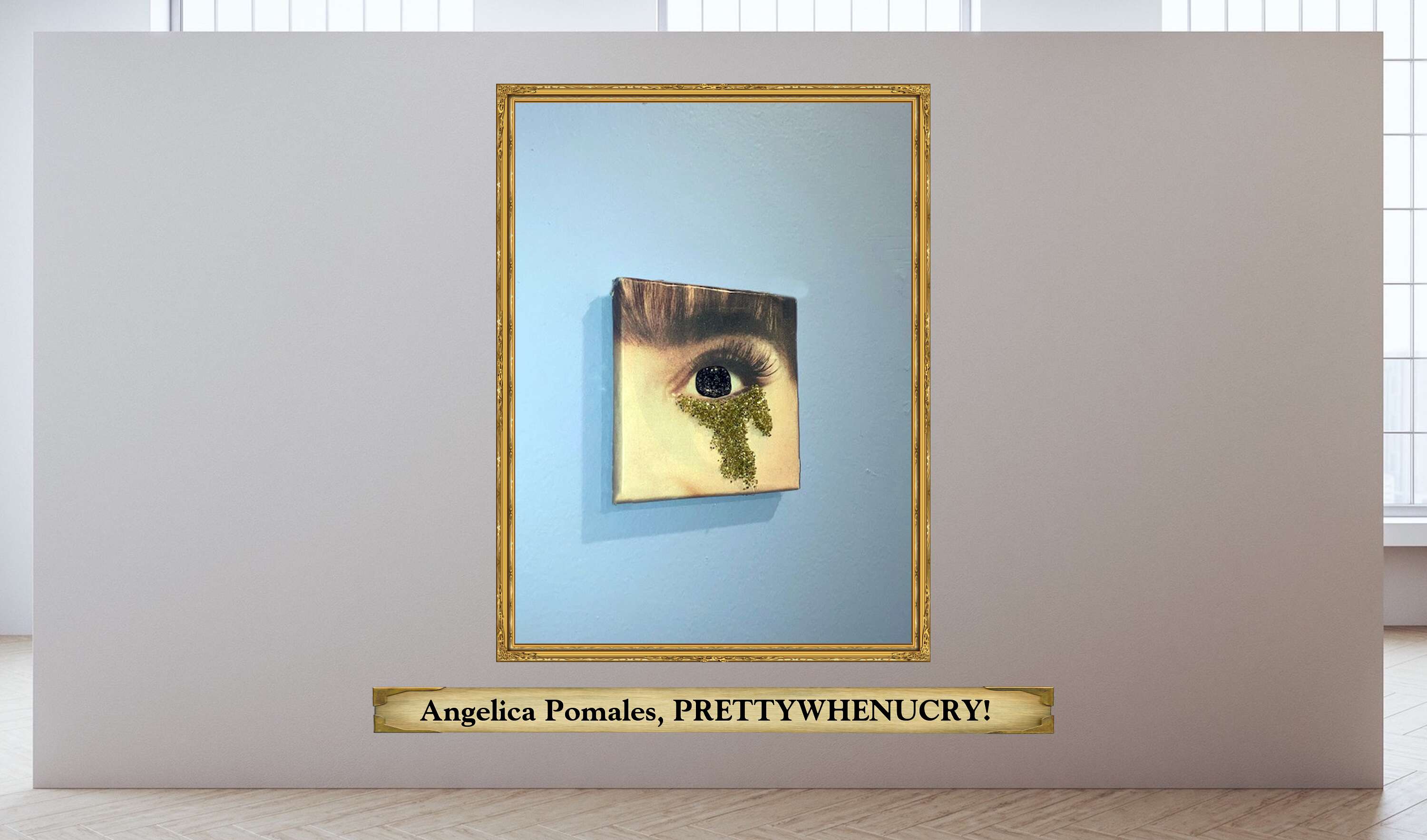 Angelica Pomales, Messenger

Messenger
10"H X 10"W
MIXED MEDIA: usps shipping labels, plastic molded angel, black paint, misc nail polish, on canvas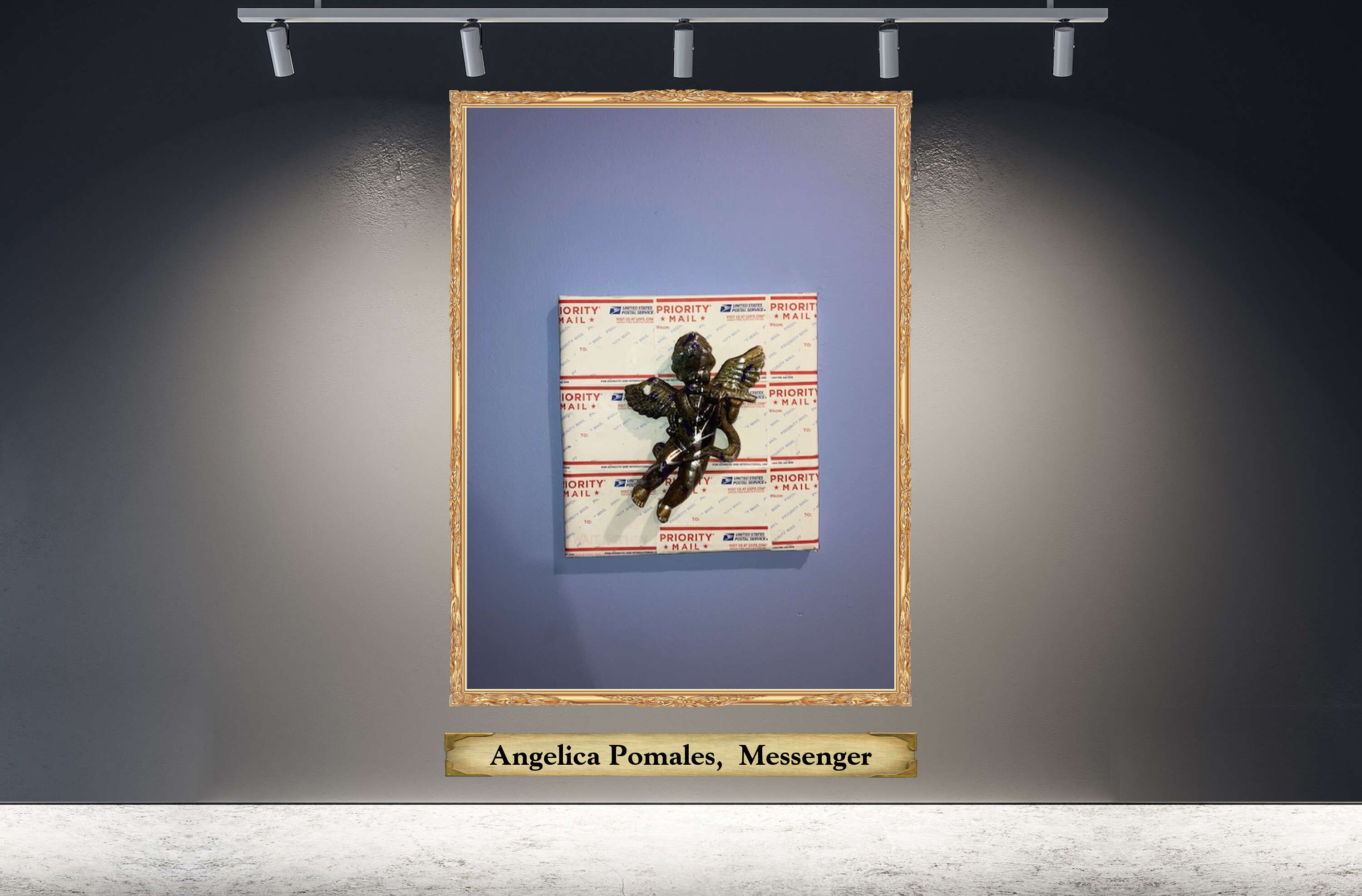 Randy Brozen, Watching Over Us


Imagine If...
I think about the birds, and other creatures and how fragile their lives are.
I wonder what part I have in hastening their demise...
I imagine a world without our pollinators, fish, birds, plants and all our wildlife, so I resolve to do better at doing my part to conserve our environment; of making choices that help create a more
sustainable lifestyle for myself and others.


Watching Over Us
36 1/2 x 24
mixed media - cyanoprints, dried foliage, moon photo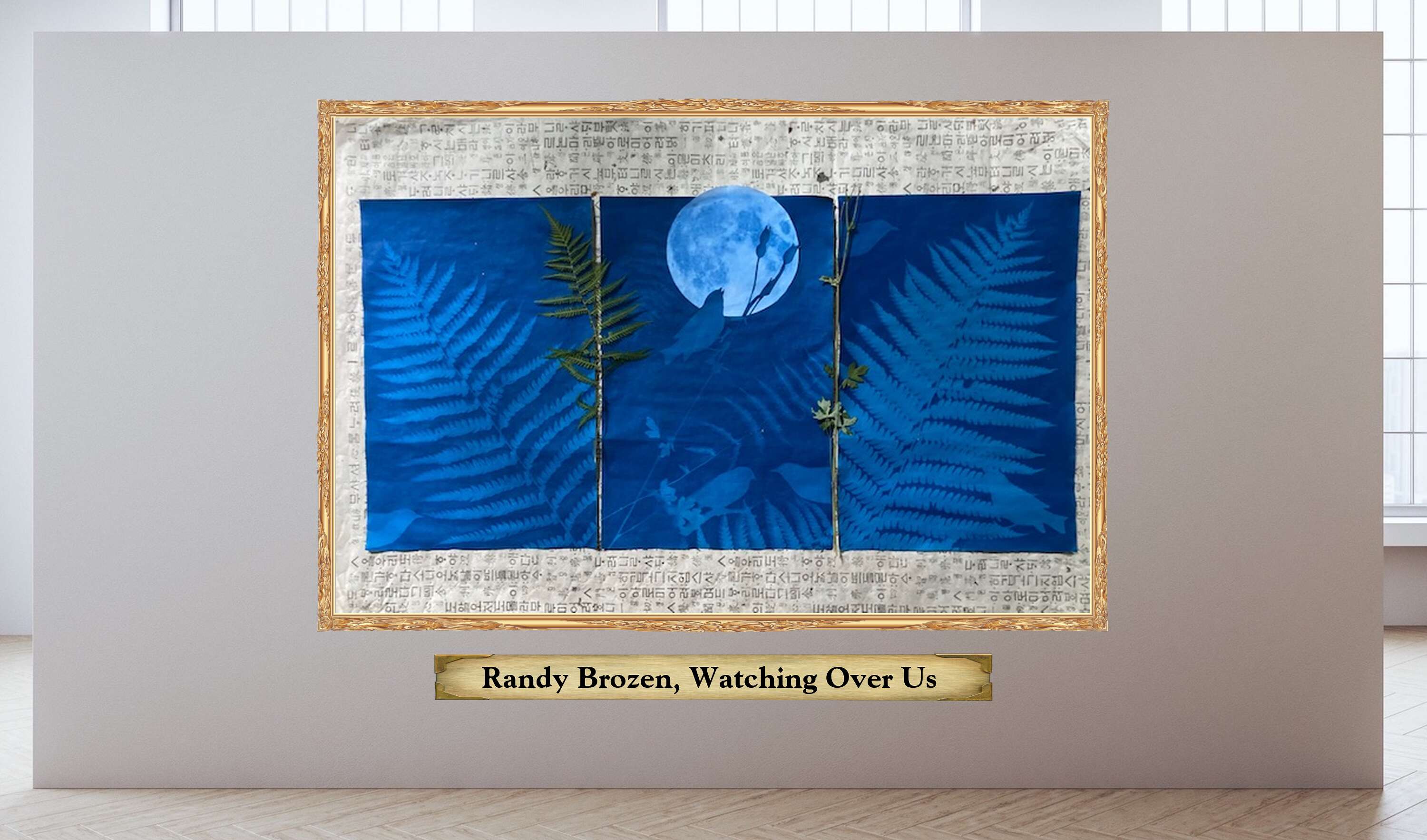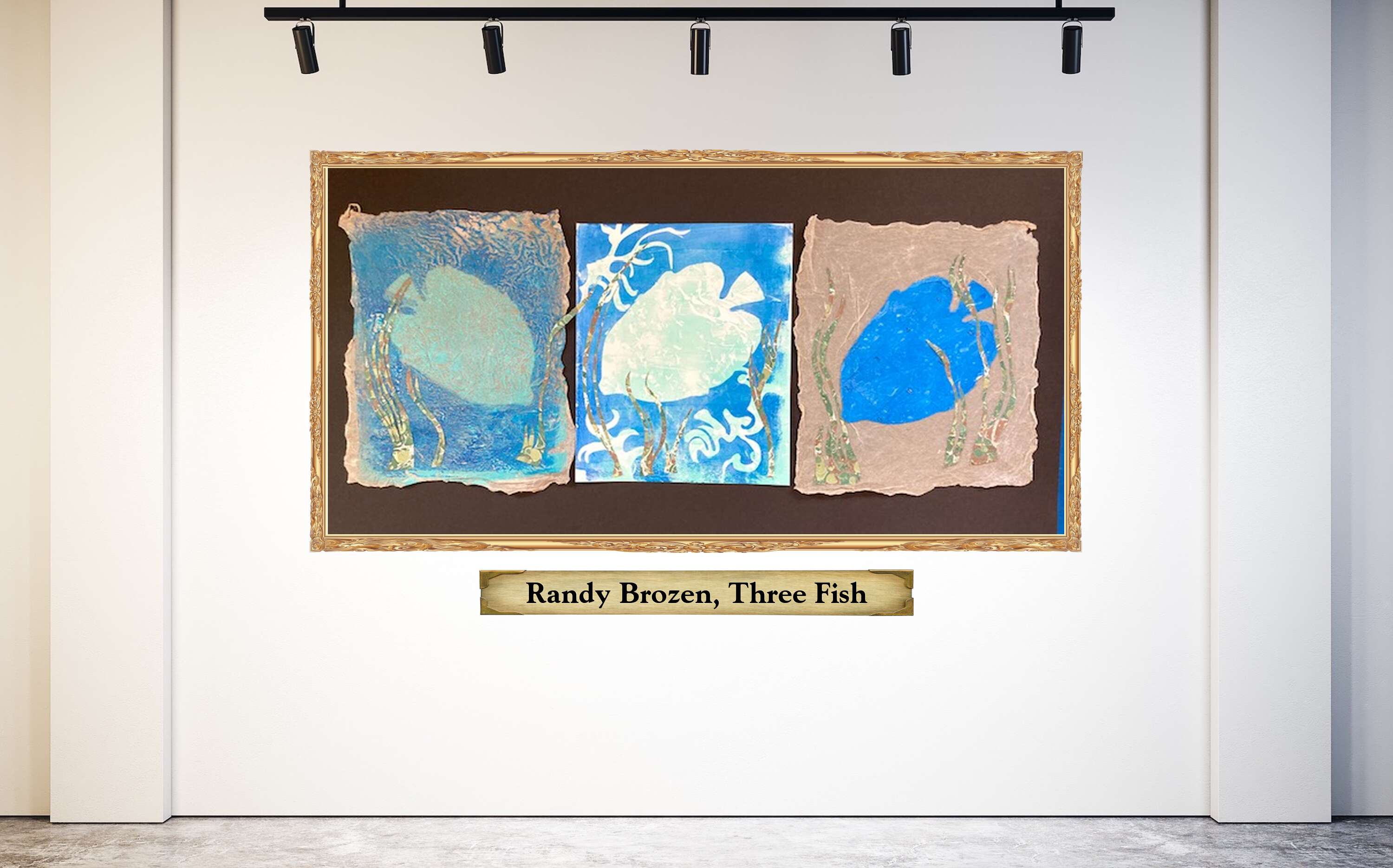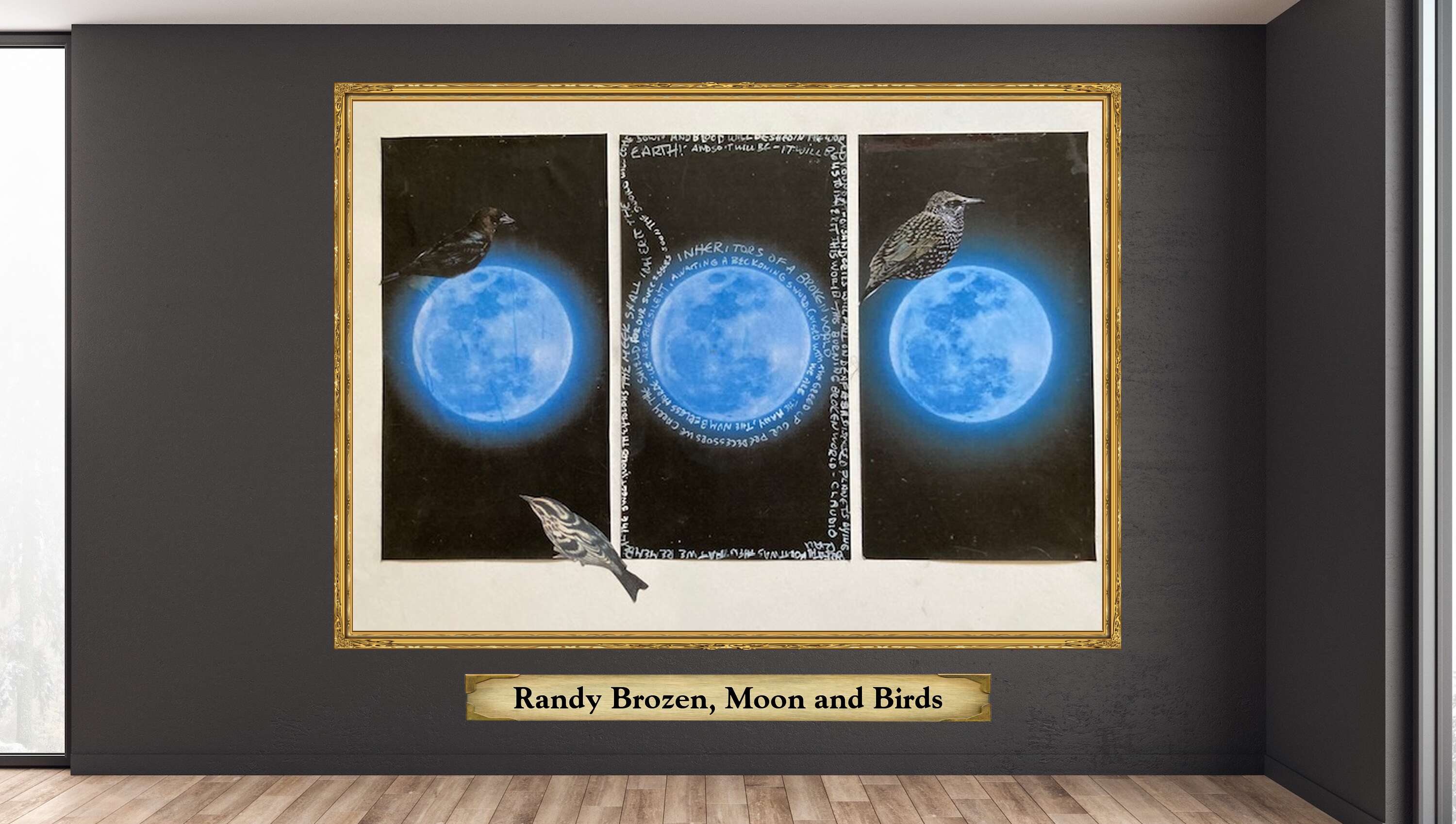 Robin Reczek, Balance#2


My work is an expression of identity and duality; a demonstration of the struggle to fit in. Through the juxtaposition of flat geometric shapes, and organic flows of alcohol ink, she attempts to represent the difficulty in merging artistic impulses into various cultural institutions.

Balance#2
12" x 9"
Alcohol Ink & Digital Drawing