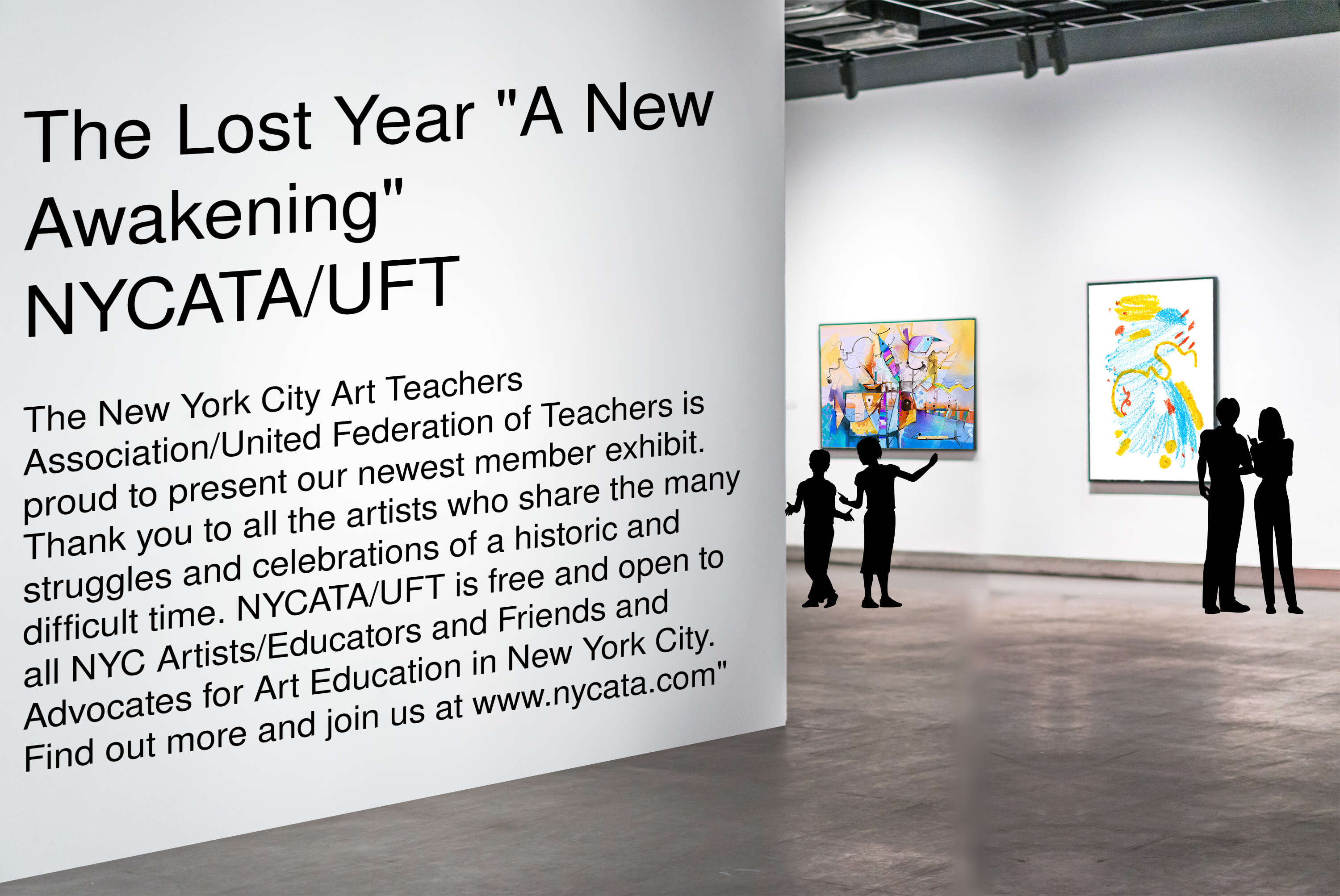 Alex Fernandez


My artwork explores societal issues that are influenced by our current world and infused with a reflection of my divided Dominican/American heritage. It uses allegory, sarcasm, symbolism, satire & impactful images, to compose works that critique world cultures, religions and social/political issues from the world we live in, with the intent to capture human emotion in response to these.

Morris Academy for Collaborative Studies

"To the Class of 2020"
23 in x 30 in
Digital Print

IG: fdez.art.
www.fdezart.com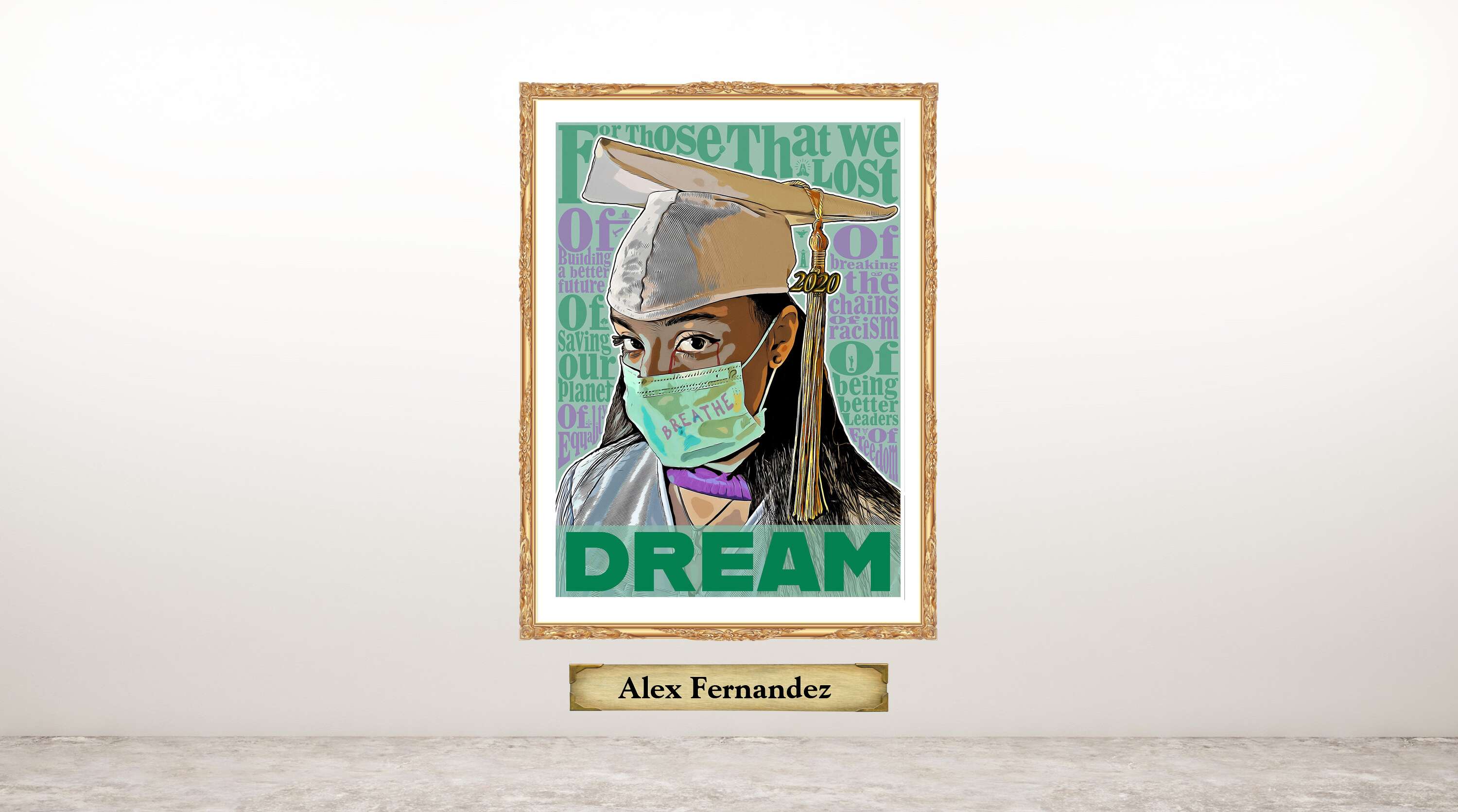 Jackie Cruz
The past year and a half has been very difficult as we've survived a global pandemic and political strife, including an insurrection attempt at the capitol building. We also faced racial turmoil when several people of color were killed by the police in various states around the country. As we sheltered at home, fearful of COVID and death, we also witnessed a political rift during the 2020 election. We protested in record numbers determined to stop police brutality and racism. My photos tell the story of how we've survived and have been changed by the turmoil. The light rises on the wall of a building about to illuminate BLM (Black Lives Matter). My second photo shows the American flag, which is very dirty and frayed, but still rising in the sun and reflecting on a sky scraper. The third photo was shot on the first Sunday in spring. The new vine took hold on a tree and grows on a tree trunk determined to rise and be life affirming.

Retired


"USA Torn, Tattered But Ready To Rise"
16" x 20"
Photograph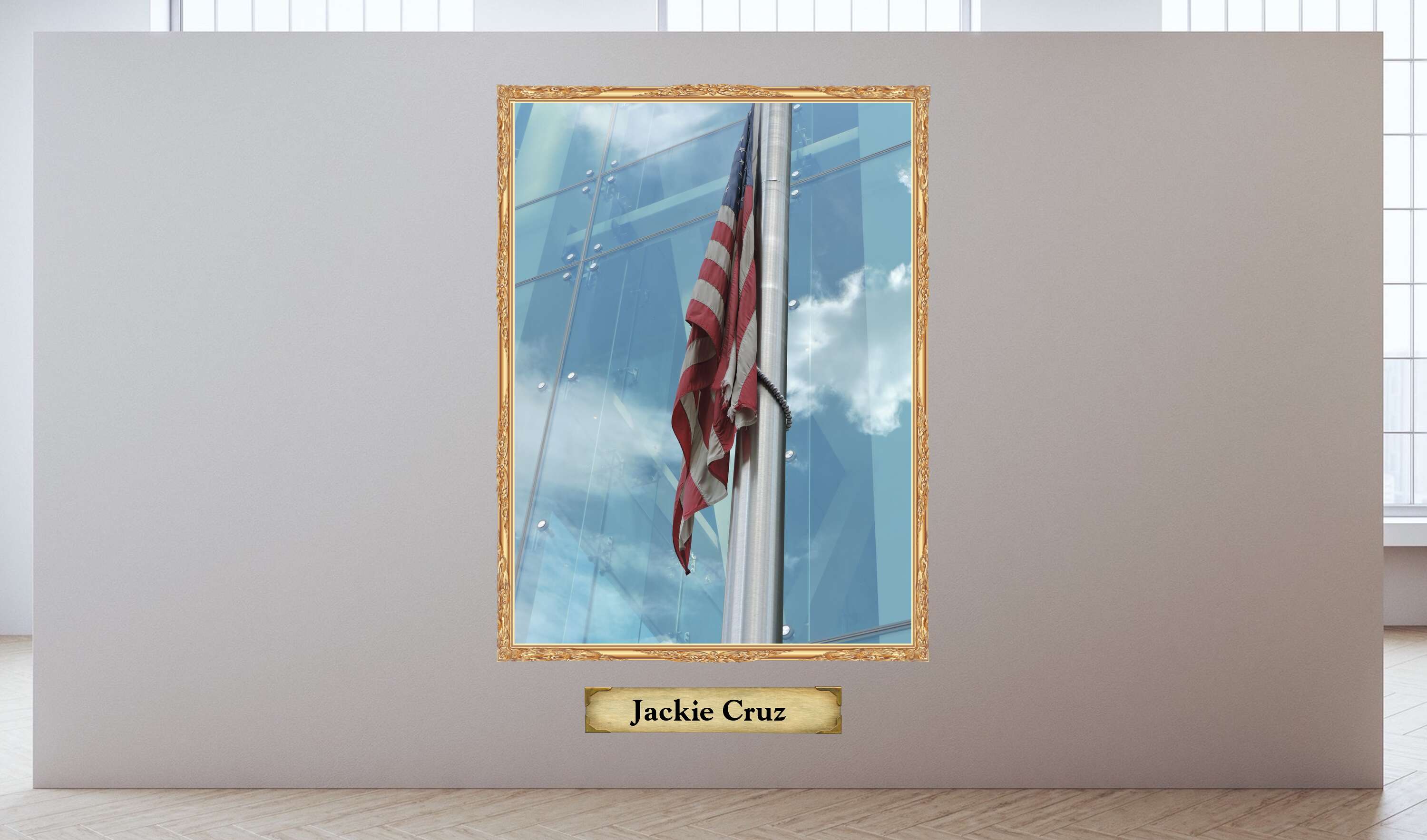 Jackie Cruz








"BLM, In The Light Of Day"
11" x 14"
Photograph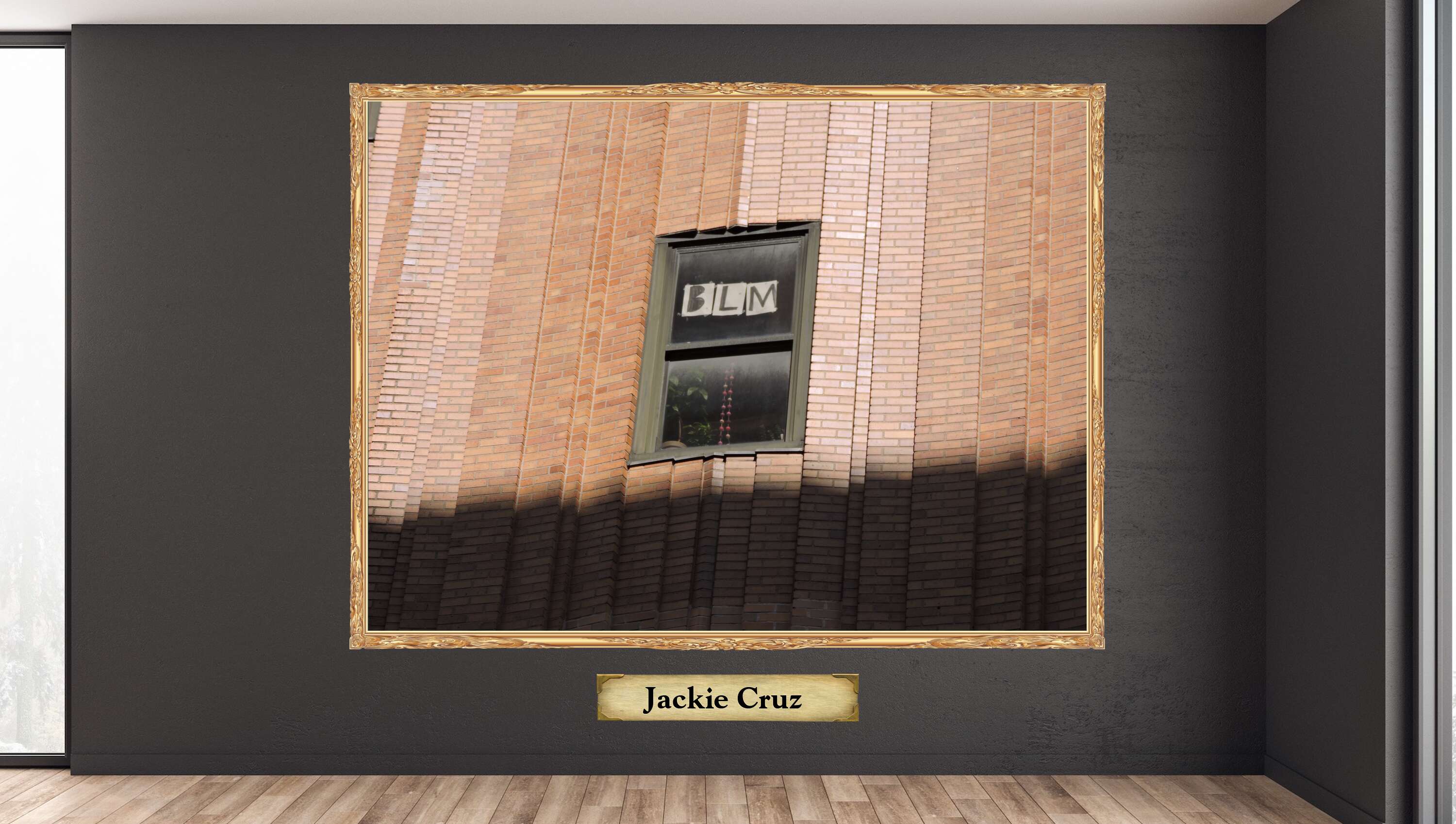 Jackie Cruz




"Life Renewed"
11" x 14"
Photograph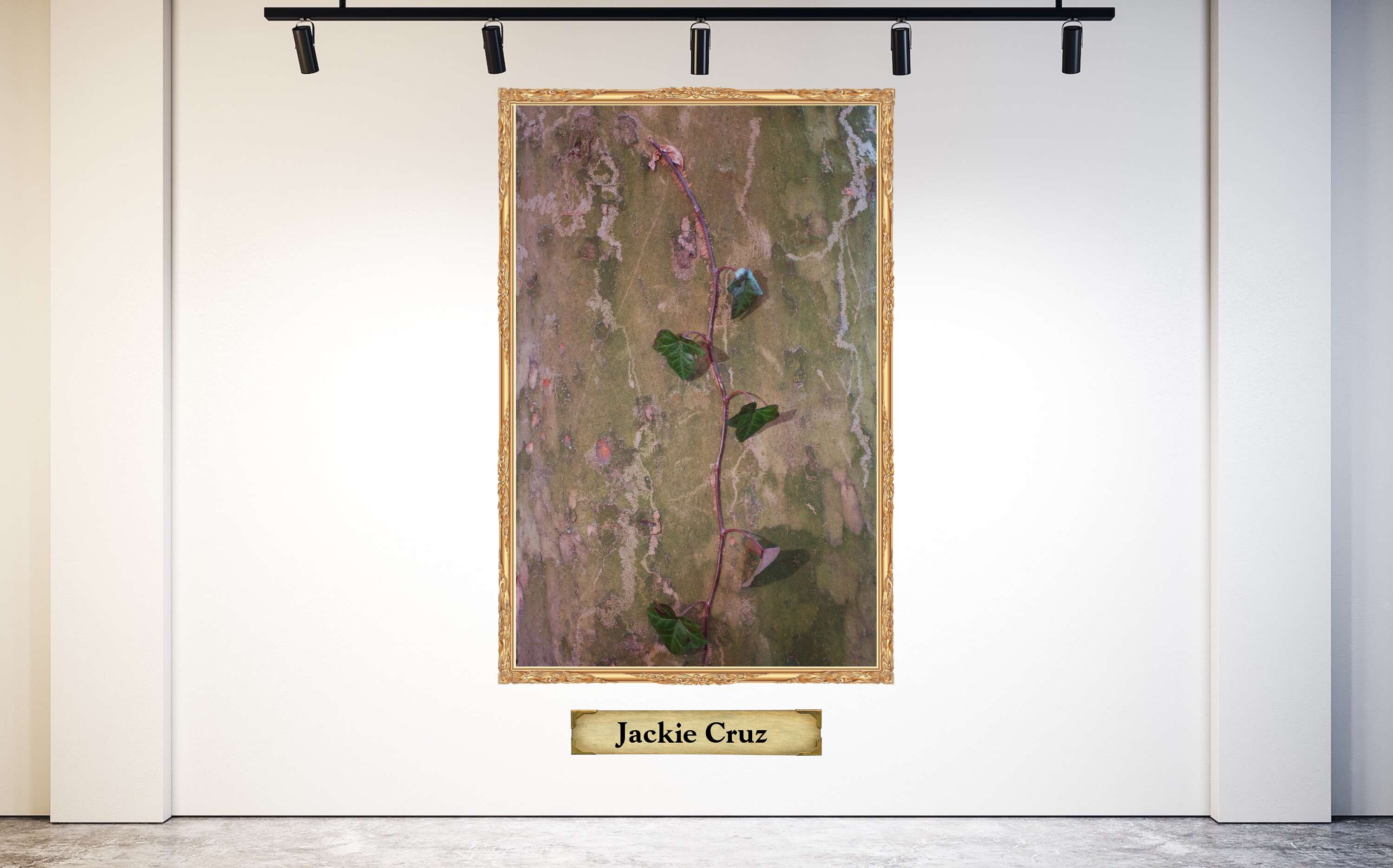 Pearl Lau
The year 2020 was a challenge for us all in many ways. Even though I felt that I was one of the lucky ones, because I make art and was never out of things to do. Covid didn't stop me. During the summers in upstate New York, I have been going out and doing pastels on my own for years. That didn't change!
However I felt more drawn to abandoned things. The two empty bungalows are from decades ago. All rotted out. At one time, they were loved by families, had beautiful paint jobs and pretty summer furniture outside. It seemed an apt metaphor for what New York City felt like to me. An abandoned place that had its glory days. My neighborhood in Brooklyn was silent. Thank goodness I went upstate. I switched from oil paint to pastels long ago. As an artist with a full-time job, (first as an art director then as an art educator) I needed quick set-up and clean-up. You can walk by and pick up a pastel and do a quick stroke or 5. Pastels gave me the colors, the layering, the ability to edit and the ability to stop and start on a dime! I use all brands for their hardness or quality of line. Sennelier, Unison, U-Art, Nu-Pastel, Rembrandt. I buy sanded paper from all manufacturers and I buy ground to create my own surfaces. I prefer to start with a dark surface. My favorite color is called "Elephant" and is a dark gray. They travel easily with the exception that in the x-ray machine at airports they look like bullets. They even use a similar powder to explosives. I've been called over often and almost missed a flight. I travel with all my documents, teacher's license to prove I'm already fingerprinted and on file. I bring ads for my art shows. So far, they have always finally let me go. Retired from PS 230

"Abandoned Guest House"
11" x 14"
Pastel on Sanded Paper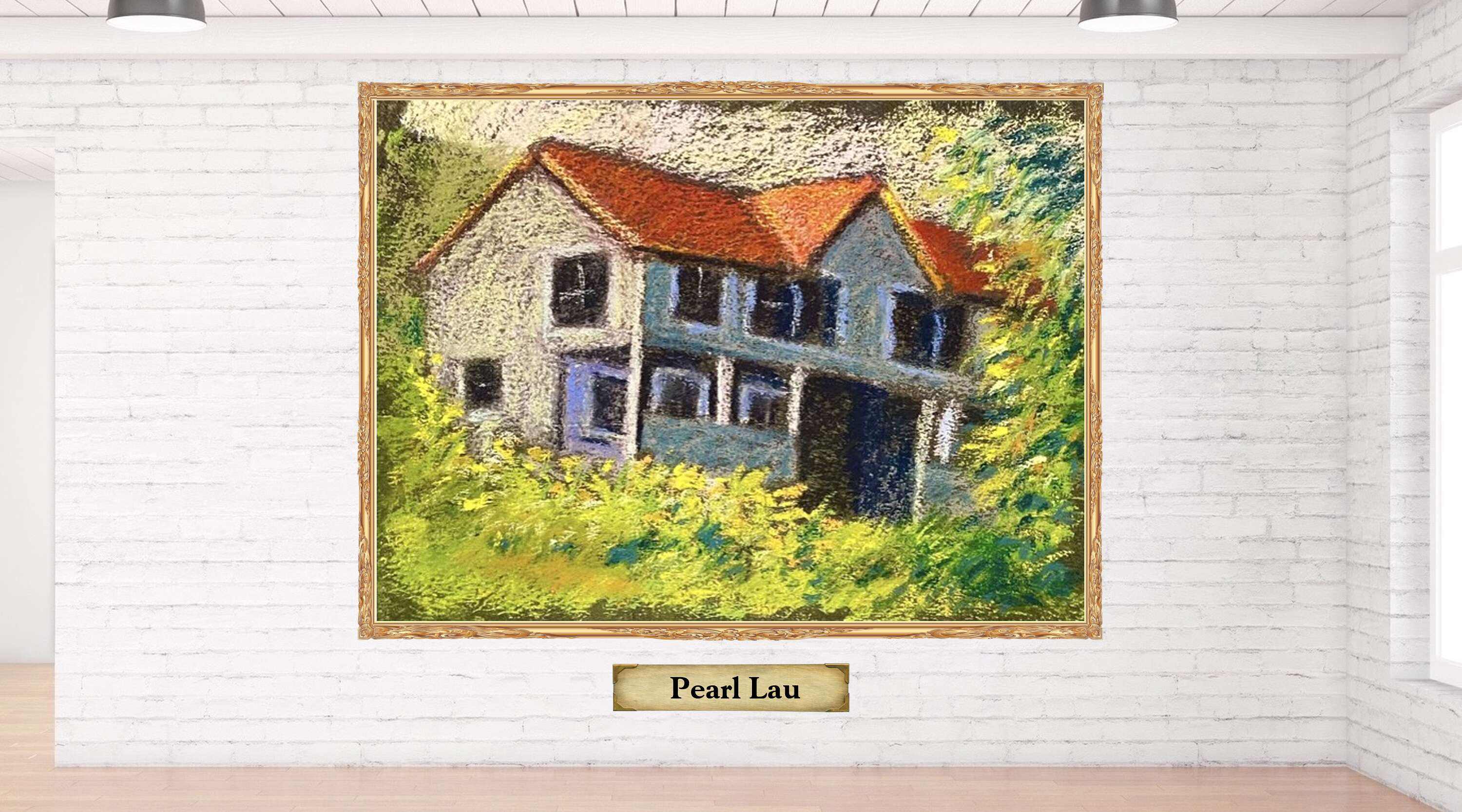 Pearl Lau




"Mountaindale Cabin"
11" x 14"
Pastel on Sanded Paper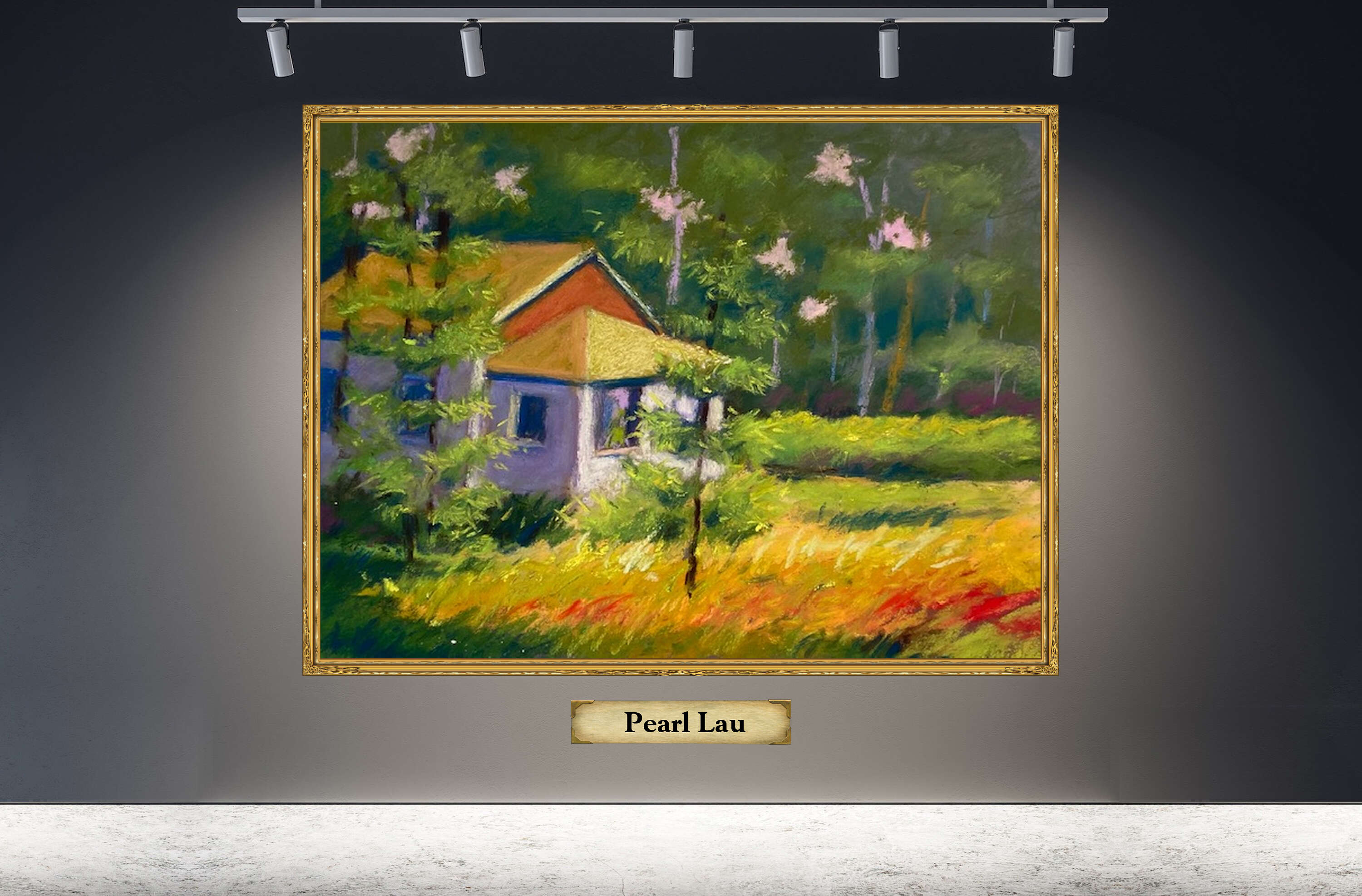 Pearl Lau




"Bashakill Evening"
11" x 14"
Pastel on Sanded Paper

www.pearllauart.com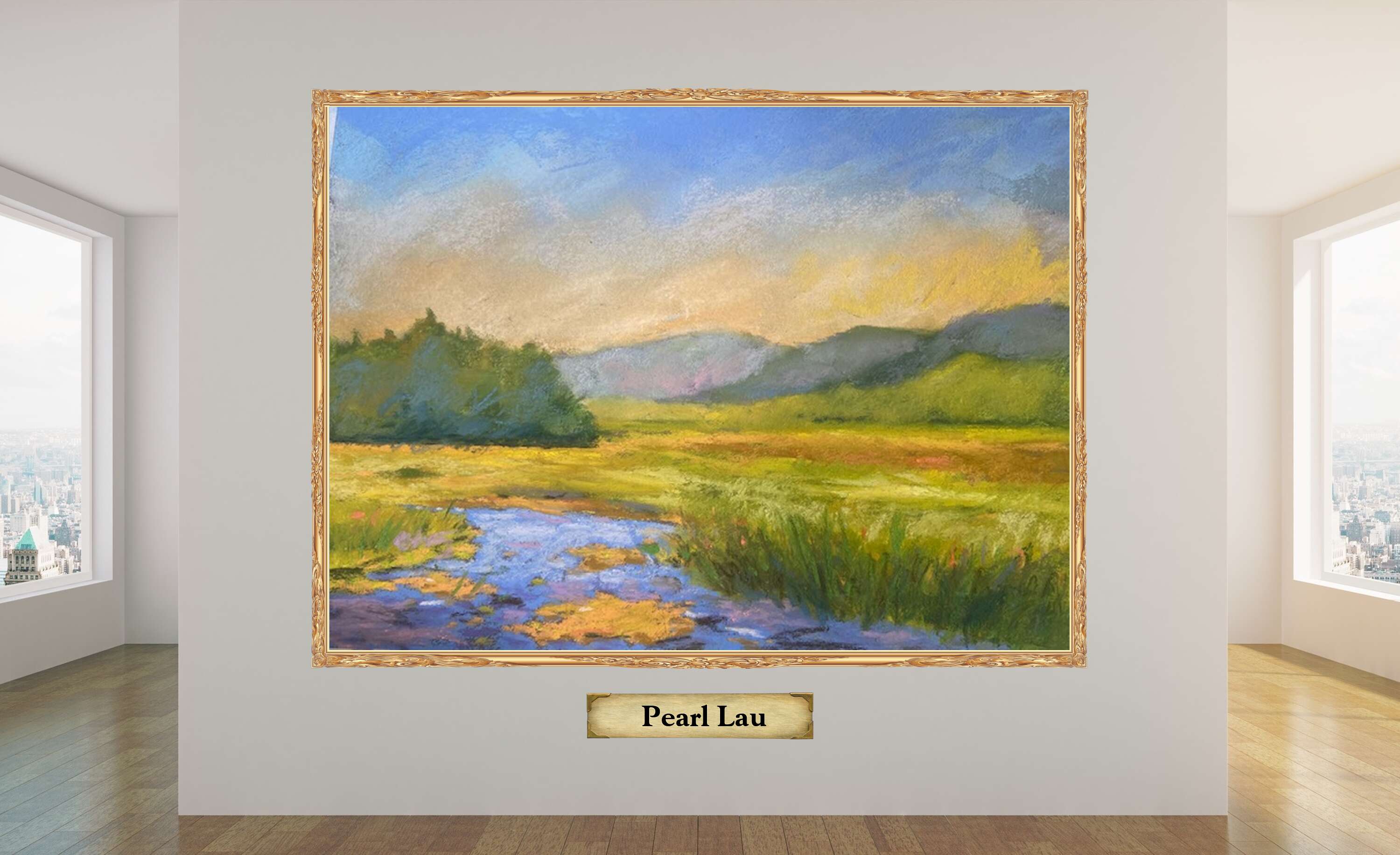 Alex Cruz


I was able to get behind the camera In unexpected ways this past year. Looking for the moments we lost and the things that we can still get back. Abandoned movie theaters to Saxophone players under a bridge and Ice Skaters trying to find their grasp, were just a few of the moments in my collection from this past year.
PS. 24

"Reach out to Me"
11" x 14"
Photography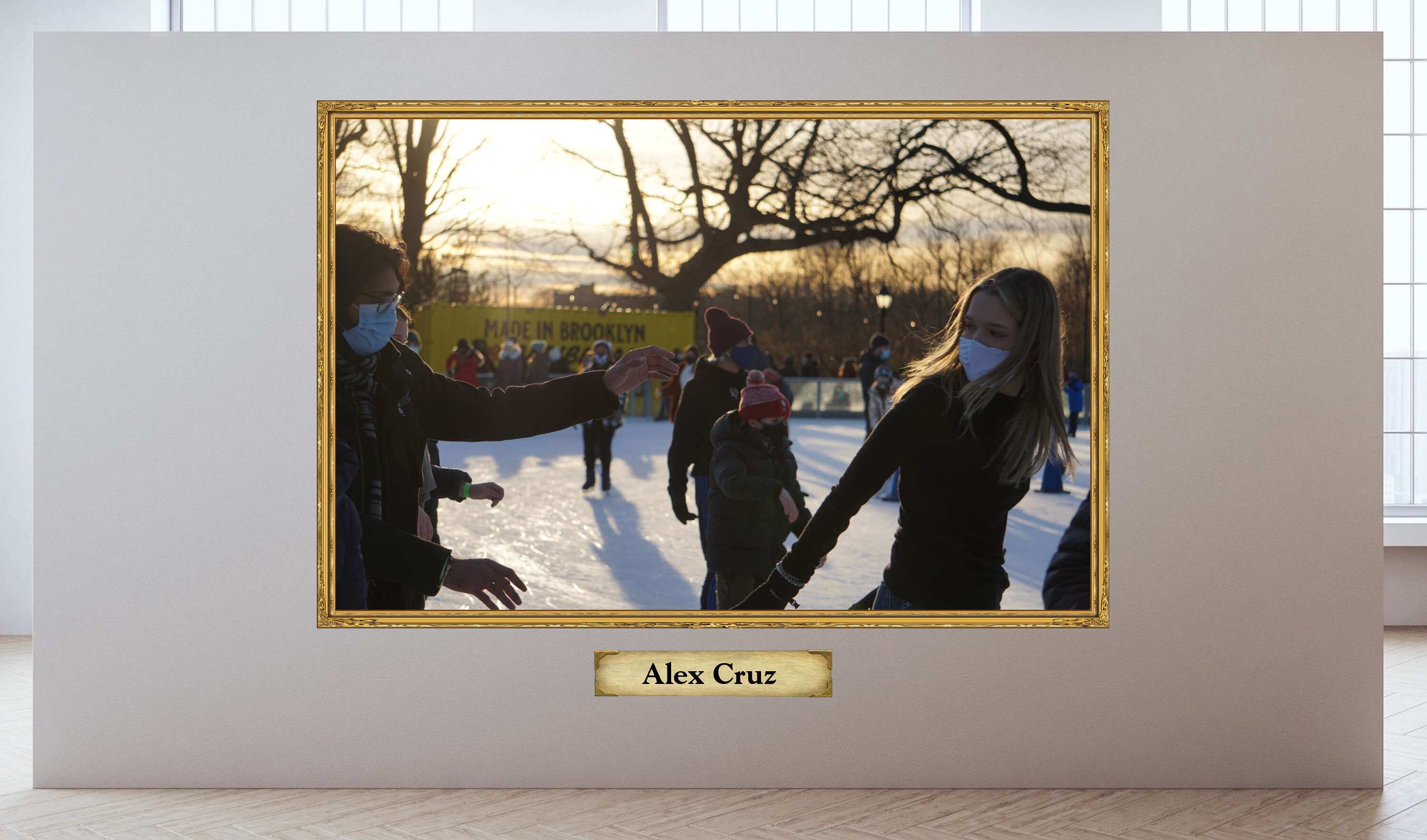 Alex Cruz




"Music and the Mask"
11" x 14"
Photography

Alex Cruz




"Sign of our Times"
11" x 14"
Photography


IG: alexcruzz94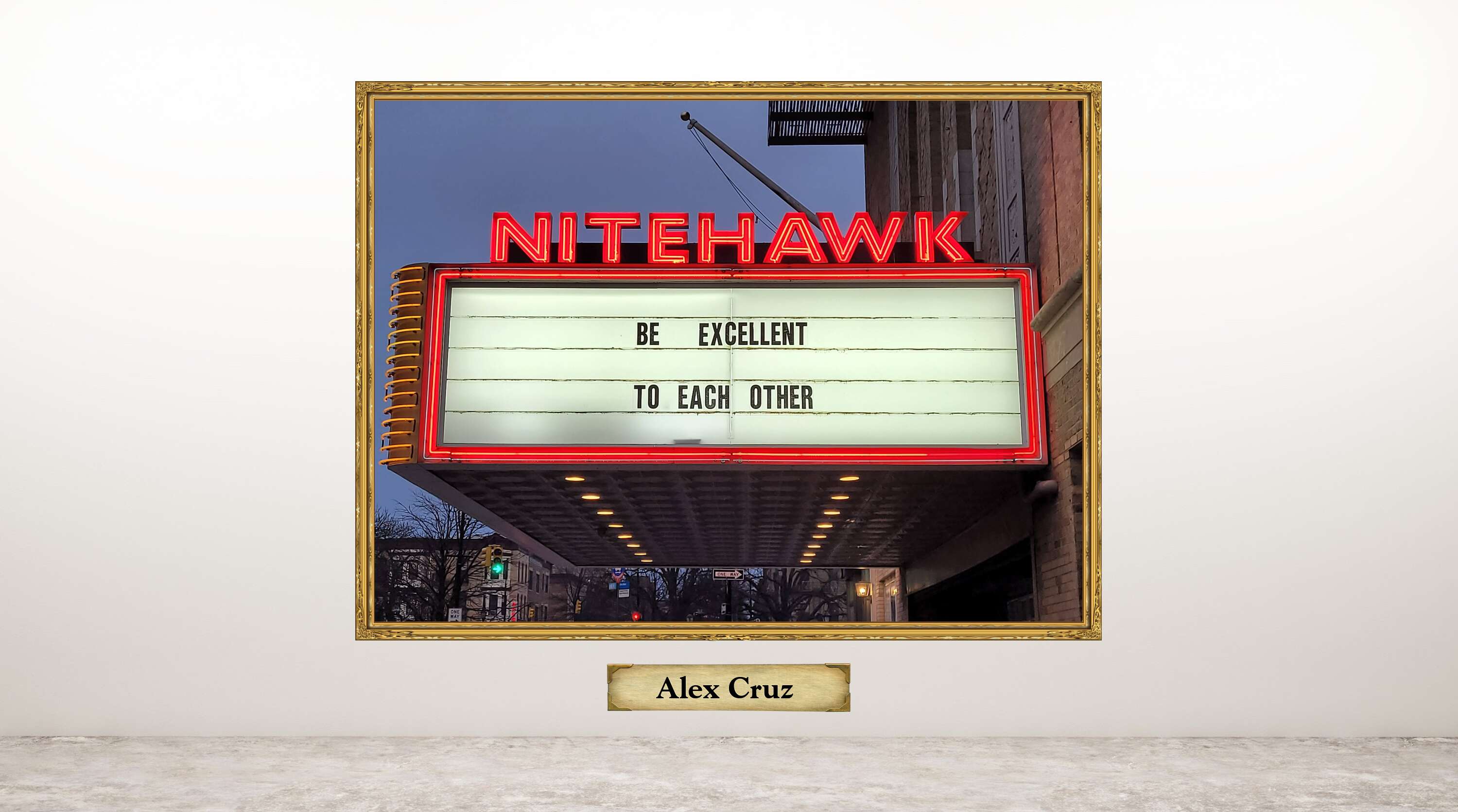 Pamela Saturday
Combining paint and diverse materials including paper, photos and fabric has augmented my recent work, producing abstract and physical visual landscapes with an attention to layered images. Many pieces derive from an overlay of organic and manufactured scraps, while others emphasize a more painterly and tactile terrain.



"Saturday Landscape #9"
14" x 11"
Acrylic on paper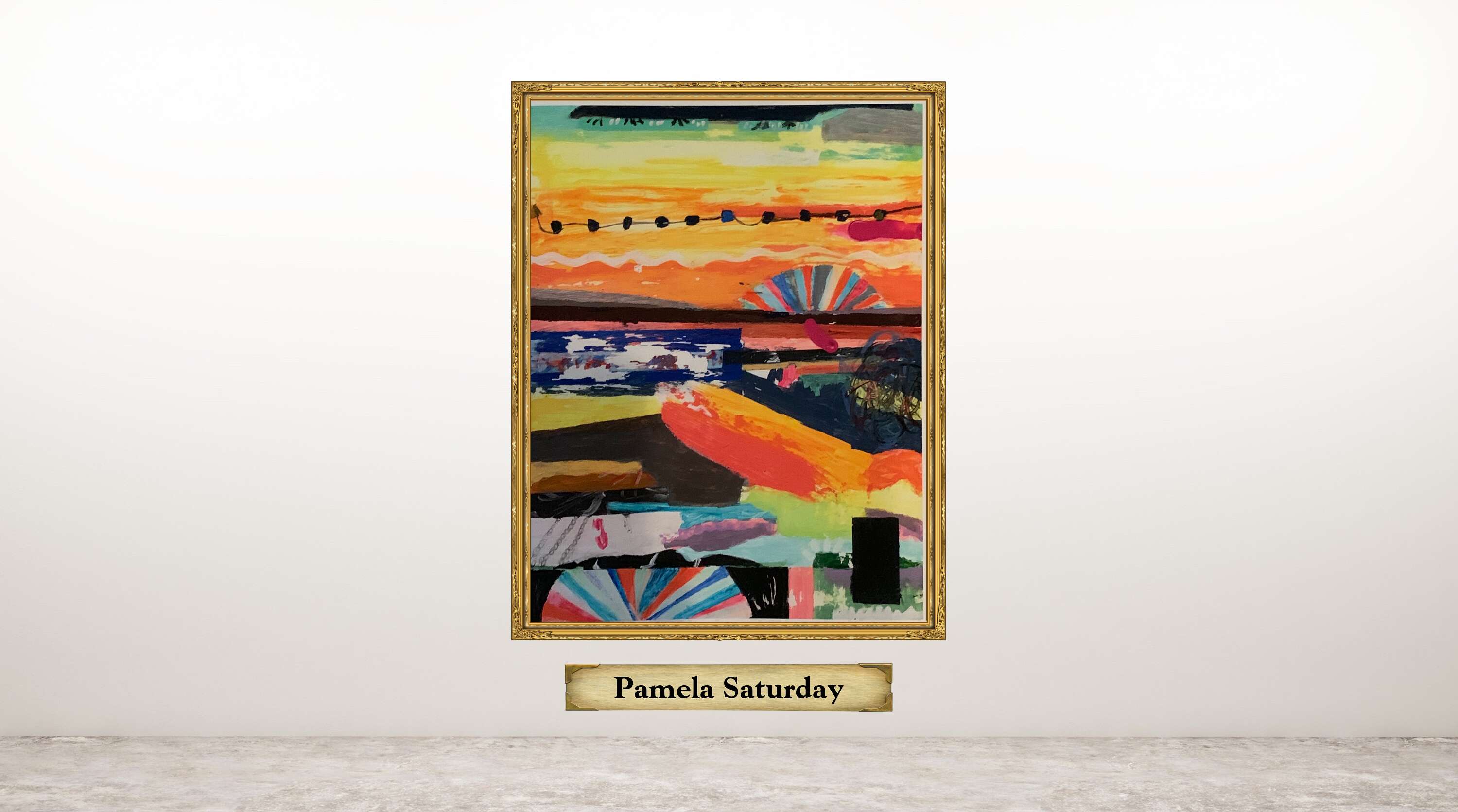 Pamela Saturday








"Landscape #11"
14" x 11"
Acrylic on Board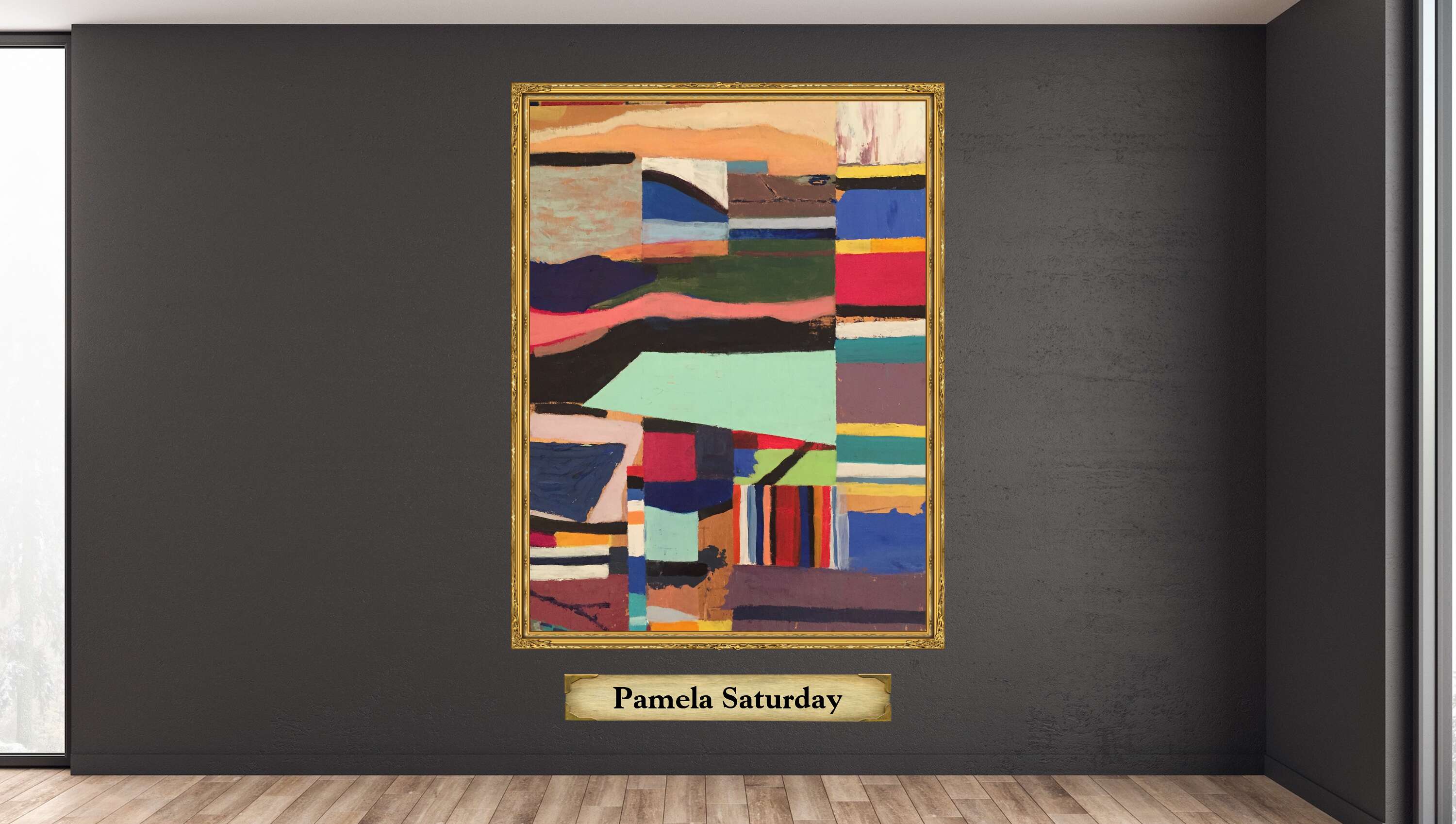 Pamela Saturday







"Watch Hill"
24" x 16"
Giclee Print


IG: pamsaturday
www.pamsaturday.com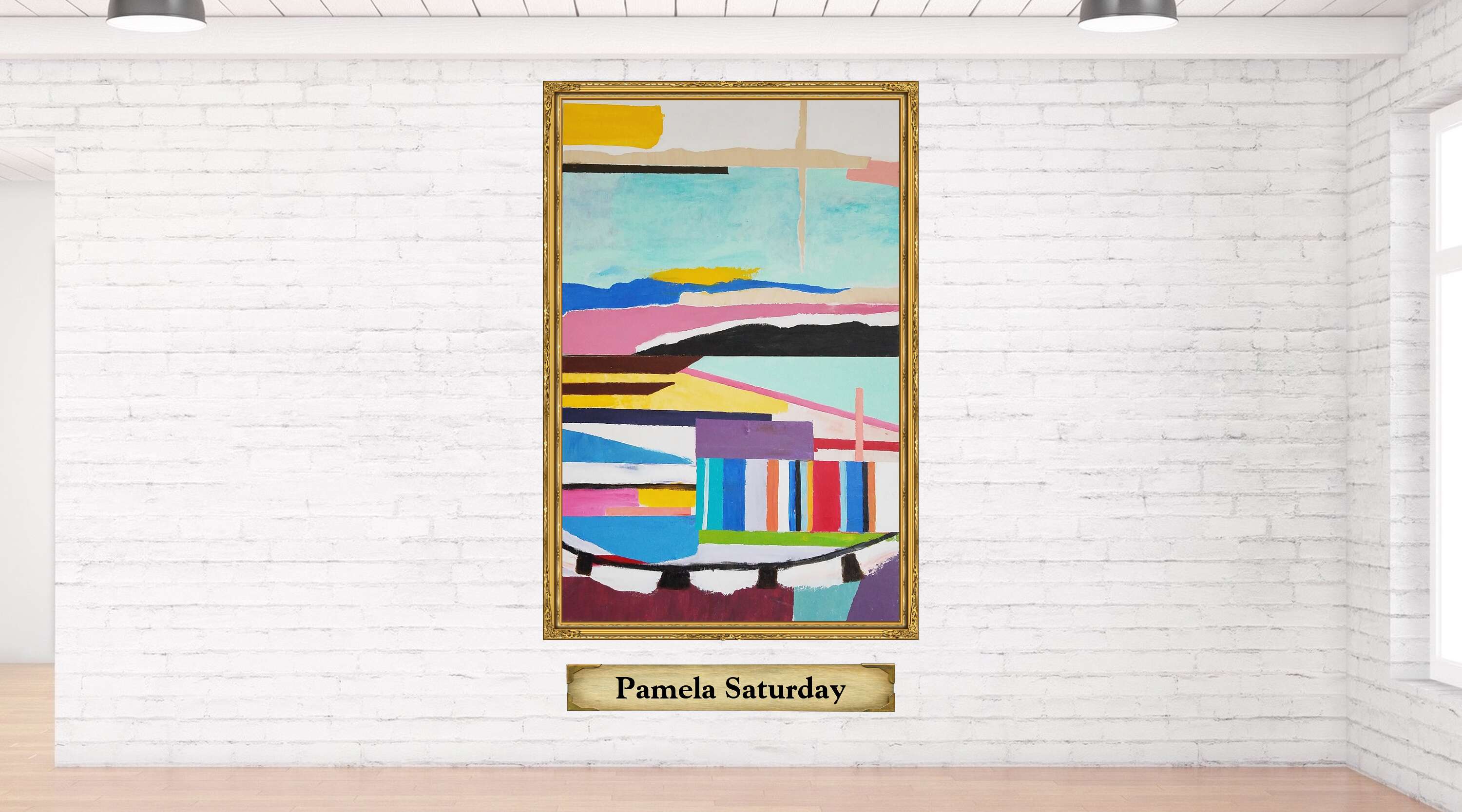 Tim Brennan

These are pictures I took well before the pandemic but are illustrative of aspects of the city I love. 'Center of the Universe' is of the Times Building in Times Square. I took it one afternoon while on my way to the subway entrance nearby while working for the TSA and performing screening of subway passengers' bags in conjunction with the NYPD. I couldn't resist the image of the clown nose.
The other two images were taken on a Saturday afternoon during a trip into Manhattan with my wife, Lisa Kaplan. The paucity of people inhabiting midtown that winter afternoon evokes the desolation of this time of pandemic.


"Saturday in MidTown 2"
8" x 10"
Digital Photo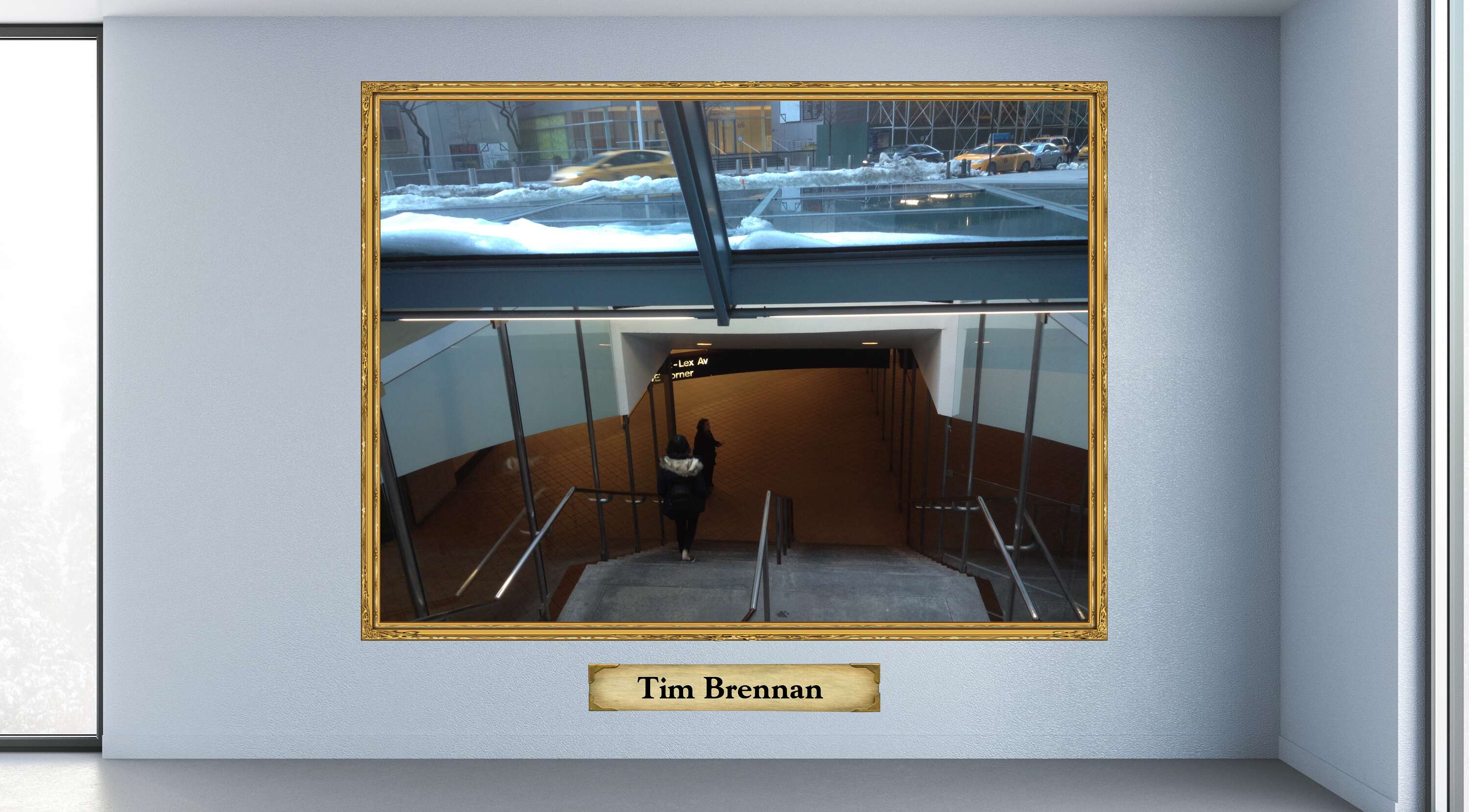 Tim Brennan





"Center of the Universe"
8" x 10"
Digital Photo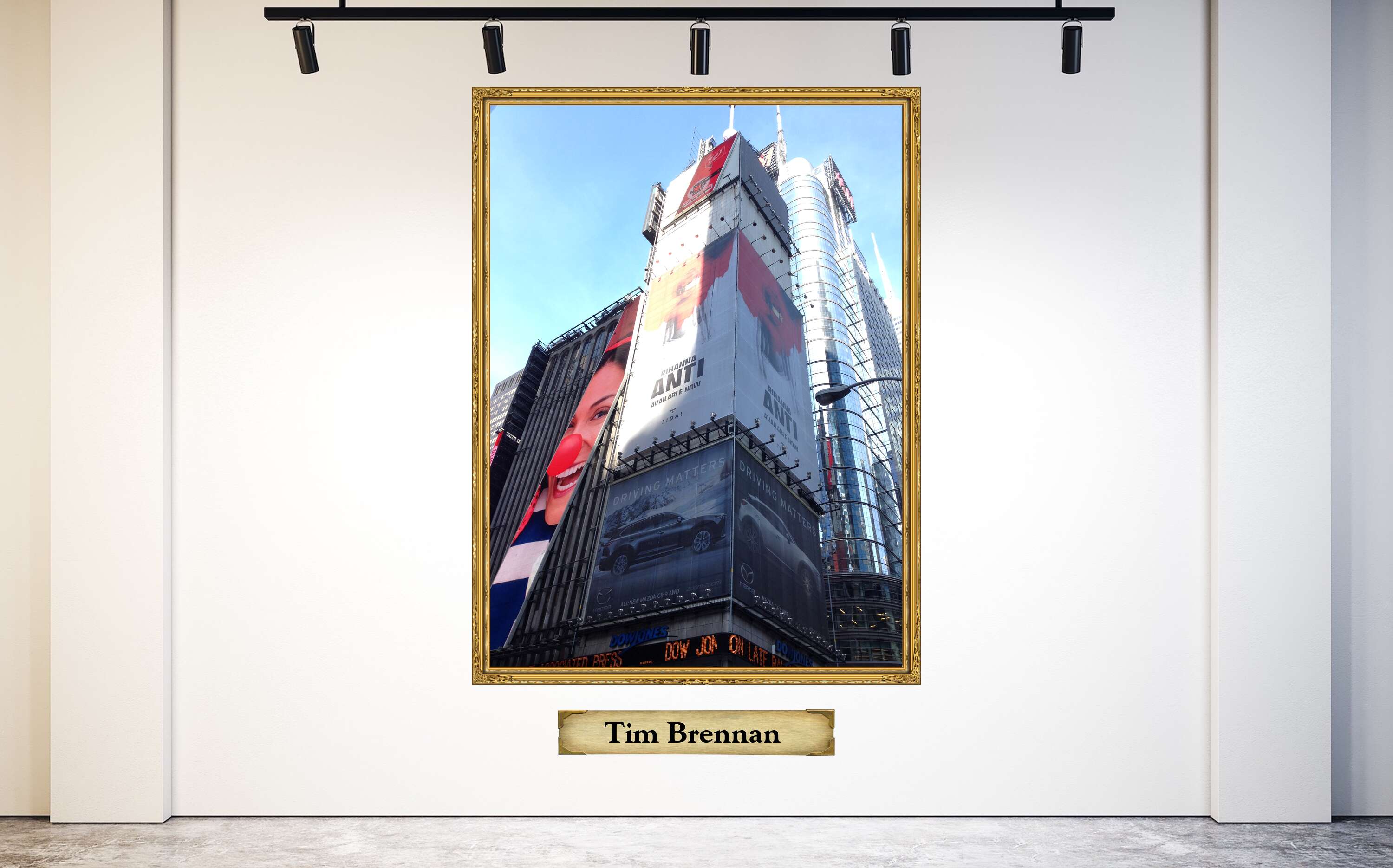 Tim Brennan




"Saturday in Midtown 1"
8" x 10"
Digital Photo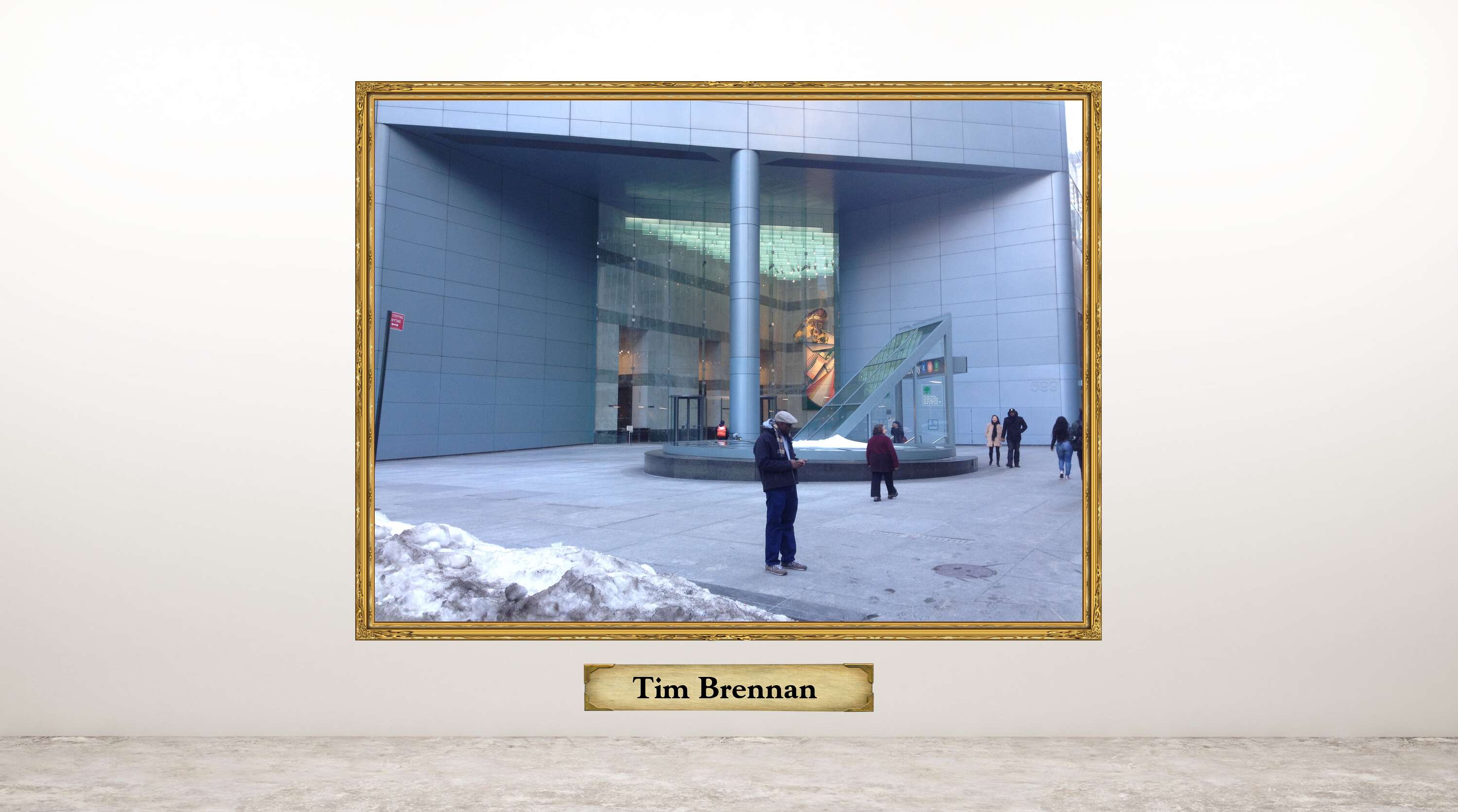 Kristin Miller
Since Covid I have been in such a mental rut with my own personal art making. I have tried so hard to find inspiration all around, but the endless zoom meetings, and online learning have sucked all the joy out of life this past year. This summer I was really looking forward to dropping the weight of the year and trying to dig myself out of this creative- and personal, state of melancholy. I set a personal goal for myself this summer, to really just to let go, open up, and to throw myself into new things on a creative level. One of the biggest lessons I took away from remote learning was to use the tools and supplies that I have all around me. Being an art teacher, I took an inventory and realized that I had so many tools, materials, and ideas just sitting around, just waiting for someone to use them! I decided that I would go through all my art supplies and try out new things, new paints, and new ideas, anything that I have never really done before.
One tool I challenged myself to tackle working with was a gelli printing plate. I have always loved printmaking but have never found success in it,so after a few online videos for inspiration, I set a goal to create a certain number of prints to correspond with my age and birthday.I also have a notebook of personal sayings and mantras for inspiration, and one of my favorite quotes is "shine the light you were born to shine". Using my mantra, I used Paul Klee as an inspiration for breaking down the words into lines and shapes, and covering my prints with the abstract letters. I had so much fun doing these prints, that I cut them down even smaller, and then printed out more mantras to use for my classroom this year. It took me all summer, but I had so much fun with this process, finally!

Kristin Miller,
Visual Arts Teacher
Prek-8
Sojourner Truth School

"Shine the Light You Were Born to Shine # 1"
4 1/2" x 6 1/2"
mixed media, gelli print, acrylic paint, paint sticks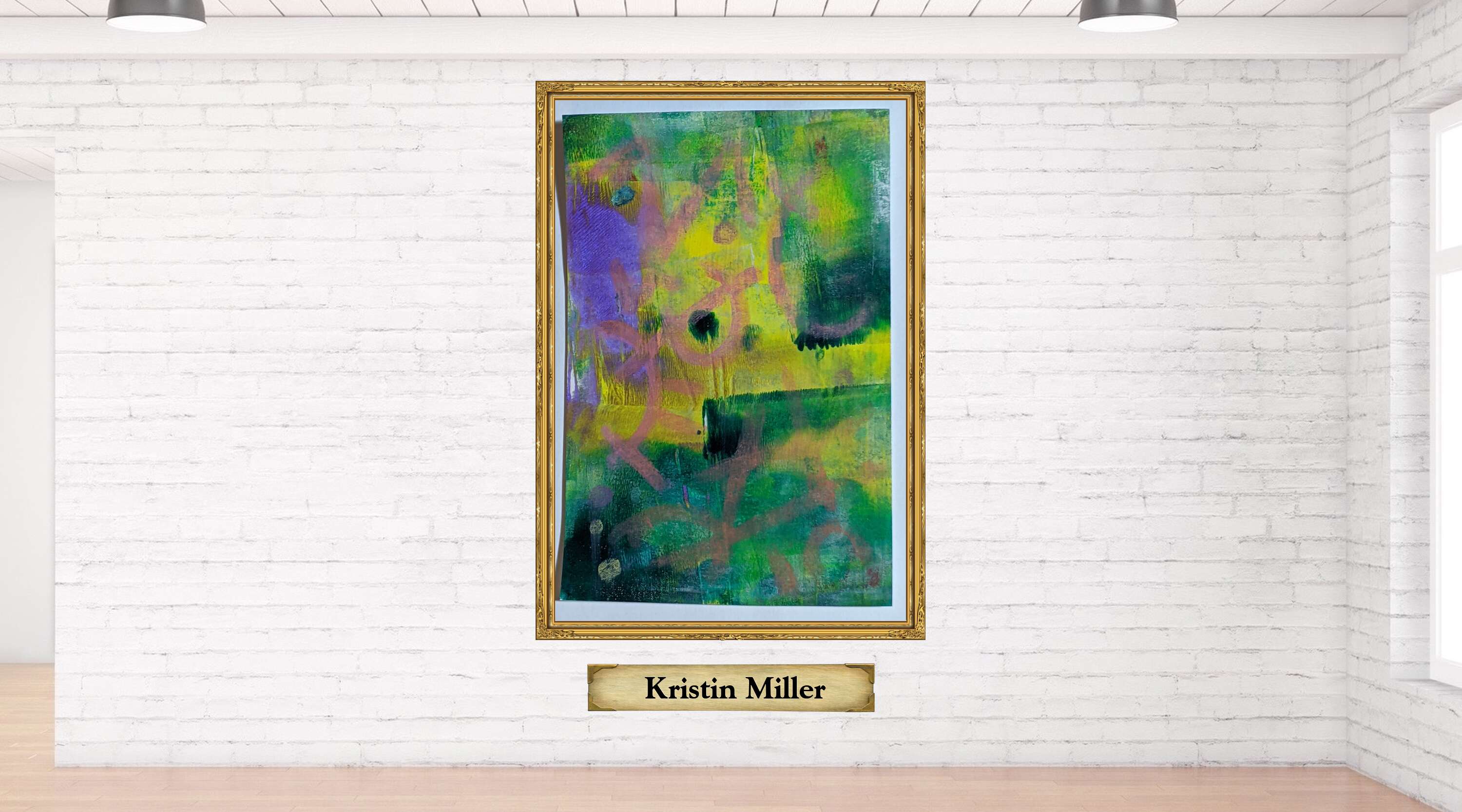 Kristin Miller




"Shine the Light You Were Born to Shine, #2"
4 1/2" x 6 1/2"
mixed media, gelli print, acrylic paint, paint sticks

IG: sojournertruthvisualartsharlem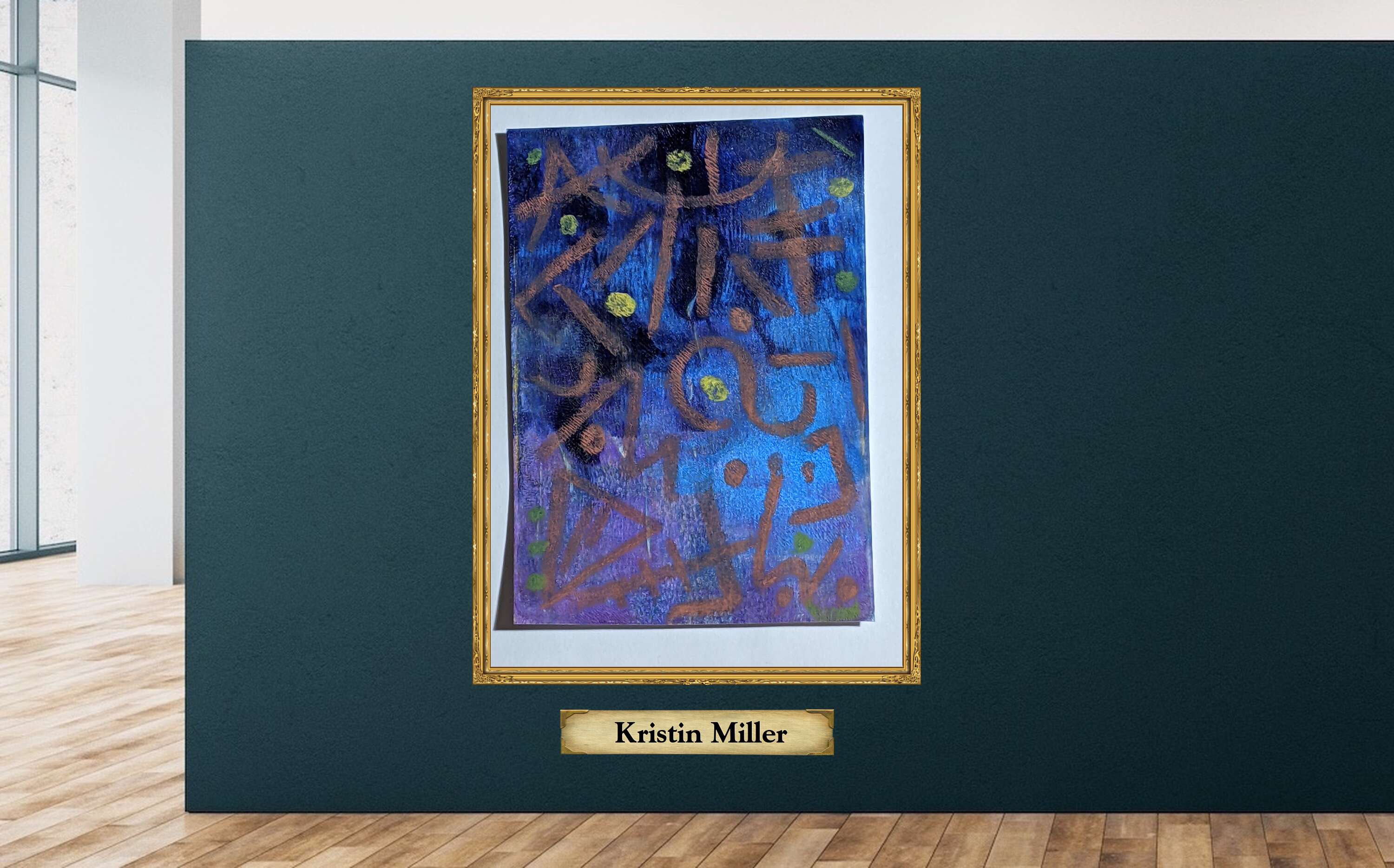 Albert Justiniano
Albert Justiniano is a local artist born and raised in the Lower East Side of Manhattan and presently living in Central Harlem. In his paintings, he extrapolates views of cultural symbolism that awaken emotions from encounters and occurrences of life. Albert's paintings impart what is familiar, thus enabling the viewer a space for personal interpretation and to connect symbolically, spiritually and culturally to one's life experiences.

Oftentimes, he merges the spiritual and religious characteristics of his culture, creating a surreal representation of common objects in uncommon places. His paintings and drawings create visual havens of harmony while arousing distinct feelings.

Albert has been creating art for over 45 years. He was an art director and then creative director in the field of Art and Advertising design for twenty-one years and for the past twenty years, teaching visual arts at a high school for students with special needs. Albert also taught art history and studio art, as an adjunct professor, at Boricua College and an adjunct professor, of art in elementary education, at Brooklyn College.

Throughout his career, painting and drawing has been his way of connecting emotionally and spiritually, creating imagery that lures the viewer into a state of personal awareness, to experiences of life.

Producing these works of art is Albert's way of informing experiences of life, allowing a space where others can enter safely, eliciting memories that one may have not, otherwise, been able to confront.

Set your emotions free; by entering a state of mind, for personal interpretation through Albert Justiniano's works of art.

"FRAGMENTS OF THE TAINO INDIAN (with a sweet smell of incense)"
24"x30"
Acrylic Painting and Collage on Canvas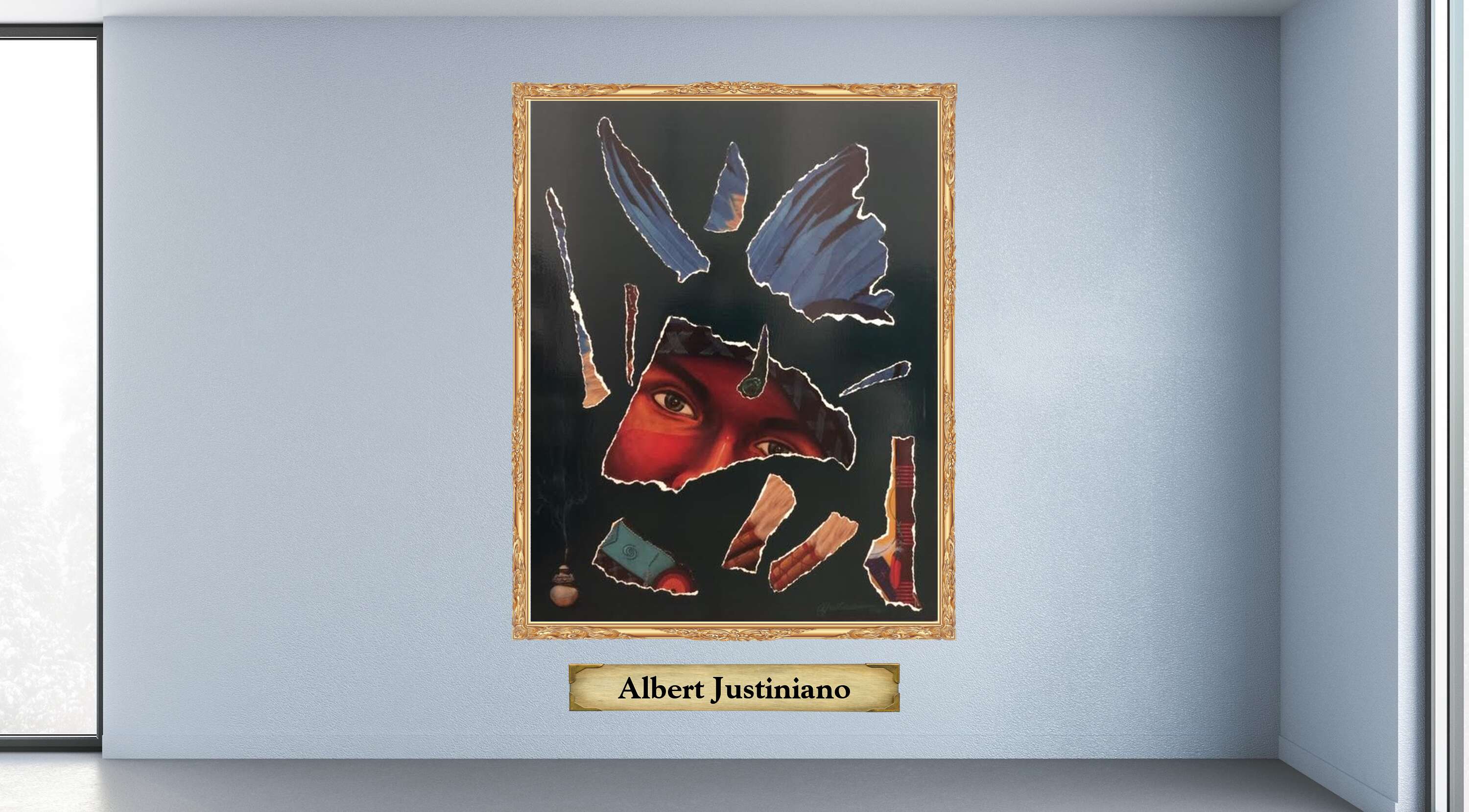 Albert Justiniano







"Cafè con Titi Luz"
18" x 24"
Acrylic Painting on Canvas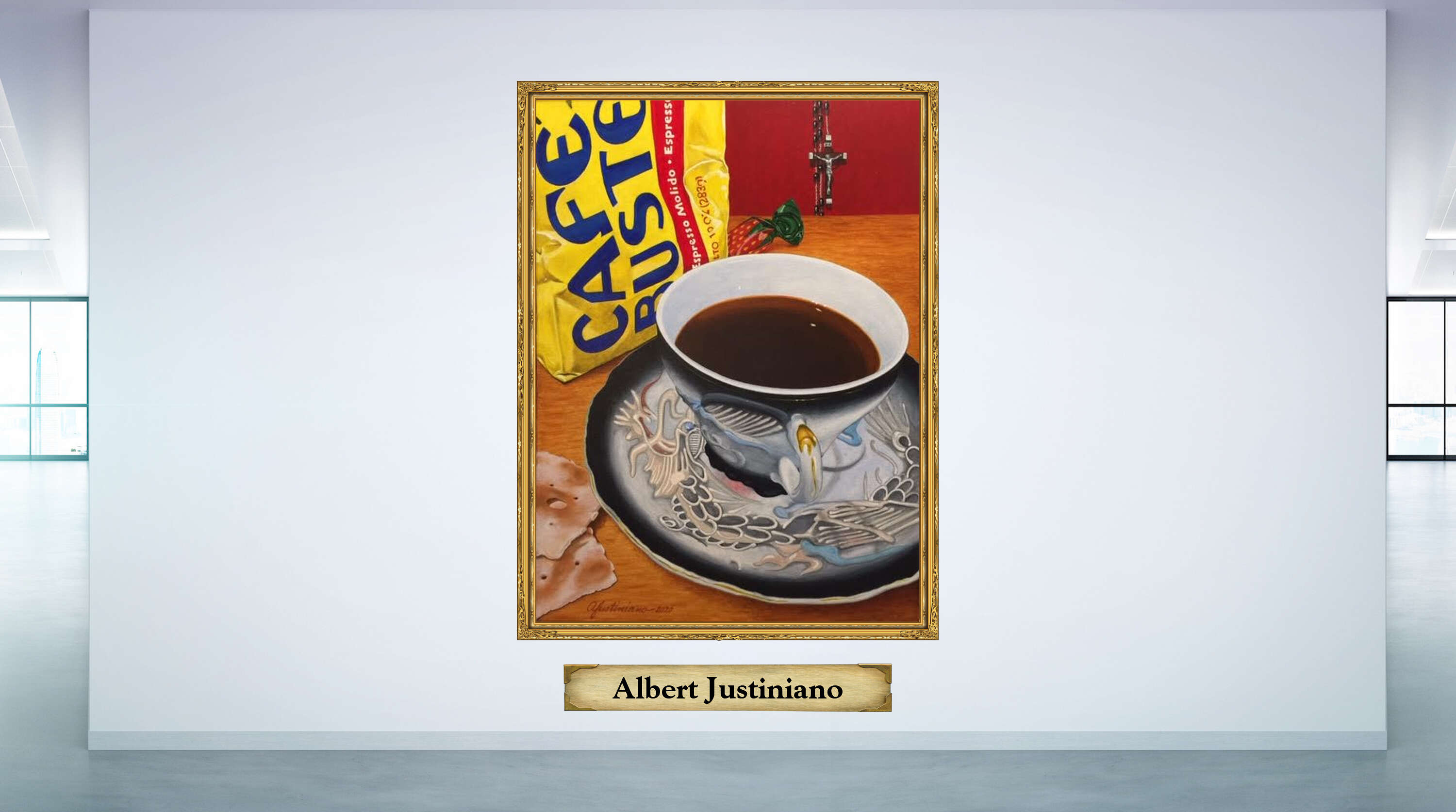 Albert Justiniano







"FRAGMENTS OF THE TAINO INDIAN (Piece Treaty)"
24"x30"
Acrylic Painting and Collage on Canvas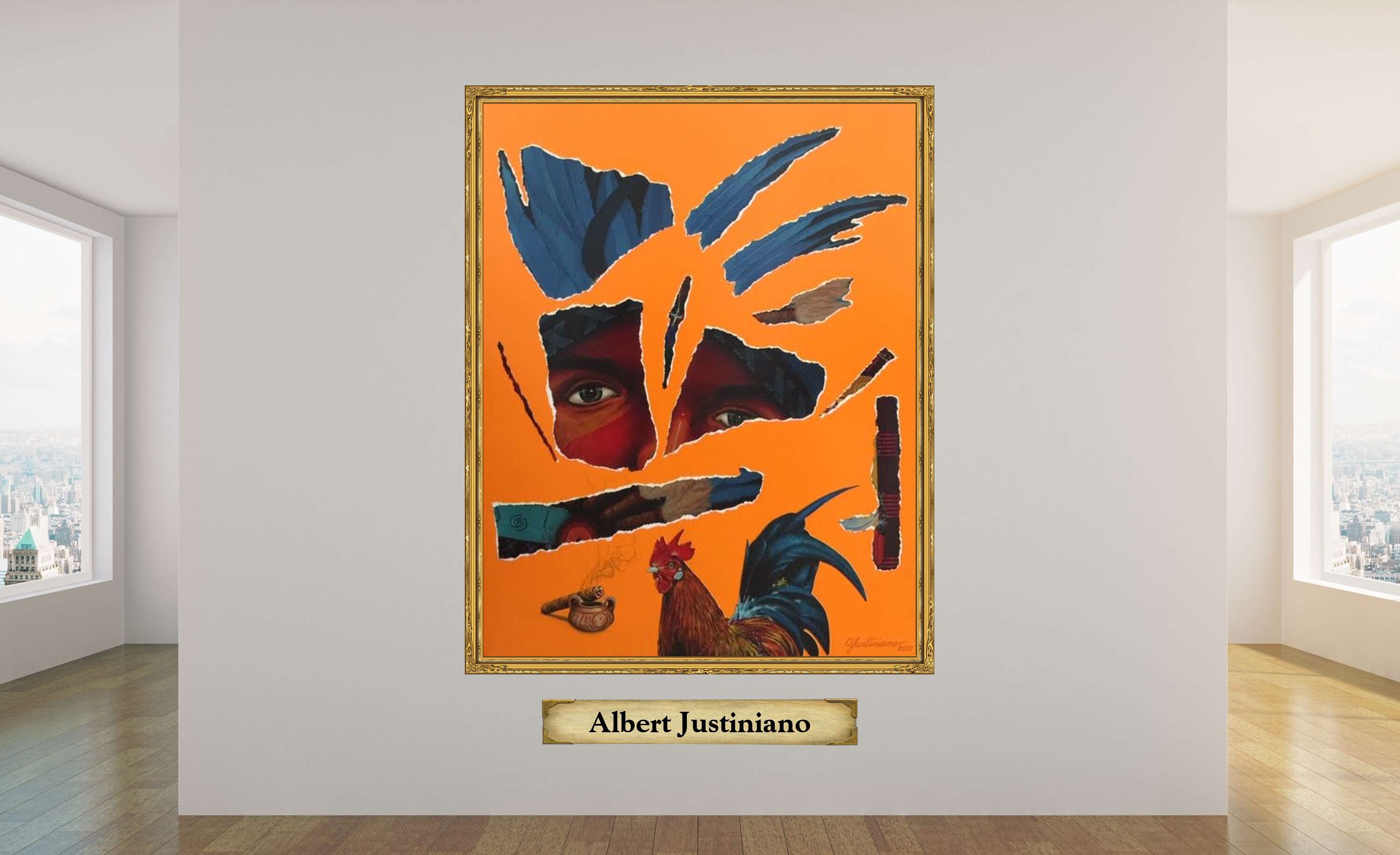 Tae Jung Kim
Cement balances and precariously clings to transparent surfaces to explore our insecurities and fragile psyche as we navigate our everyday lives. My art acts as a confession of my feelings of weakness and the weakness of human beings. This weakness can manifest through our desire to be perfect. But then I asked myself, for whom are we trying to be perfect? This question informs my work which materializes as abstract sculptures, paintings, and installations that use materials as stand-ins for the human psyche. Unusual and fragile material combinations like cement and fabric are the focus of my practice. I utilize sheer fabric as a vessel to hold a cement form. I see the transparent fabric as ego and the cement as our attempts to be strong. On this fabric, the cement becomes the most vulnerable element even from a light vibration. As with the relationship with the materials, it's a constant struggle to stay strong when the matrix or vessel meant to support that strength is the very thing that can cause us to lose that strength.

"Ego"
12 inch x 12 inch
Cement and medium on silk canvas

School of Visual Arts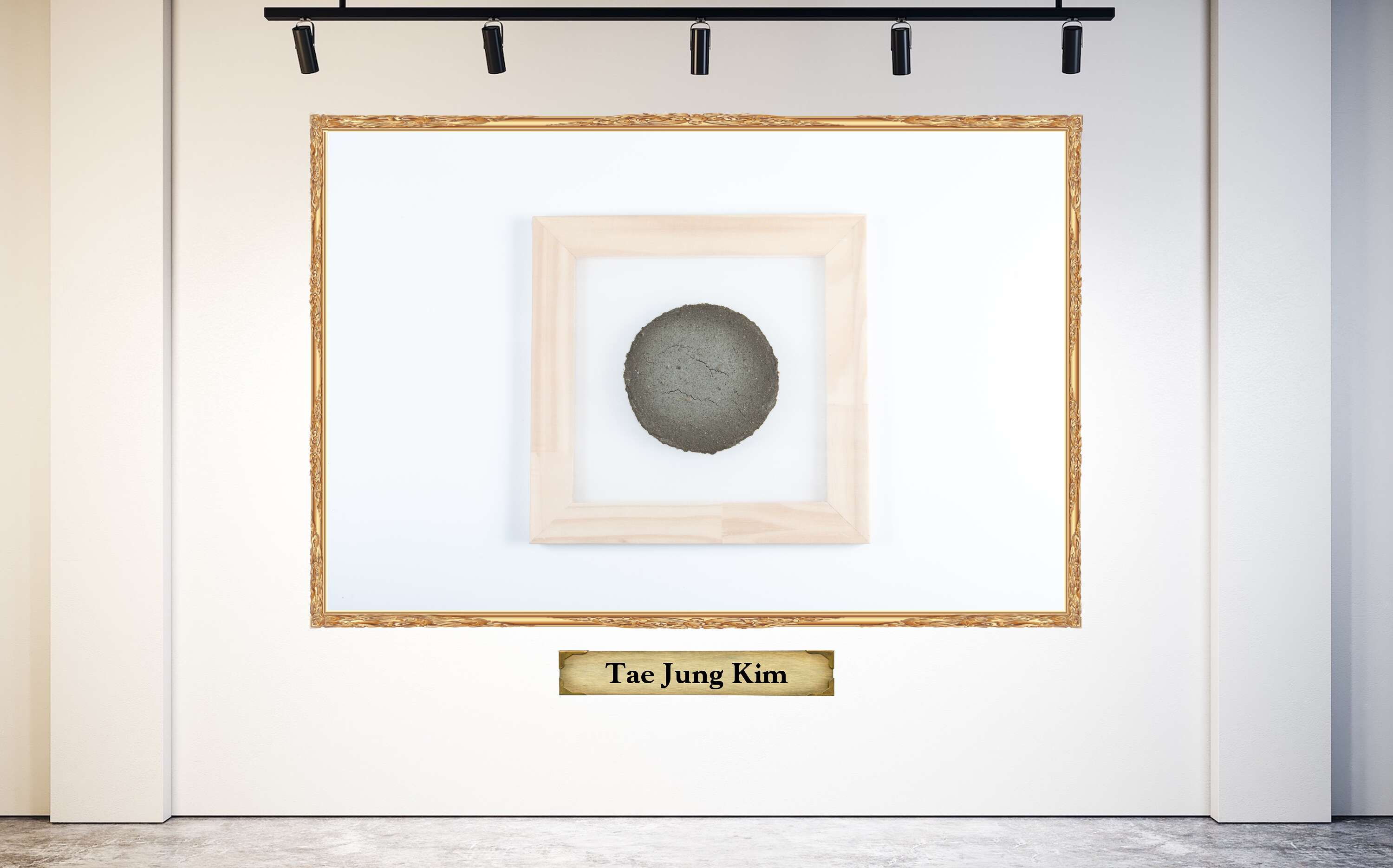 Tae Jung Kim





"TAEJUNG"
20" x 16"
Cement on Silk Canvas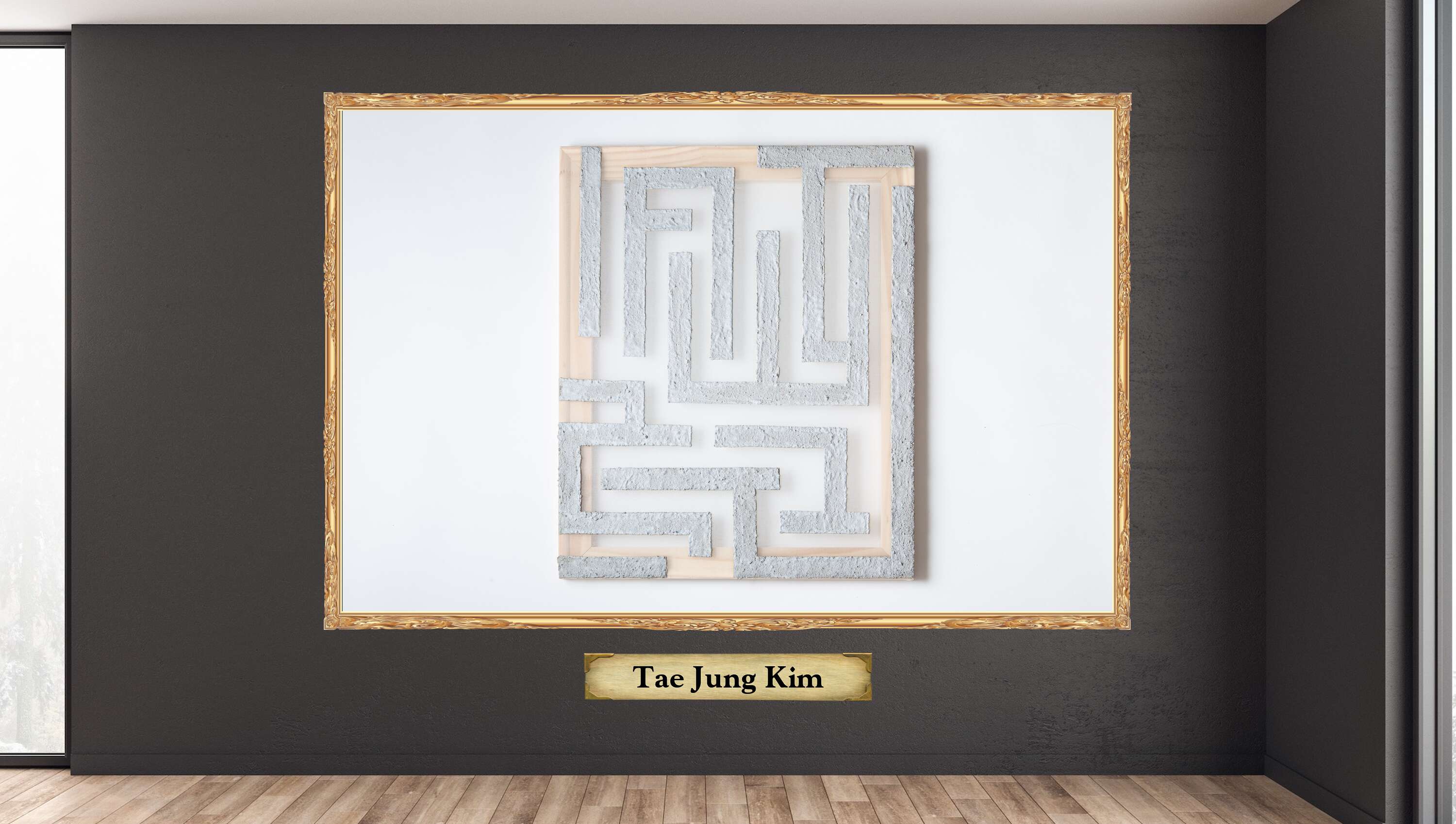 Tae Jung Kim





"Cross"
20" x 16"
Cement and pigment on silk canvas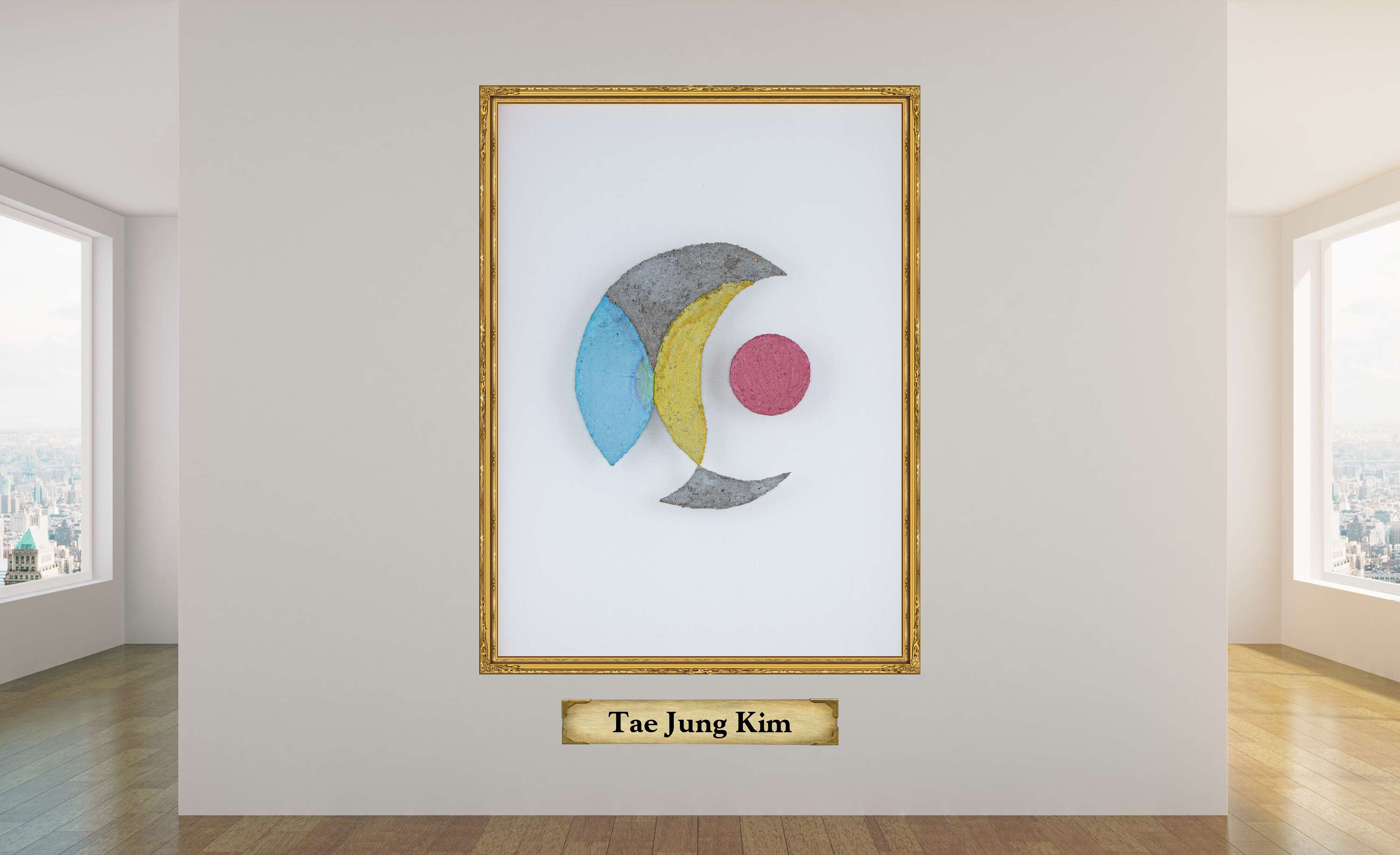 Denise Martinez
Through the past year, like many, I looked for ways of helping cope with the stress of trying to teach art remotely, and the overall uncertainty. I found that yoga and mindfulness were significant ways to help me keep it together. Mindfulness is not just of the mind, but very much of the body, and grounding the mind in a non judgemental awareness. Mudra is the term for eye positions, hand gestures, breathing techniques or body positions that depict a certain state or process of consciousness in a yoga practice. Each painting in my Mudras series depicts a Mudra and also a part of the body that directly corresponds with the type of energy that Mudra activates.

Brooklyn Community Arts & Media High School

"Abhava Mudra"
9"x7"
Oil on canvas board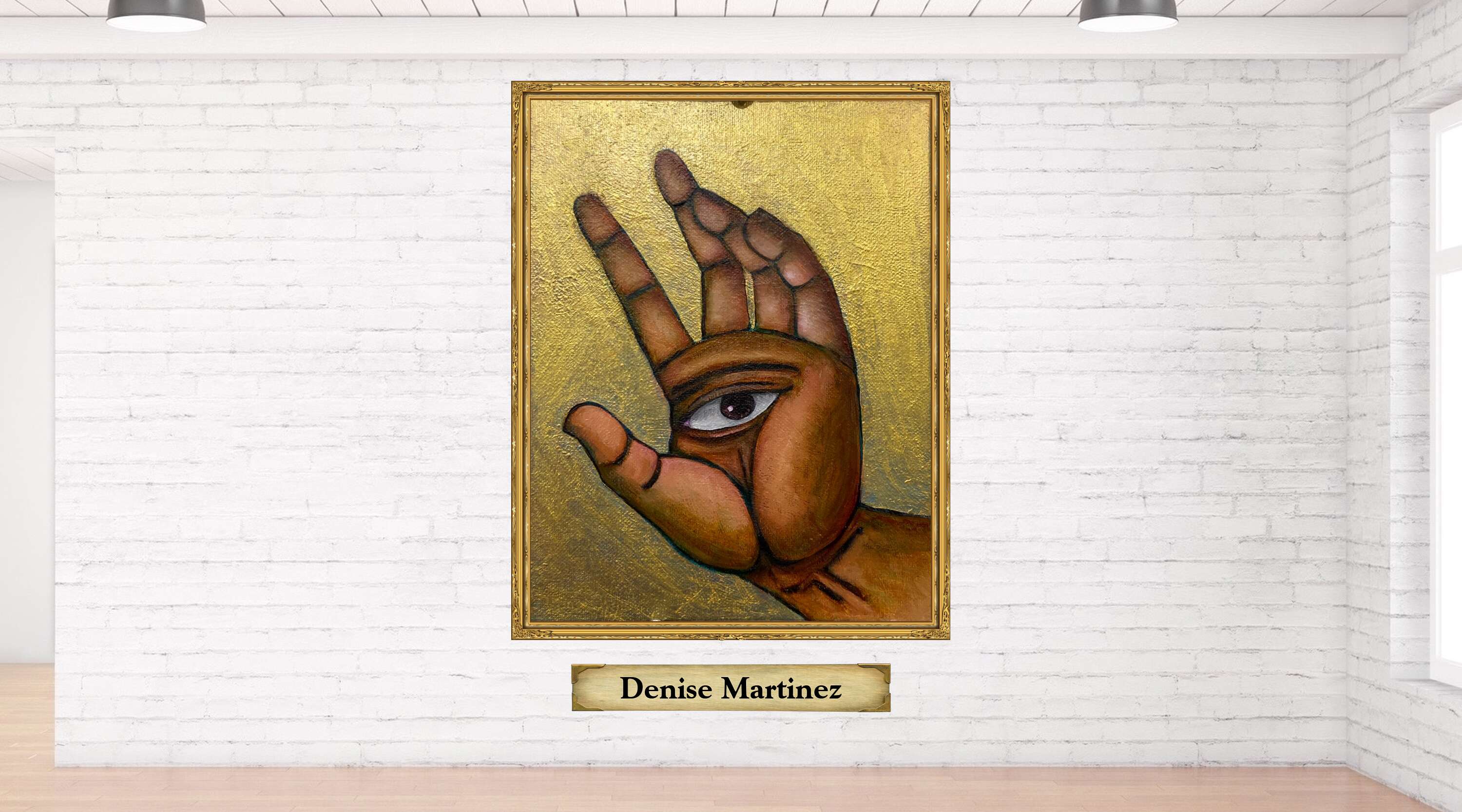 Denise Martinez




"Yayu Mudra"
8"x6"
Oil on canvas board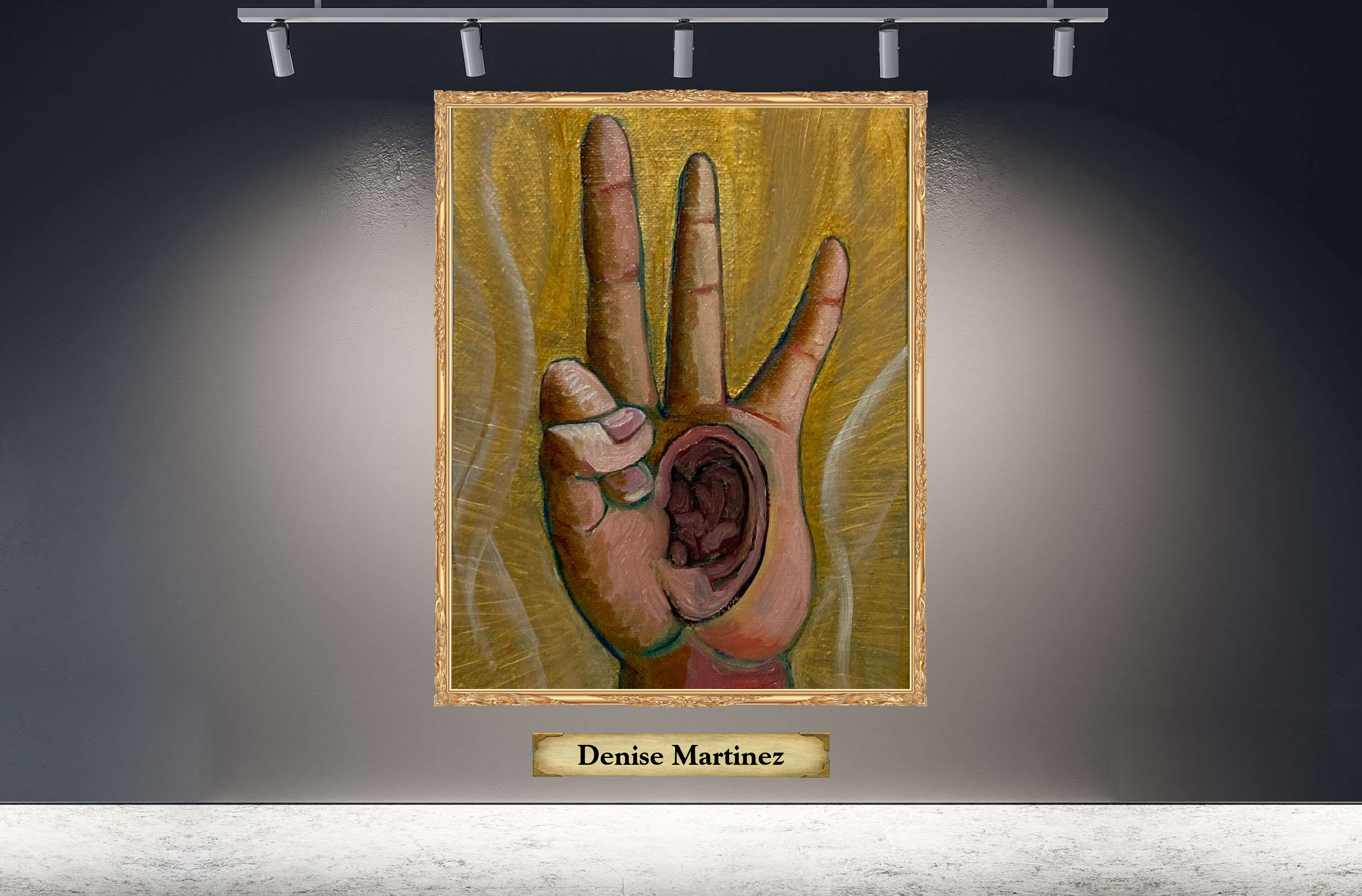 Denise Martinez




"Bronchial Mudra"
7"x9"
Oil on canvas board

IG: qkdrawdenise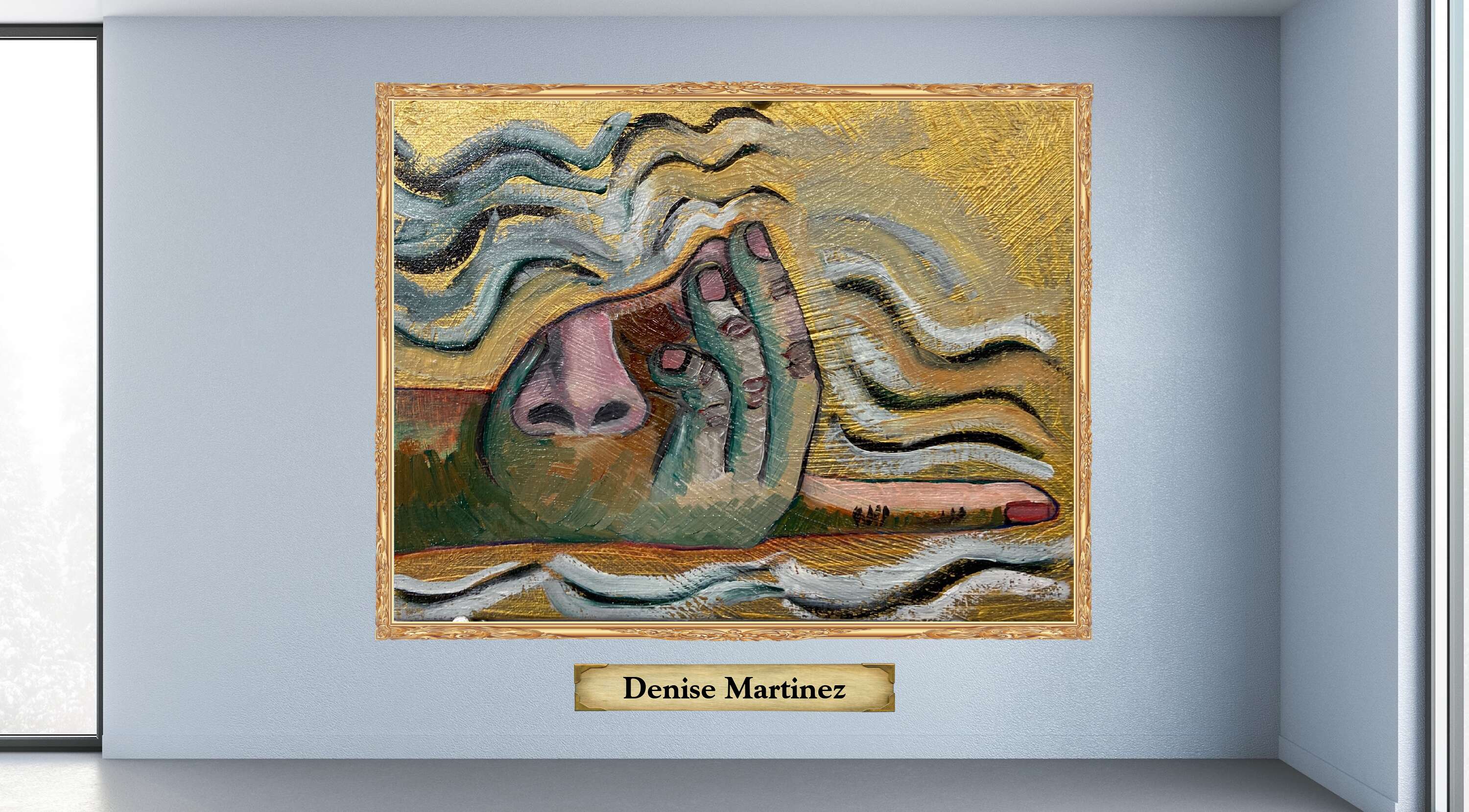 Clarice Mims


"Family Tree"
16" x 20"
Acrylic on Canvas

A mixture of races, colours, religions, and beliefs have produced the limbs of my family tree from which I am but a small branch. But I am oh so blessed to witness, to watch, as at least three generations of branches have grown from me.

Retired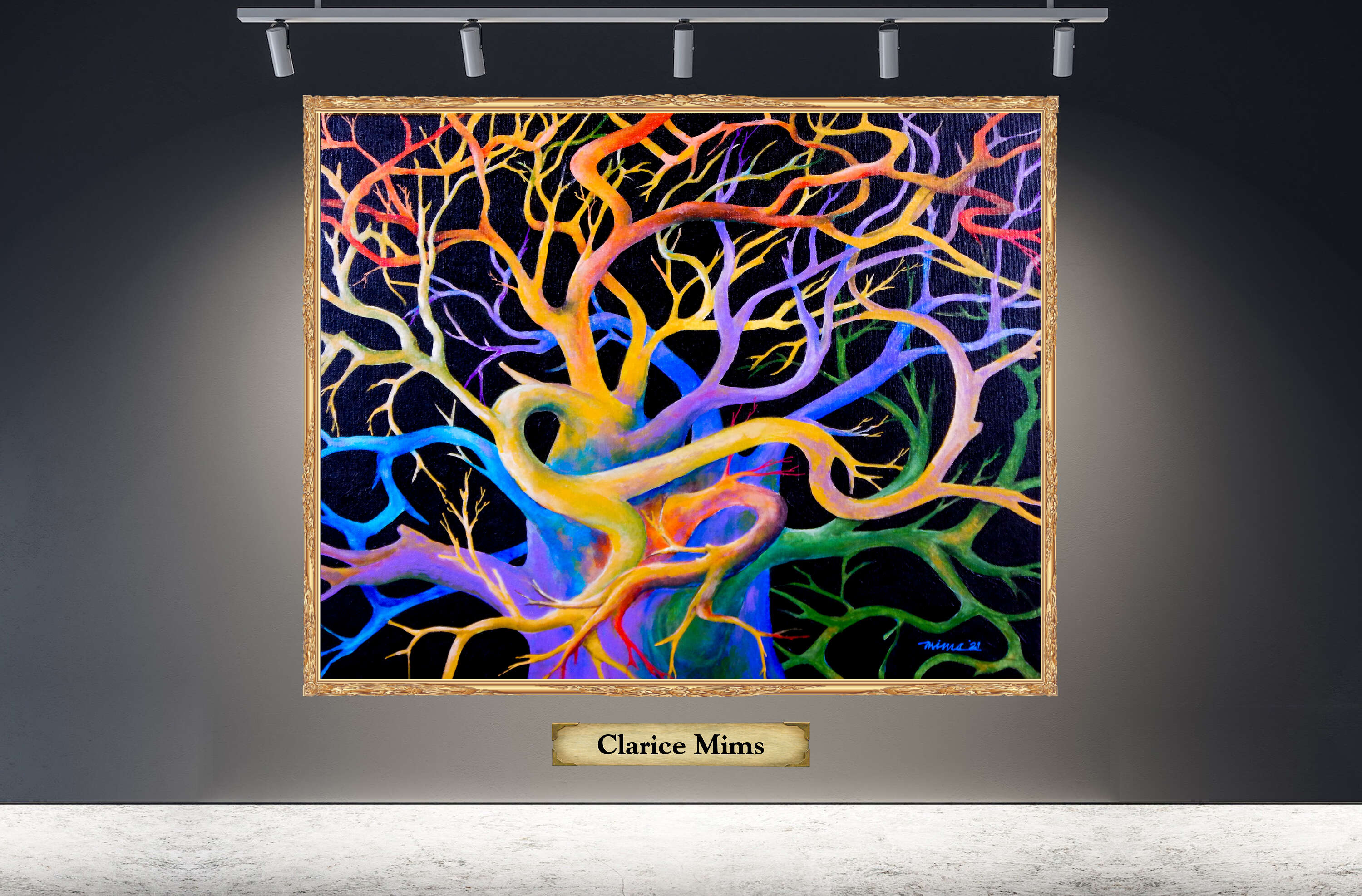 Clarice Mims


"Ain't No 40 Acres"
24" x 24"
Acrylic on Canvas

According to the USDA, by the 1920s there were almost 1 million Black farmers, owning approximately 14% of US farmland (~15 million acres back then). Today, a mere 100 years later, largely due to racism, bigotry, prejudicial and discriminatory practices, there are less than 45 thousand Black farmers, owning .52% of US farmland. Generations of proud, determined, hard-working Black farmers lost their land and continue to lose their land.

theartiststerrace.com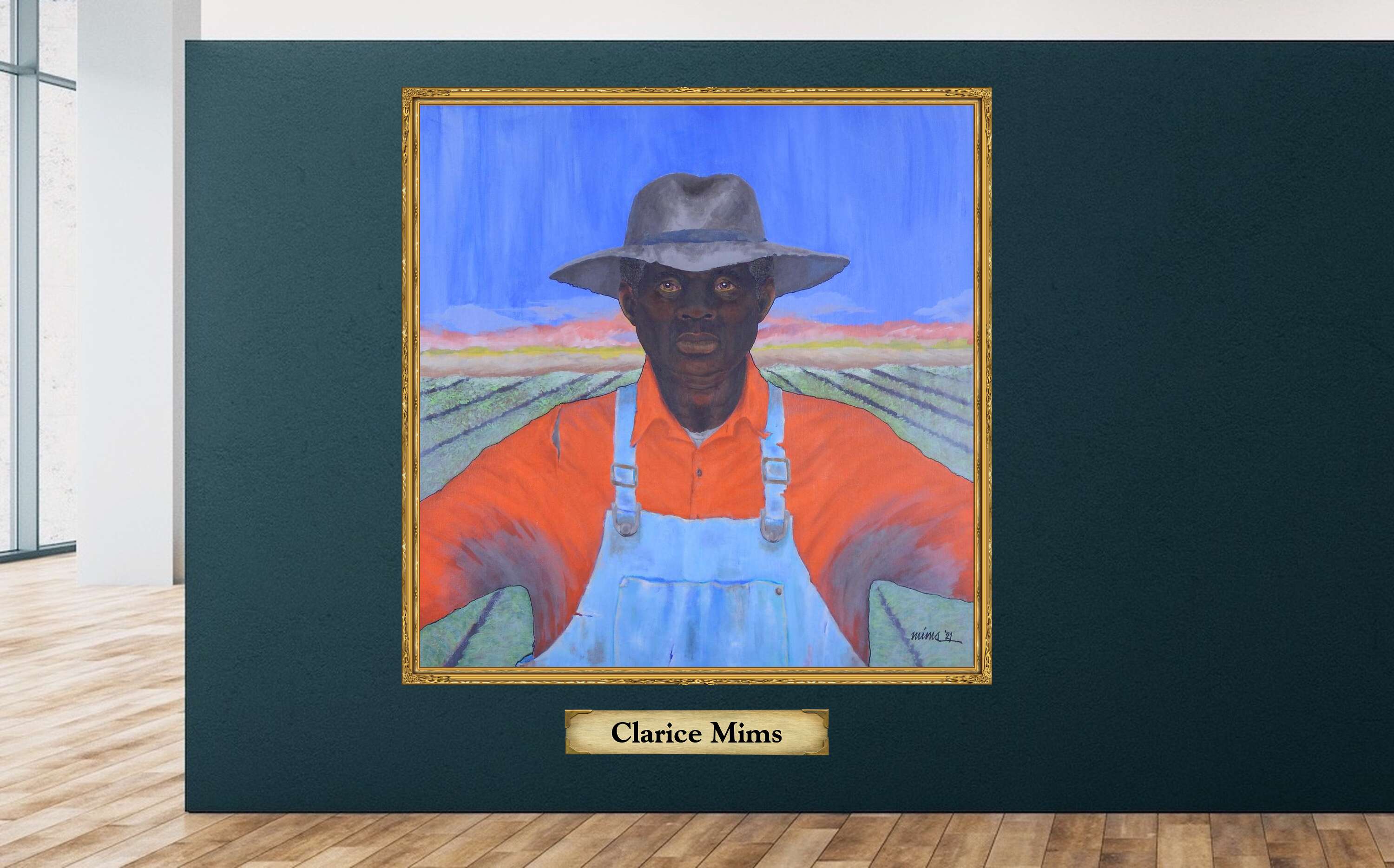 Laura Nash
From years of art making in different media, I consider: what do we need more of in the world. Living here in the city, I feel the need for the non-linearity of Nature, as an antidote to our rectilinear environment.

I'm thinking of the resurgence of plants after an apocalypse. Being indoors, during Covid, I brought home store plants, and grew them into a miniature jungle, for relief. To be outside, I spent hours each day in Prospect Park, doing tree rubbings to see the patterns of the bark.

I am currently working in watercolor and oils, beginning to work on a larger scale- and getting to know the materials again, at that scale.
P. S. 205 The Clarion School

"Plants"
18" x 24"
Oil on panel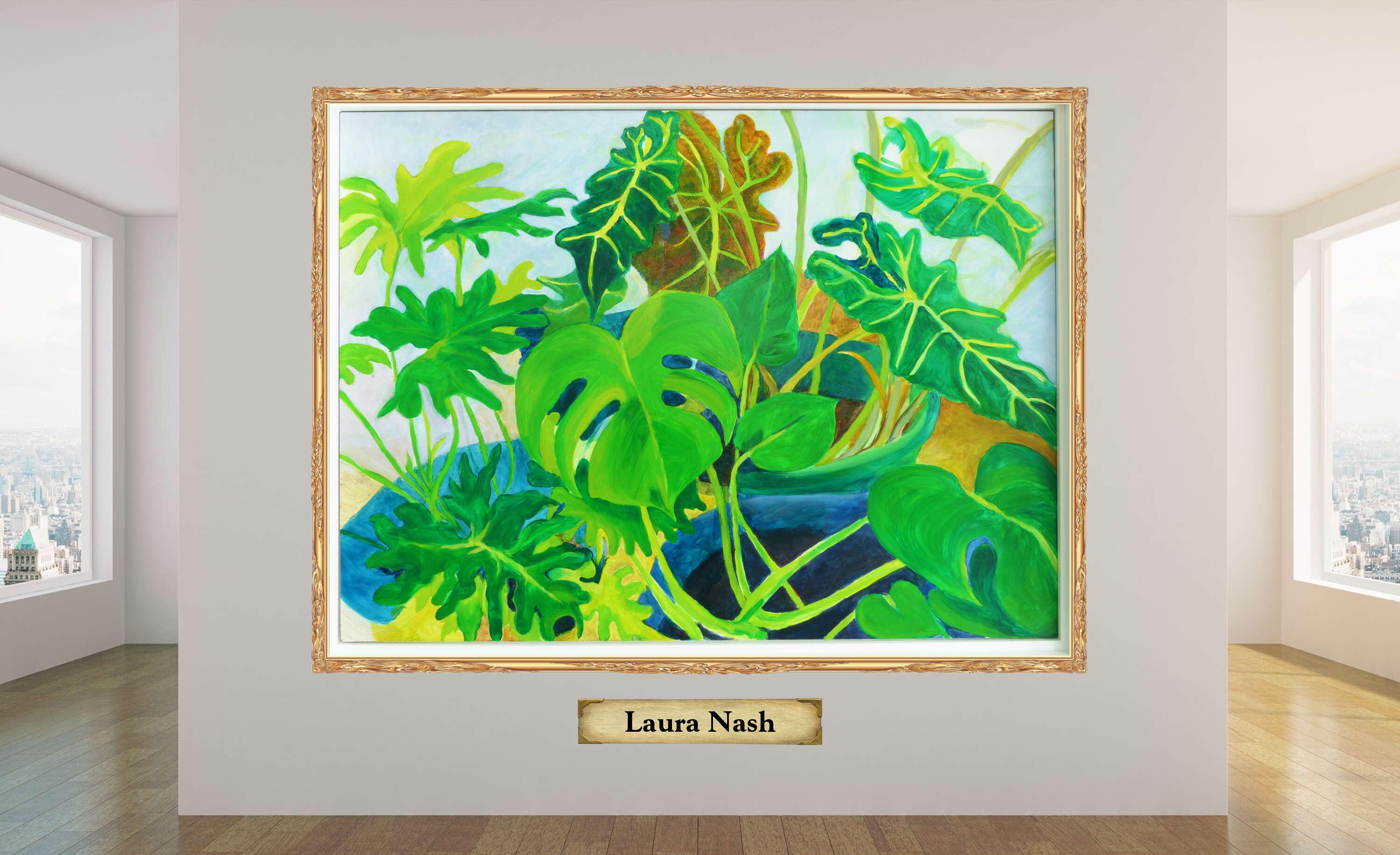 Laura Nash






"Leaves"
30" x 40"
Watercolor on Paper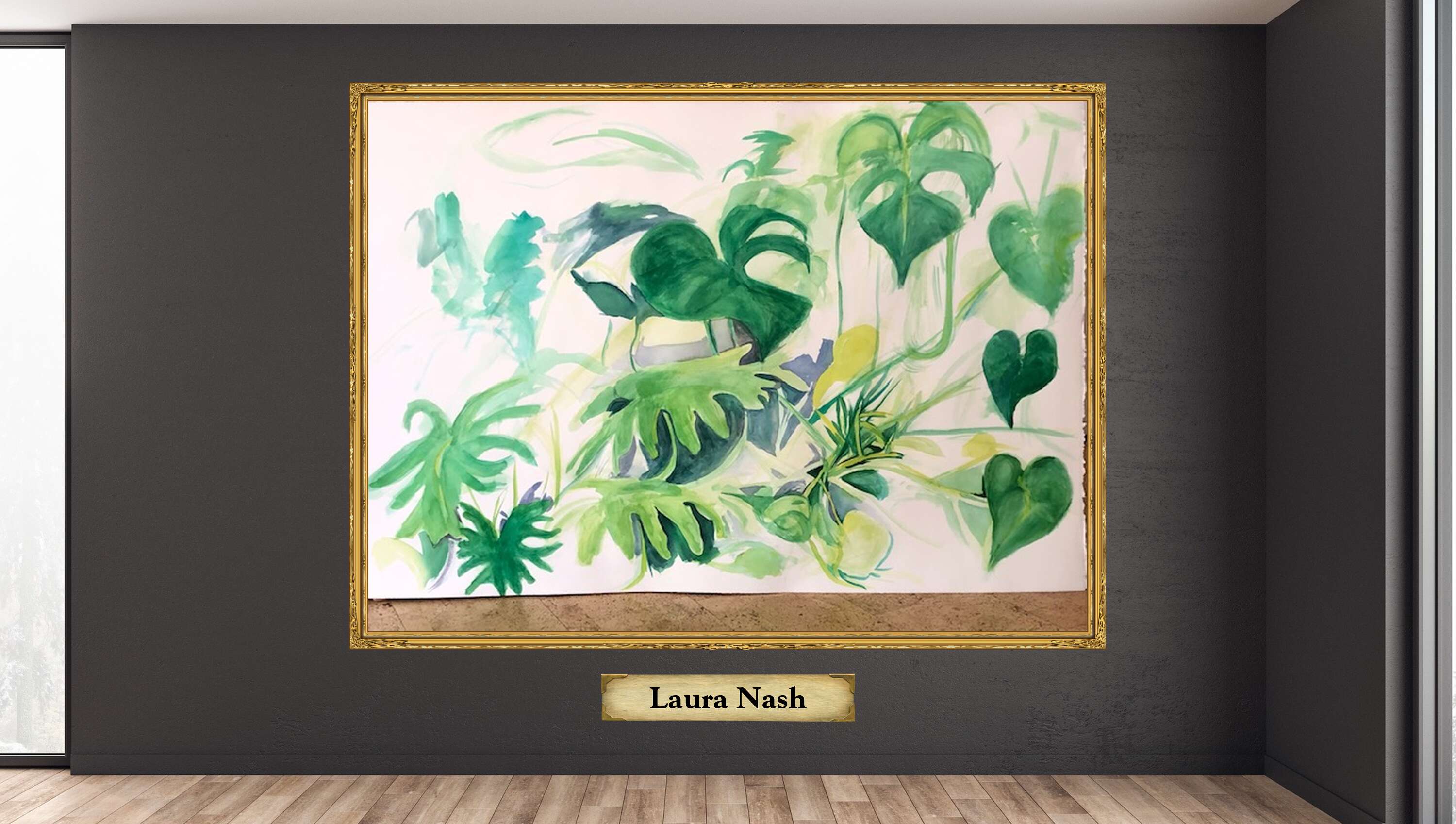 Laura Nash





"Hydrangea Small"
11" x 14"
Watercolor on Paper

FB: Laura Nash
IG: nash5567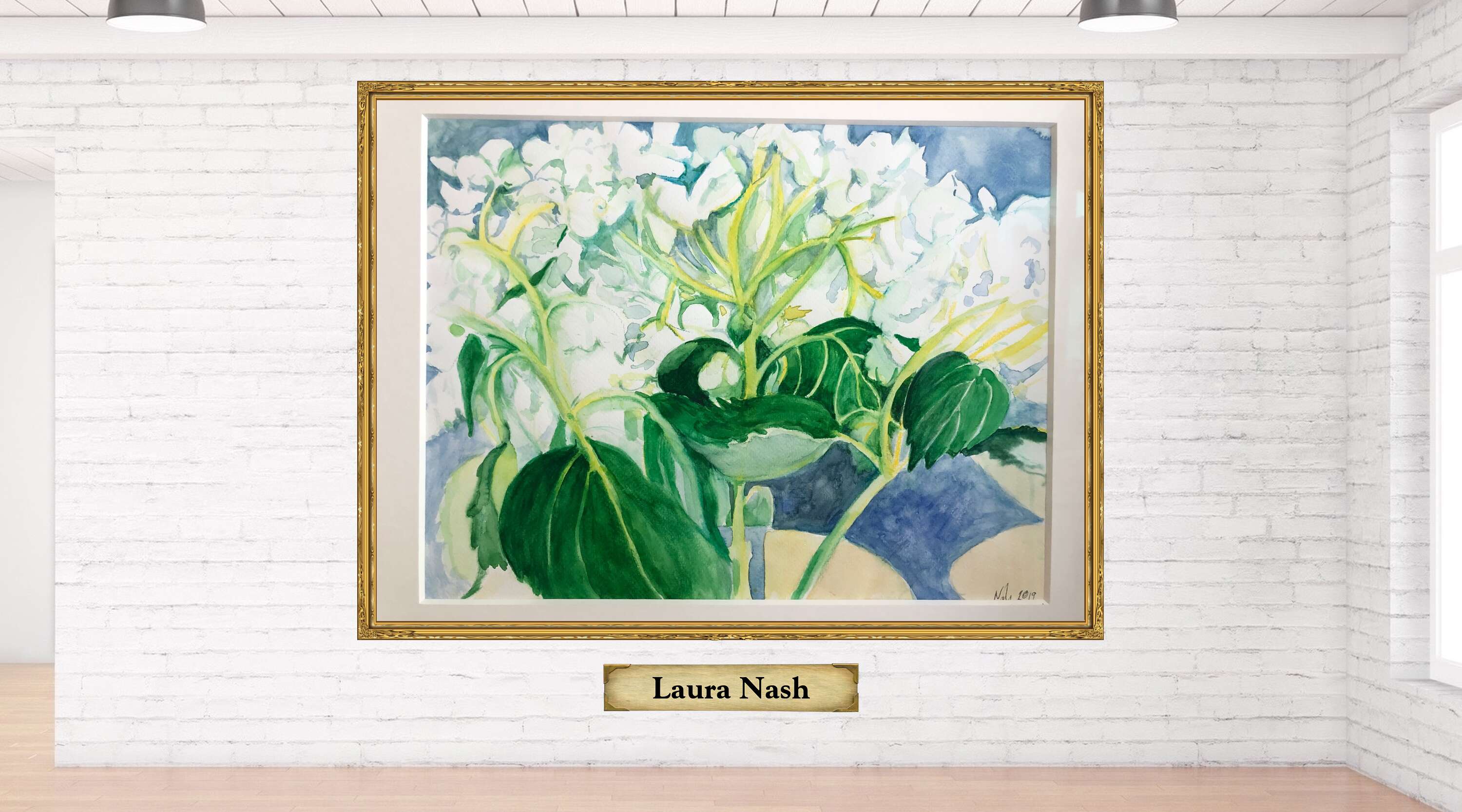 Rachel Vine

These mask designs came about because of the pandemic. I was inspired to explore this process of creating wearable art. This was the starting point for me. I have since created other design pieces such a shawl, scarf, kimono, and more. I am continuing to explore this genre of artmaking. These three mask designs are from original paintings. The theme of the healing quality of nature is persistent in my work and was true more than ever during the pandemic and while being in the middle of NYC. I was particularly sensitive to the health benefits of connecting with nature- healing for my mind, body, and soul. It helped me cope, and was a big part of my daily self-care during such a difficult time in NYC.


Rockaway Collegiate HS

"Dance of Humm"
Mask 5"x 12"
Fiber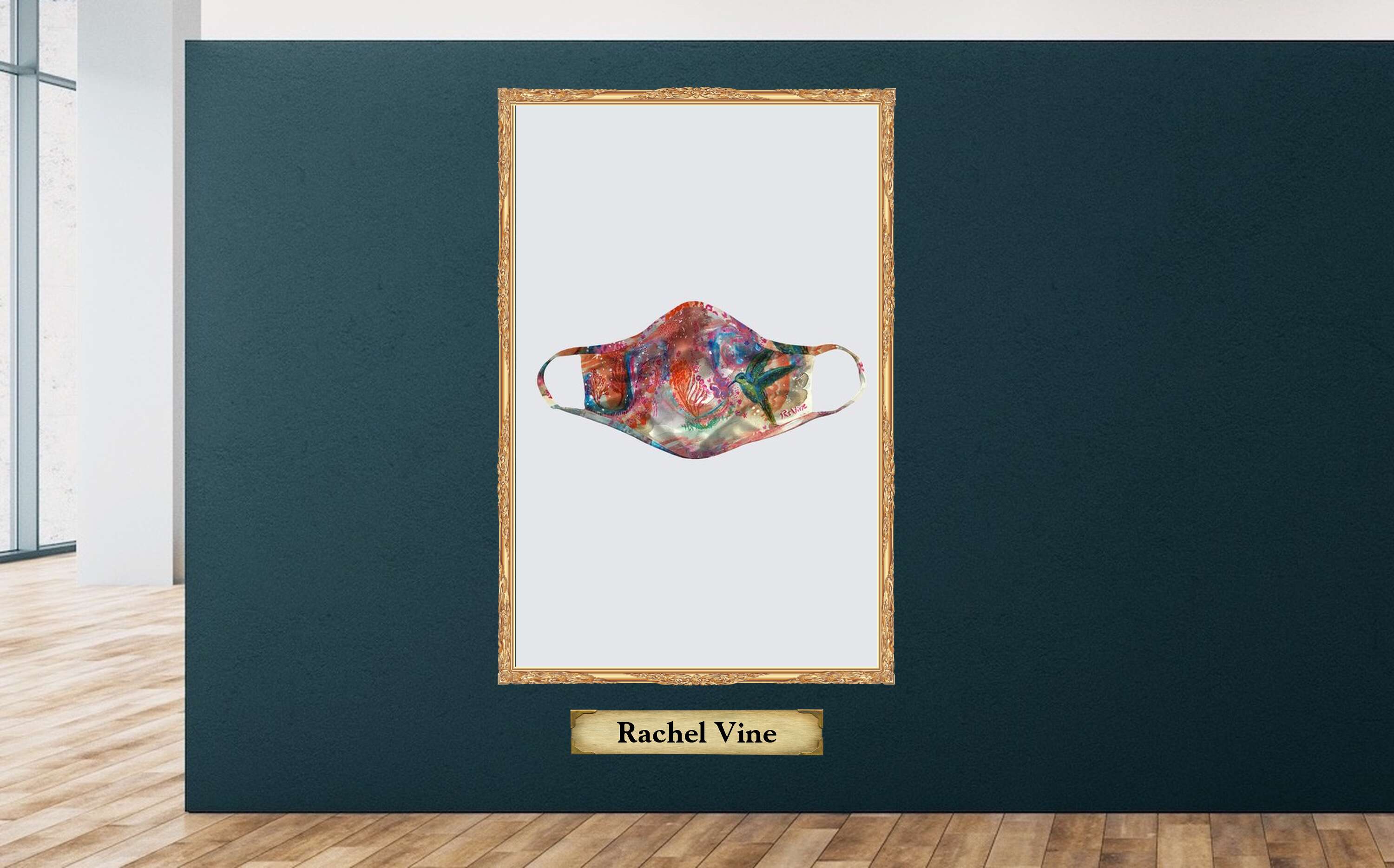 Rachel Vine





"Flourish"
Mask 5" x12"
Fiber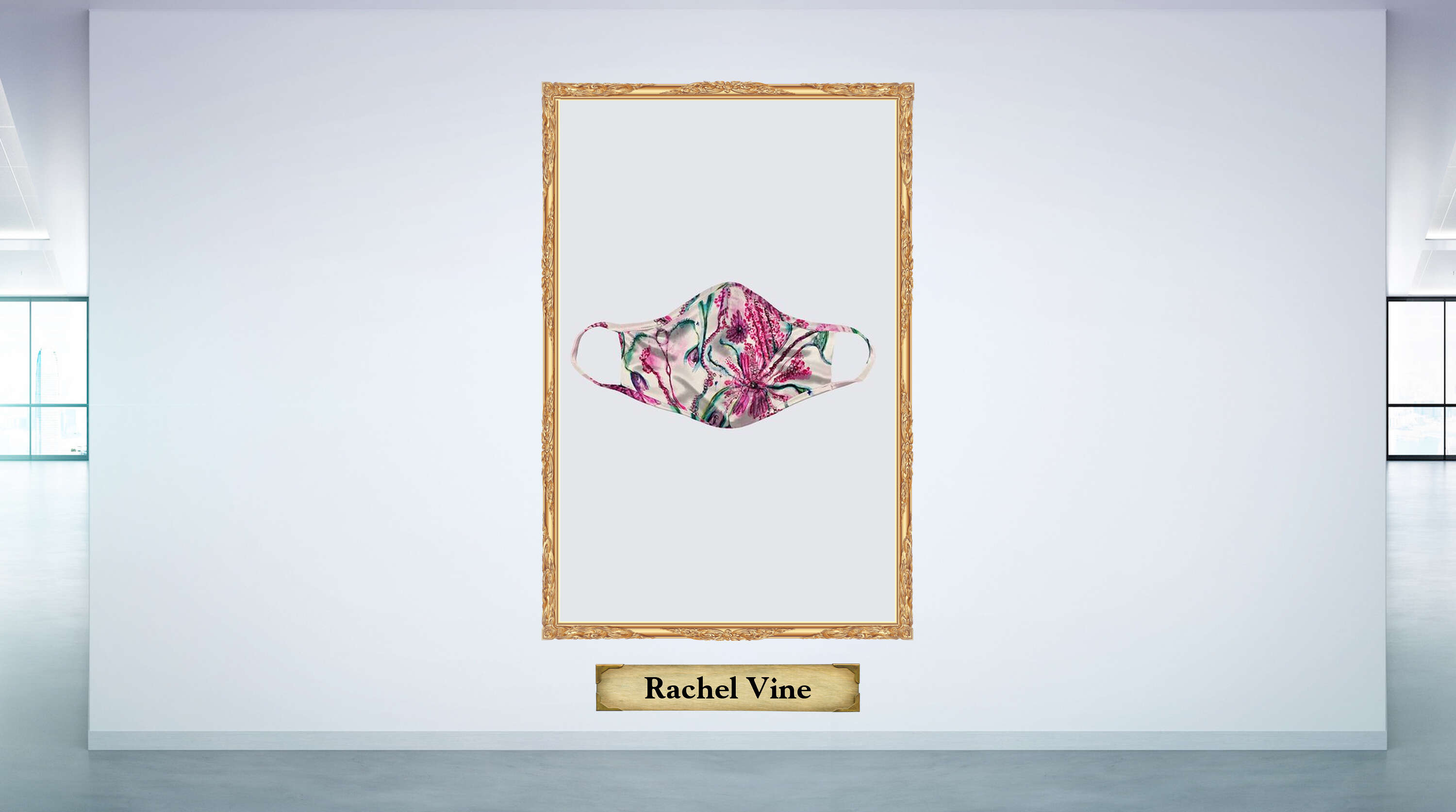 Rachel Vine





"Nature Heals with Love Energy"
Mask 5" x12"
Fiber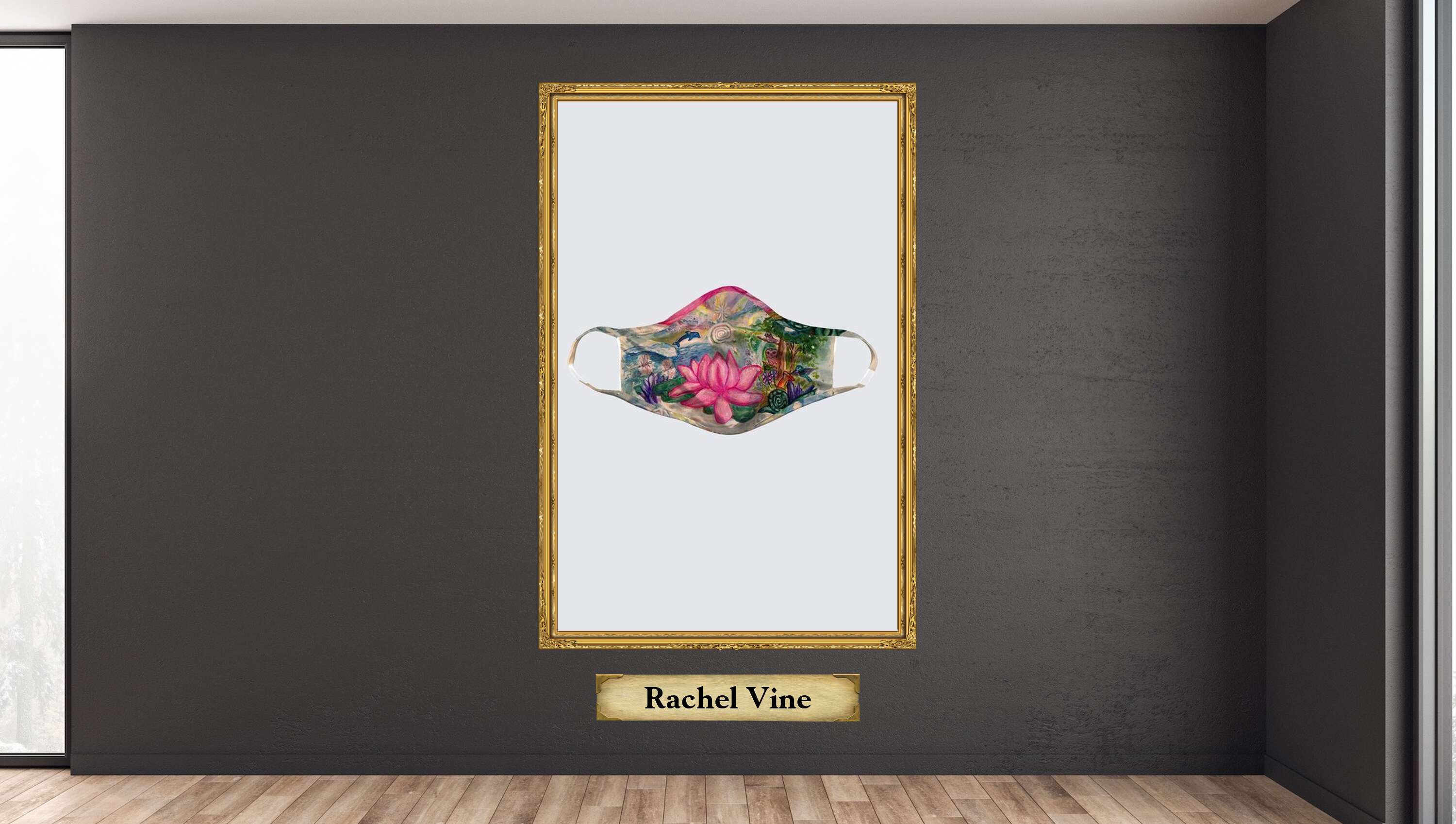 Billy Moro-Wey


My eyes see more than the hand can record in a single day. But I integrate select pictorial elements to create unique visual stories, in which my environment, humanity, and technology are blended into a unit.

Brooklyn High School of the Arts

"Blending"
24" x 36"
Oil on canvas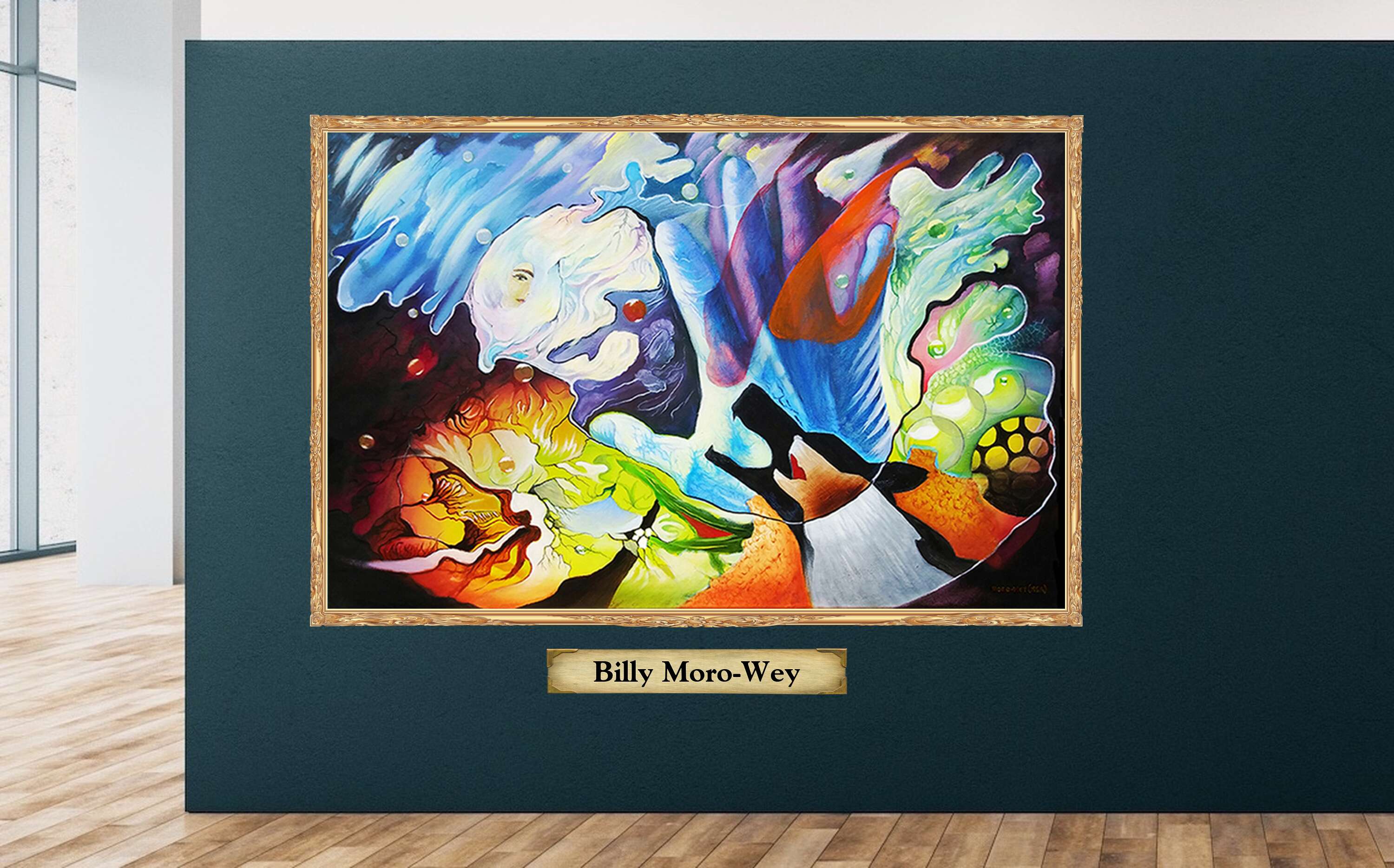 Billy Moro-Wey
"Skepticism"
24" x 36"
Oil on Canvas

Opinions vary, there are those who readily took vaccines, as against those who didn't want to, and invariably those who were uncertain. Everybody has a right to make a decision based on personal reasons.
Emotions were in play, and it was time to hope for a better future in a troubled world.

Will the vaccines allure the anticipated freedom from Covid19?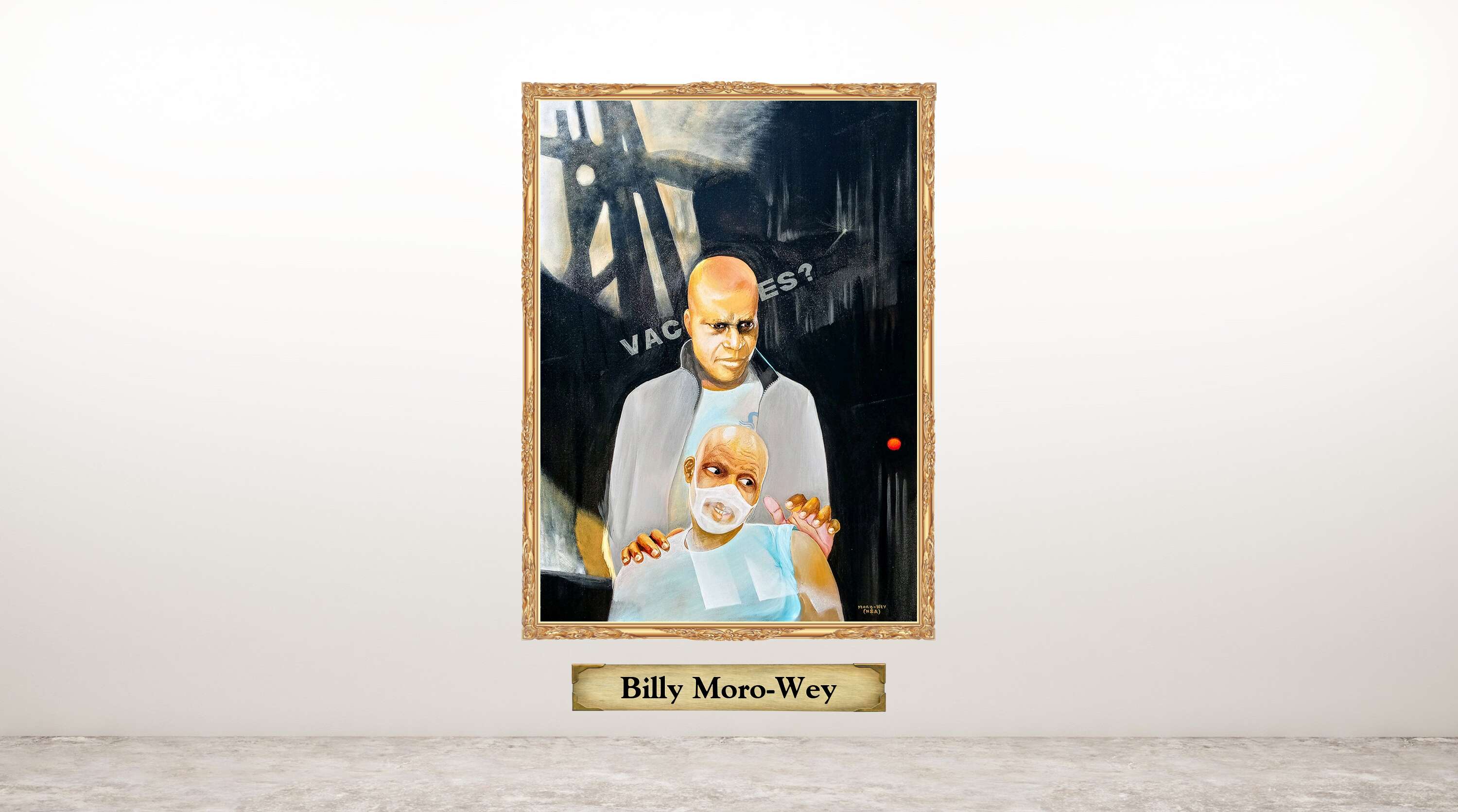 Billy Moro-Wey

"Emotional Transparent Emotional Silhouettes"
24" x 36"
Oil on canvas

Covid19 vaccines discovery was one of the best news in our contemporary world. In this painting, the mother and daughter couldn't just hide their elation, they scream enthusiastically, while others showed their freedom through a transparent window of the world.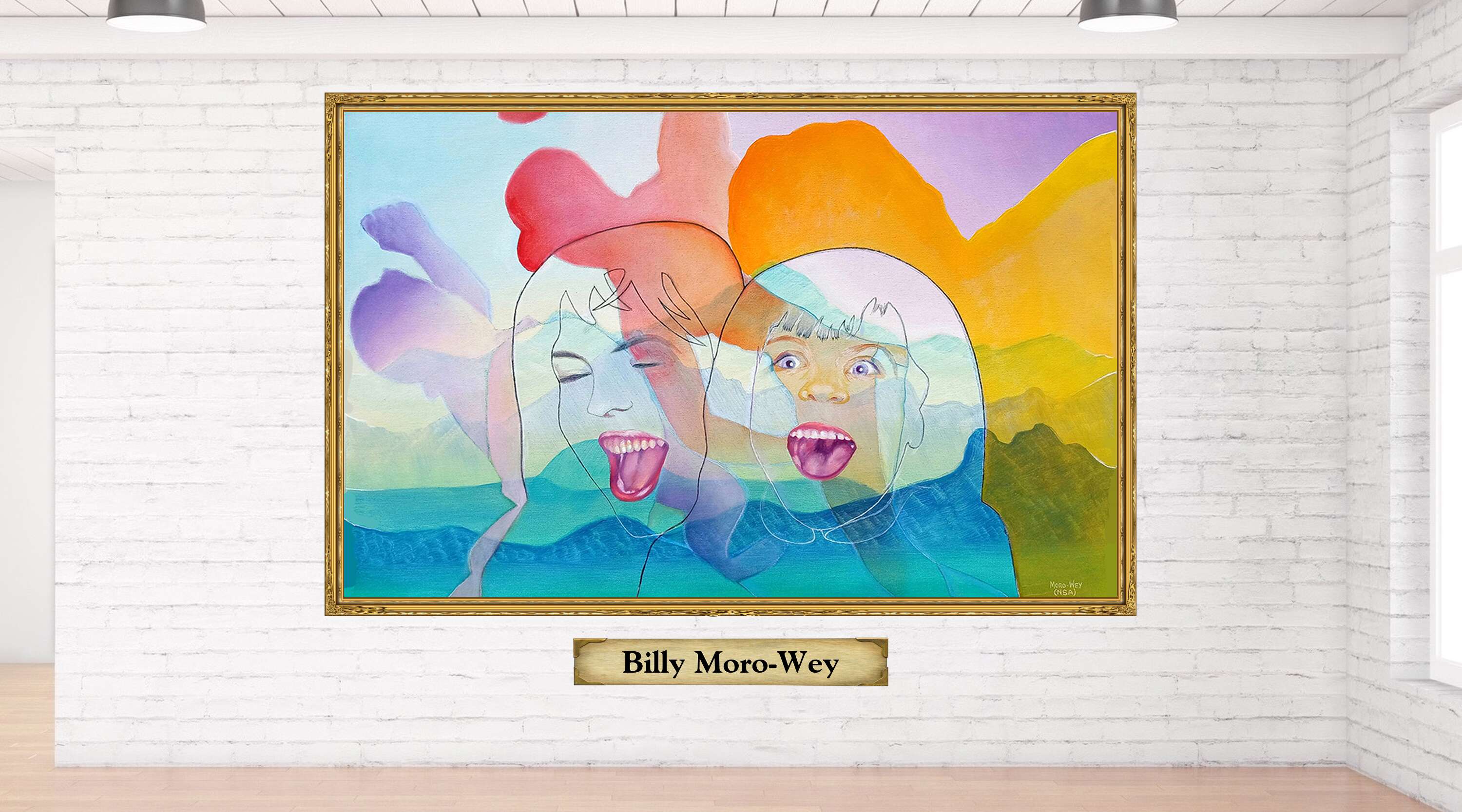 Dara Katzenstein

I created this series of watercolor paintings over the past year. I painted scenery from my memories from 2020. After painting the imagery, I wrote down my thoughts about these places and how I was feeling when I was there. I incorporated the text into my painting by sewing it into the paper using black thread and a needle. I chose to sew the text so that it becomes a permanent part of the painting. The imagery that I painted and the text that I sewed are interconnected and together they represent my memories. This year has been full of complex emotions due to Covid, quarantine, and societal changes. These paintings are my attempt to confront how I have felt during this time dealing with emotions of loneliness, desire, and nostalgia.

Riverdale Avenue Community School

"A Sweet Longing"
12" x 16"
Watercolor & Black Thread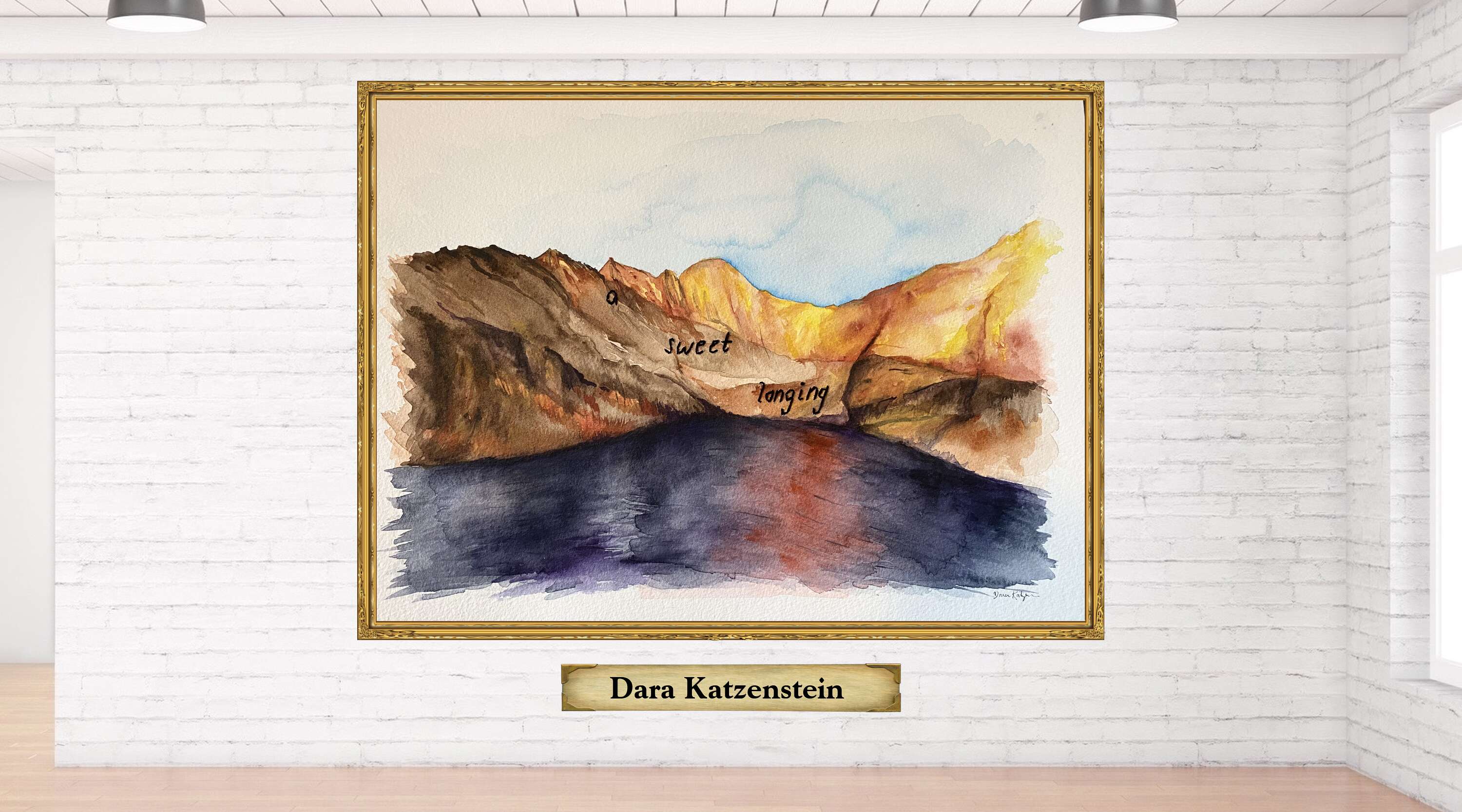 Dara Katzenstein




"Nostalgic"
12" x 16"
Watercolor & Black Thread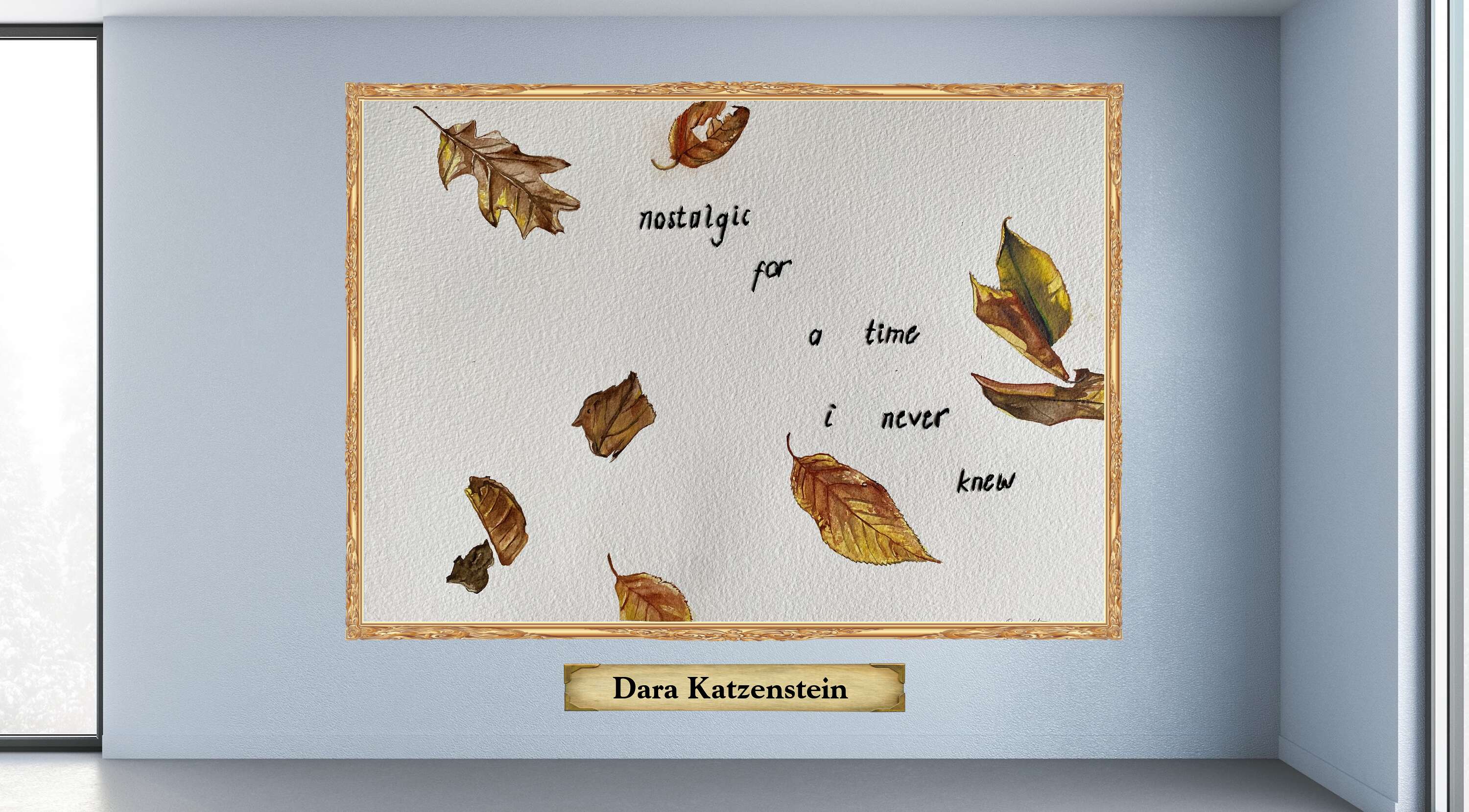 Dara Katzenstein




"For all the Sweetness"
12" x 16"
Watercolor & Black Thread


www.darakatzenstein.com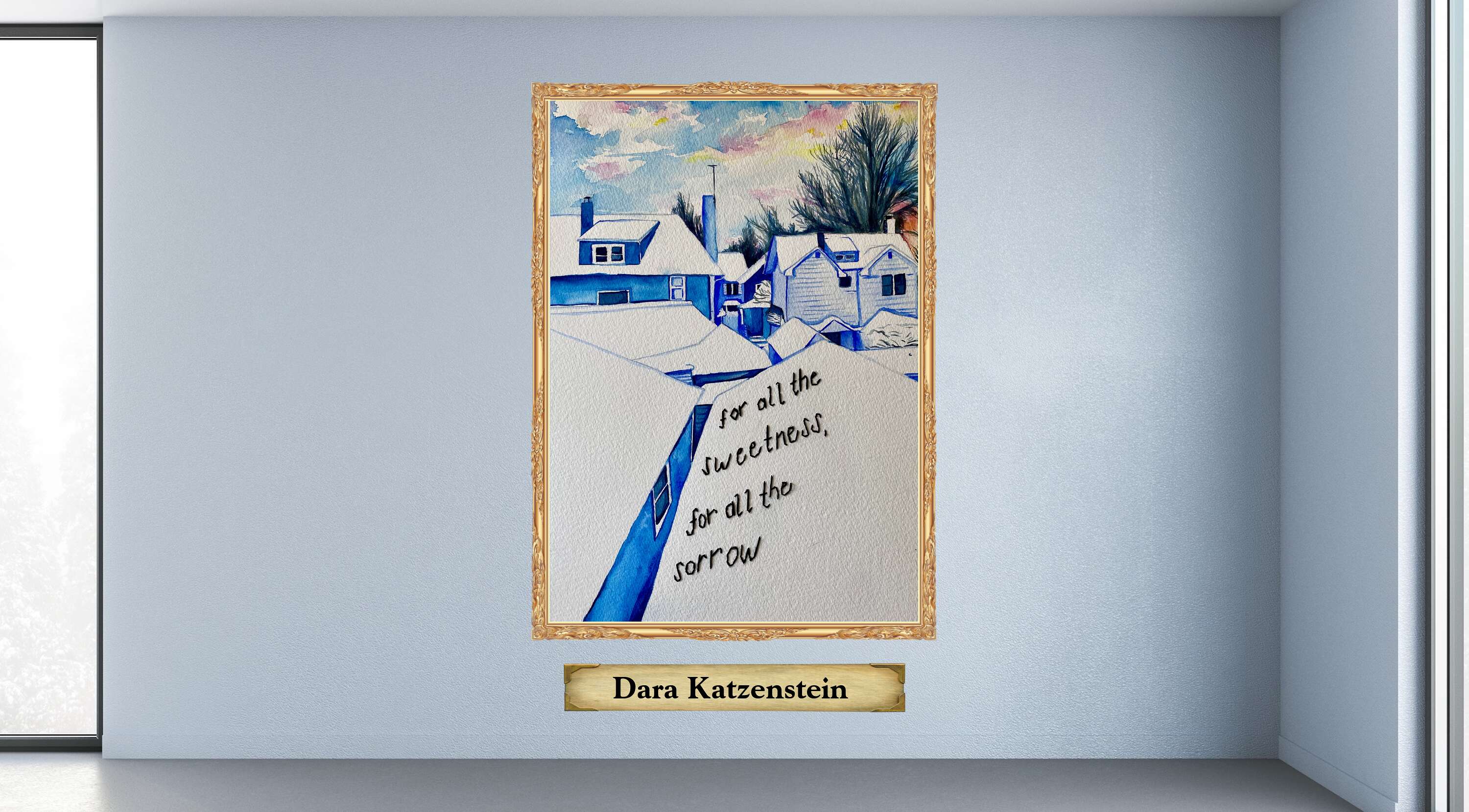 Erin Marie Elman
My current work is an attempt to create a visual language that represents the modalities of my consciousness. My work calls attention to the universal surroundings of our everyday world, exalting the real importance and magnificence which often the world fails to notice. These compositions are manifestations of the positive and negative energies and senses when they are created. Through these drawings, I want you to feel the value of the mundane scenery of everyday life, their artesian potential and ability to influence ones mood and mind. These intricate complex compositions permit you to move about the canvas optically. From one area to another these drawings urge you to observe the reality that lies below the surface of a cosmopolitan world. I believe that the viewer will relate to each and every shape and form throughout these compositions. No reference, no erasing, each line is a part of the puzzle and the reason why the puzzle exists.

Erin-Marie Elman
Seth Low IS.96
#sethlowartrocks

"My Bedroom Mirror Triptych 1"
2' x 4'
Acrylic on Canvas



Erin Marie Elman




"My Bedroom Mirror 2"
2' x 4'
Acrylic on Canvas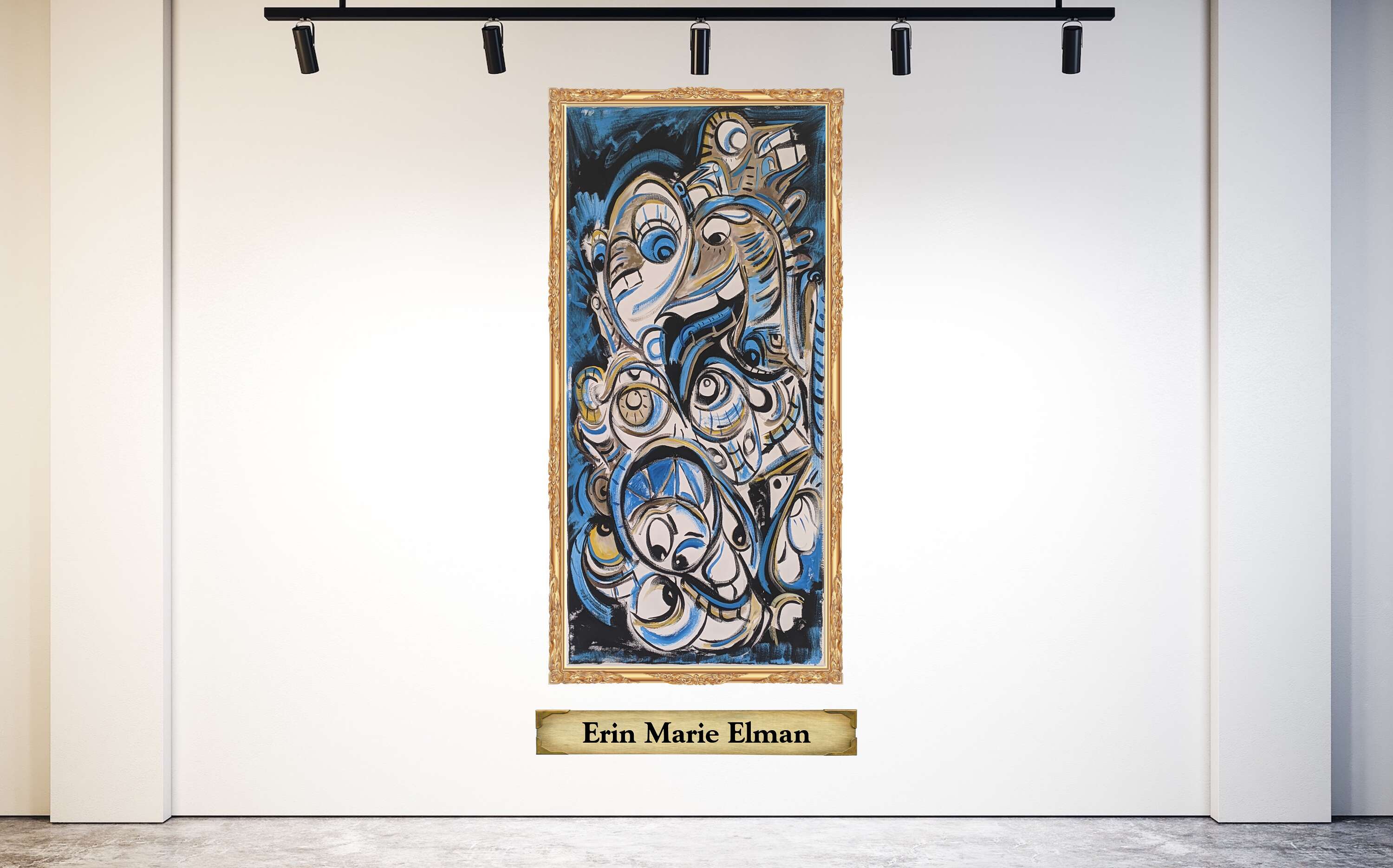 Erin Marie Elman




"My Bedroom Mirror 3"
2' x 4'
Acrylic on Canvas

IG:BENSONHURSTBRAT
www.Bensonhurstbrat.com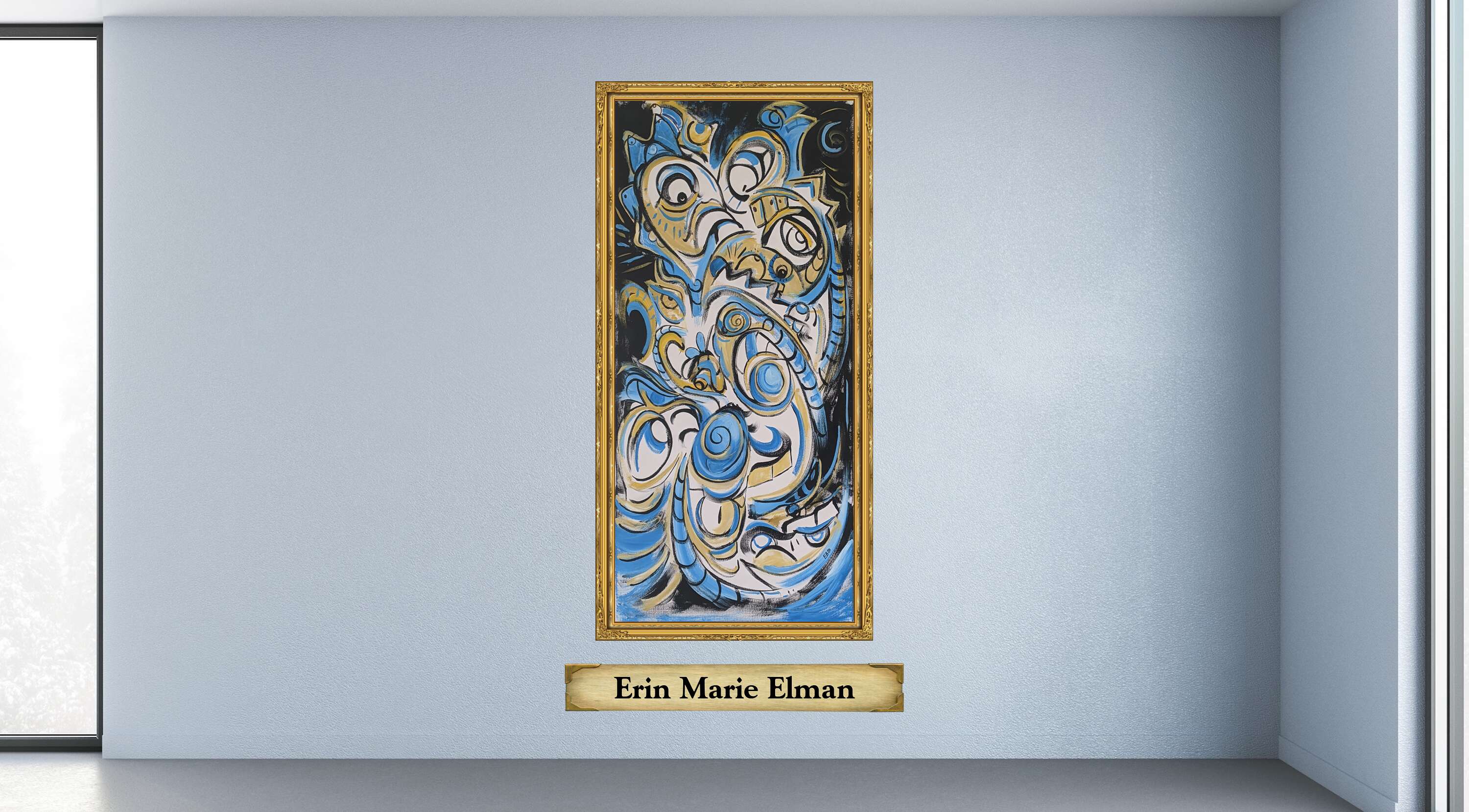 Lisa Kaplan
Early in the pandemic, I started creating collages. These were first inspired by photographs my mother took in the 1990's of her students and their work at Hofstra University's Saturday classes. I then started rummaging through junk mail and scraps of paper I had over the years put aside for collages. There were months when I created hundreds of collages, other months not as many. During the month of July 2021, a show of my drawings completed when my son was in Afghanistan in 2012 was on display at The Freeport Memorial Library. Blue stars represent mothers of children deployed. More recently my son has been deployed in New York City during the pandemic. He works as a captain in the National Guard, putting in long hours especially during the first six months of the lockdown. These three pieces represent my different experiments during this difficult time.

Retired


"Flower Face"
6" x 9"
Mixed Media Collage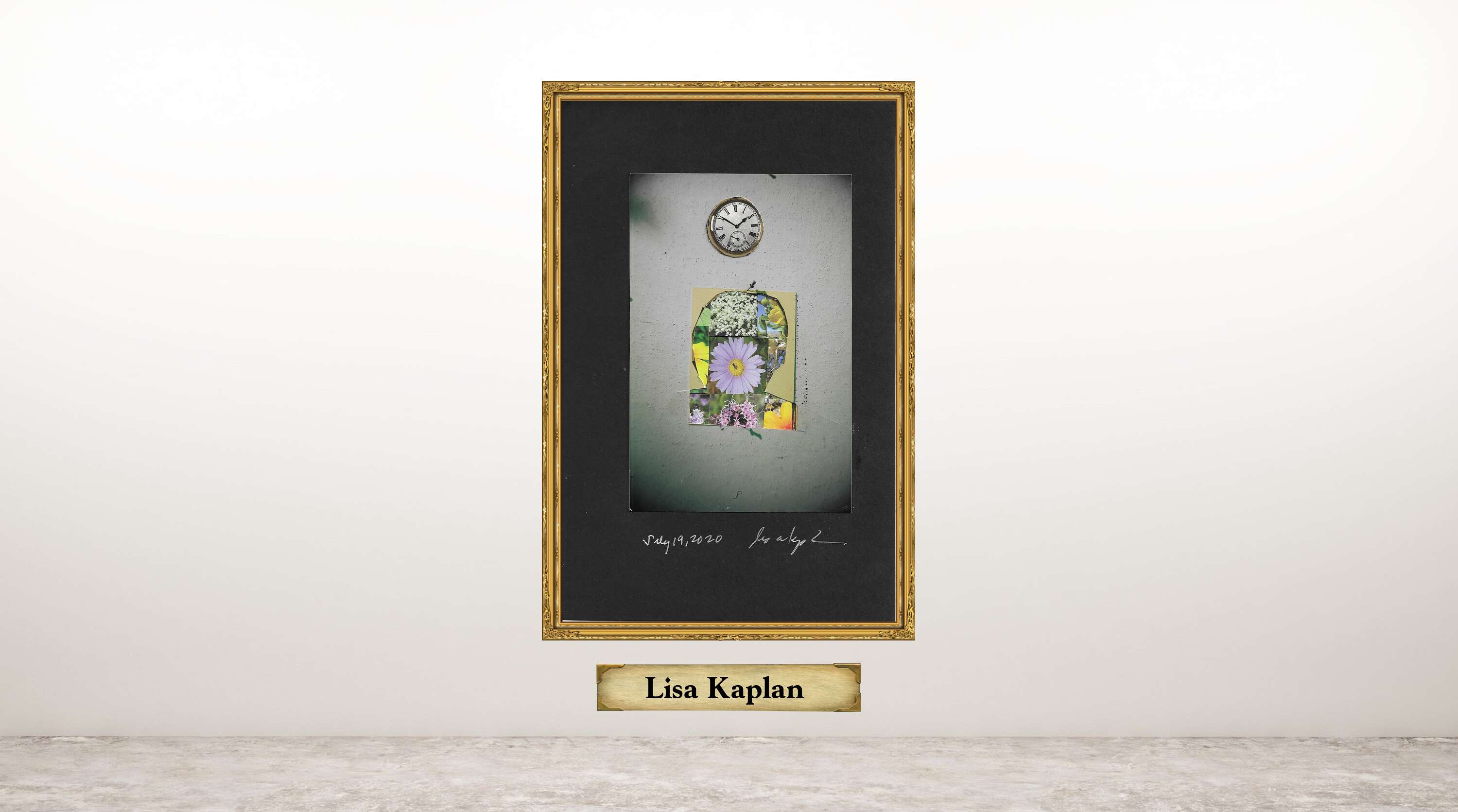 Lisa Kaplan




"Stars and Tree Looking Back"
6" x 9"
Drawing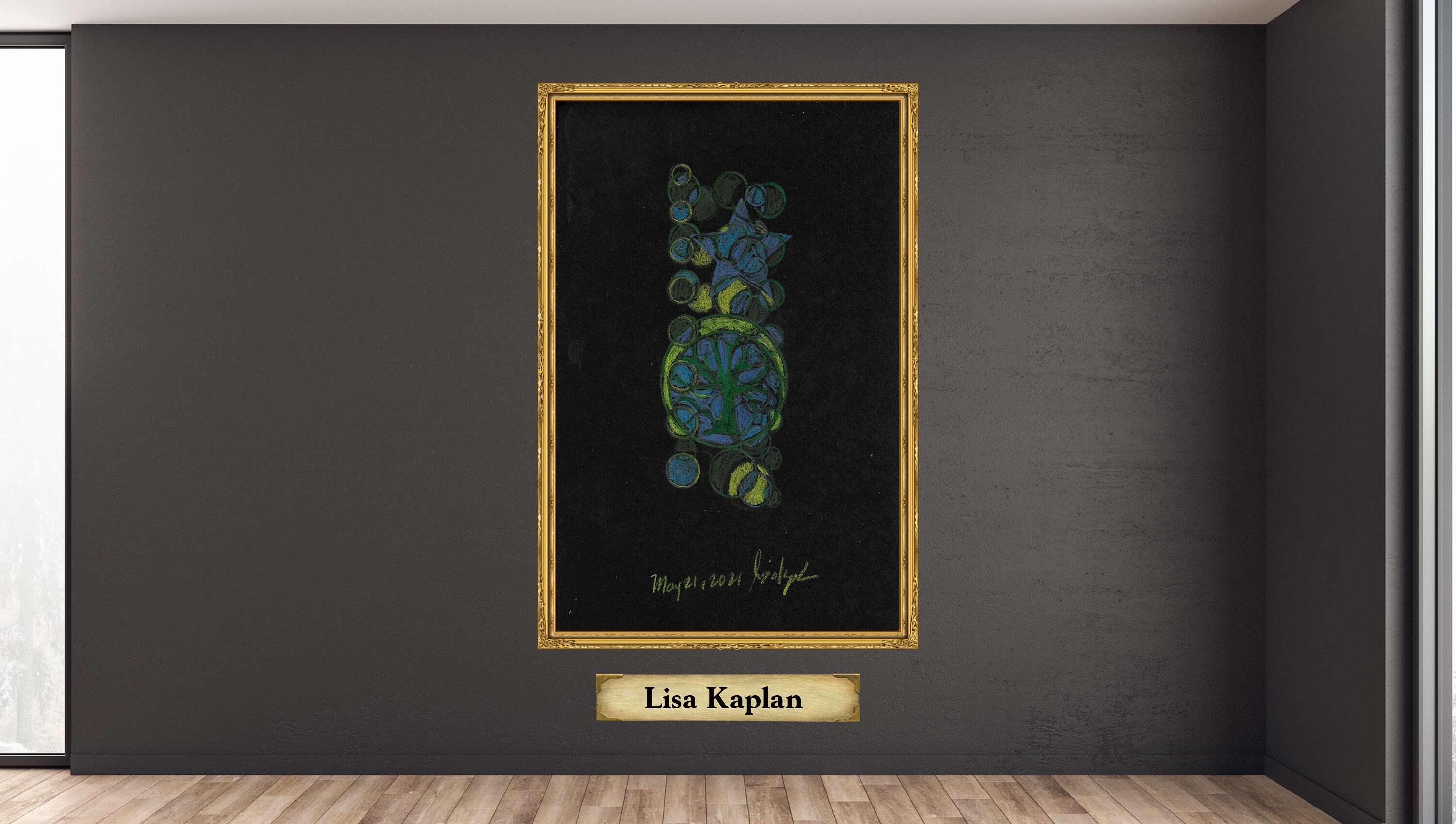 Lisa Kaplan





"Blue Star EEEE"
6" x 9"
Mixed Media Collage

http://lkaplanb.blogspot.com/ http://lkaplanb100days.blogspot.com/2012/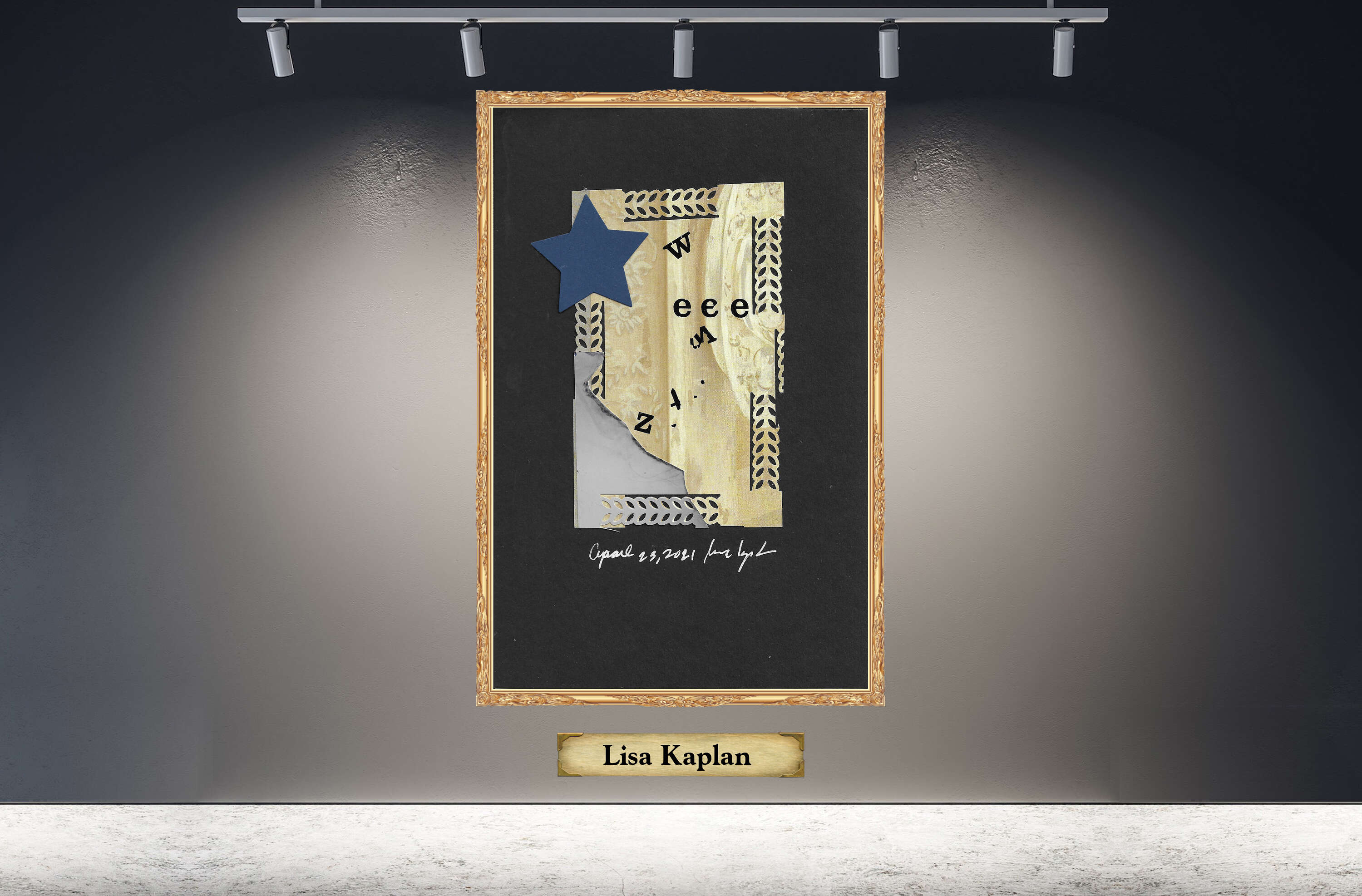 Jennifer Middleton


Before Covid-19 I taught my middle school students a lesson on creating a mask using only cardboard. After I saw their wonderful pieces I was inspired to create my own cardboard art. The Tree of My Roots is based on my ancestry and my favorite Kente cloth pattern from Ghana.
Stay Safe is based on the start of the school year as a reminder to students to wear a mask and to stay safe. My Son was inspired by my teenage son who used to wear his hair in an afro style.

Madiba Prep Middle School

"My Son"
16" x 20"
Cardboard art with oil pastels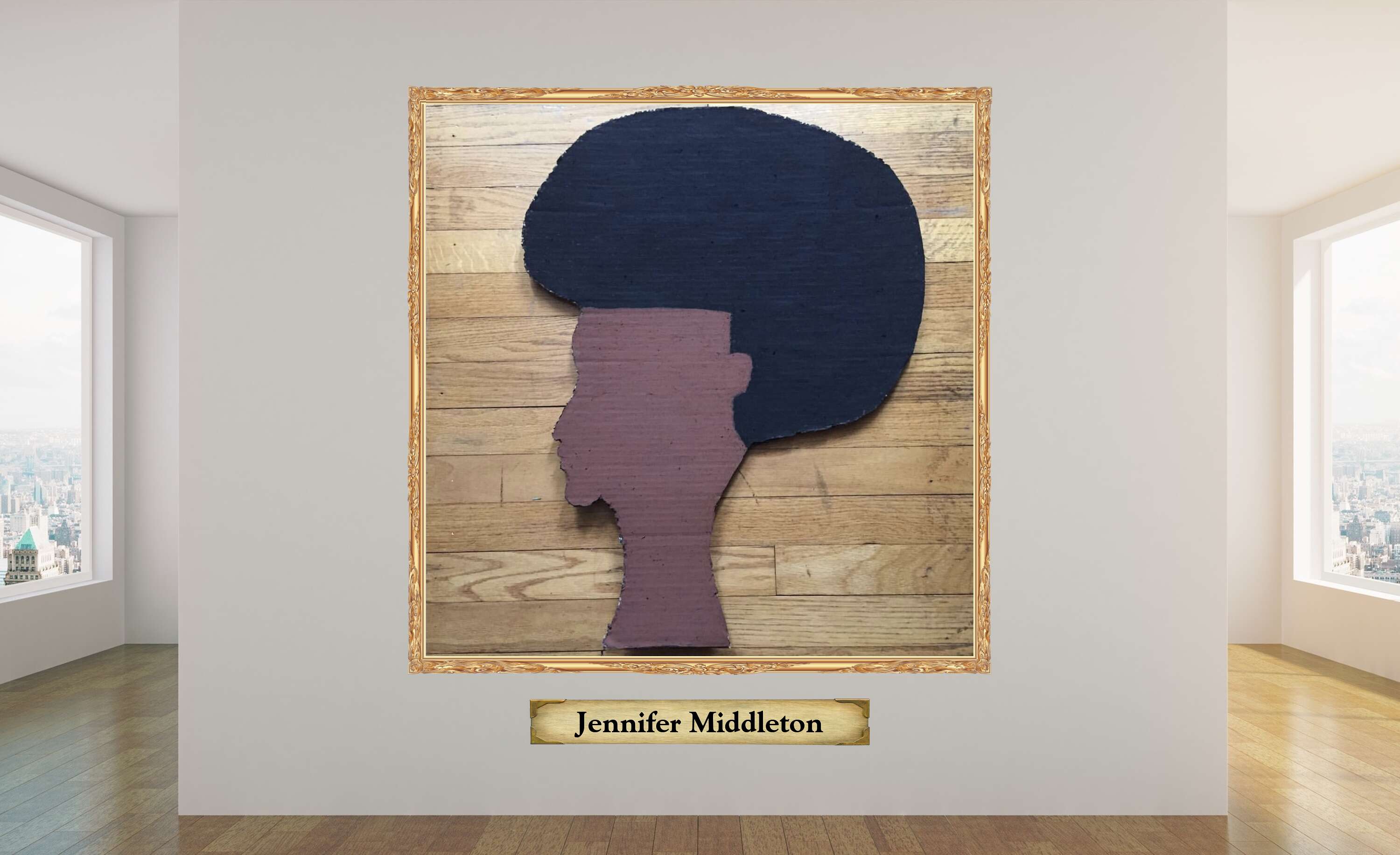 Jennifer Middleton




"Stay Safe"
20" x 24"
Cardboard art with oil pastels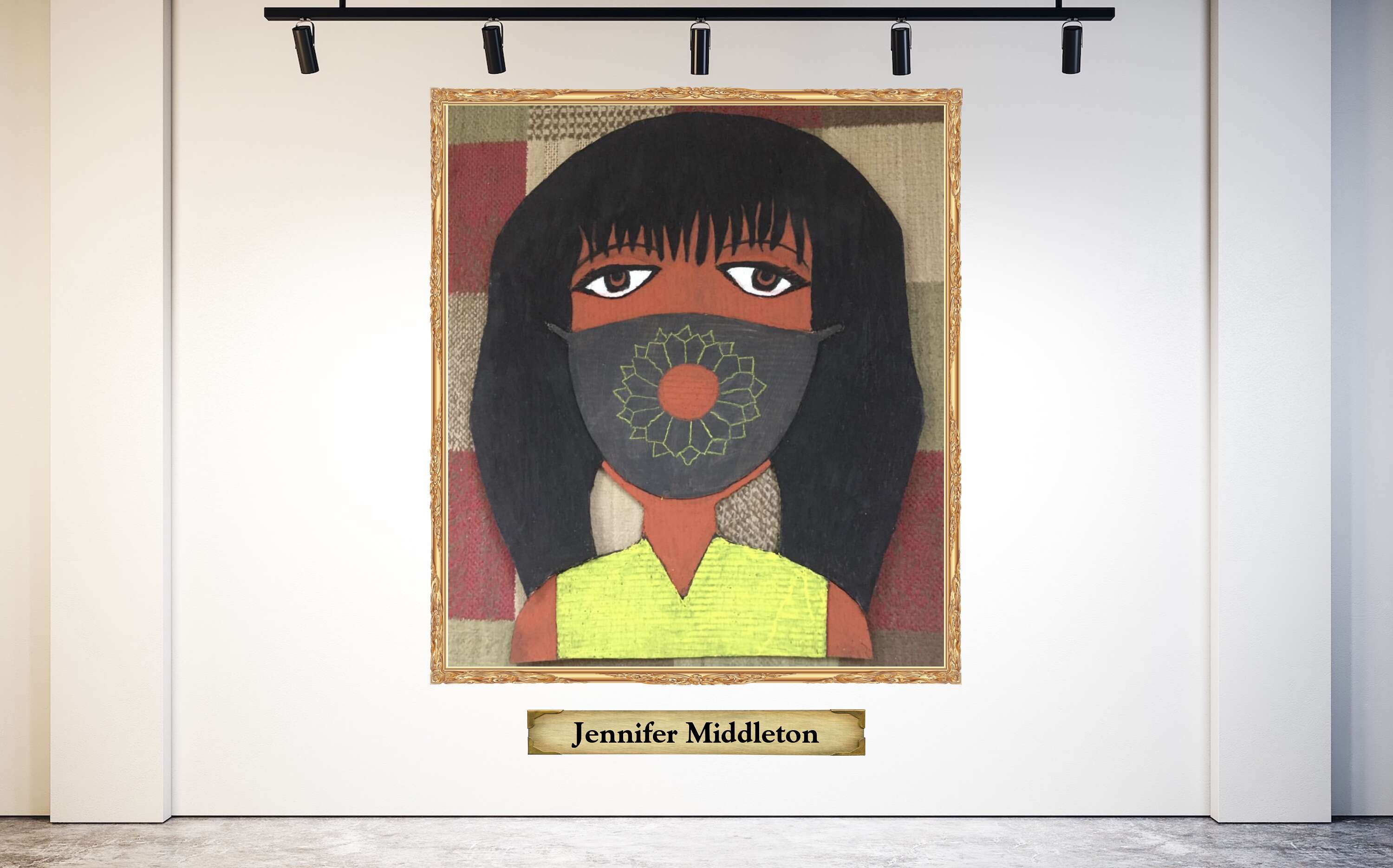 Jennifer Middleton






"The Tree of My Roots"
16" x 20"
Cardboard art with oil pastels

IG: souloccasions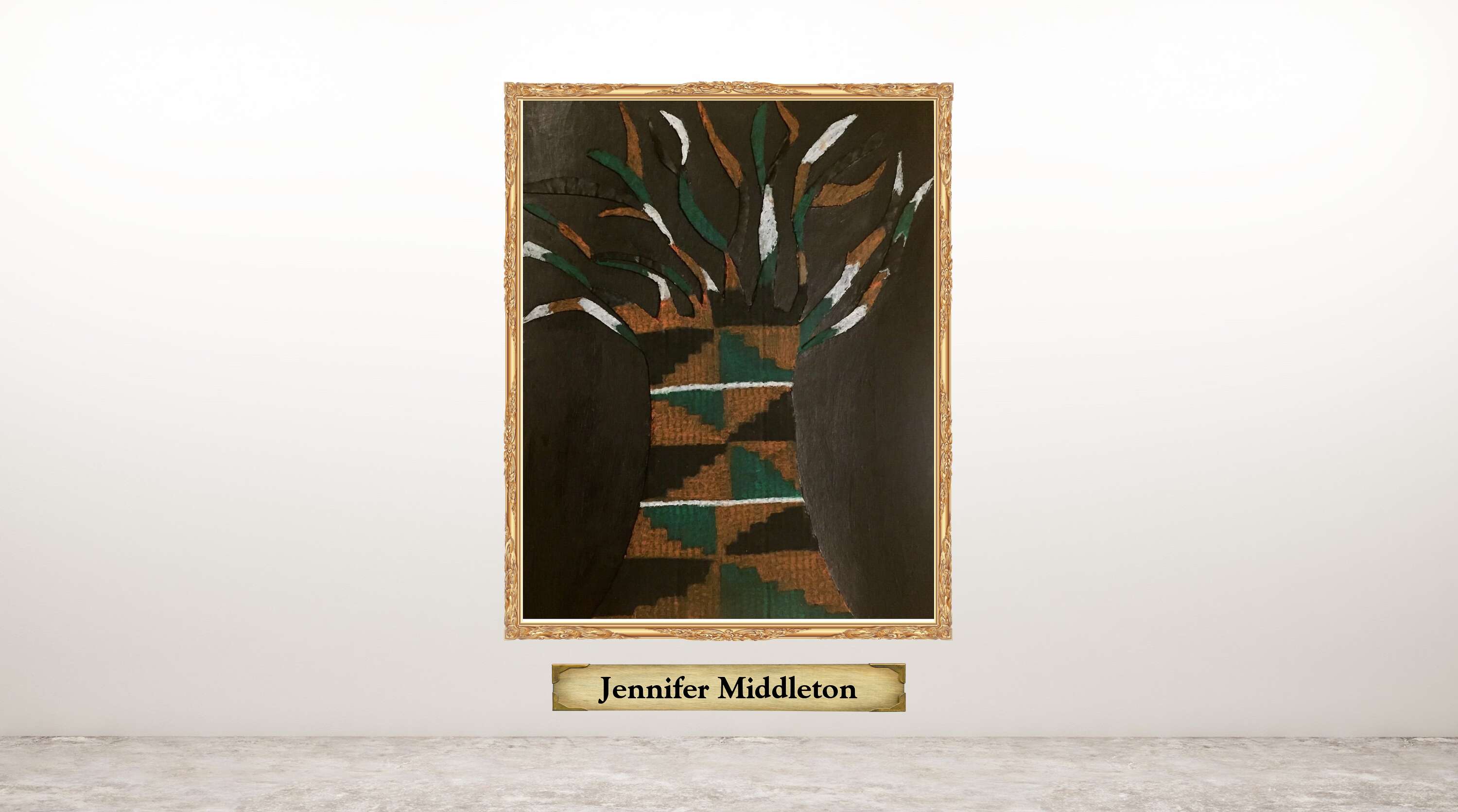 Howard Kaplan
Like many of my colleagues in the entertainment industry, our projects and productions were put on hold or cancelled for the 2020 season. I started my research and preliminary design work on "La Fille Du Regiment" for the Sarasota Opera in the Spring of 2019, not knowing we would be shut down for over a year. This summer I was able to complete the sketches and start shopping for fabrics needed for our February 2022 opening.

"Costume Sketch for the opera "La Fille Regiment - Marquise de Berkenfield - Costume I"
12" x 18"
Pencil drawing, scanned , digital painted, enhanced with marker and colored pencil



Sarasota Opera Association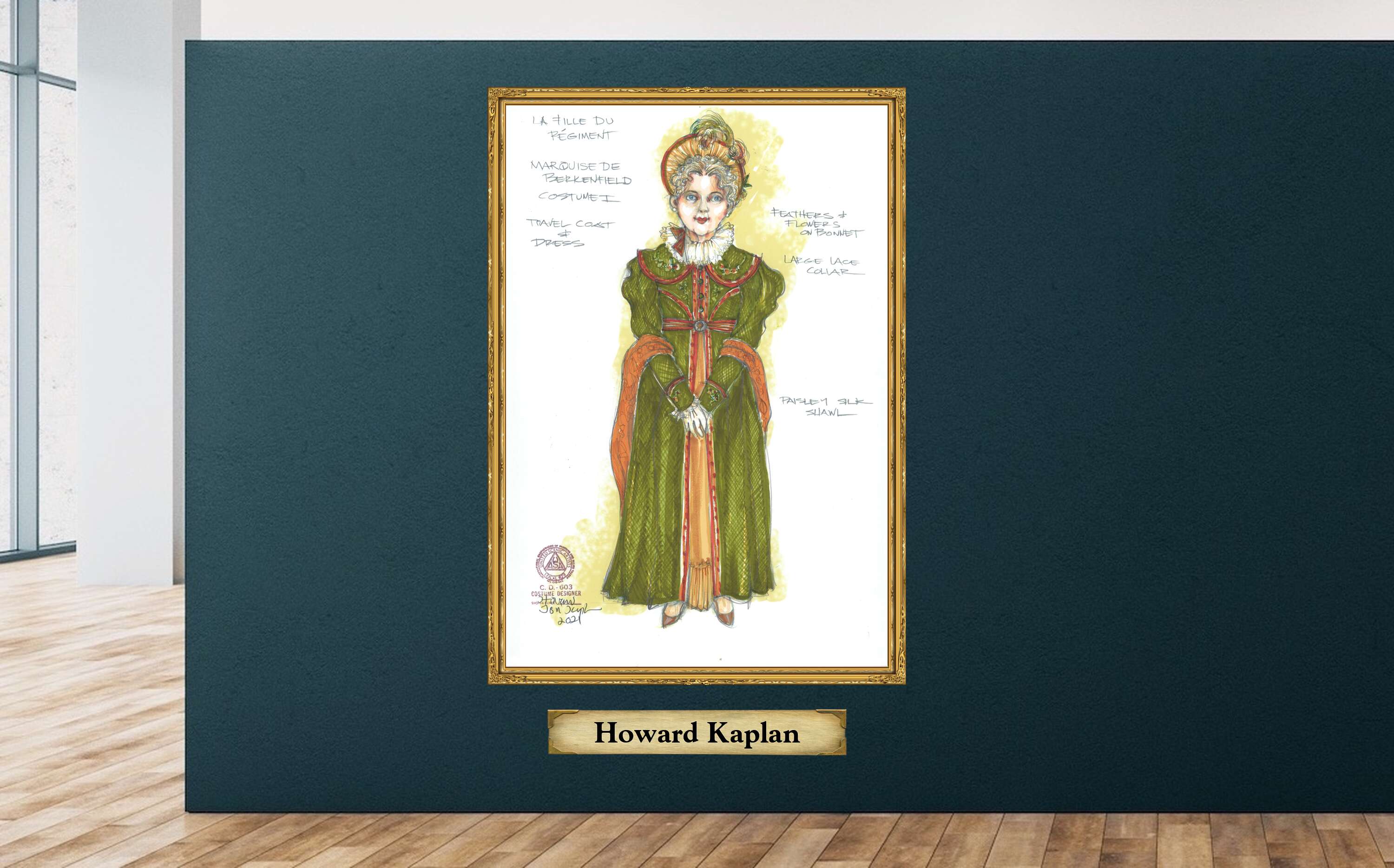 Howard Kaplan



"Costume Sketch for the opera "La Fille Regiment - Marie Costume I"
12" x 18"
Pencil drawing, scanned , digital painted, enhanced with marker and colored pencil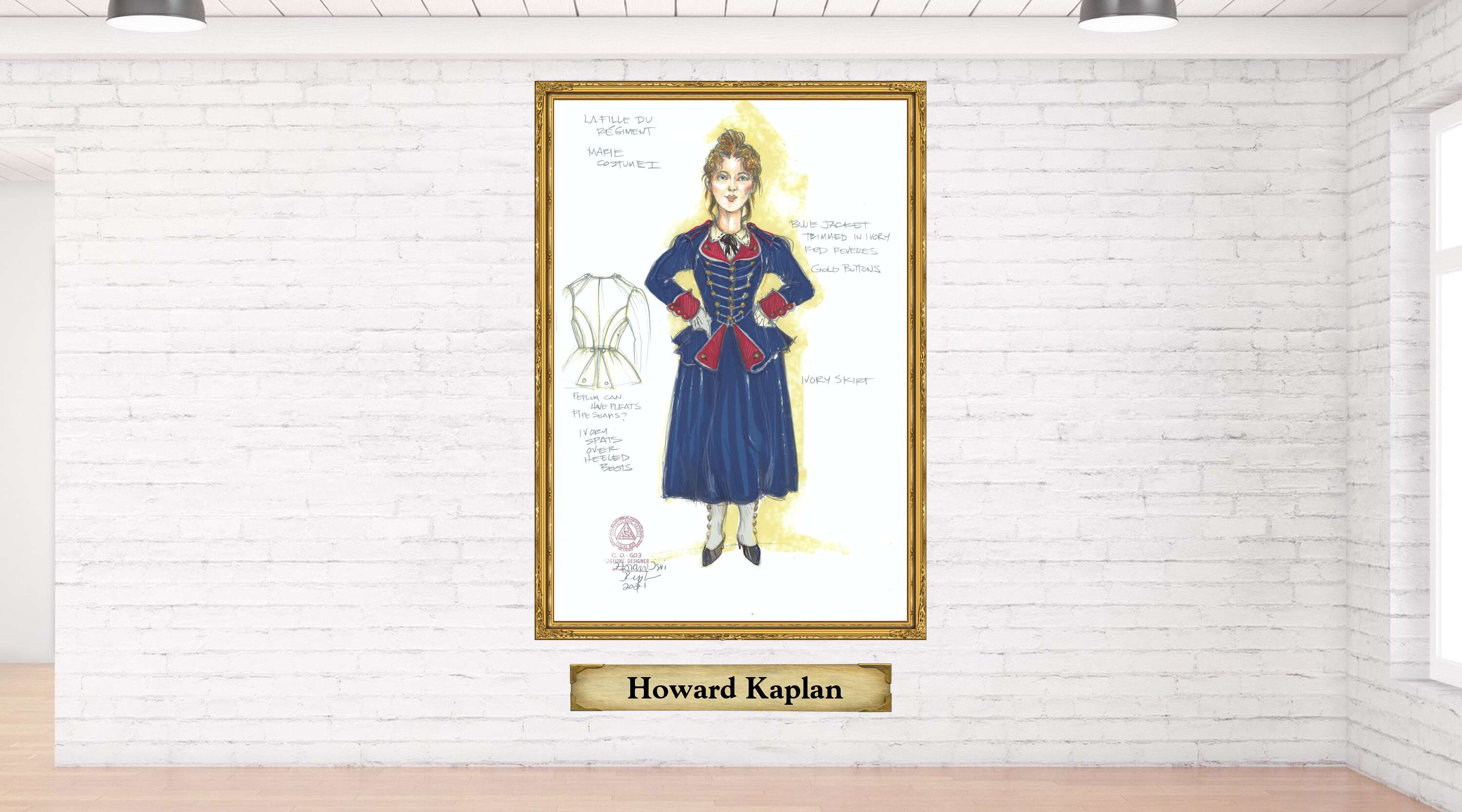 Howard Kaplan



"Costume Sketch for the opera "La Fille Regiment - Marquise de Berkenfield - Costume II"
12" x 18"
Pencil drawing, scanned , digital painted, enhanced with marker and colored pencil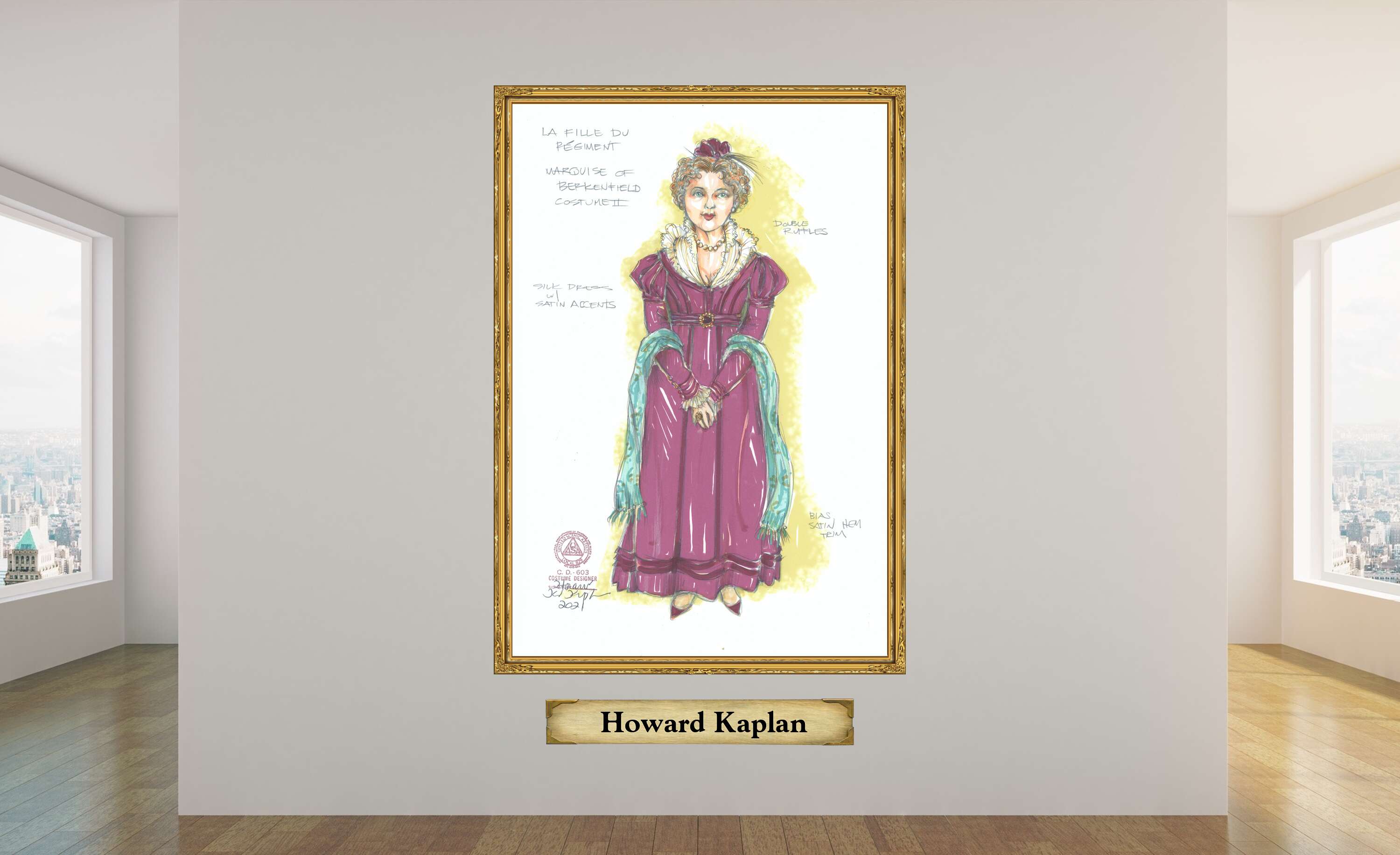 Robin Reczek

Artist Robin Reczek's work is an exhibition of duality, present in theme and medium. She sees life as an uneven balancing act, and attempts to visually display the struggle felt managing multiple identities. Confined geometric shapes and flat colors (representing the rigidity felt in life) juxtaposed with the organic flow of alcohol ink (representing her artistic side) compose a noticeable contrast. The unifying element is color, used strategically to demonstrate the reciprocity between these two positions.

Bay Ridge Prepatory School


"5 Balance"
12" x9"
Alcohol ink and acrylic paint on polypropylene film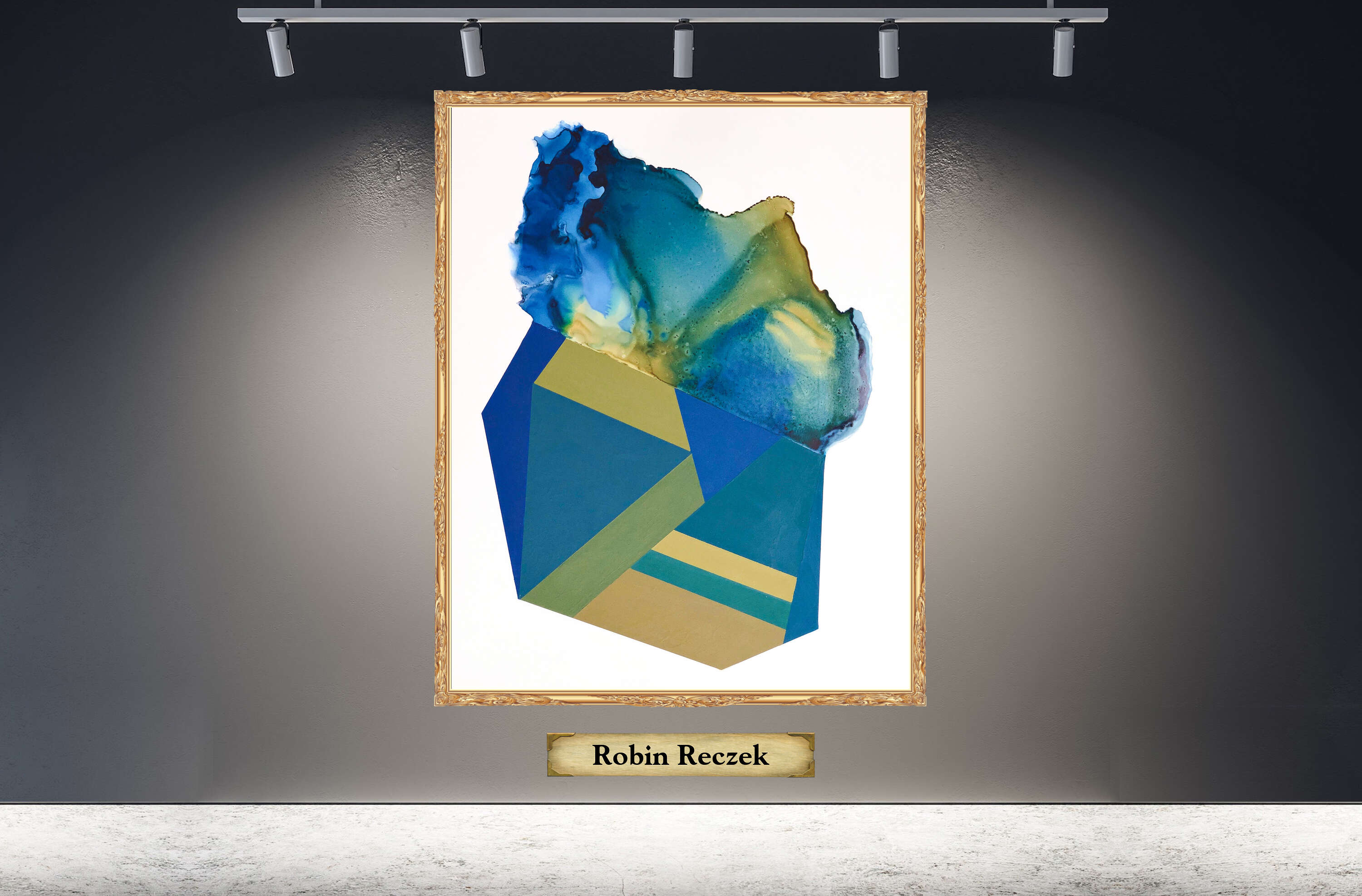 Robin Reczek




"18 Balance"
12'" x9'"
Alcohol ink and acrylic paint on polypropylene film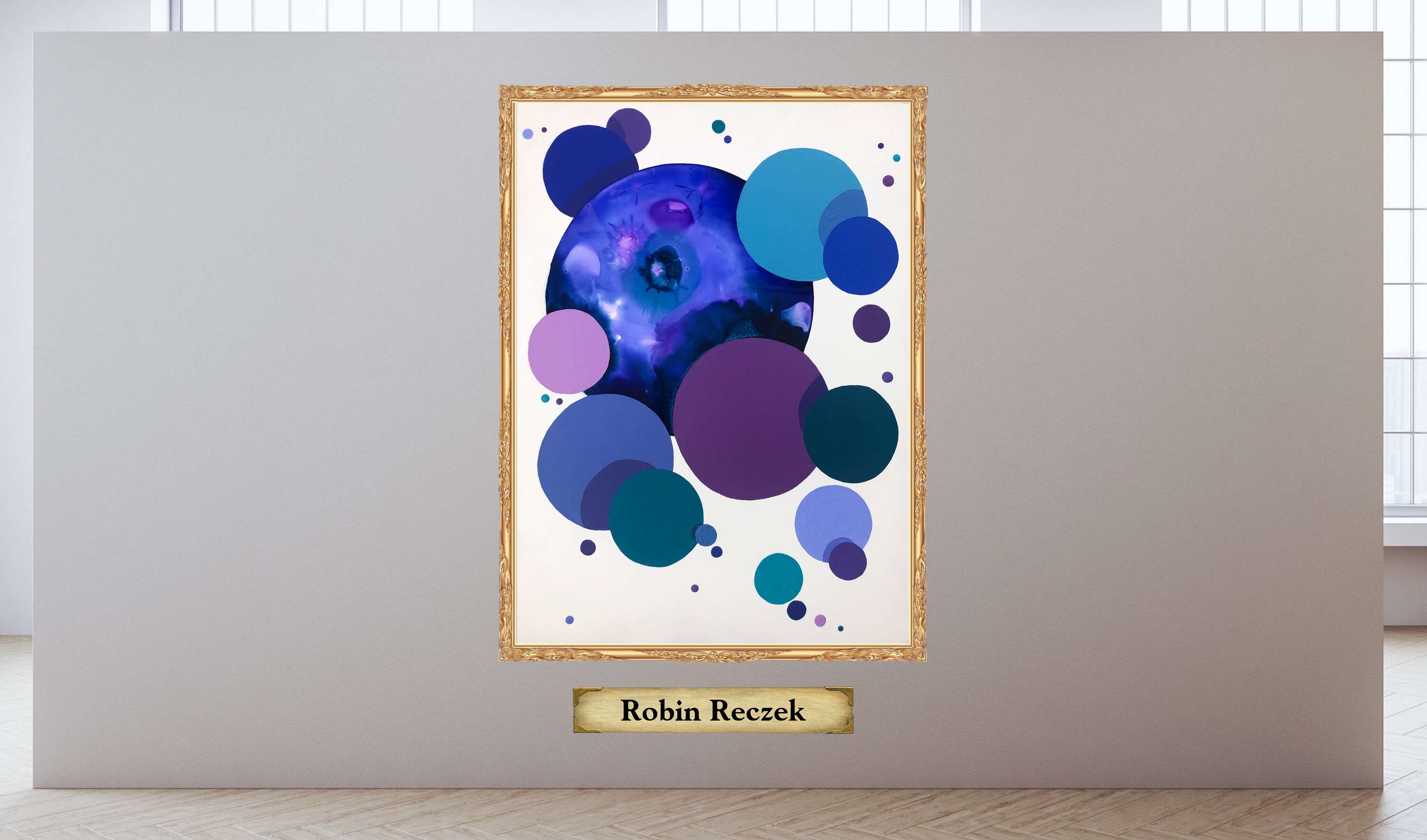 Robin Reczek




"17 Balance"
12'" x9'"
Alcohol ink and acrylic paint on polypropylene film

IG: rstudiosketch
Geralyn Zink
During these unusual circumstances we have been living through, my personal art has become more important and my gratitude for it has increased.

I have seen my shift from gestural, quick impressions, to work rendered slowly and with more detail. This approach to my painting and drawing has held a meditative quality for me. As I render contemporary images/subjects in old masters techniques I find this style of working relating to the shift in our world. Remembering what is beneficial from our past, as we hopefully move forward in our ideas.

"Still I Rise"
11 x 14
OIl on Canvas


Geralyn Zink






"Little Boy Blue"
16 x 20 inches
Acrylic on Canvas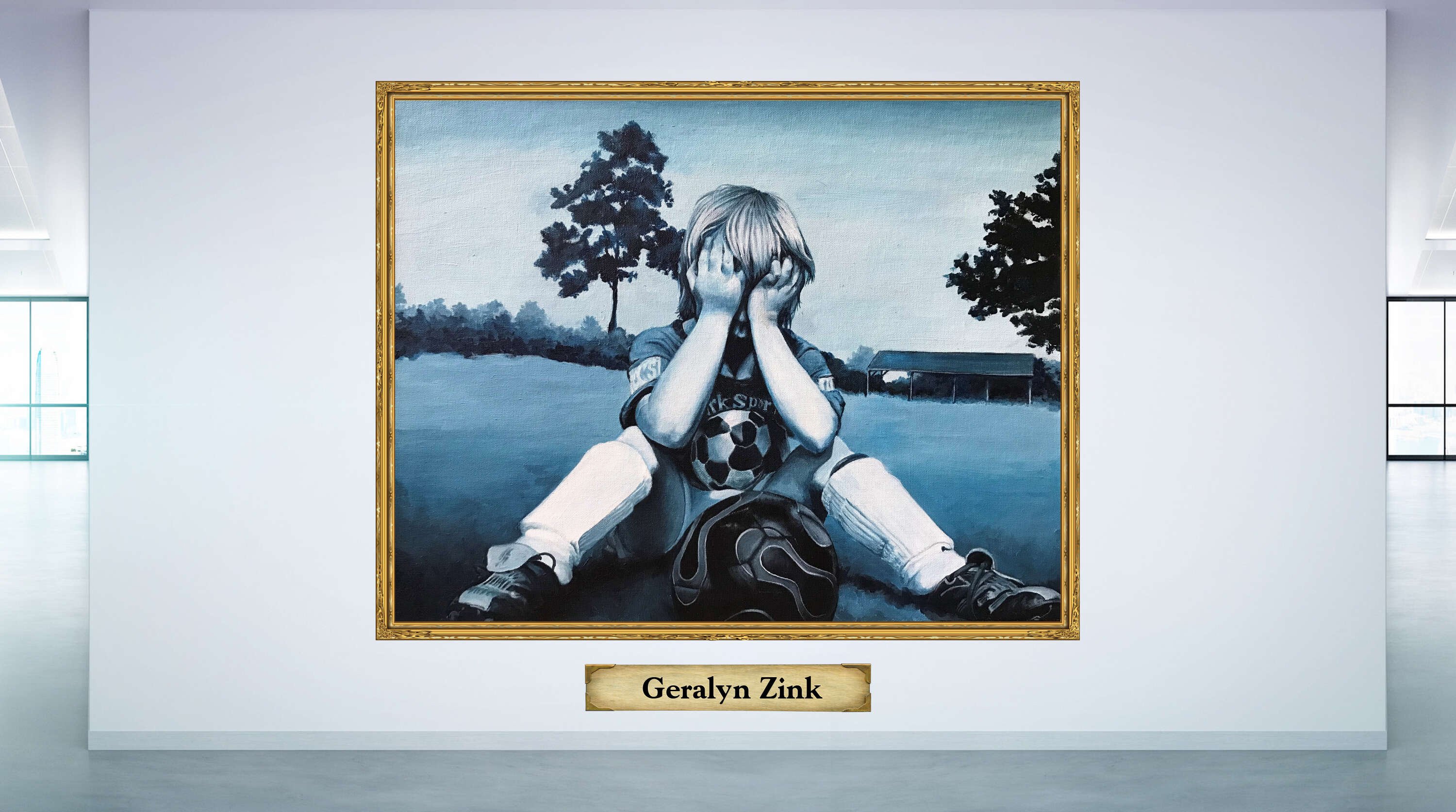 Randy Brozen
Randy Brozen is an award-winning New York based artist and educator with an MFA in Sculpture from the City College of New York, where she is a faculty member in the Childhood Education program of the School of Education since 2003. She is the current President of the City College Alumni Association's Art Alumni Group. As an Artist-in-Residence, Teaching Artist and Art Consultant, she has taught art to all age groups in many different settings, including Henry Street Settlement, Abrons Arts Center, Wave Hill Public Gardens, The Brooklyn Botanic Gardens, The Riverdale Country School, and many public schools throughout NYC! She especially loves to help her students discover their own inner artist! Randy considers herself a "Paper" artist; however, she works in a variety of media, including fused glass, hand-made paper, photography, printmaking, bookmaking, drawing, 3-dimensional work and more. Her work has been shown throughout the New York area, and is in the collection of Central Synagogue, NY; Dieu Donne Paper Mill; the Museum of Art and Design; the Akin Free Library and Museum, Pawling, NY and private collections.
"Comfort Me with Leaves"
20" x 18" x 7"
Cast Artist-made bleached and unbleached abaca, leavesaca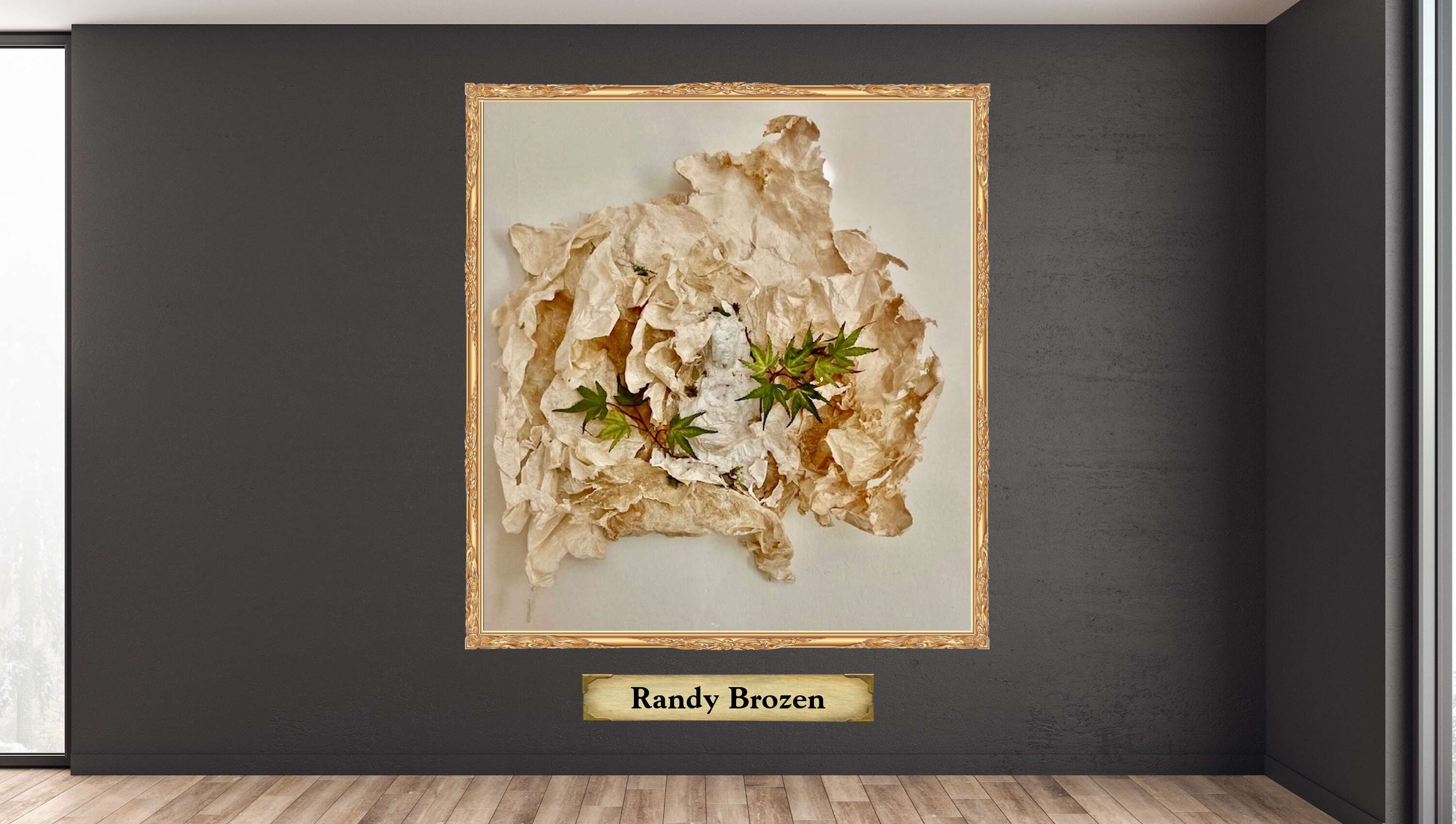 Randy Brozen





"Peaceful Pair"
15" x 8" x 2" (approx)
Cast artist-made Abaca paper, leaves, moss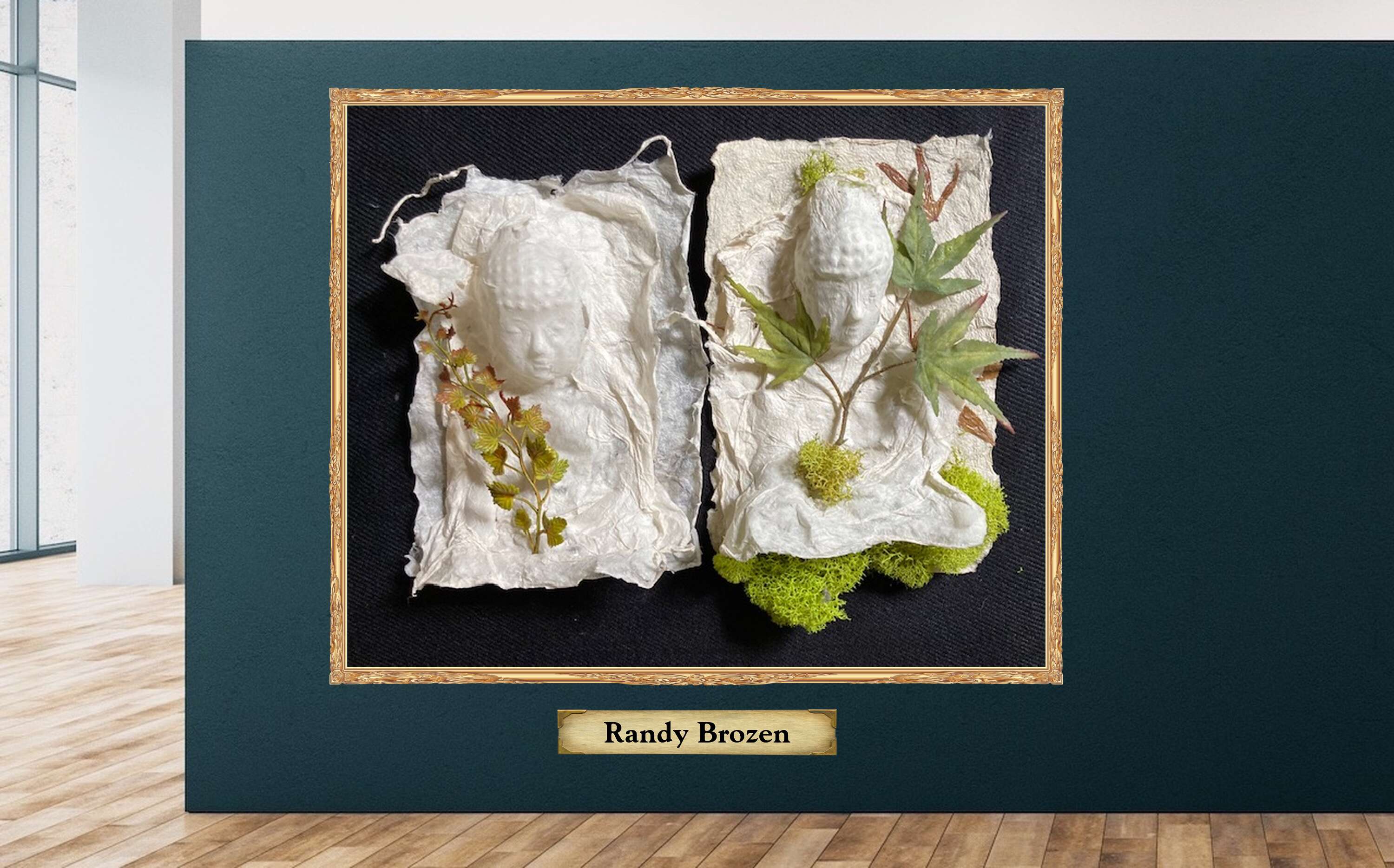 Randy Brozen


"Watching Over Me "
26" x 17" x 6 1/2"
Cast pigmented artist-made paper, leaves, moss

View some recent work here:

FOREVER YOUNG
https://www.youtube.com/watch?v=imygTfuyQb4

Islip Art Council and Islip Art Museum, Presented by AARP:
Art at 50 Plus NEW BEGINNINGS
https://www.youtube.com/watch?v=O4nWVoPdh5Y&t=267s

Link to Randy's website: https://randybrozen.com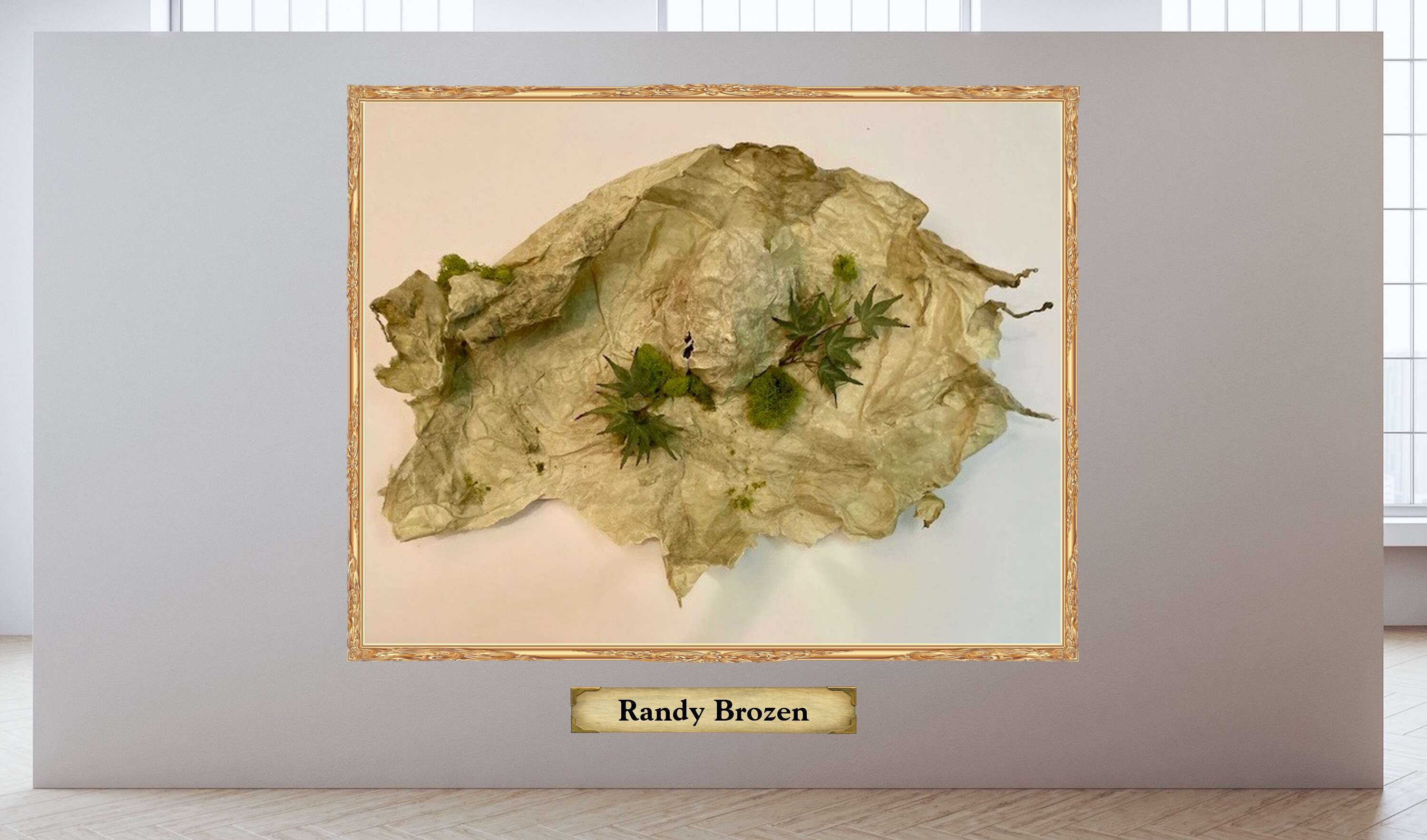 A. A. Sieunarine


My Artwork feels like a dream, neither inside nor outside. What you see, can be what you feel. A moment of contemplation. Life comes and it passes. My heart is fighting and my struggles never ends but hope is endless.


August Martin High School


"Girl in Window Painting"
14"x22"
Acrylic on paper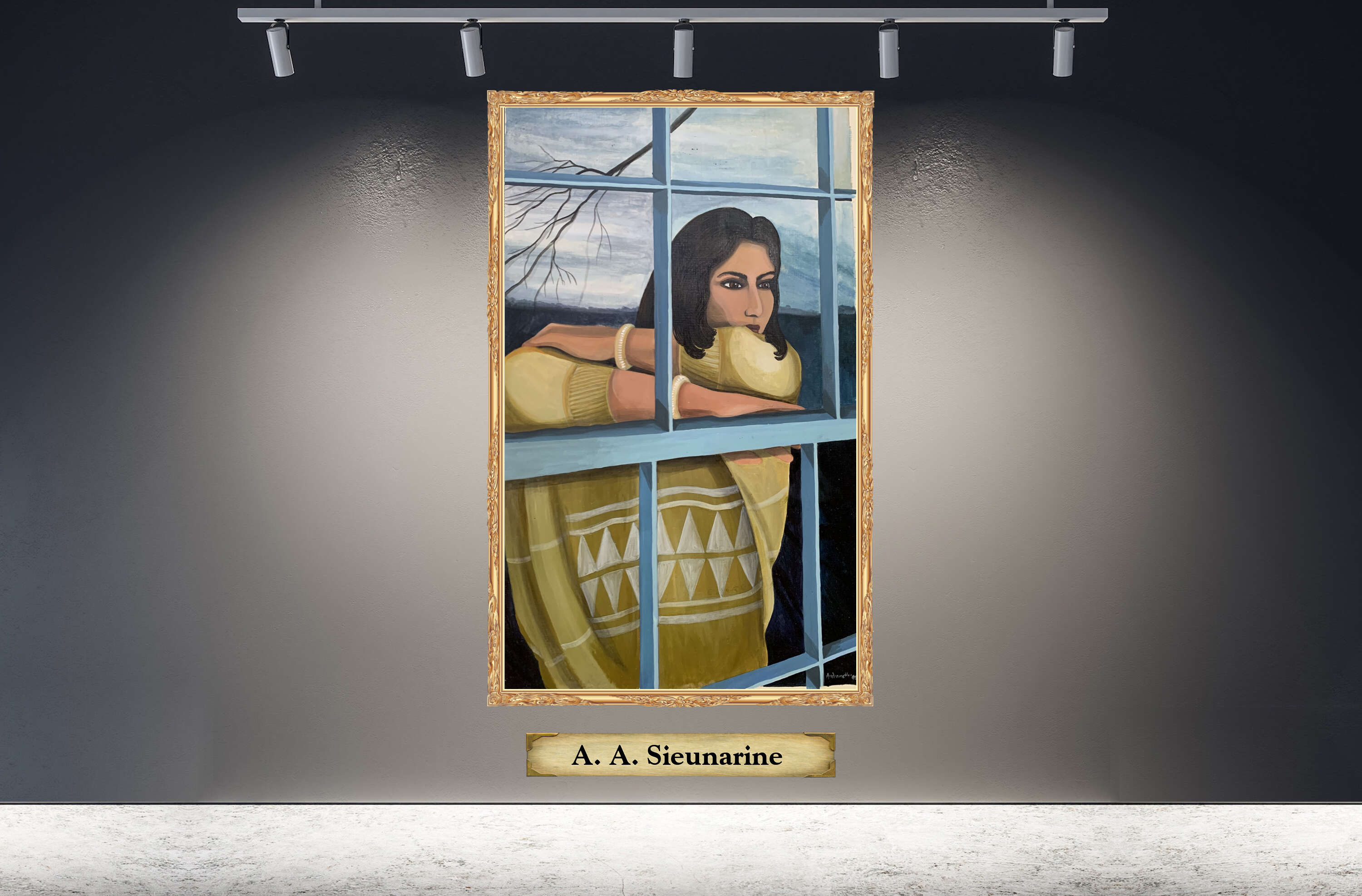 Lauren Rocco
Lauren Rocco is an artist, educator and advocate for integrating technology and the arts. Lauren specializes in photomontage art and experimental photography but also has extensive experience in drawing, painting and collage. When she's not out and about in Brooklyn making images, she's usually looking for new ways to experiment and build upon digital art practices. She also spends a great amount of her time teaching others to explore their own art style through Photography, Media and Fine Arts. My process for creating involves manipulating colors, space and time to achieve desired effects using photographs. I find beauty in searching for places that one might otherwise overlook and make images with a focus on community and the culture that surrounds me. Through digital illustration, painting and collage techniques, I hope to manifest new feelings and moods; transforming the modern landscape into one of mythology. Using Photoshop and other editing software allows me to experiment with layering and recoloring photographs. While I am inspired by each place I portray, I also hope my images evoke new feelings or stories all their own. The images in this work represent the interconnectedness between the people and their surrounding community. I am constantly fascinated by the layers of culture attached to the buildings and landscapes of urban environments. Similarly, I use this layering technique as a method for creation. Each photograph is pieced apart and arranged back together using digital software combined with collage. The result of experimenting with technology for me is often as surprising and exciting as the places I explore. I titled this work 'The Abyss' as a representation of the uncertainty we all faced this past year.

"The Abyss"
2533 px X 1691 px
Digital / Web-Based

Brooklyn High School of the Arts
www.laurenroccostudio.com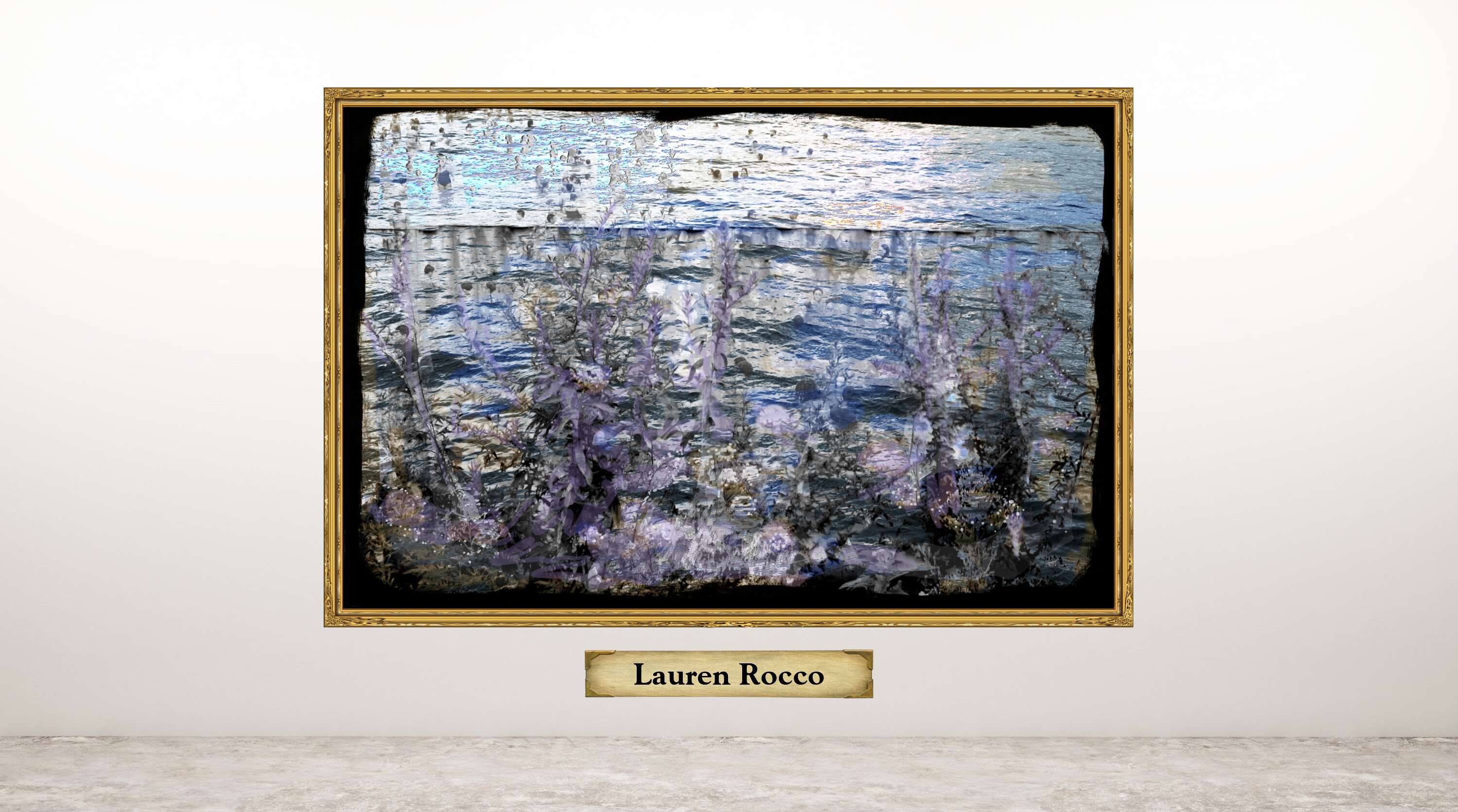 Joan Davidson
The Year of Covid/The Lost Year moved me to give form to what I discovered in my inner landscape.

The source of the paintings was the sound & vibrations of gongs being played that became a catalyst for entering and playing in my inner space.

The wonderful physicality of creating circular forms on the canvas propelled me to use the circles to create lively rhythmic patterns, full of bright colors and textures that dance the viewer in and around the canvas.

I made shapes recede into a third dimension and used bold color contrasts to move my viewers to take a journey into their inner space.

Retired

"Sound Motion #2"
40"x32"
Mixed Media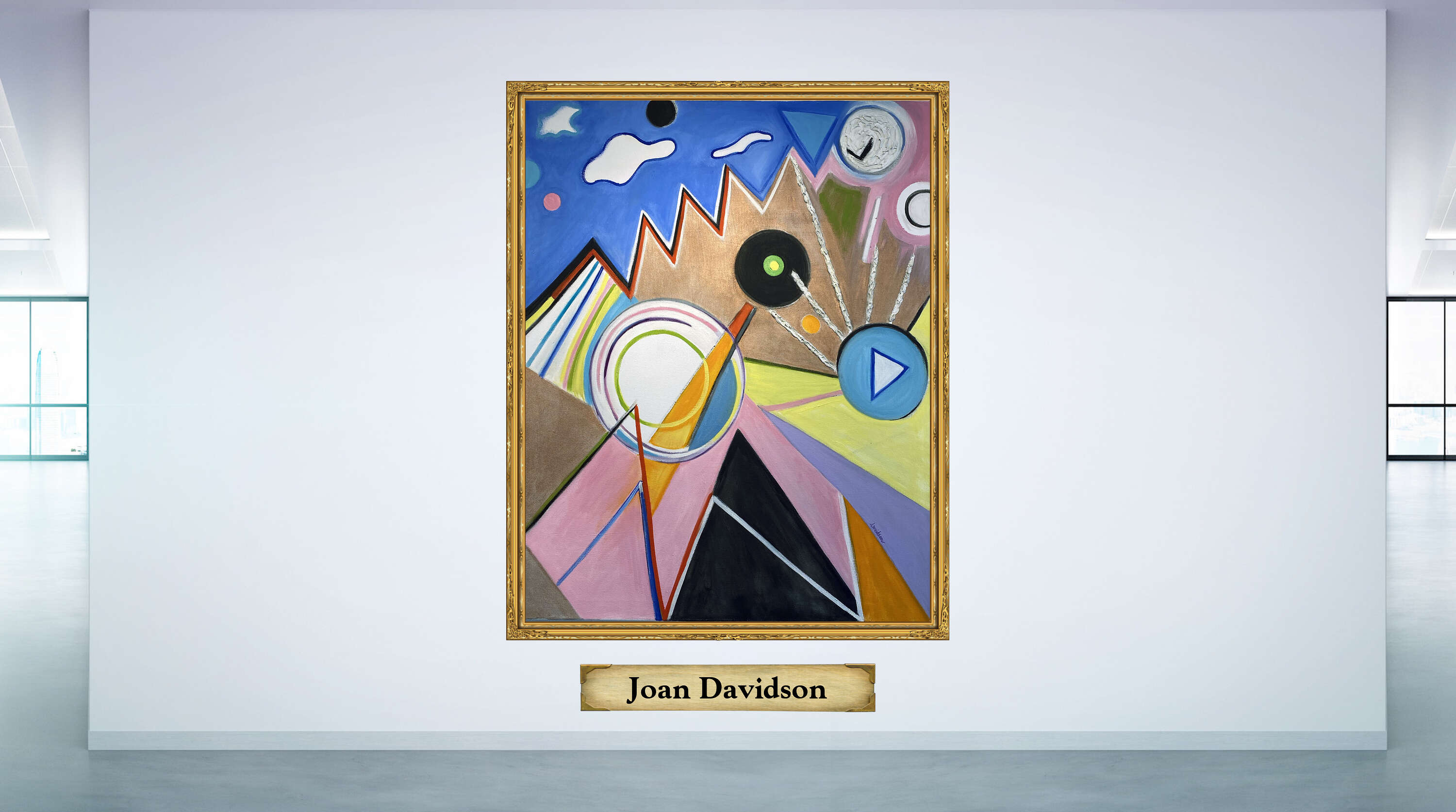 Joan Davidson



"Sound Motion #5"
20" x 36"
Mixed Media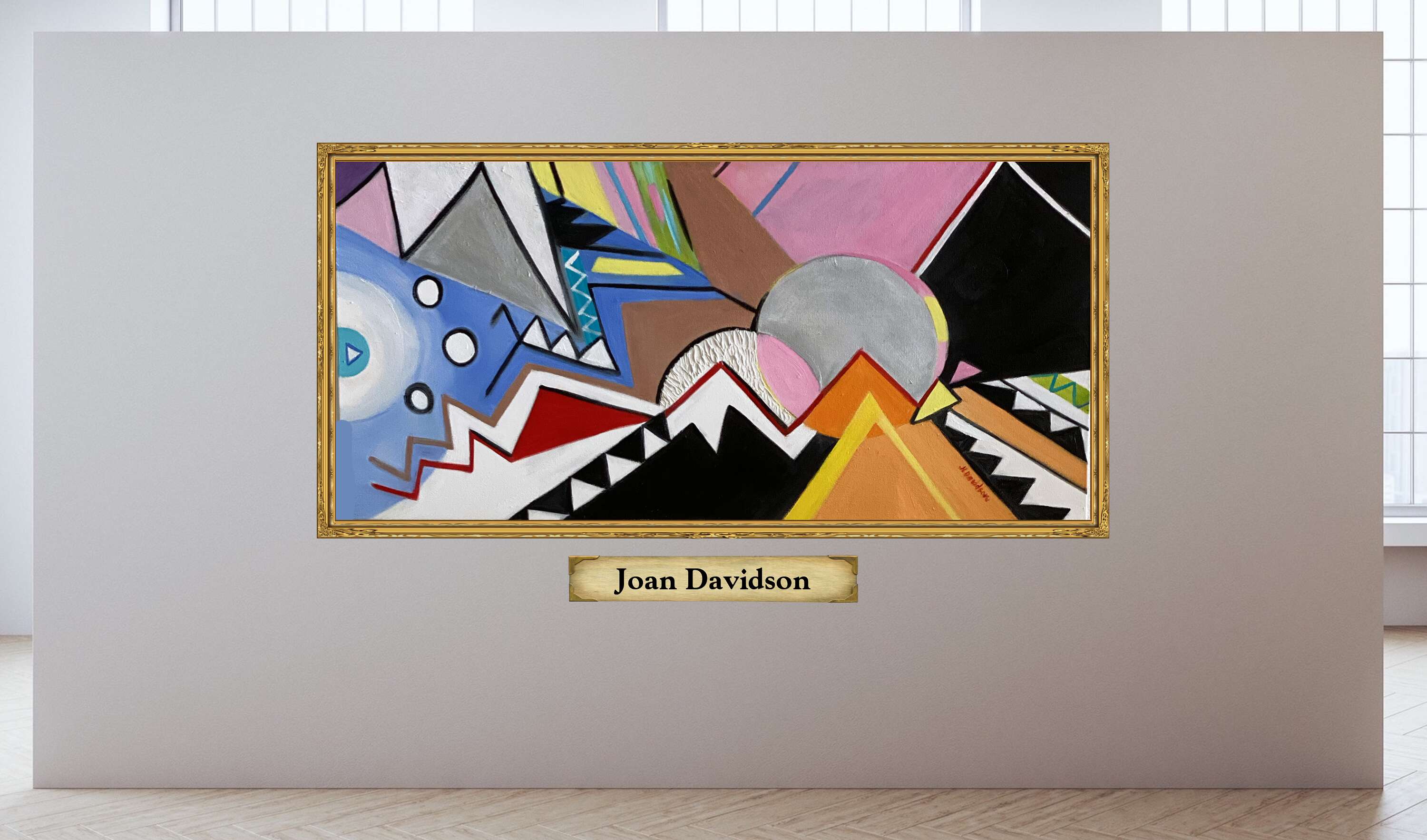 Joan Davidson




"Sound Motion 3"
36" x 36"
Mixed Media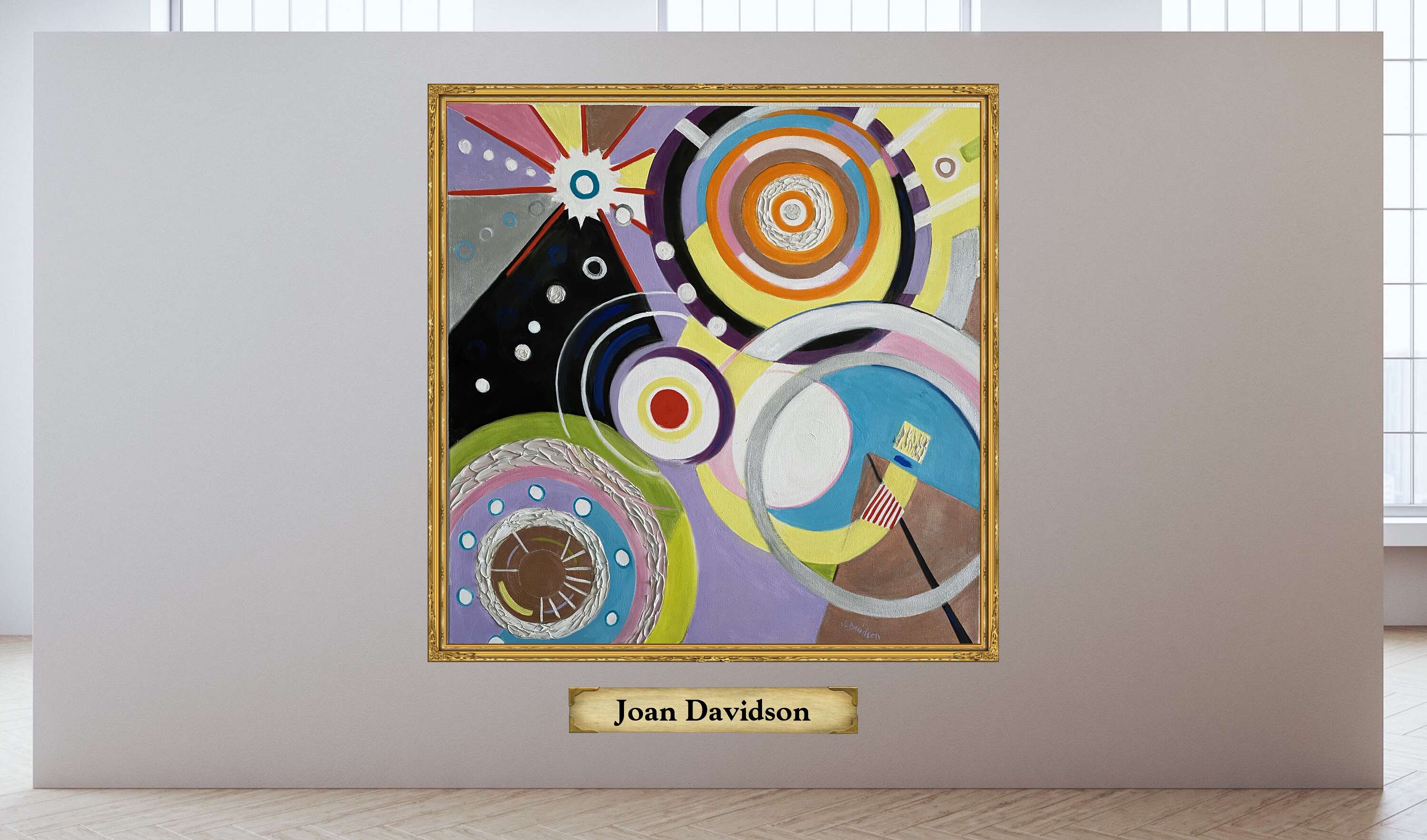 Naomi Barak


I am not a homebody, so I poured all my energy into the arts during quarantine. I rediscovered previously discarded media, familiar subjects such as the four walls of my tiny apartment and the streets of my Brooklyn neighborhood while navigating the world of teaching remotely. I embraced the challenge and learned a lot about myself, my colleagues, and my students. Art became a powerful way to connect as a community.

Digital Arts & Cinema Technology High School

"Views"
9" x 12"
Ink and Watercolor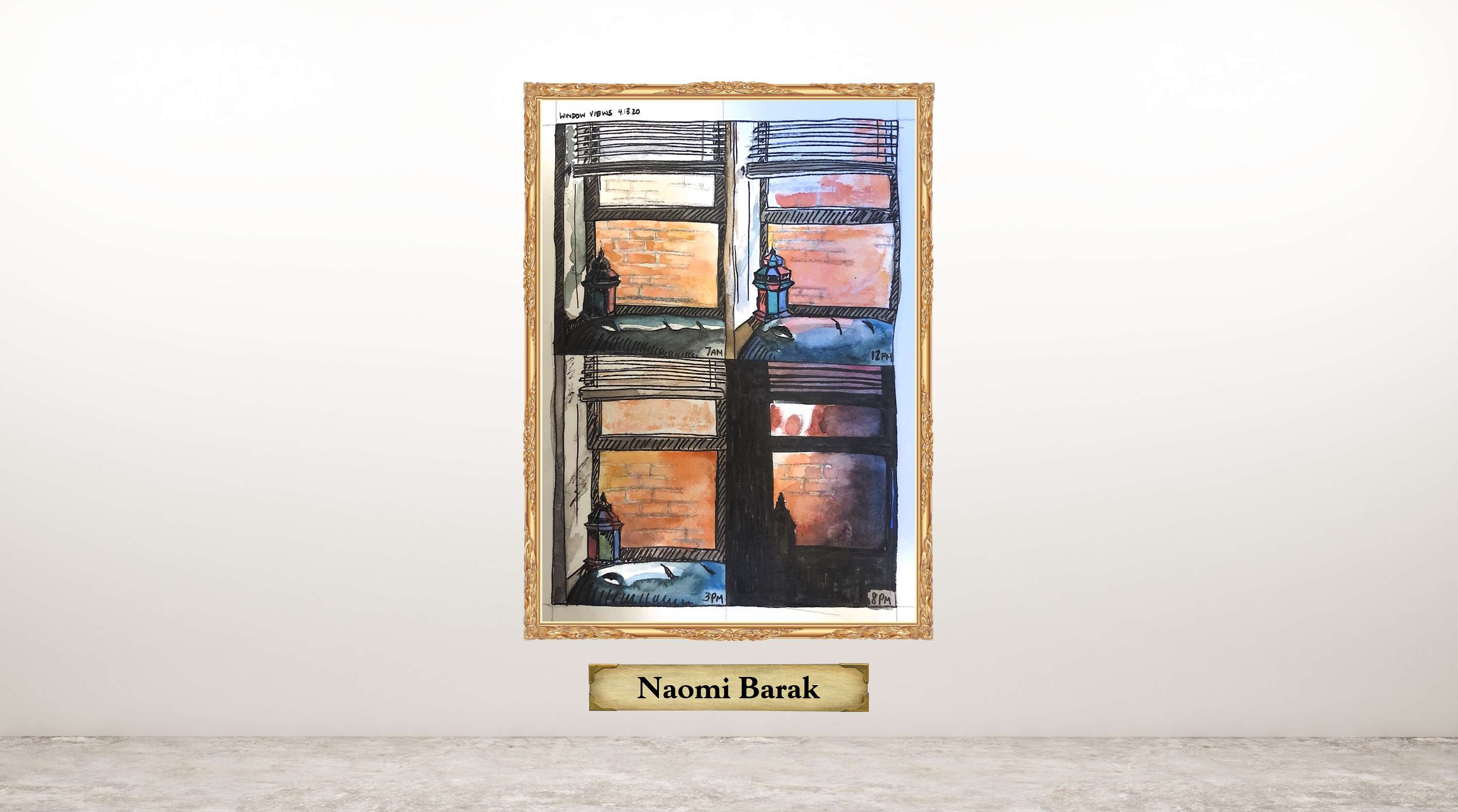 Naomi Barak




"Covid"
9" x 12"
Markers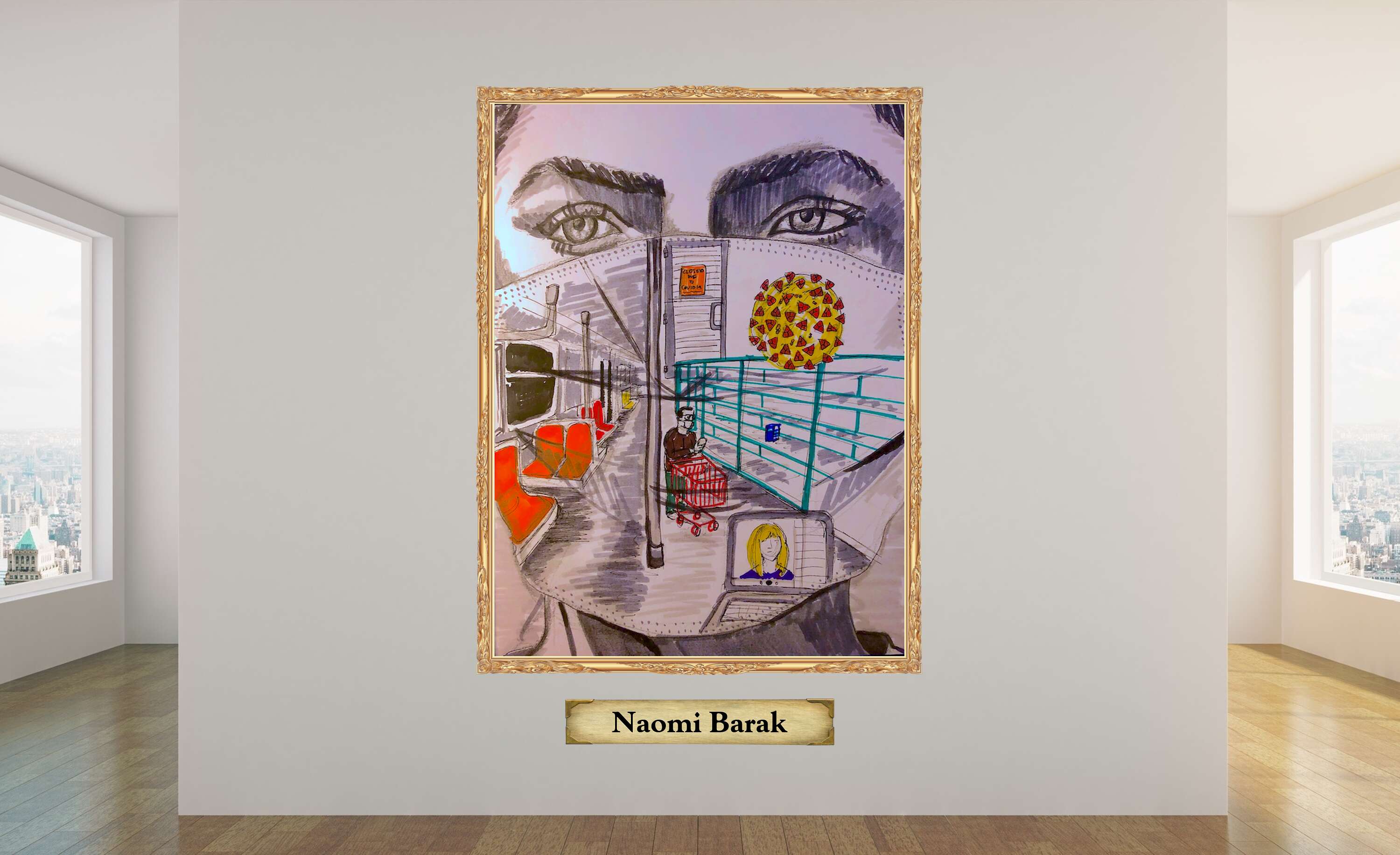 Naomi Barak




"Spring"
11" x 8.5"
Ink, watercolor and pastel

IG: naomibarak