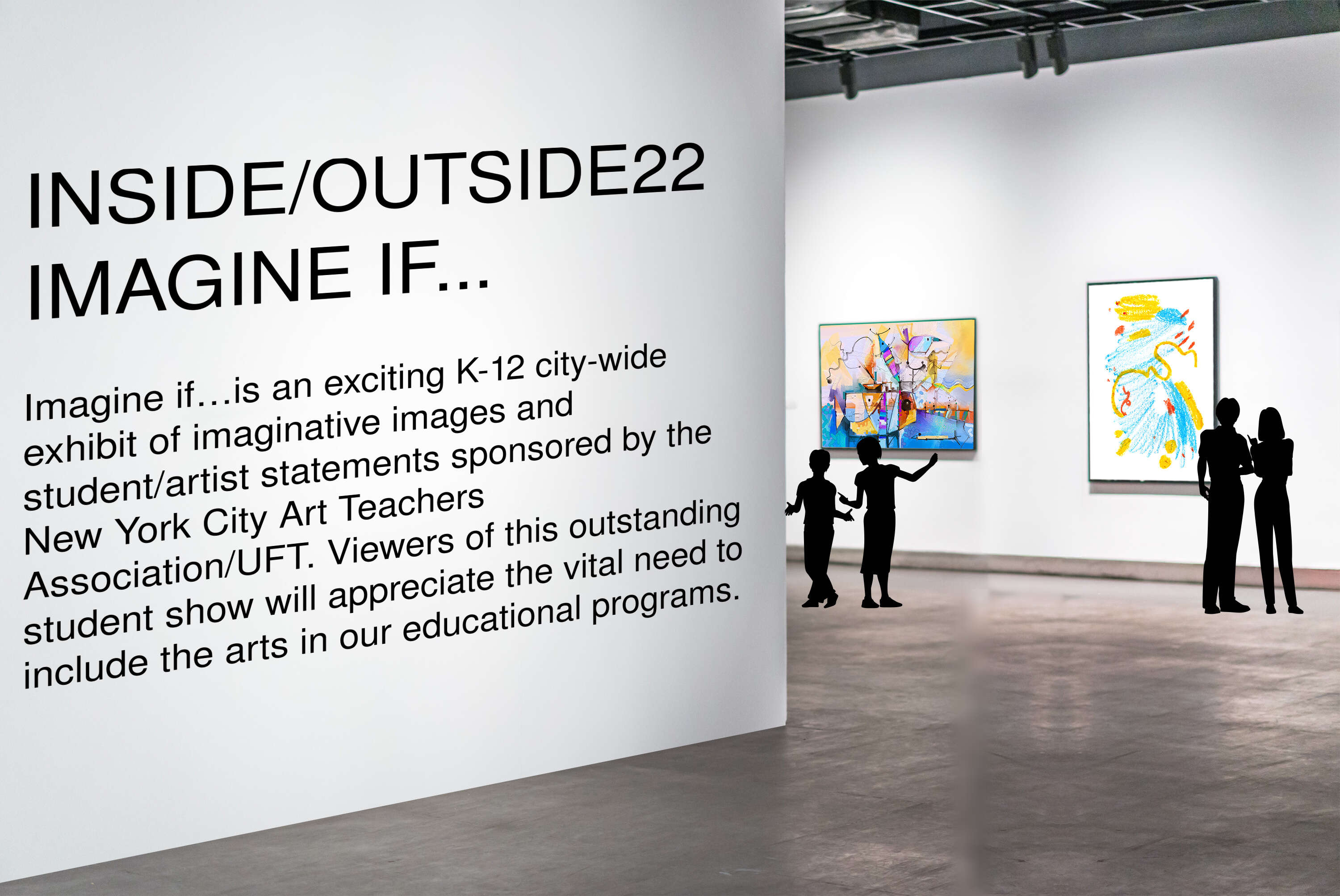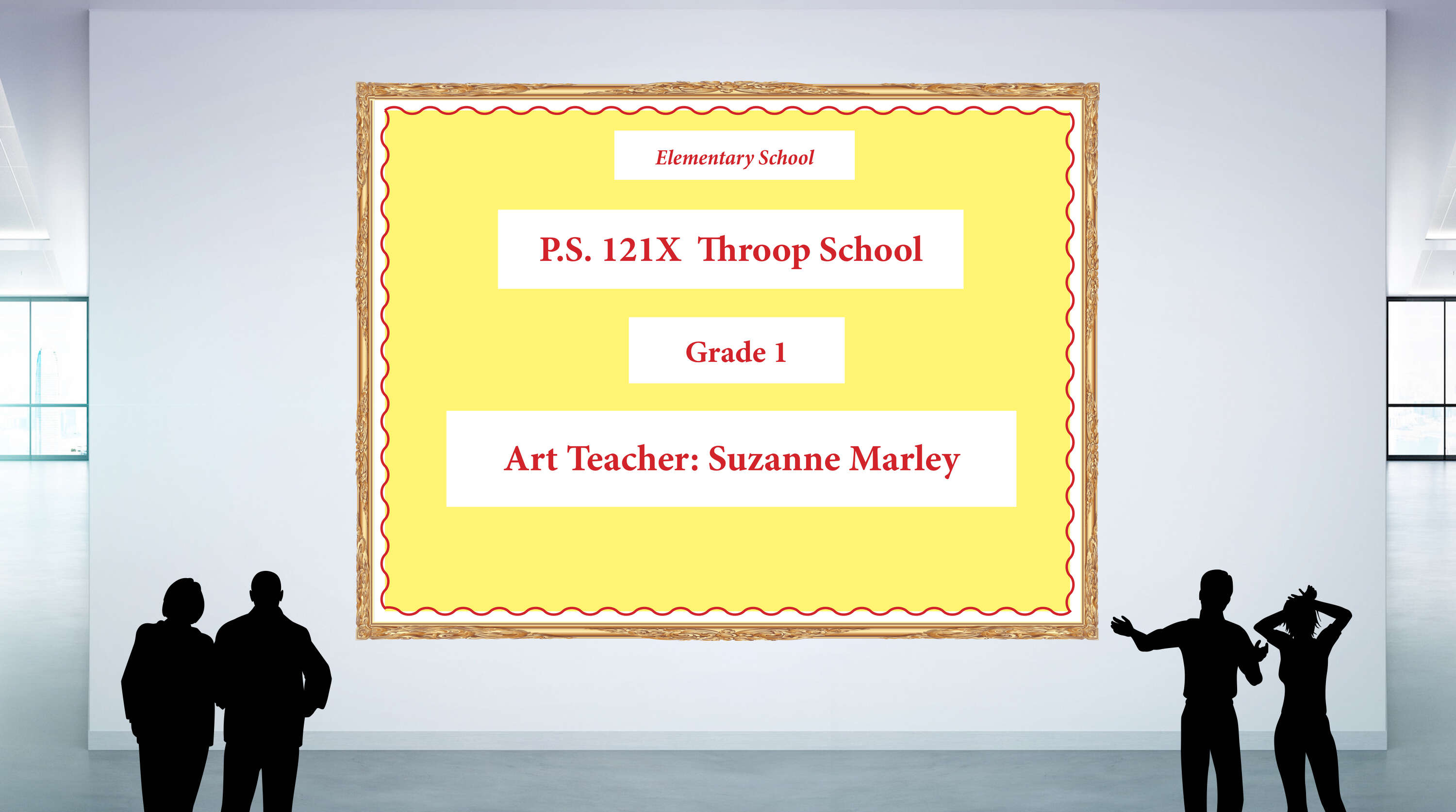 Janelsy Bido • Happy City So Clean & Shiny
Imagine if our city was clean and shiny.
It would be so happy.

Artist that inspired my work: James Rizzi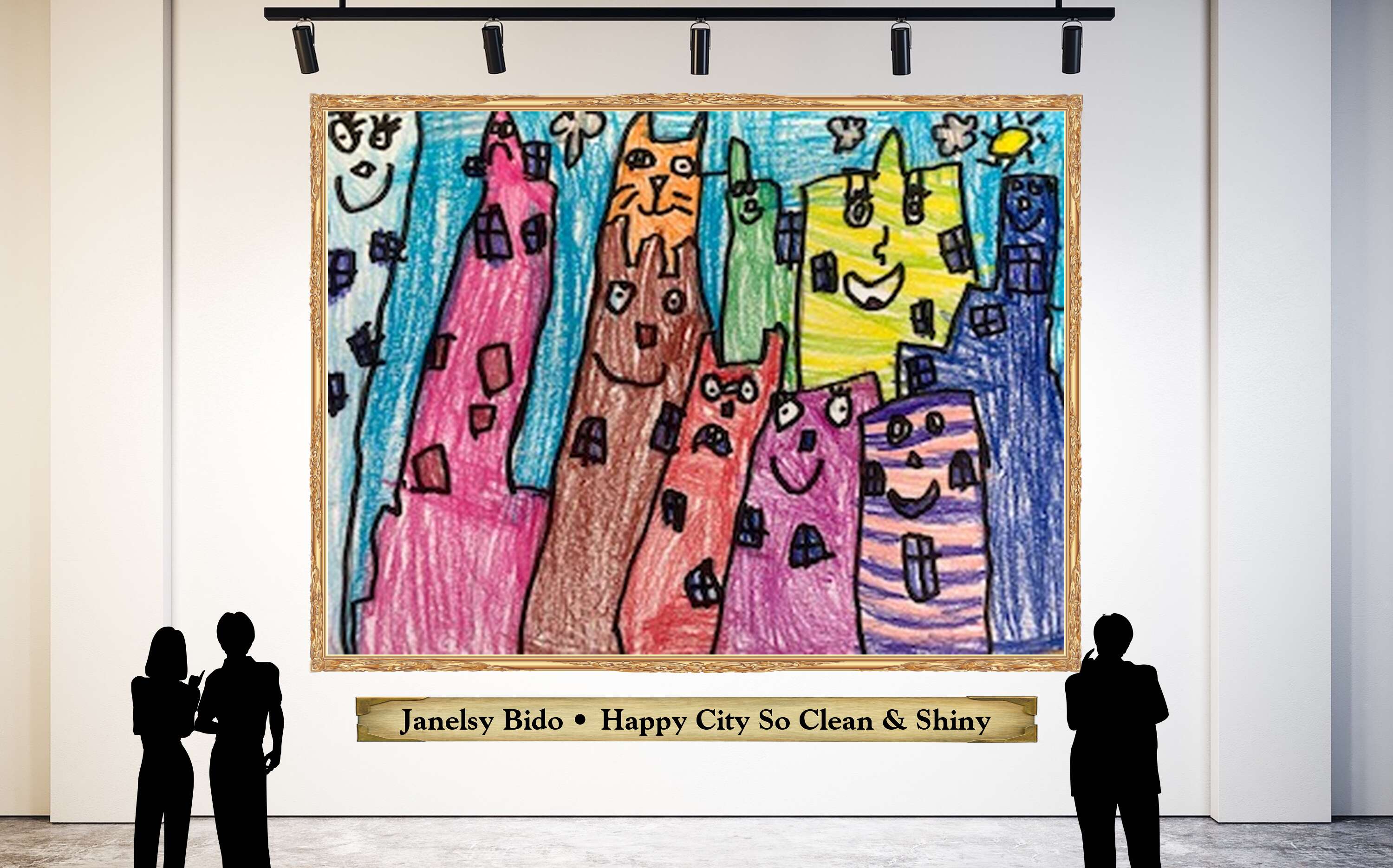 Charlize Baez • Happy Beautiful City at Night
Imagine if the city looked beautiful and happy with happy faces.

That would be great.

Artist that inspired my work: James Rizzi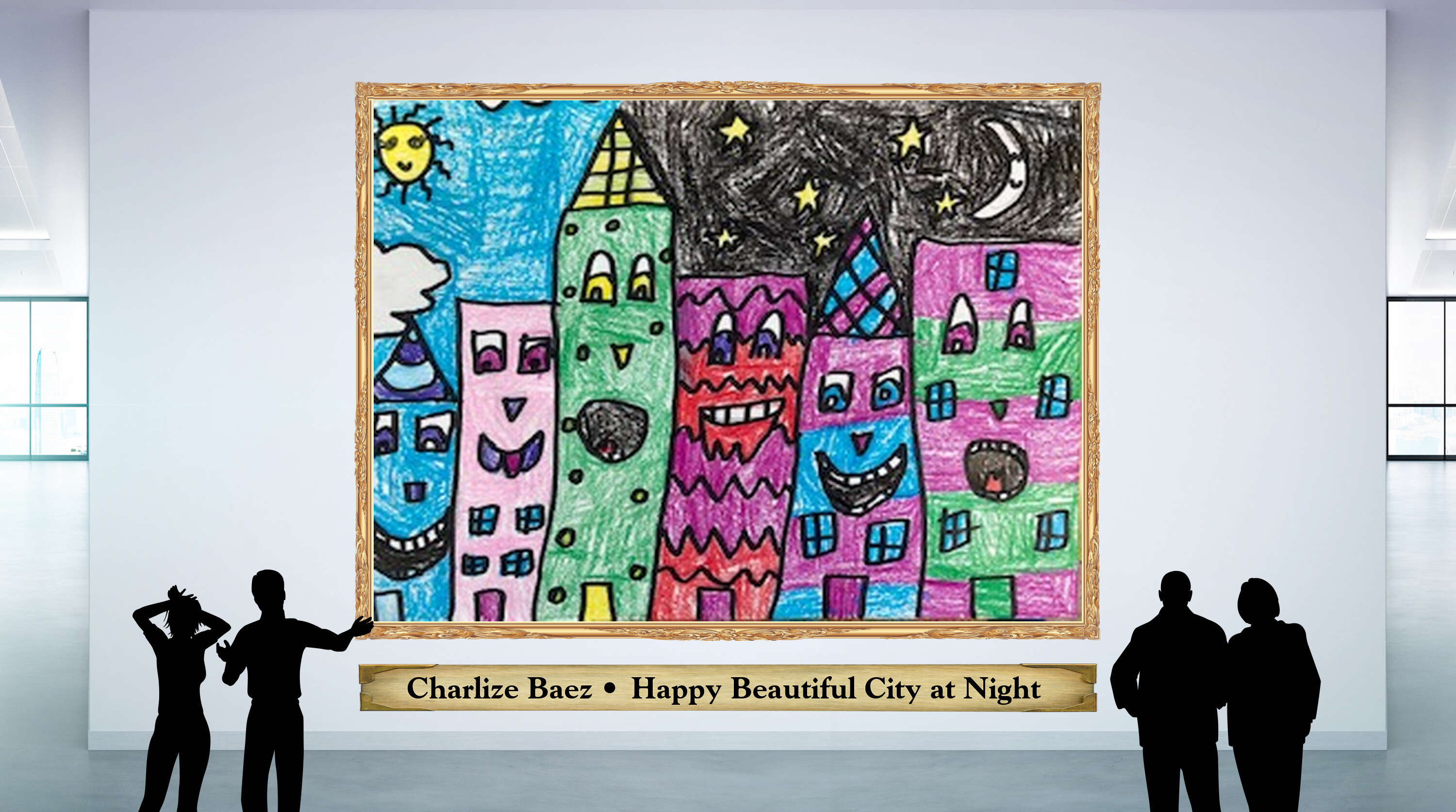 Gabriella Diaz • Happy City with Happy Faces
Imagine if our city looked beautiful and happy with happy faces.

That would be great.

Artist that inspired my work: James Rizzi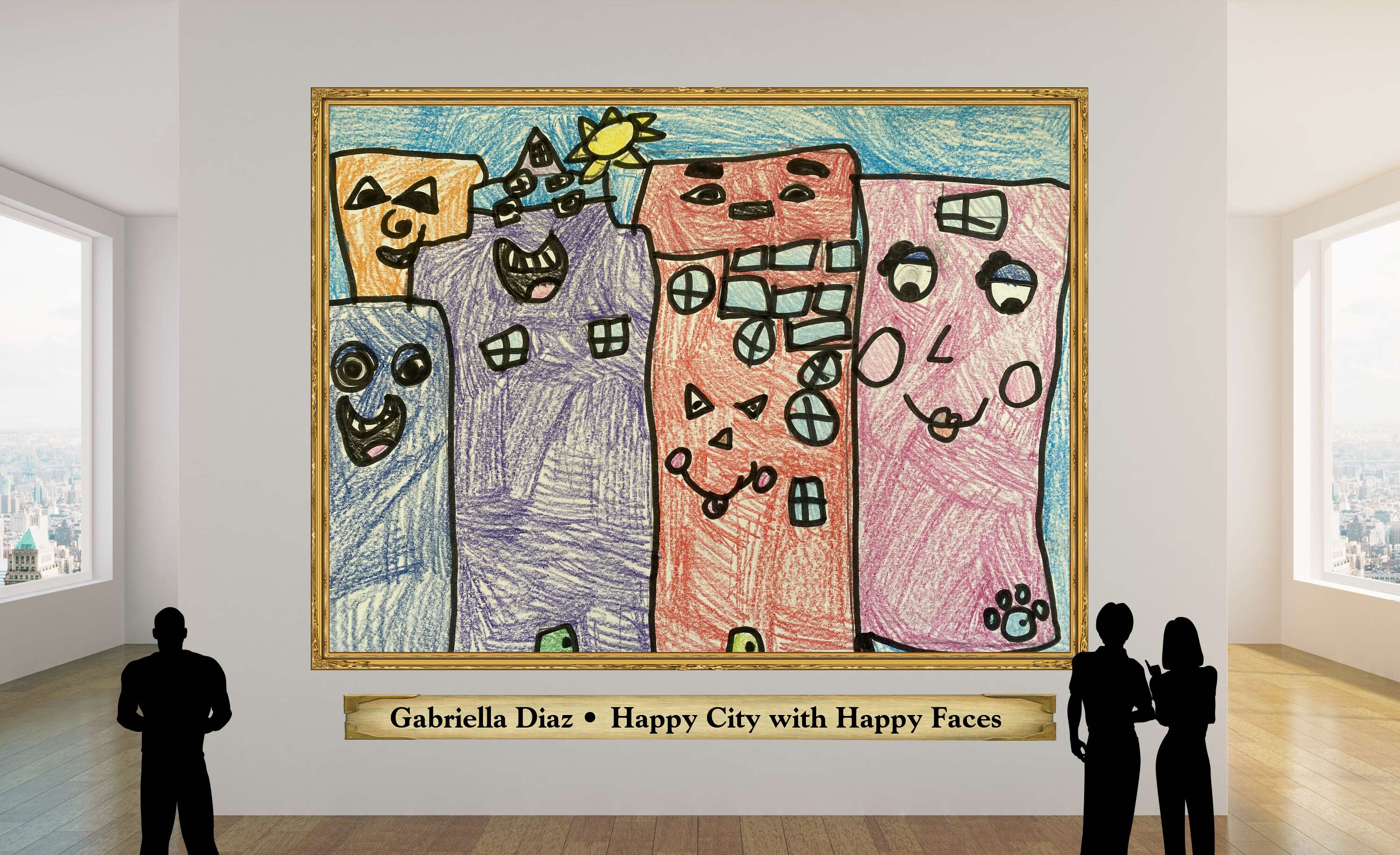 Jayden Melhado • Happy Colorful City
Imagine if our city was colorful and everyone was nice that would be so great.

Artist who inspired my work: James Rizzi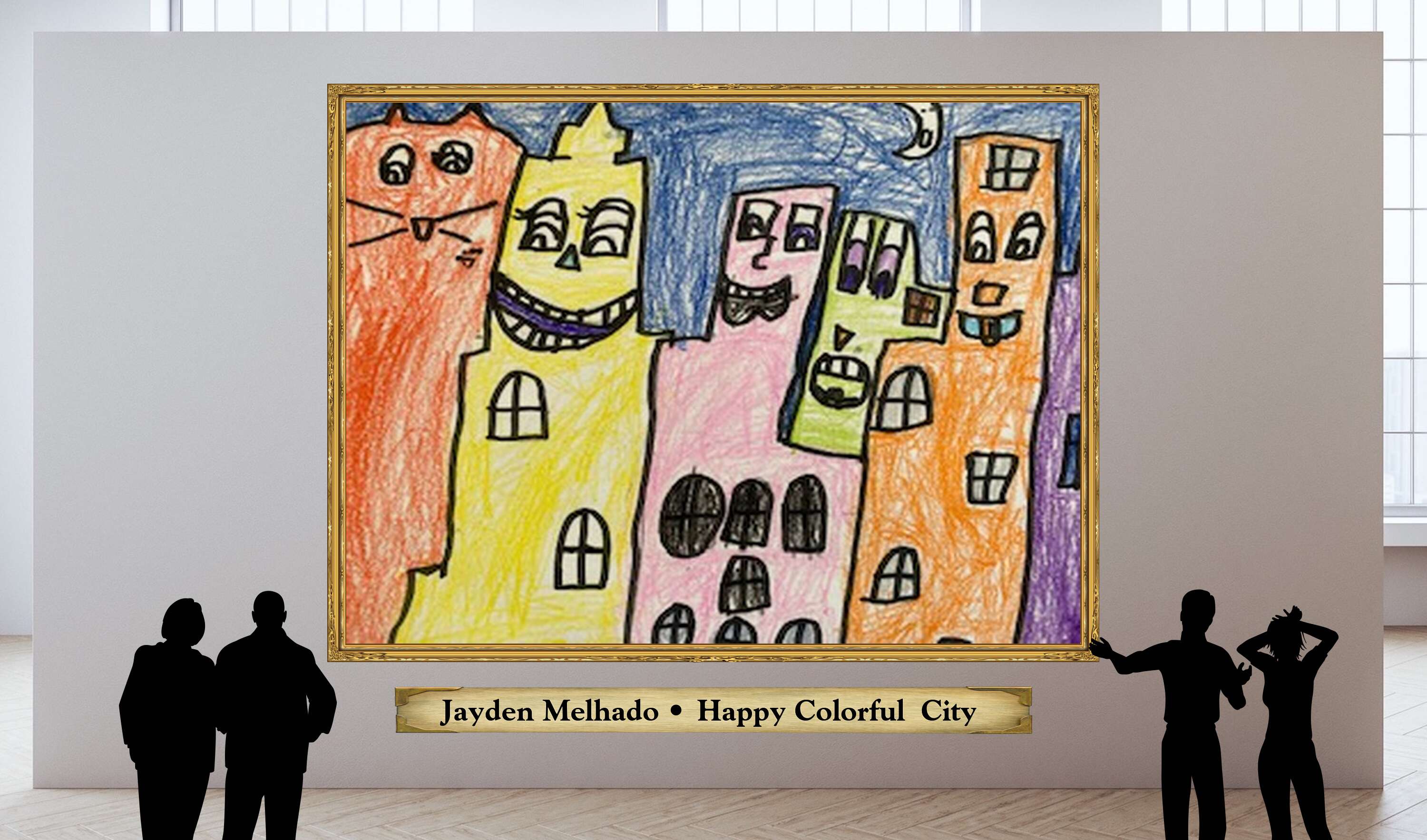 Serena Thomas • Happy Safe City
Imagine if our city was safe, clean, and everyone was happy.

Artist who inspired my work: James Rizzi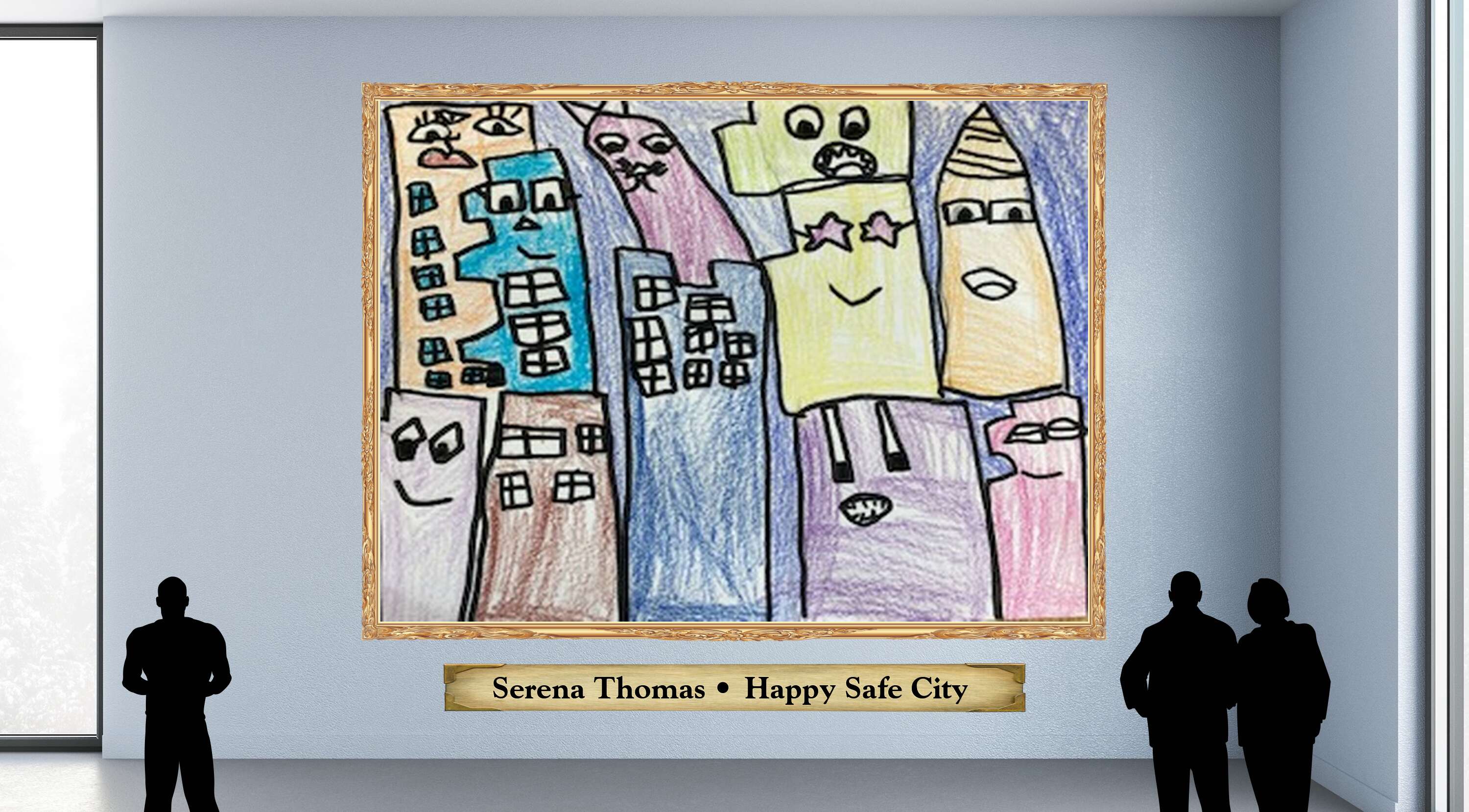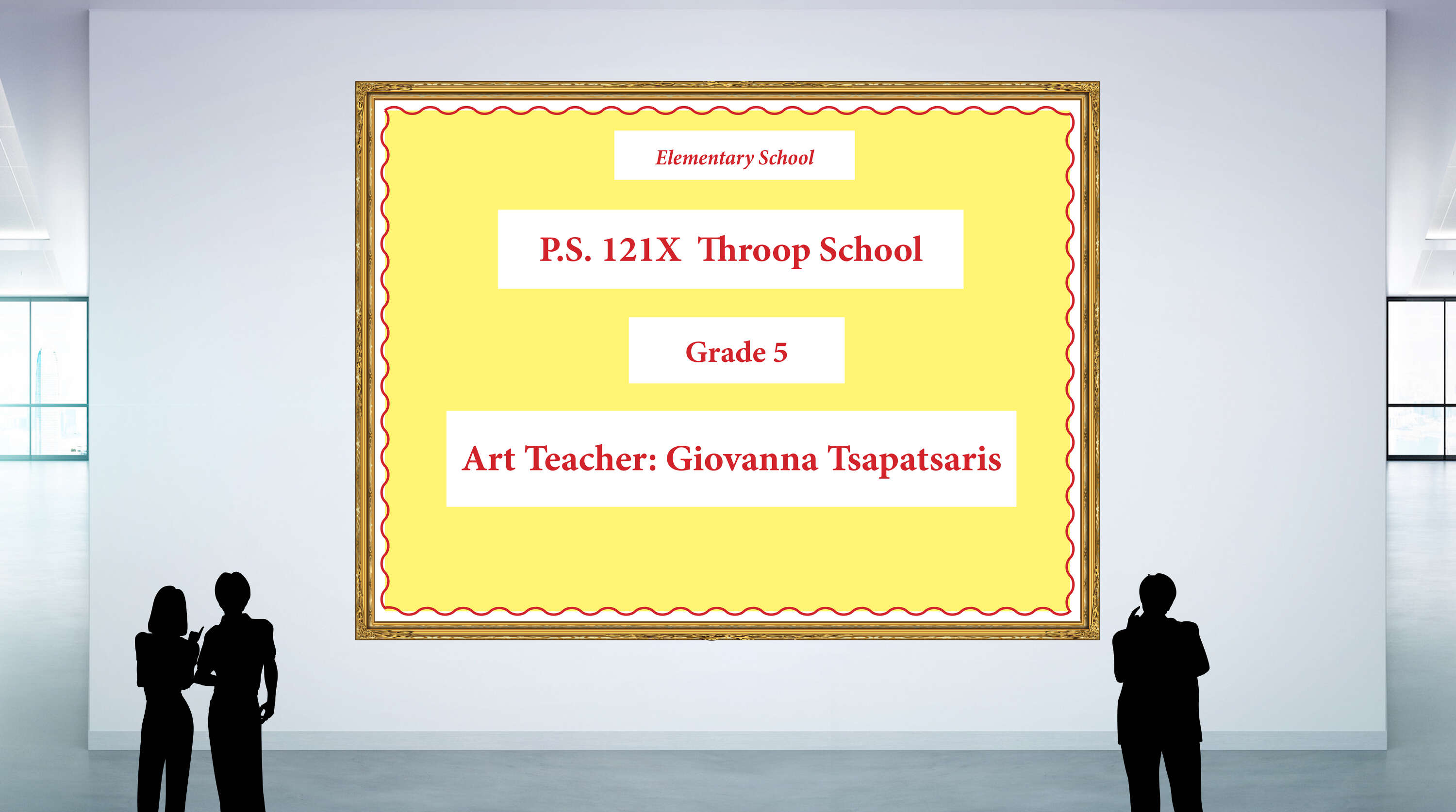 Nusrat Alam • Veggies & Fruits Forever
Imagine if we ate healthy and stayed healthy all the time and there would be no sickness.

Also, imagine if plants grew and had their own unique personality to help teach people how to keep themselves healthy.

Artist who inspired my work: Guiseppe Arcimboldo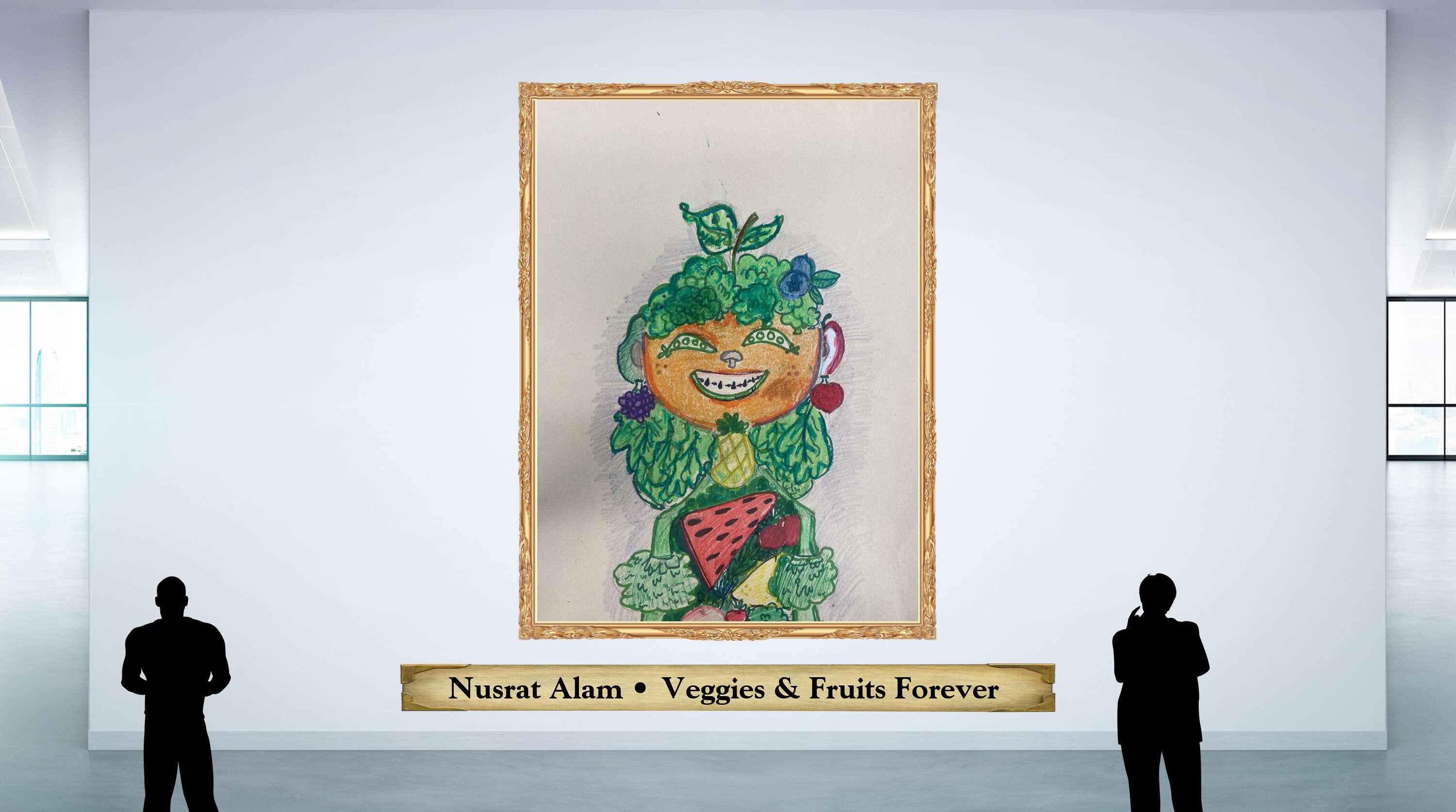 Shannon Bowles • The Fruit Special
Imagine if every fruit or vegetable that people ate, they could turn into a fruit and vegetable version of themselves.

Also, imagine if I could help inspire people to stay healthy by eating the right foods, it would make my community a better place.

That is what my art is all about.

Artist who inspired my work: Guiseppe Arcimboldo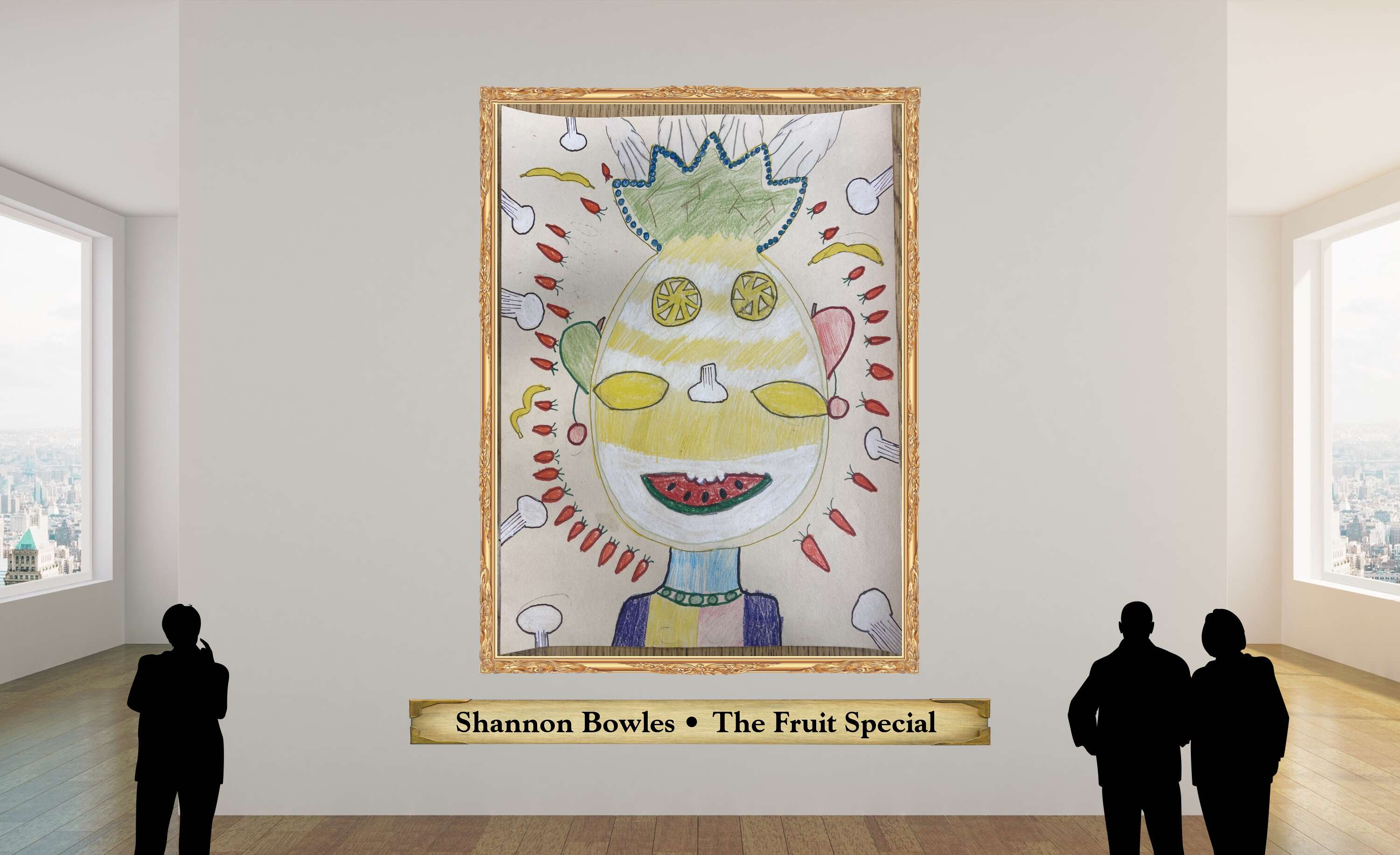 Samiyah Moore • Mother Nature's Daughter
Imagine if life on earth could be a lot healthier and more peaceful for everyone.

We would appreciate our world and what Mother Nature has provided us with. This is what my artwork is about.

Artist who inspired my work: Guiseppe Arcimboldo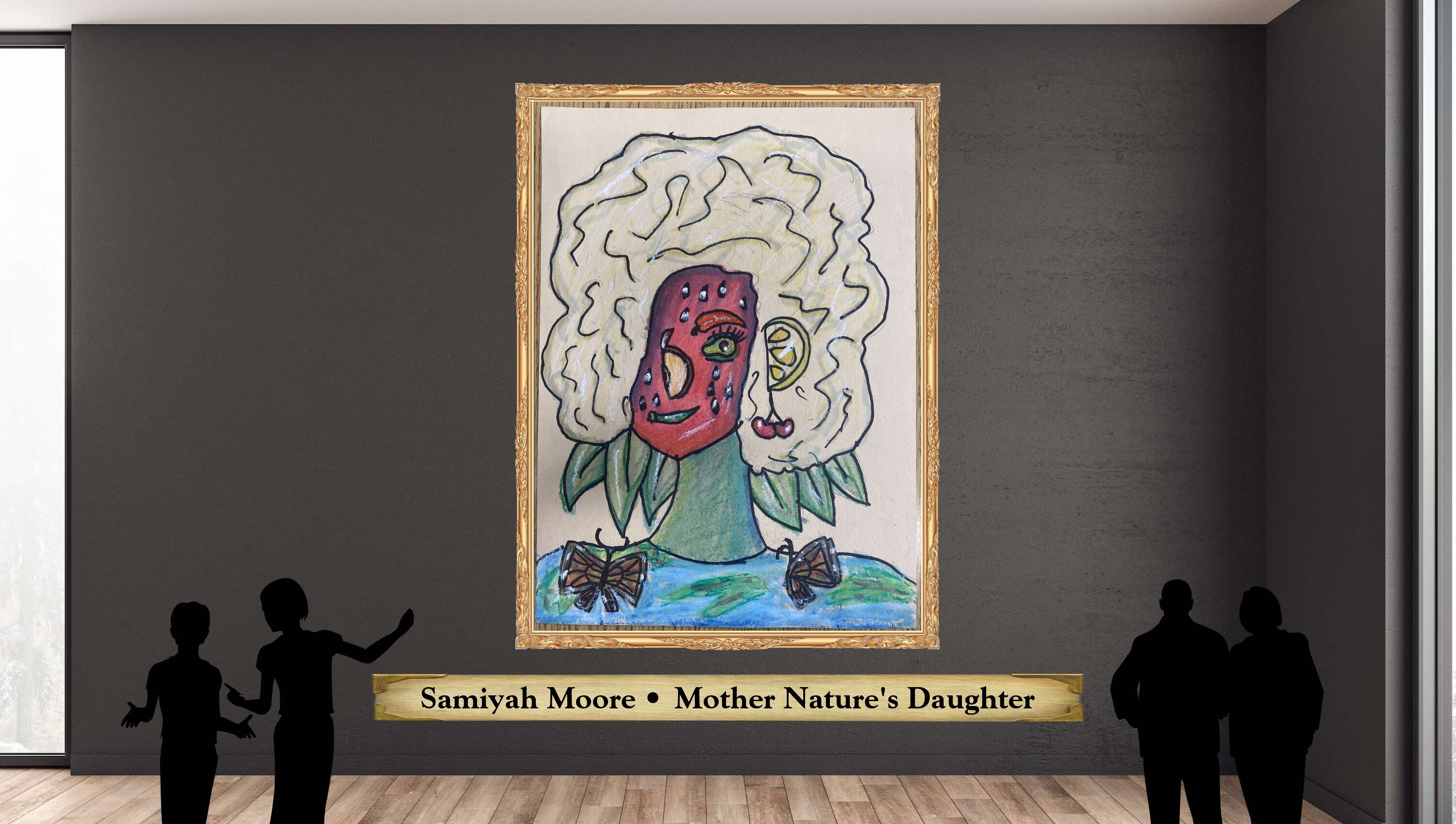 Inem Nnaetuk • The Big Apple
Imagine if the world was one big apple and we could all share it?

Eating healthy and staying healthy is important not just for ourselves but for our entire community.

Artist who inspired my work: Guiseppe Arcimboldo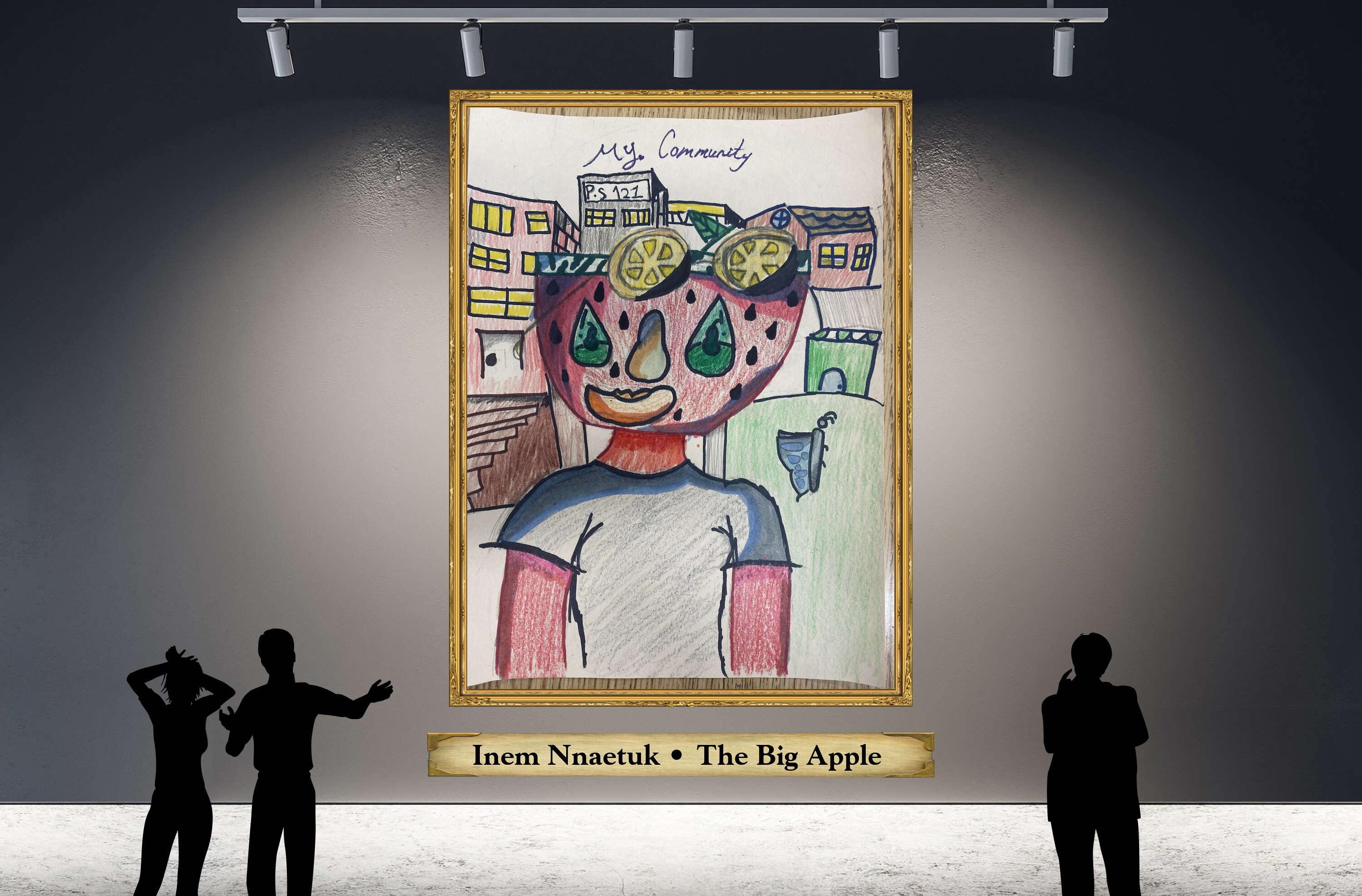 Jariel Jorage • The Apple of My Eye 
Imagine if fruits and vegetables had the same feelings humans did.

Bringing awareness to being and staying healthy through the foods we eat is what my art is about.

Artist who inspired my work: Guiseppe Arcimboldo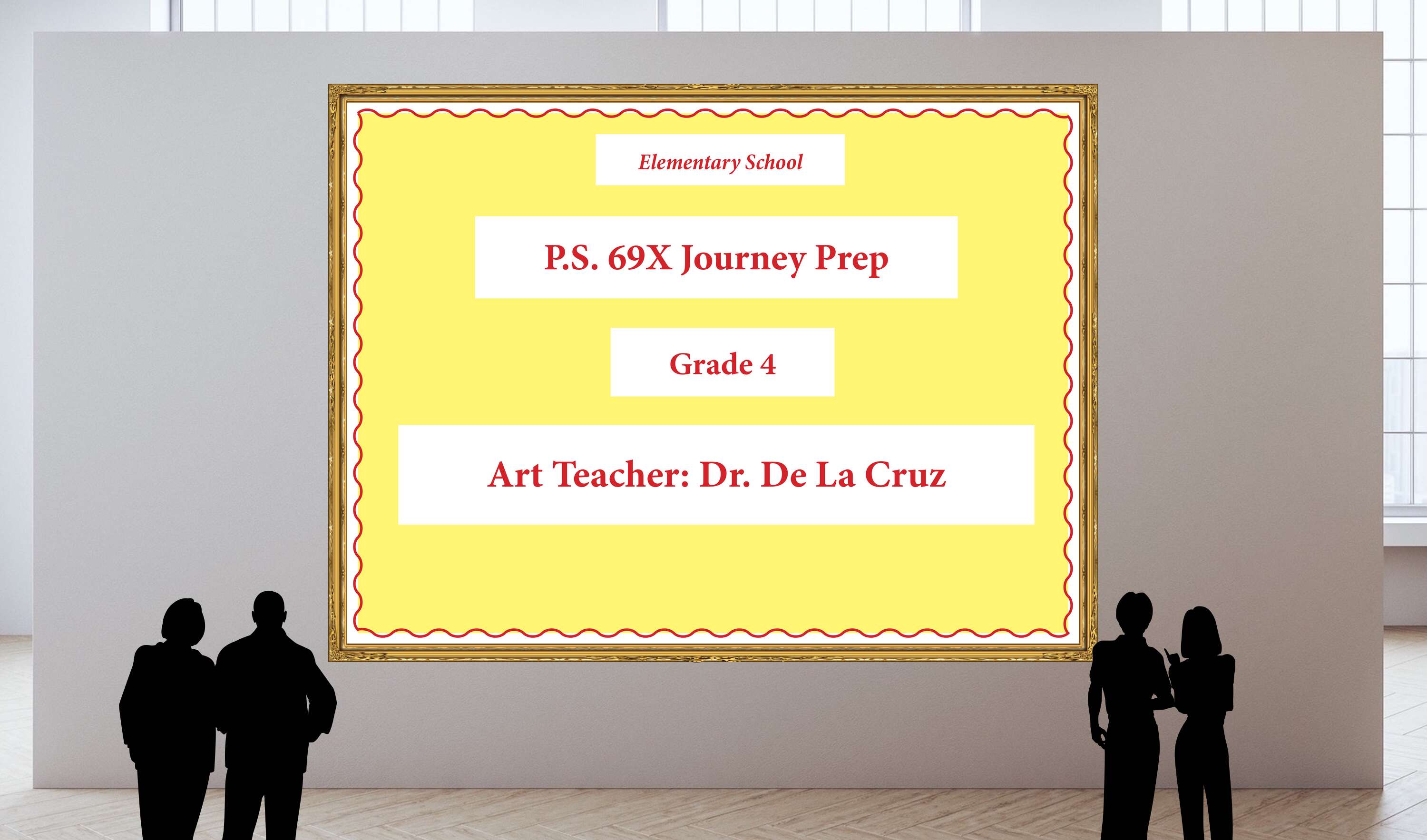 Eli Balcarran • Our Planet Needs Our Help
I used logic to create my idea. Then I created my drawing.

Our Planet needs our help to keep healthy.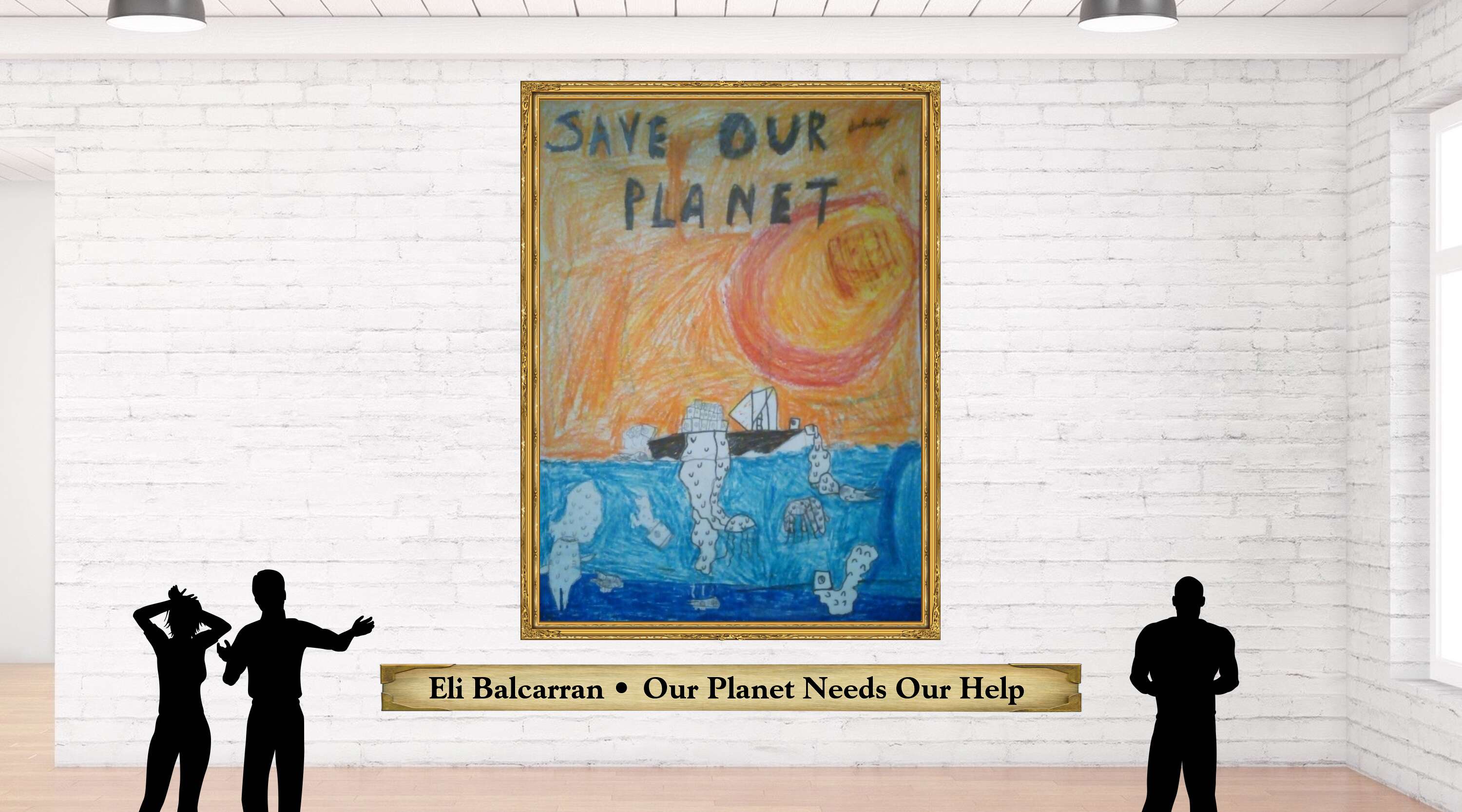 Ridwan Haque • Oil Spills
I created my art work because, I recalled looking at pictures of animals dying from oil that came from oil spills.

After I recalled that I wanted to draw it.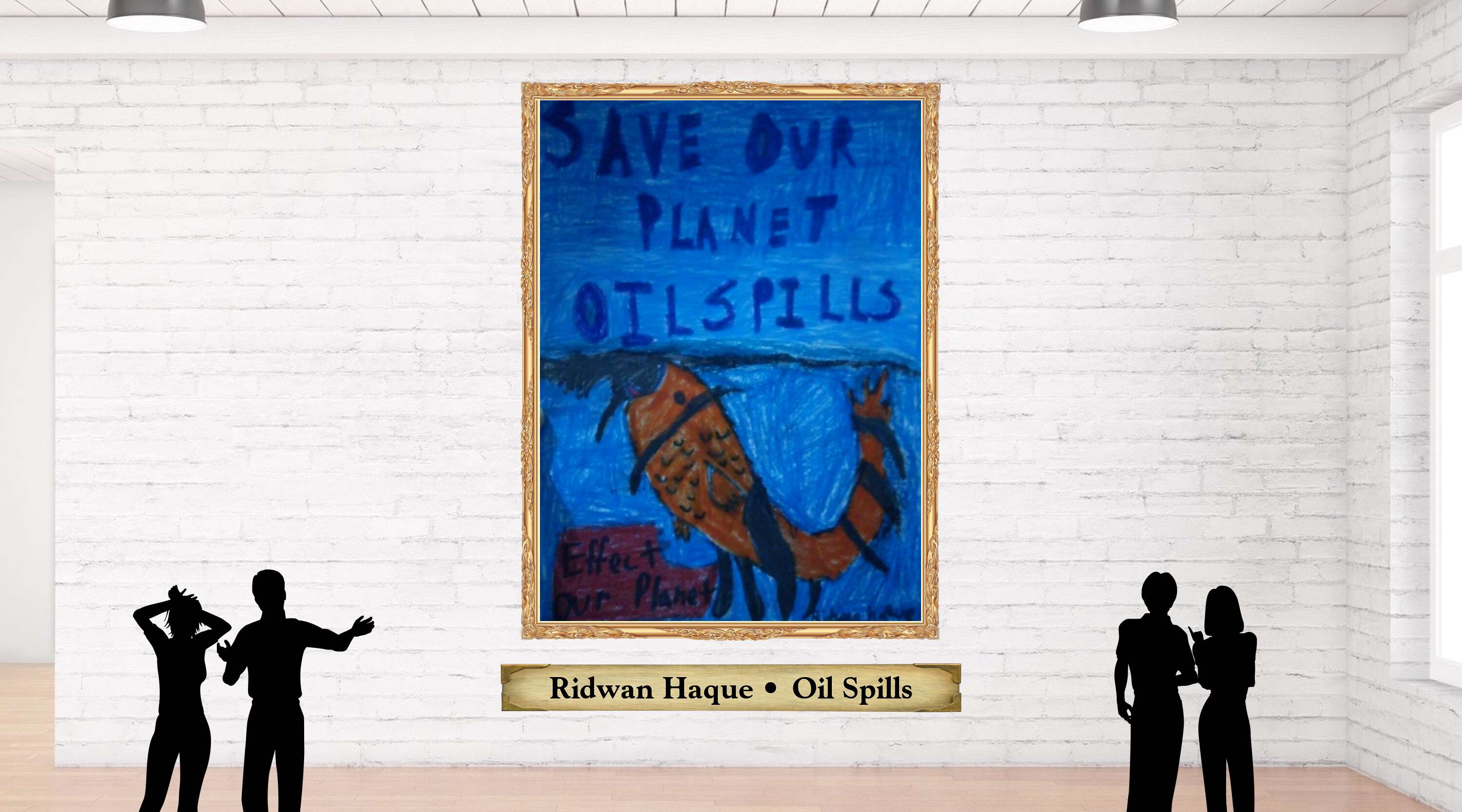 Kimberly Vega • Save our Planet
I created this drawing because there have been lots of oil spills and we need to stop this now.

Animals are dying, because all of the oil spills.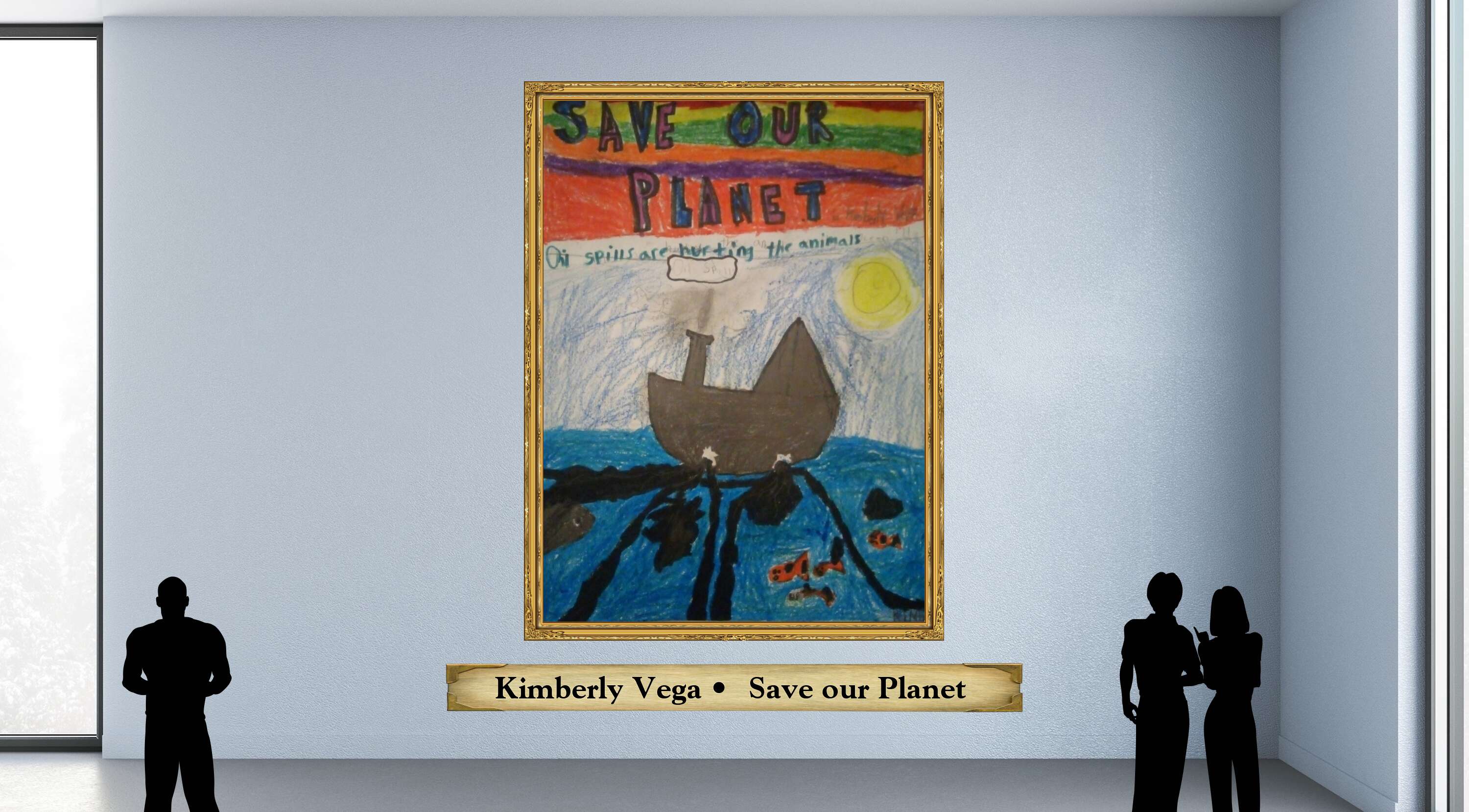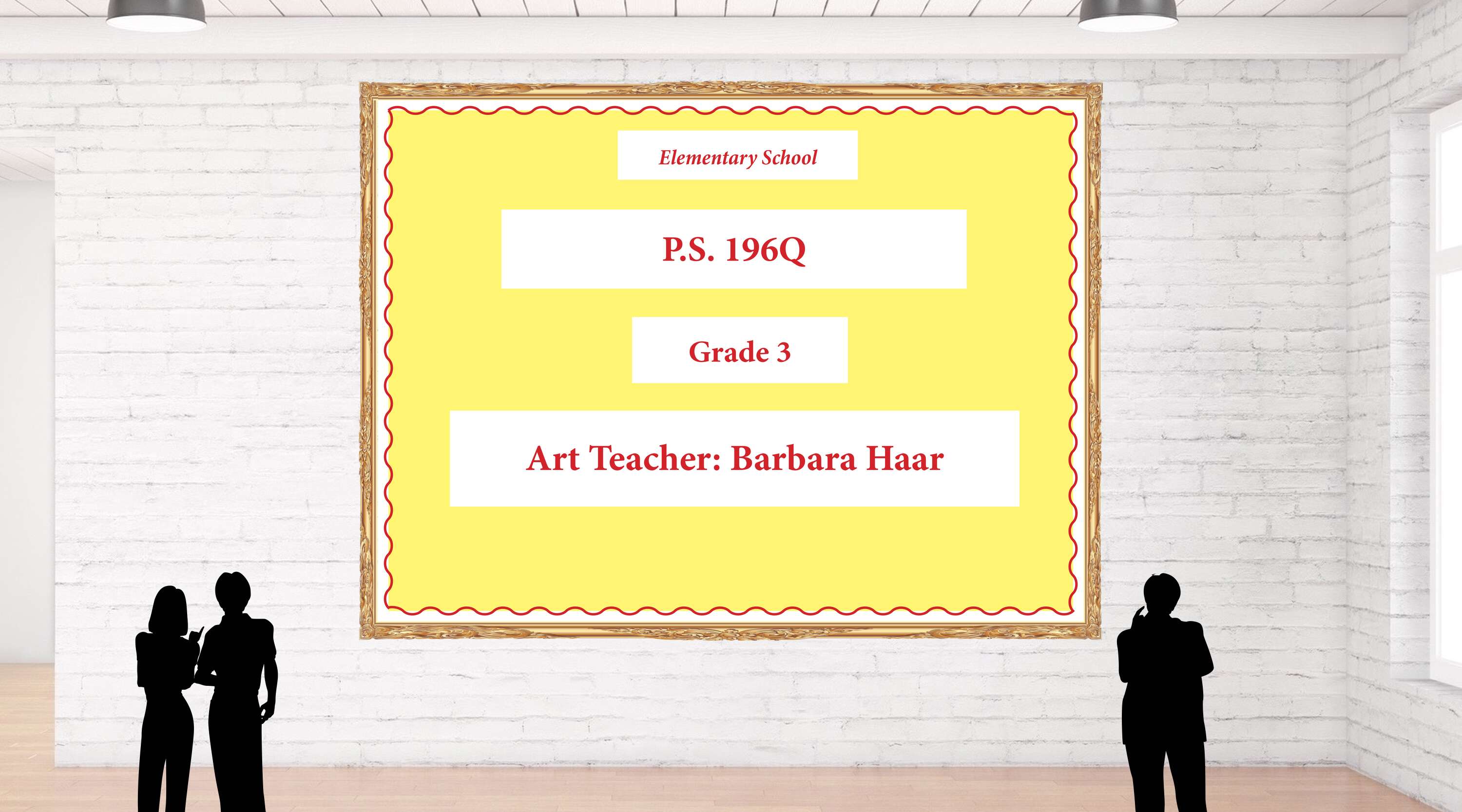 Liana Liveyev • Is Something Up There?
I chose to do a portrait of a clown because most clowns are happy.

Mine is thinking, dreaming and hoping to see good things.

He wants to smile and be happy again. Here's hoping!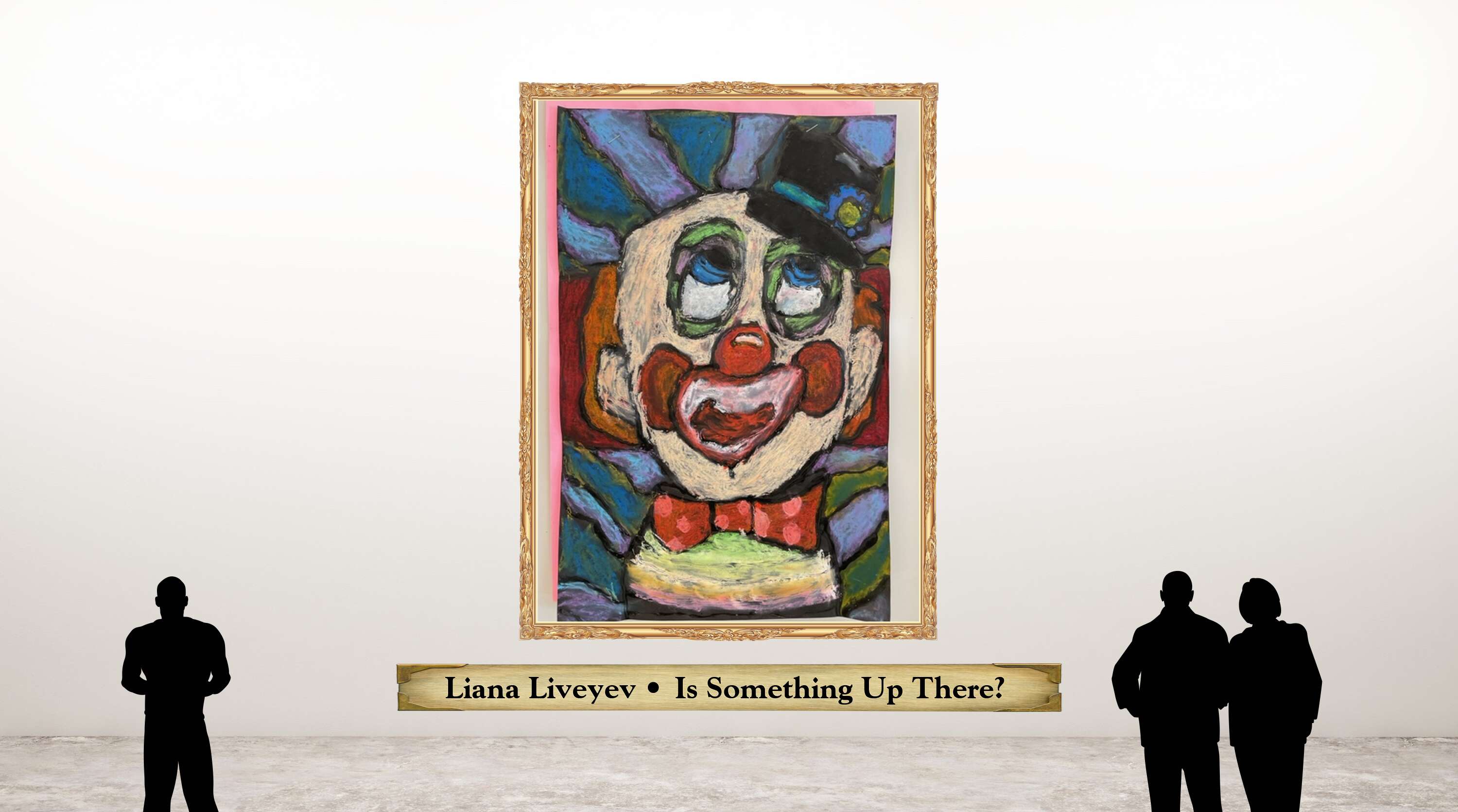 Eliana Wu • Make Me Smile Again
This portrait of a clown shows her trying to be happy.

I blended my oil pastels colors to get an eerie look because the world is so mixed up with feelings.

My mom says Coronavirus is starting to go away. I think so. What do you think?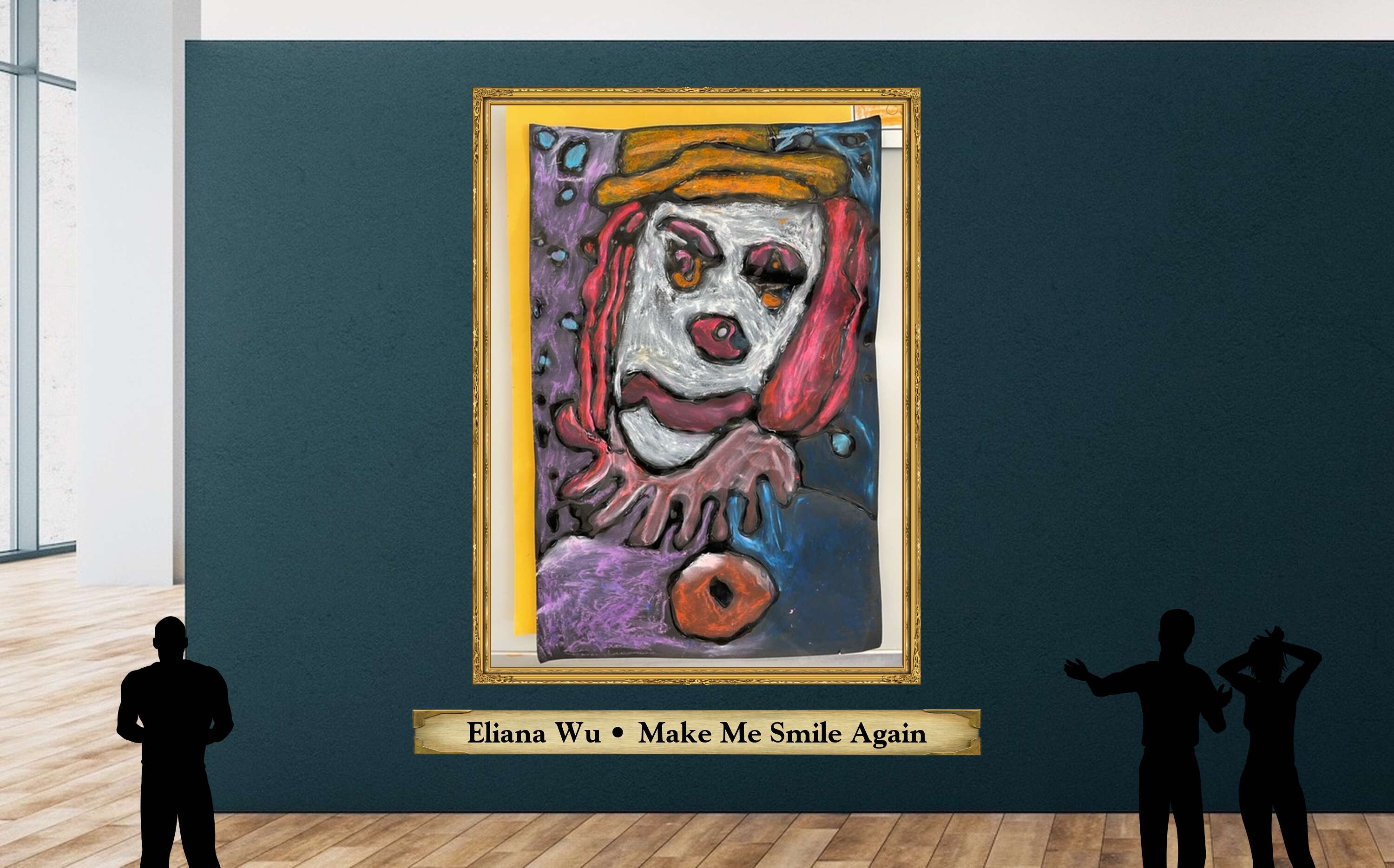 Benjamin Liveyev • Grade 1 • The Rainbow Person
I made a rainbow person jumping on a couch in a room because when they jump really high they start flying.

They will bring rainbows all over the world and make everyone happy.

I was inspired by Henri Matisse.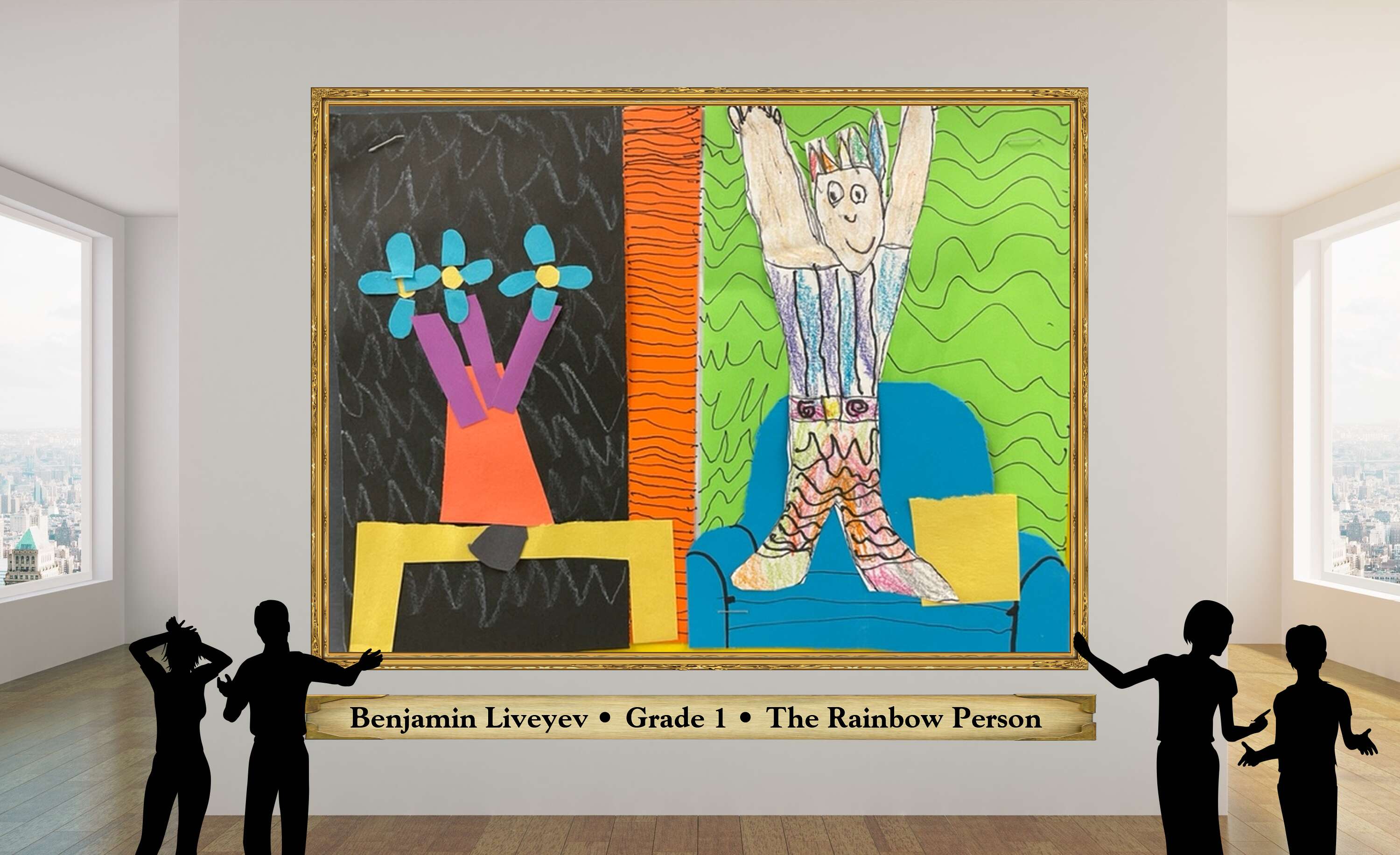 Sienna Diaz • Grade 4 • Monster
I made a picture of a girl who is trying to look happy in life but showing how she feels on the inside.

She is sad because some people don't accept her for who she is.

There is another person whose hands are on her head. They are hurting her. She is trying to fight back.

I was inspired by Picasso.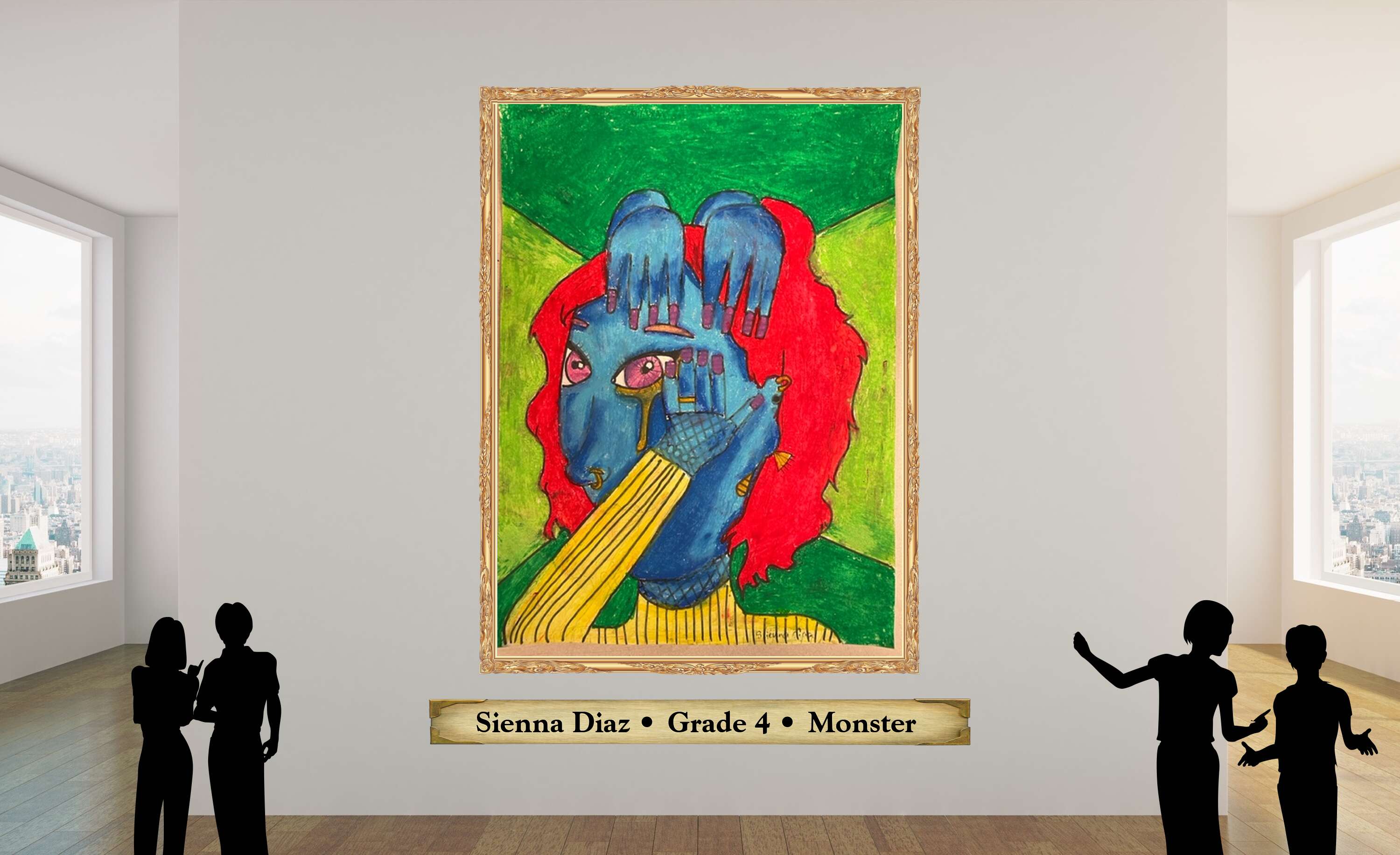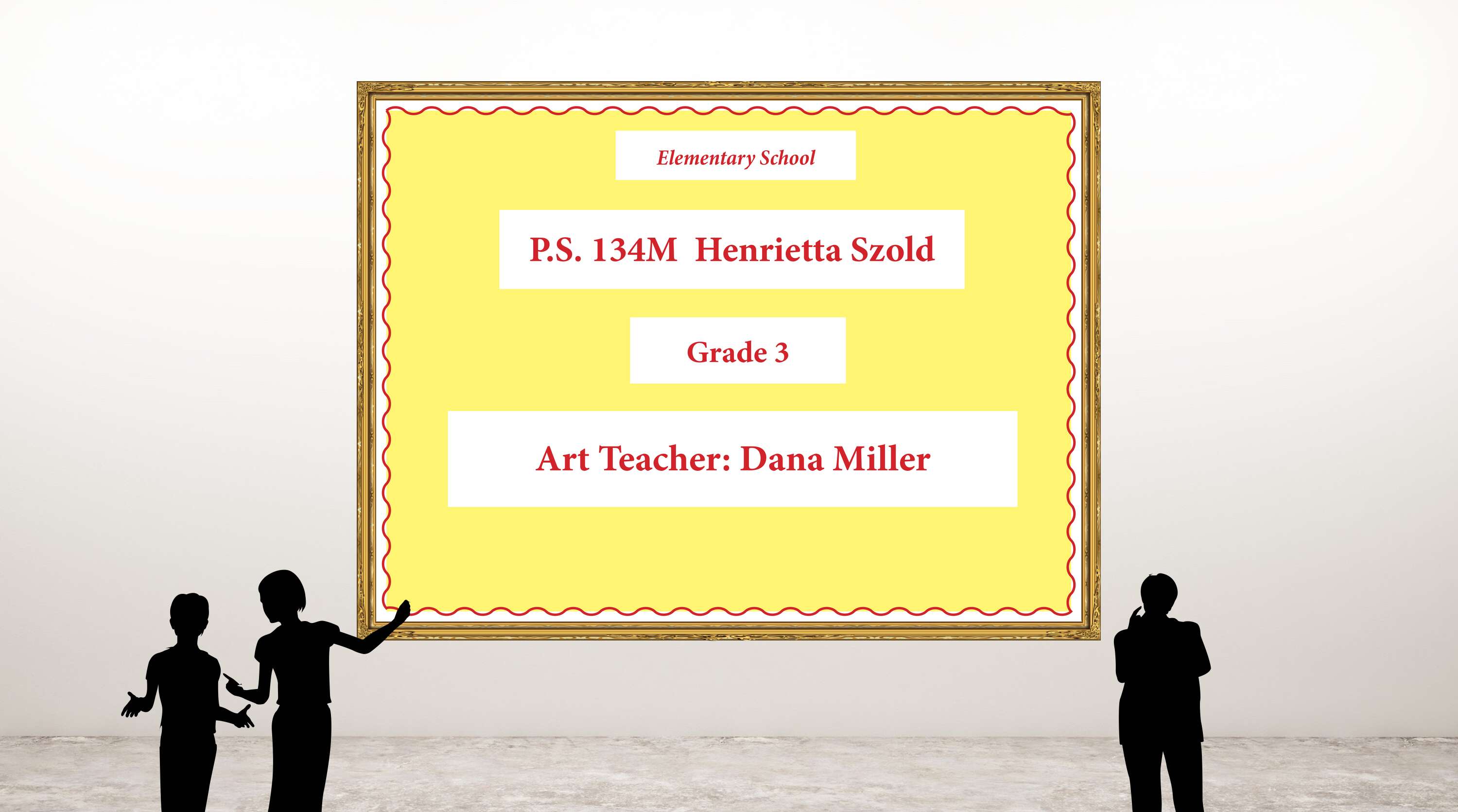 Davonte Baez • Imagine If There Was No More Covid
I drew how we could get rid of covid.

I think if we had better treatments, and if everyone wore their mask, we could get rid of covid. If we had better vaccines, that would help get rid of covid too.

I wanted to make my poster about covid because everyone is getting sick and things would be better without covid.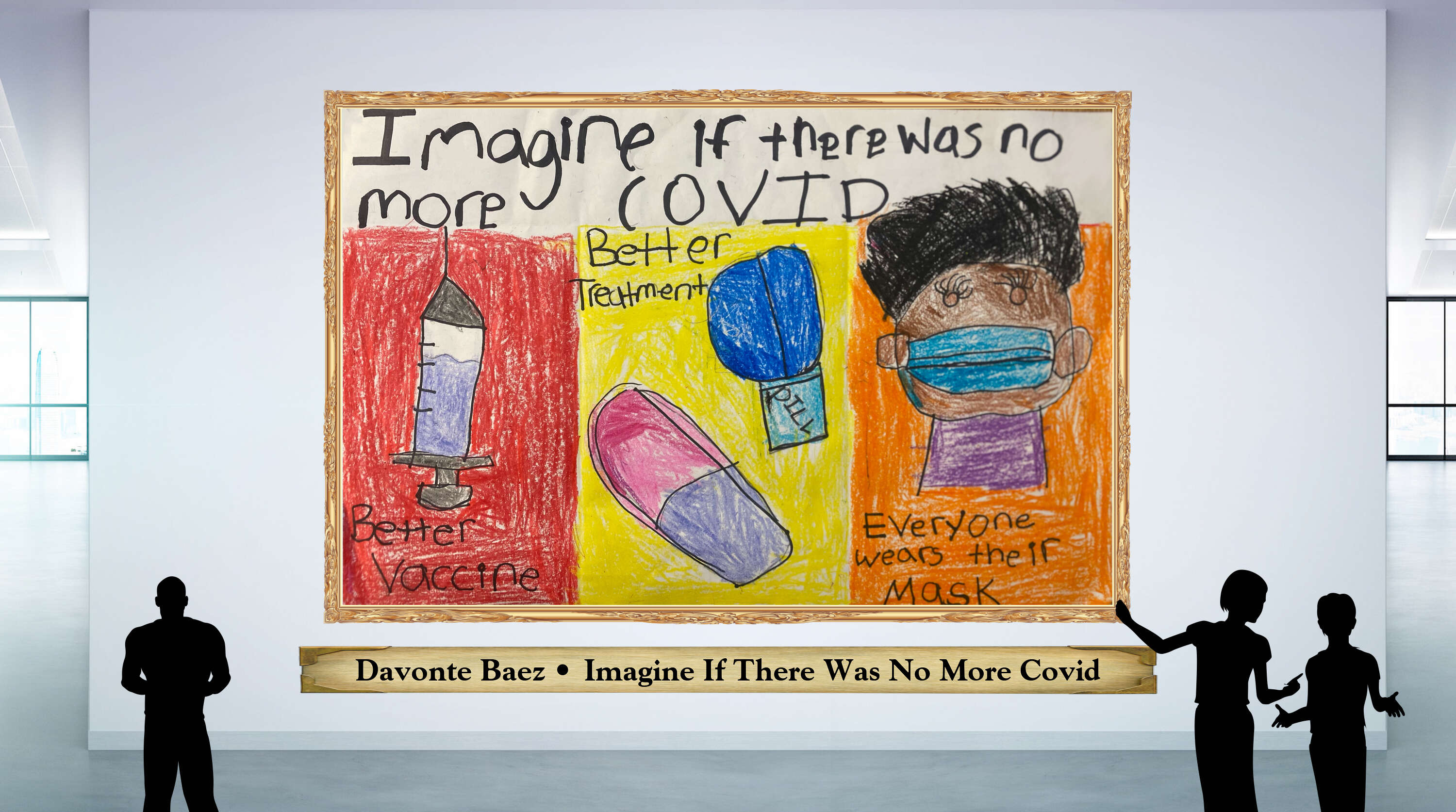 Adriana Montalvo • Imagine If We Said NO! To Drugs
I picked no drugs because they are bad for the community.

Drugs will also make you sick or even die. Drugs make people do bad things and that makes more crime. It hurts families and friends.

If we said NO! to drugs the world would be happier.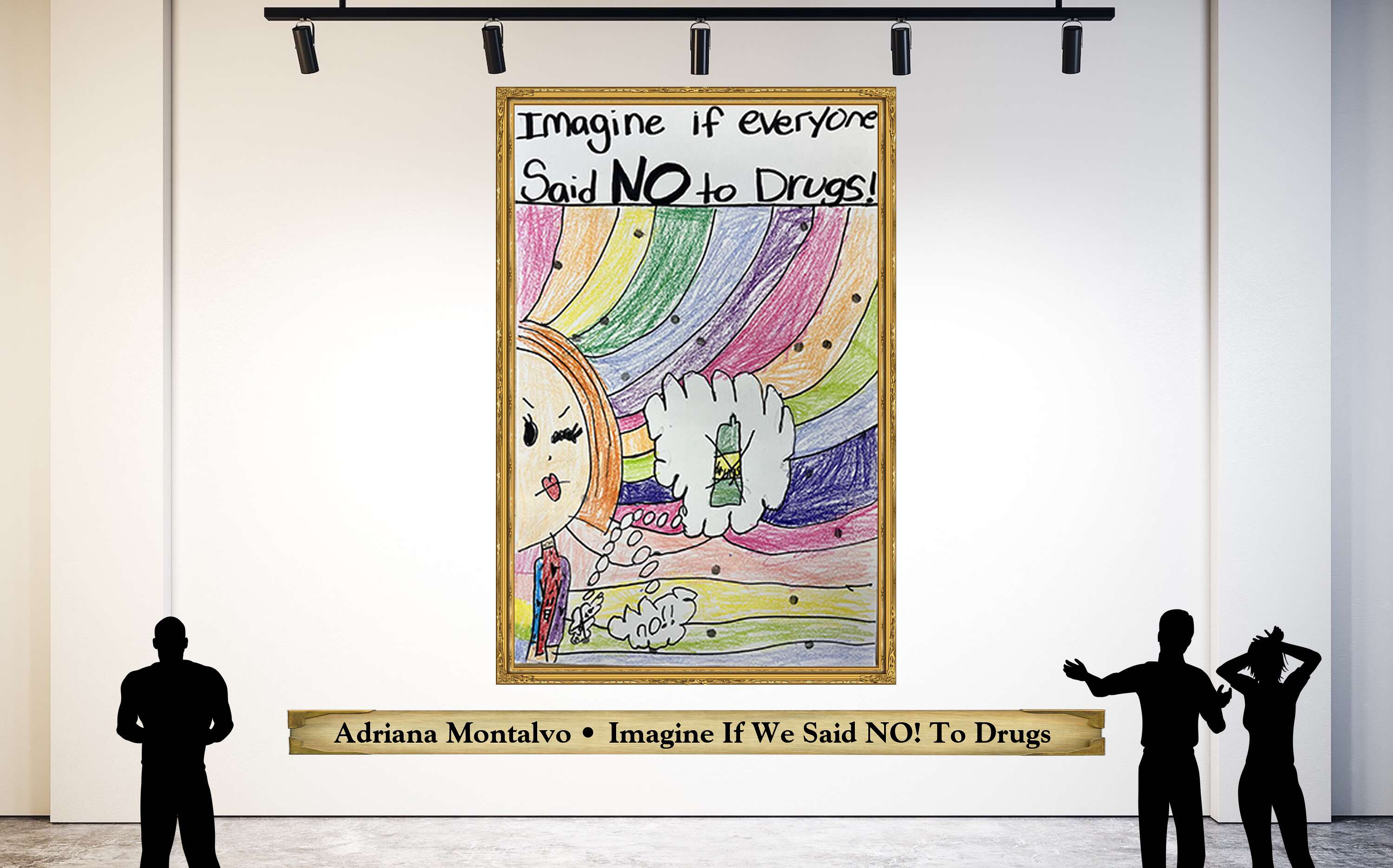 Lassina Ouattara • Imagine if Covid Was Abolished
I wanted to change the world by abolishing covid. Covid has been here since 2020 and it is time to get rid of it.

I want us to be mask free. If corona didn't exist there would be no mask, and people would stop dying.

We can abolish covid by wearing our masks now, cleaning our hands, and getting vaccinated.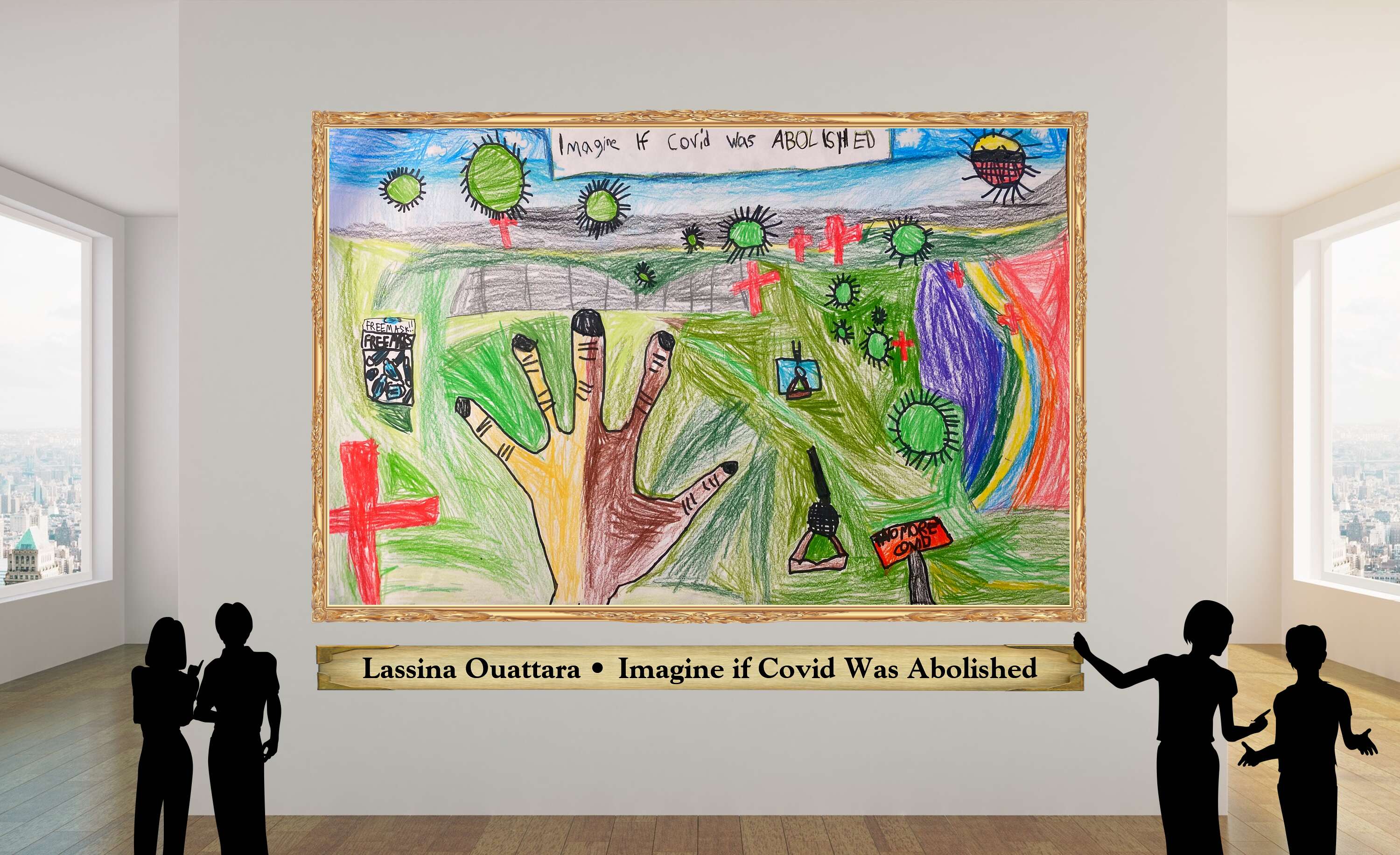 Chloe Pratt • Raining Ice Cream With Colored Cats & Dogs
I drew ice cream with colored cats and dogs because without any animals people would be lonely.

I think this would be useful because the people that are lonely and have no friends can have furry ice cream friends.

Since it will be raining them that means there would be enough for everyone!

It would be nice to have some fun and cuteness after all the bad things that has happened.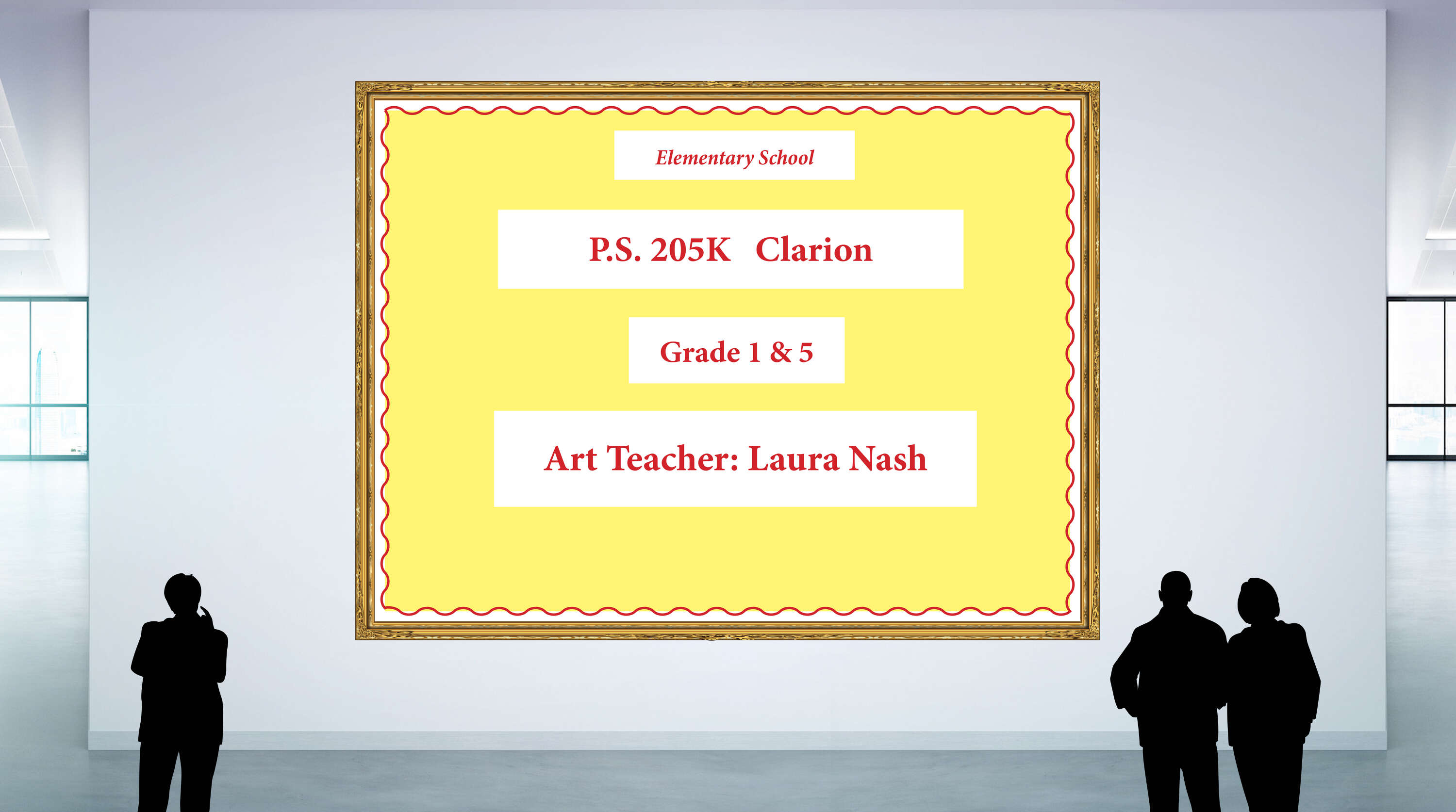 Katherine Zhang • Grade 1 • Dream Of An Alien Cat
I dreamed my cat was an alien, and there is an asteroid that might smash us!

The cat is green because he is an alien.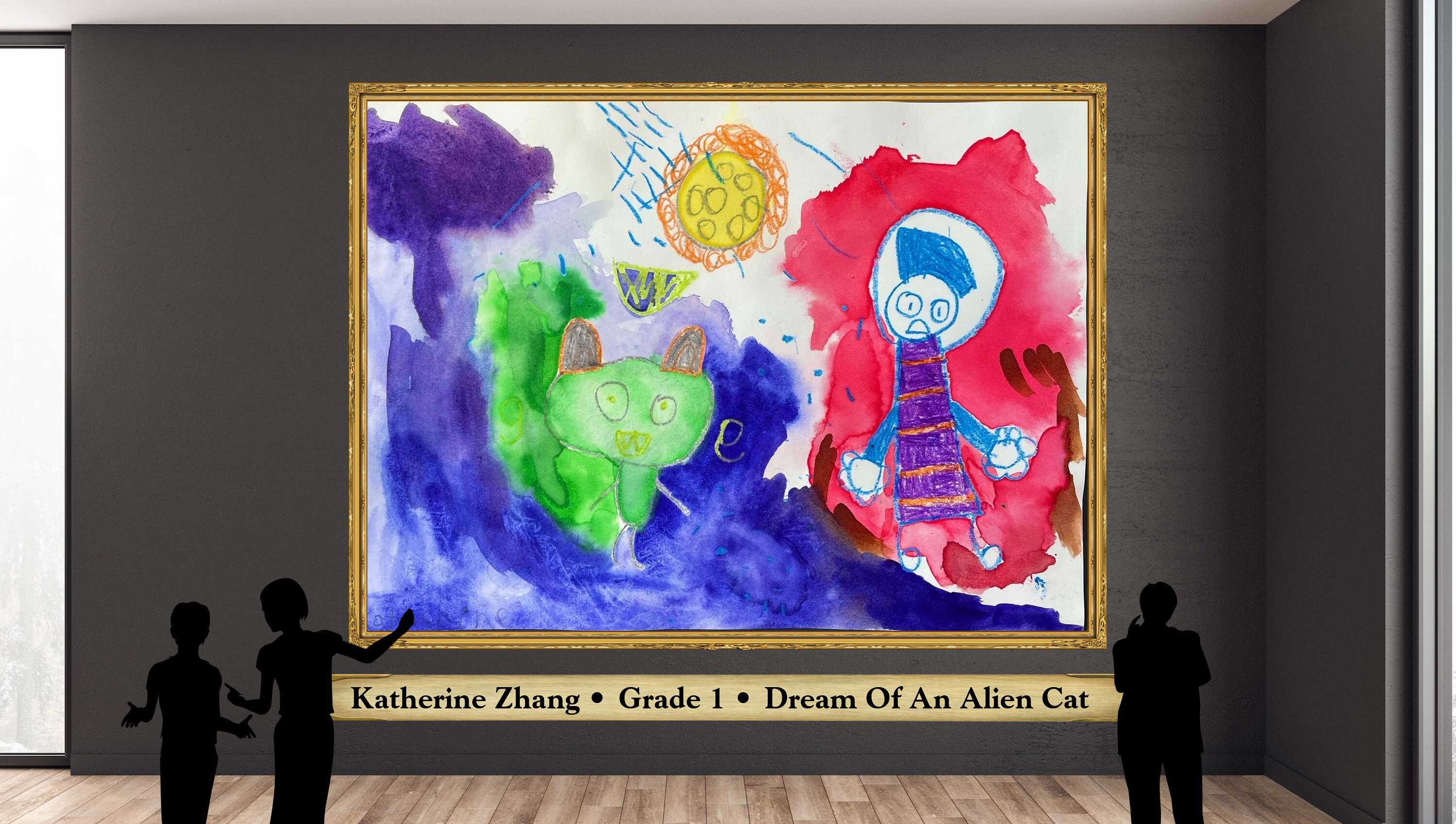 Nina Chen • Grade 5 • My Art Teacher's Nose
When I drew this I thought of drawing my art teacher, Ms. Nash's, nose, because I saw her nose while she was teaching a lesson.

Then I drew monsters because drawing a human body is hard.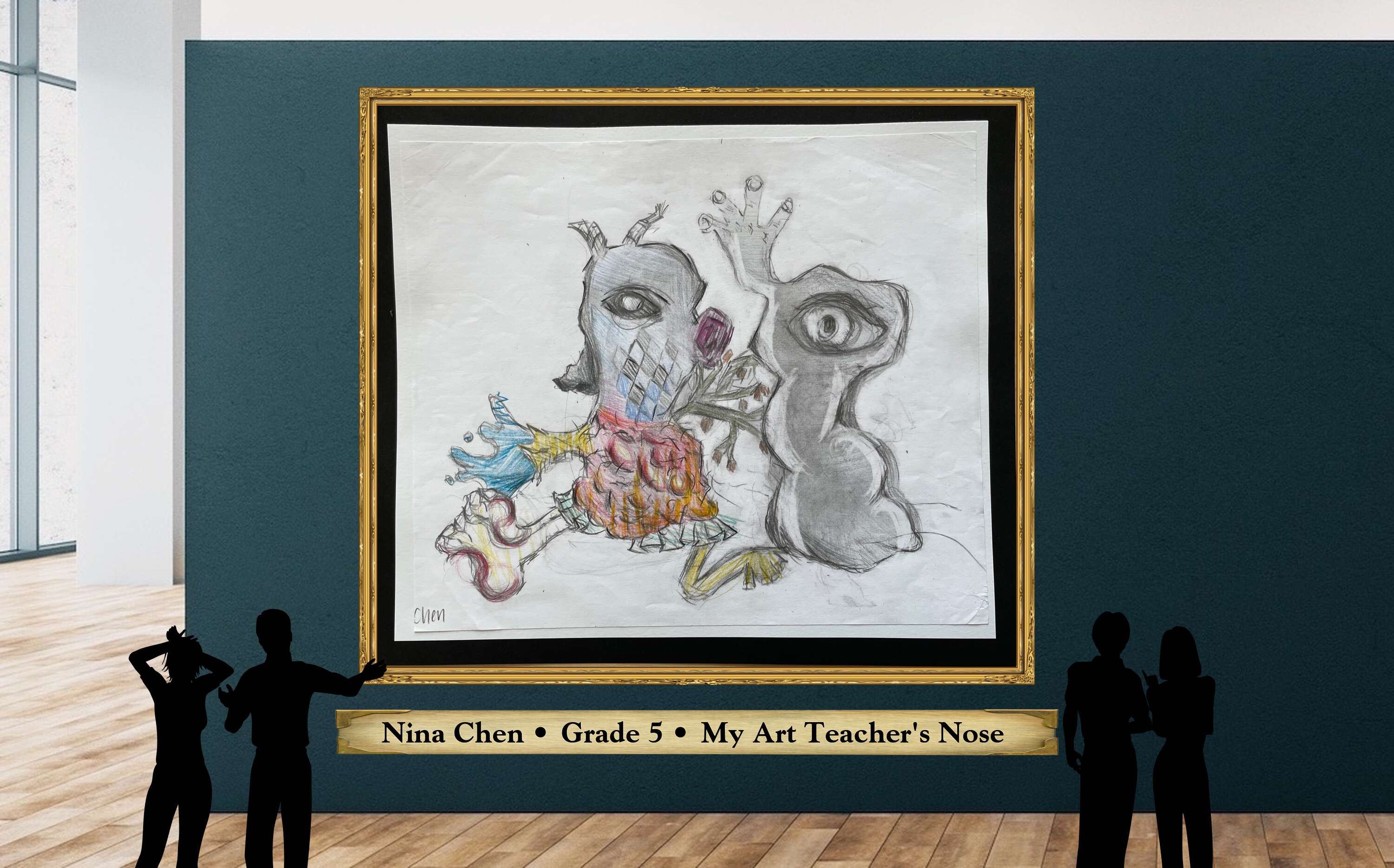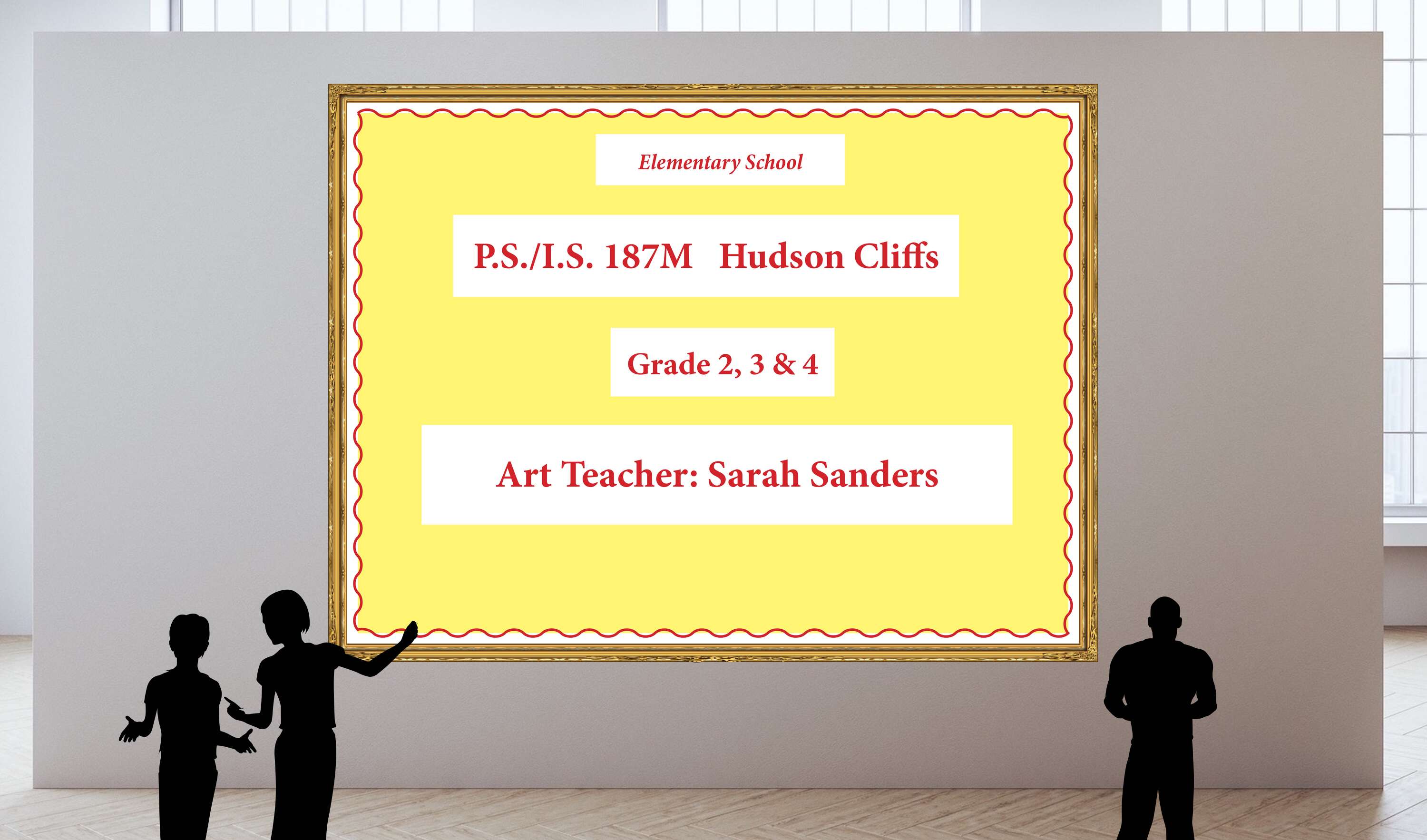 Gabriella McDell • Grade 2 • Helpful
Help people to not fight- be helpful.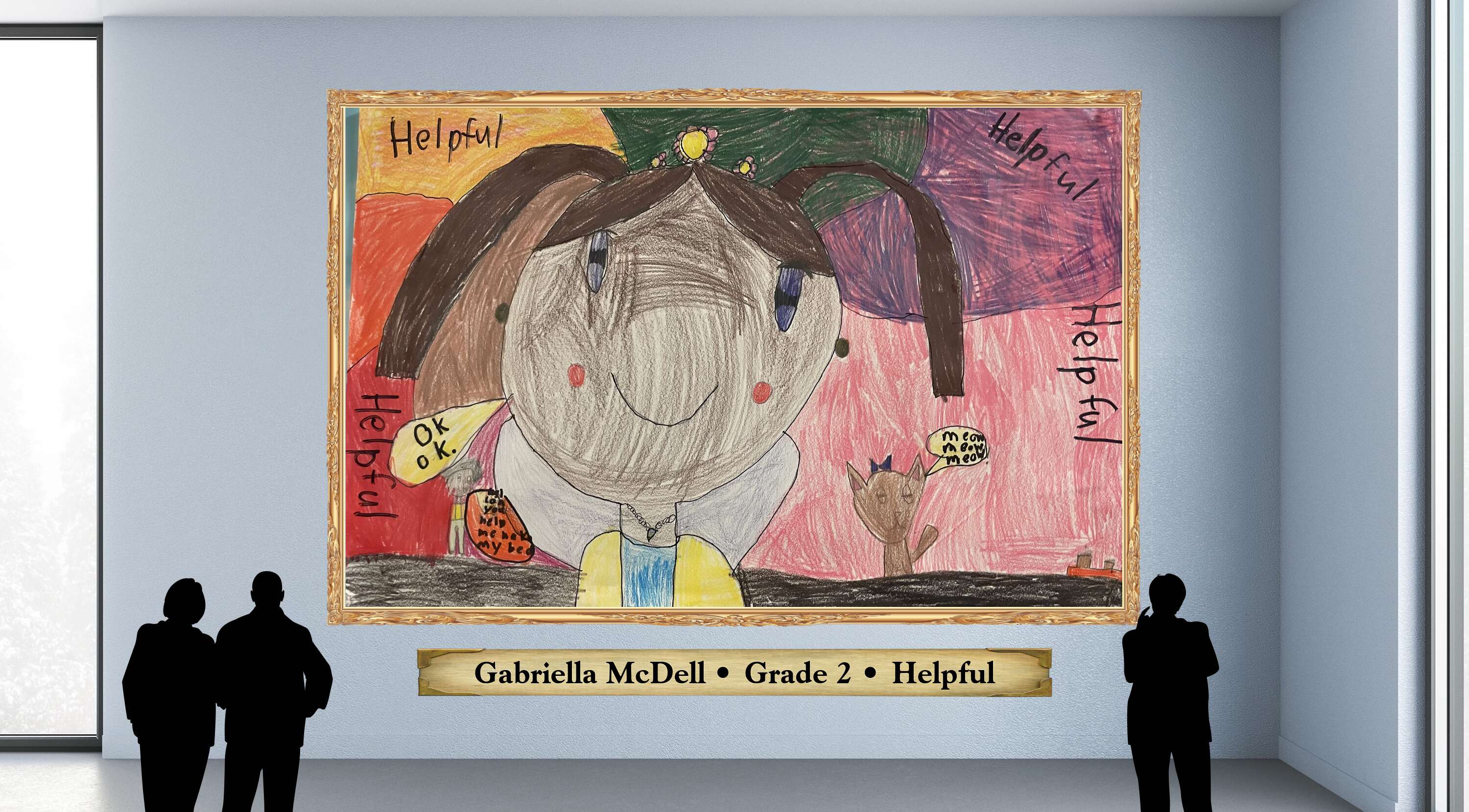 Elijah Tsao-Kay • Grade 2 • Confident
I got this!

I'm not scared!
Natsumi Parnes • Grade 3 • The BIF Friends Fight
A cat meets a dog. At first, they don't like each other.

Once they seem to know how to control their bodies, they are finally friends!

How does this happen? Maybe a giant hamburger helps…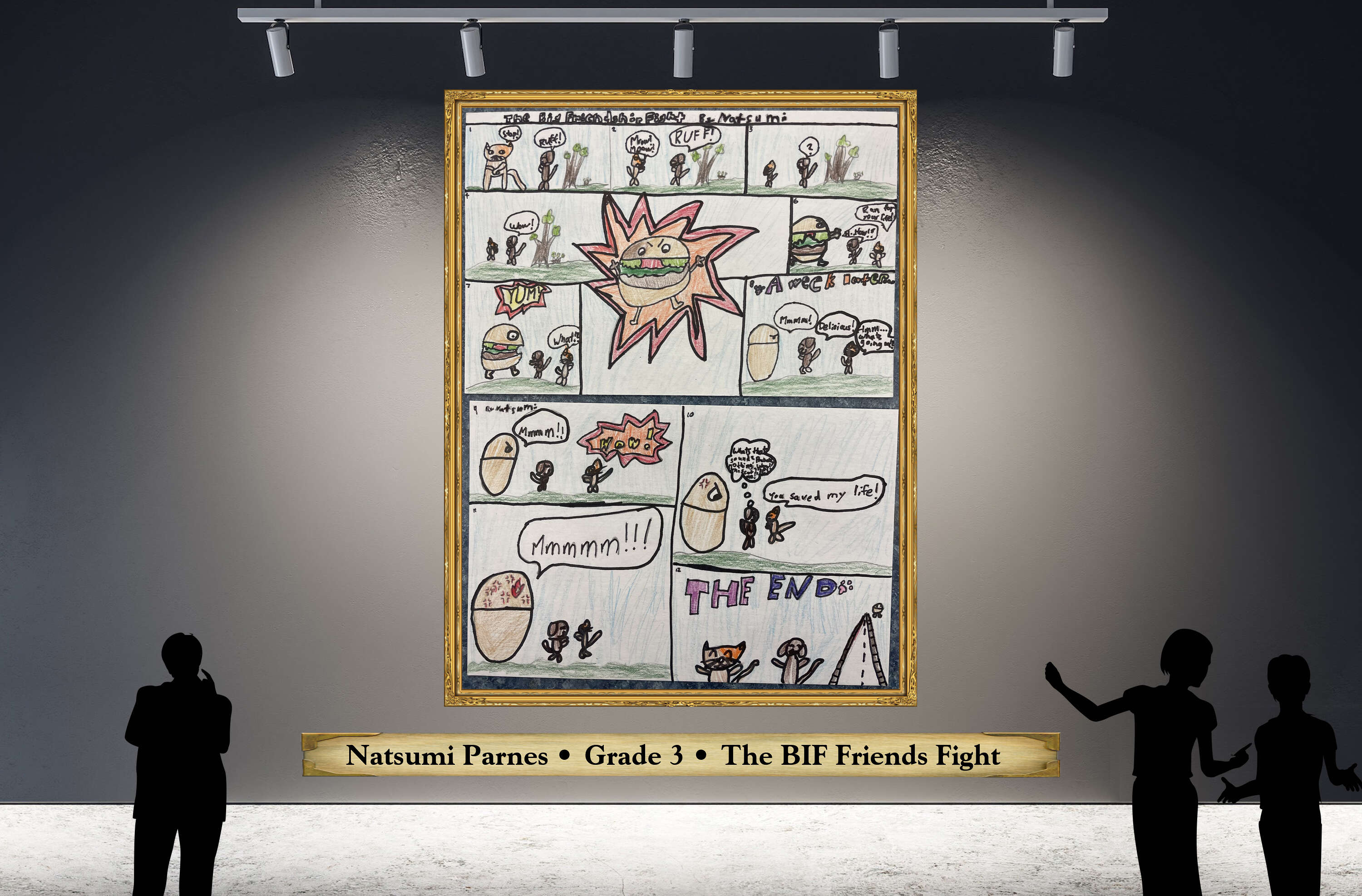 Allison Selemon • Grade 3 • Sea Friends
This Story is about a little fish named Jony.

He thinks he has no friends but soon he realizes he has caring friends that love him.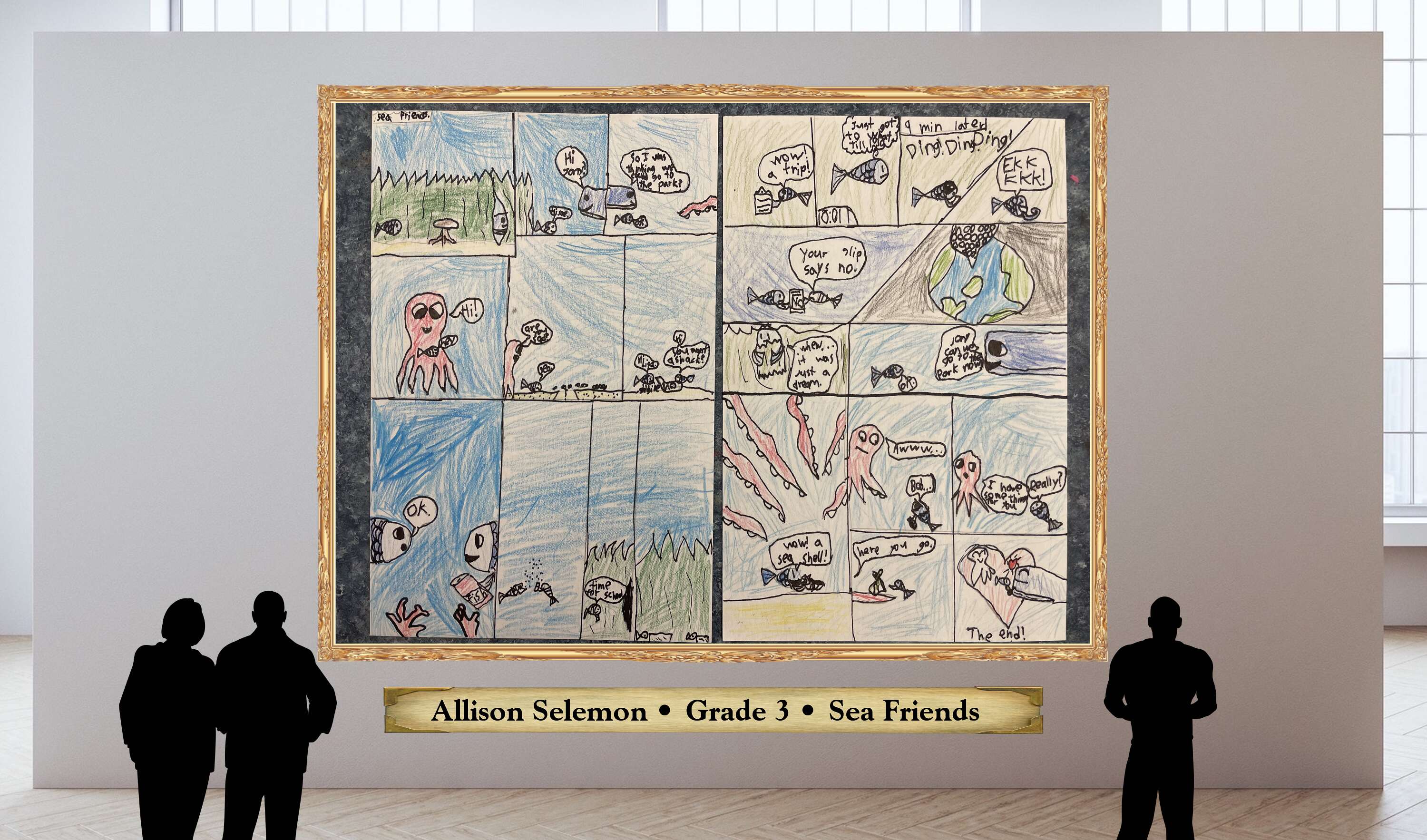 Hugo Cherry • Grade 4 • Happy/Calm
I am calm when I see cats.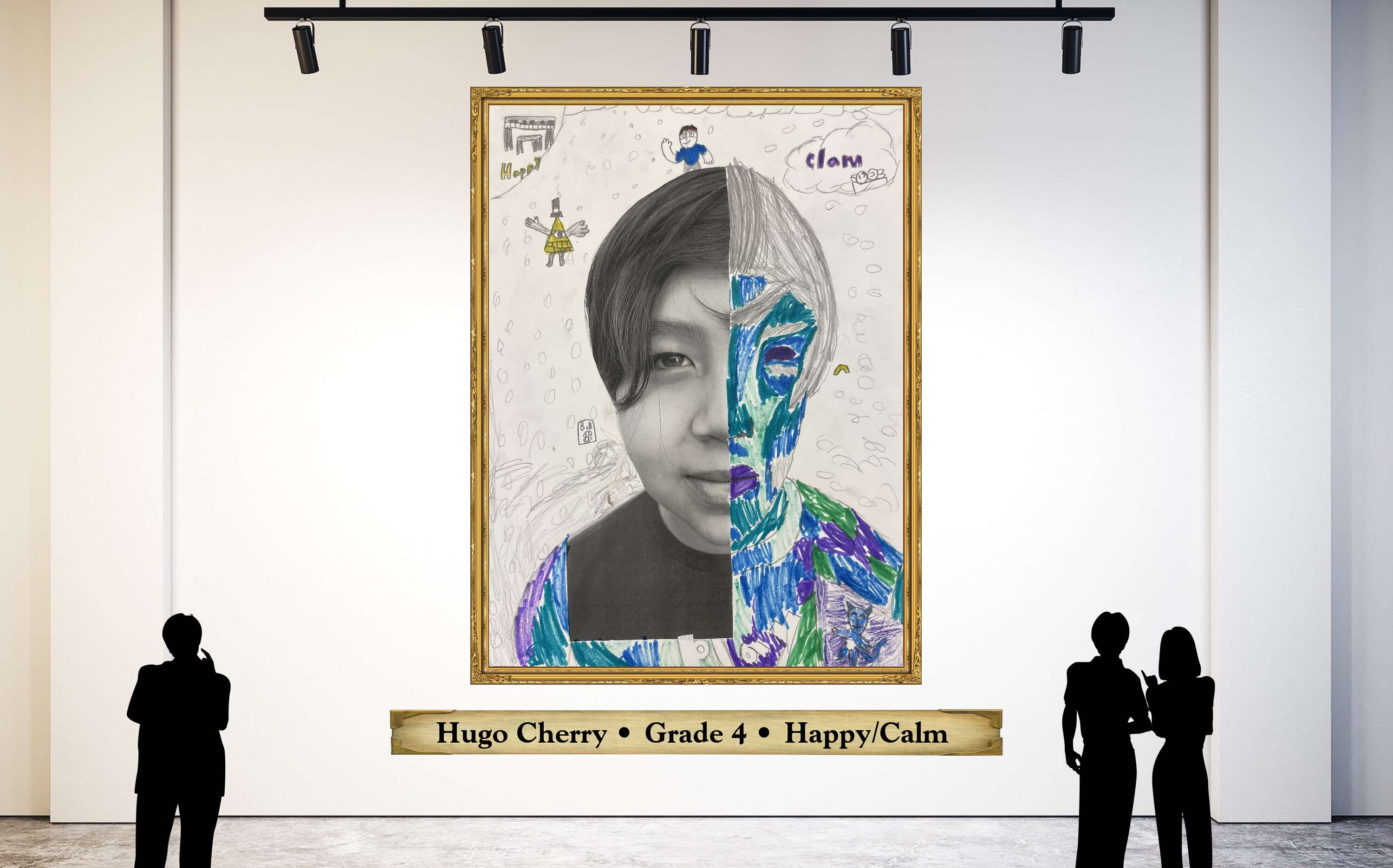 Zariel Fleites • Grade 4 • New York
New York, Nike, creative, colorful, basketball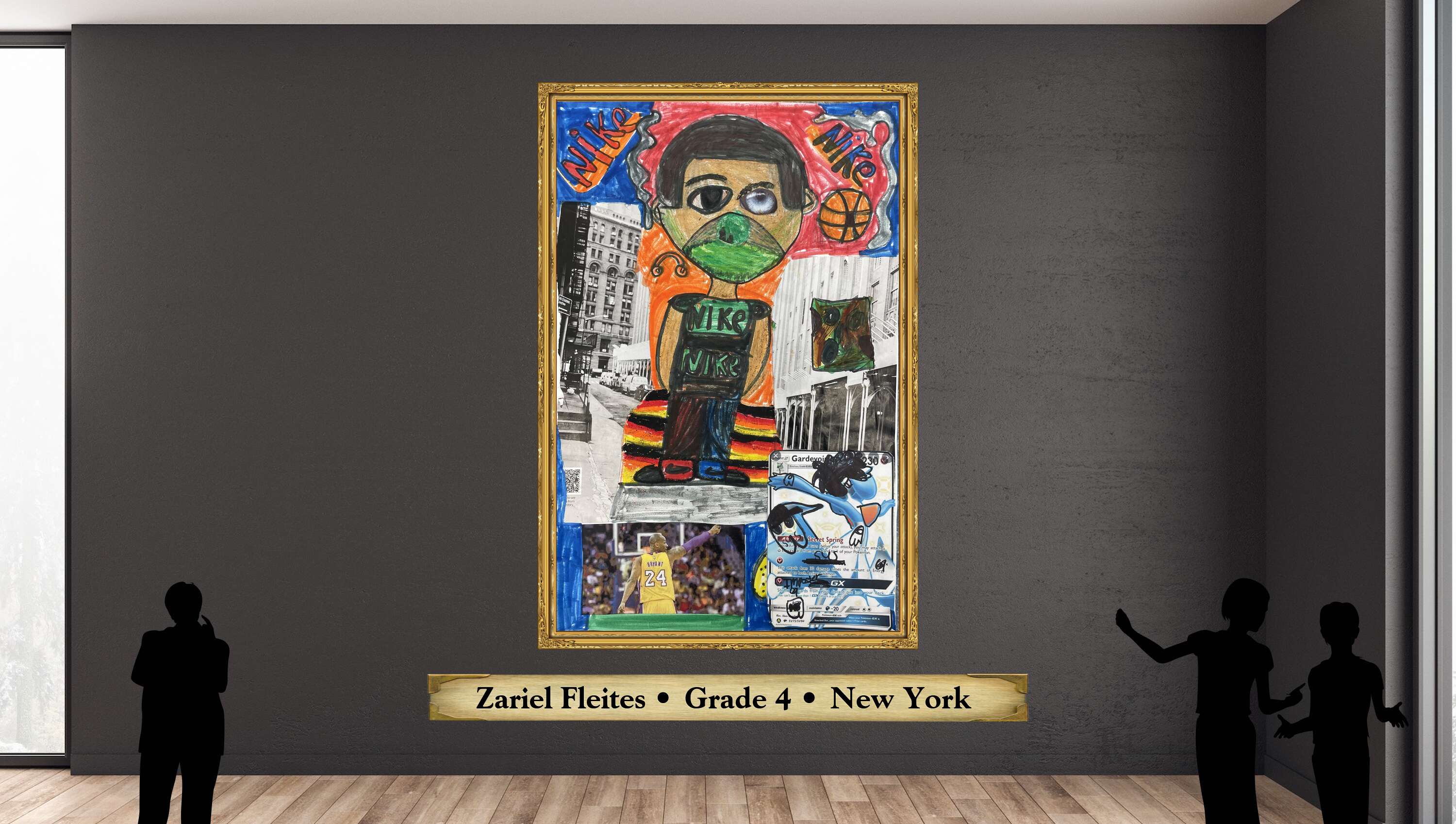 Plum Garvey • Grade 4 • Happy:Sad
Warm colors happy.

Cold colors sad.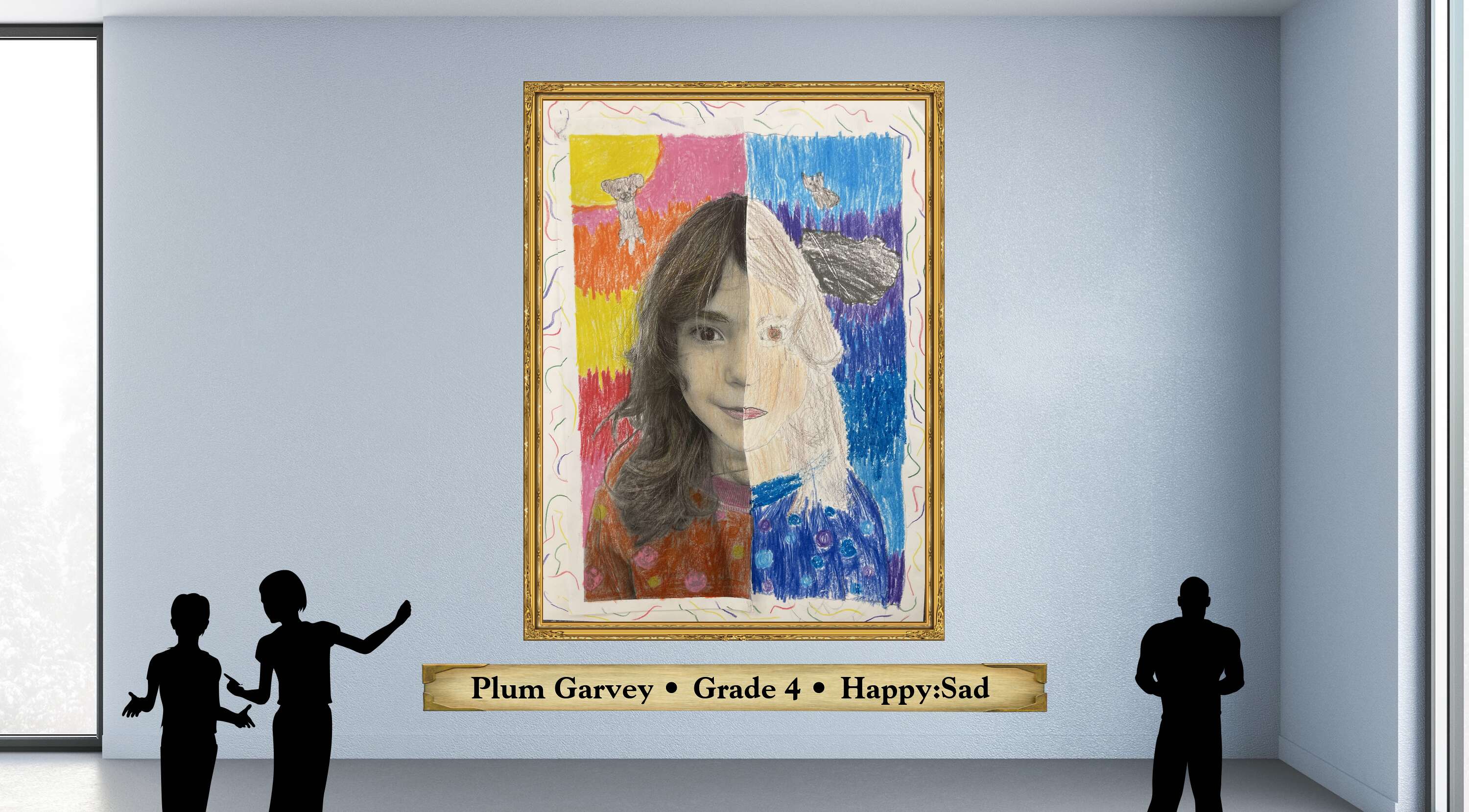 Charlotte Poelle • Grade 4 • Wild
I am wild.

So is a Graham cracker.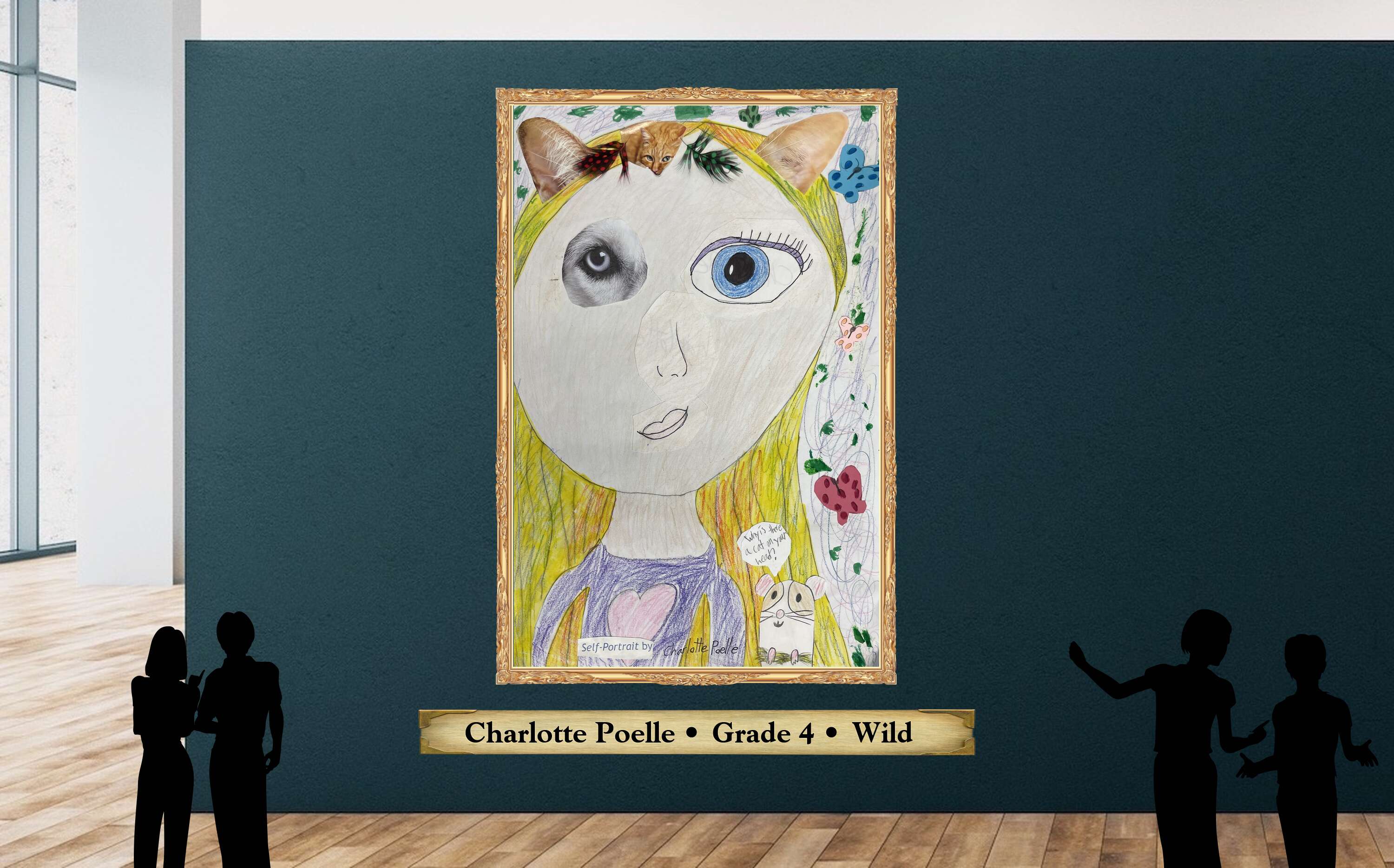 Justin Luna • Grade 4 • Happy:Sad
I am happy,.

I am sad.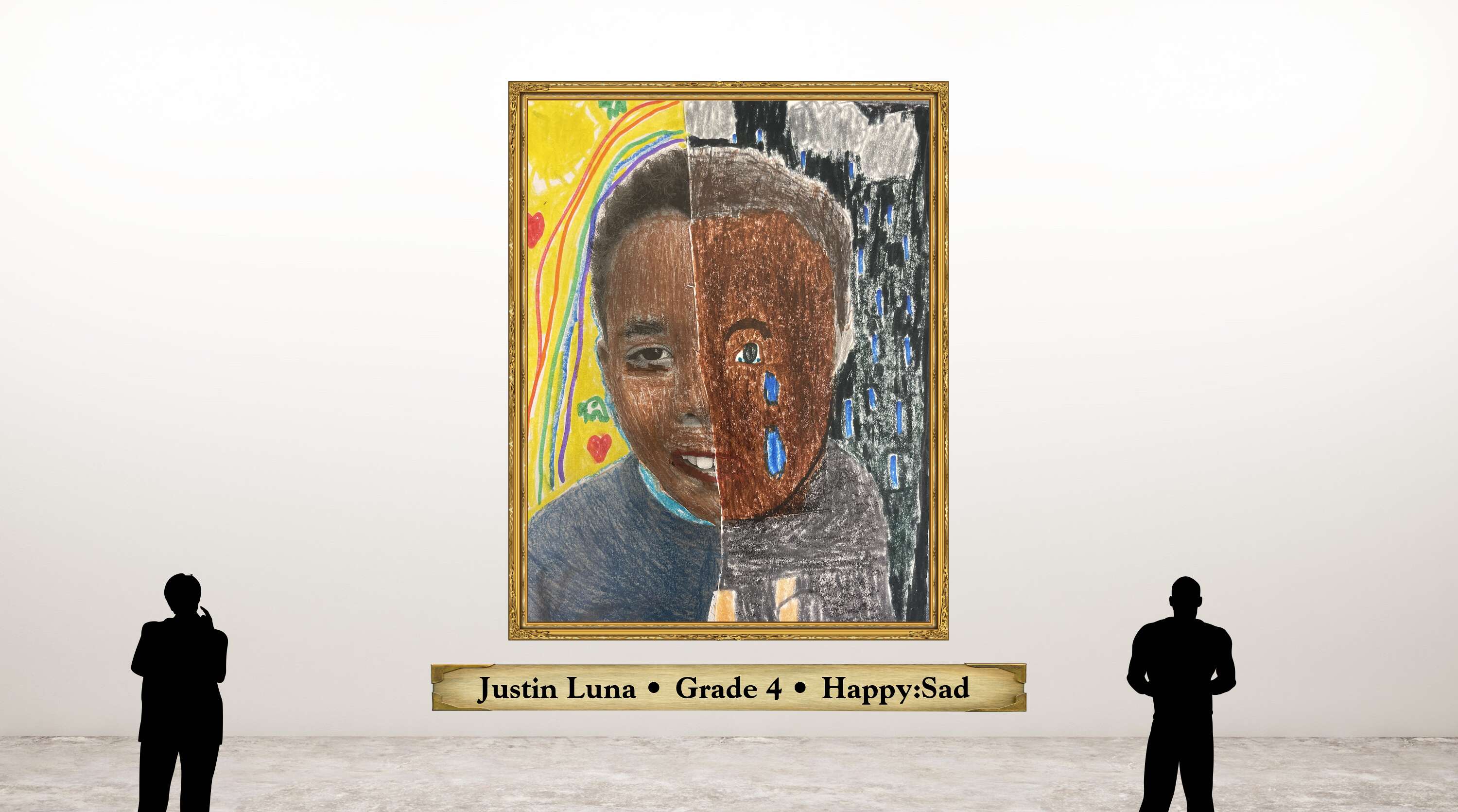 Micah Darwin Zimmer • Grade 4 • Colorful
My picture is very colorful and detailed.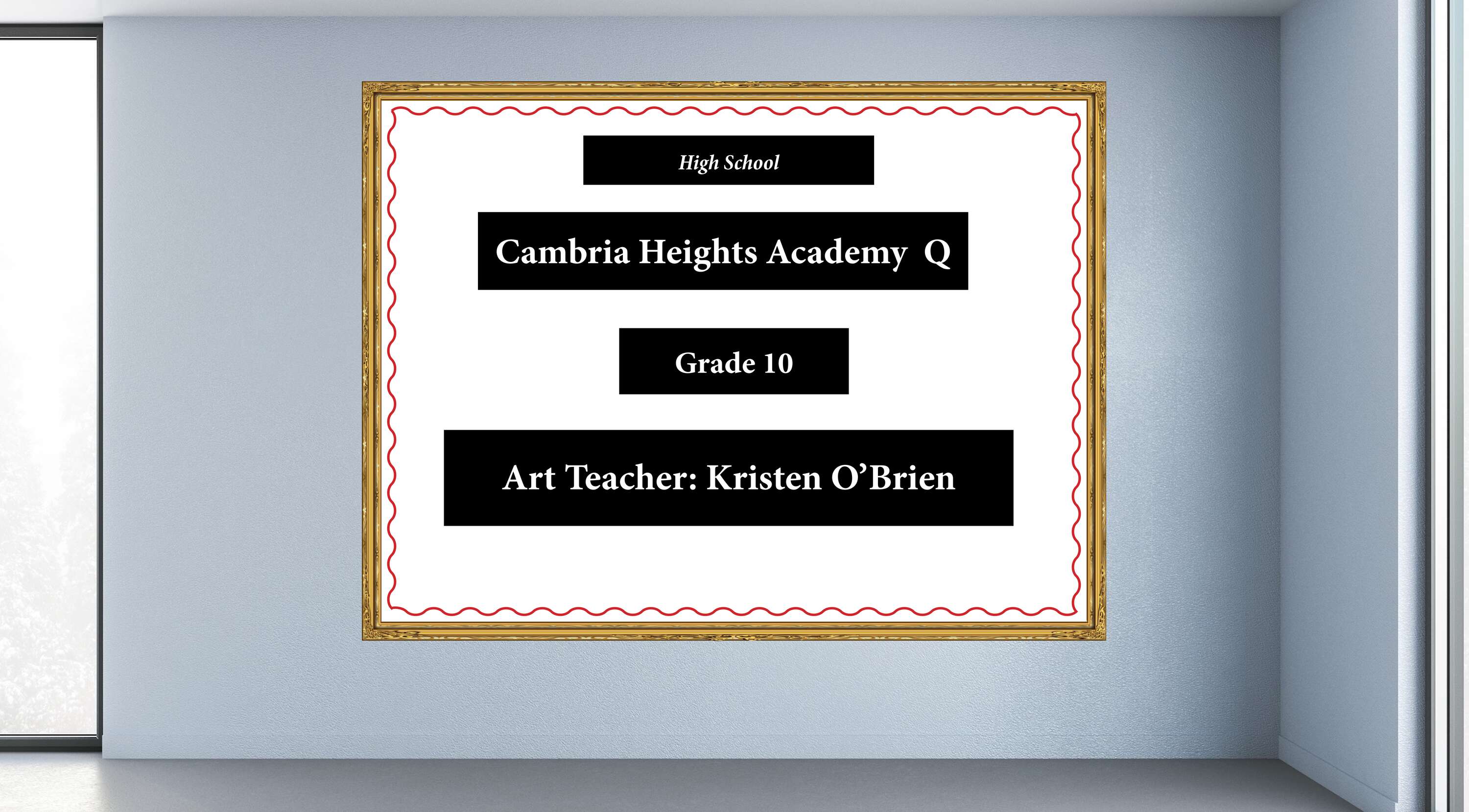 Kennet Angelino • Healthcare
I believe that all human beings, regardless of race or color, need to be treated by a health professional.

It is important to be able to know the types of health concerns and problems in society.
Jaunte Codlin • Refugee Crisis
I chose the refugee crises because I have family, like aunts and cousins, that struggled in coming to America and I feel like this really represents a part of my family.

In my picture I included a building with smoke towards the top and there are people running away from the police.

I used transparency mainly in the smoke in which I tried to make it blend into the building.

My social justice collage shows a sense of violence that immigrants go through from all over the place.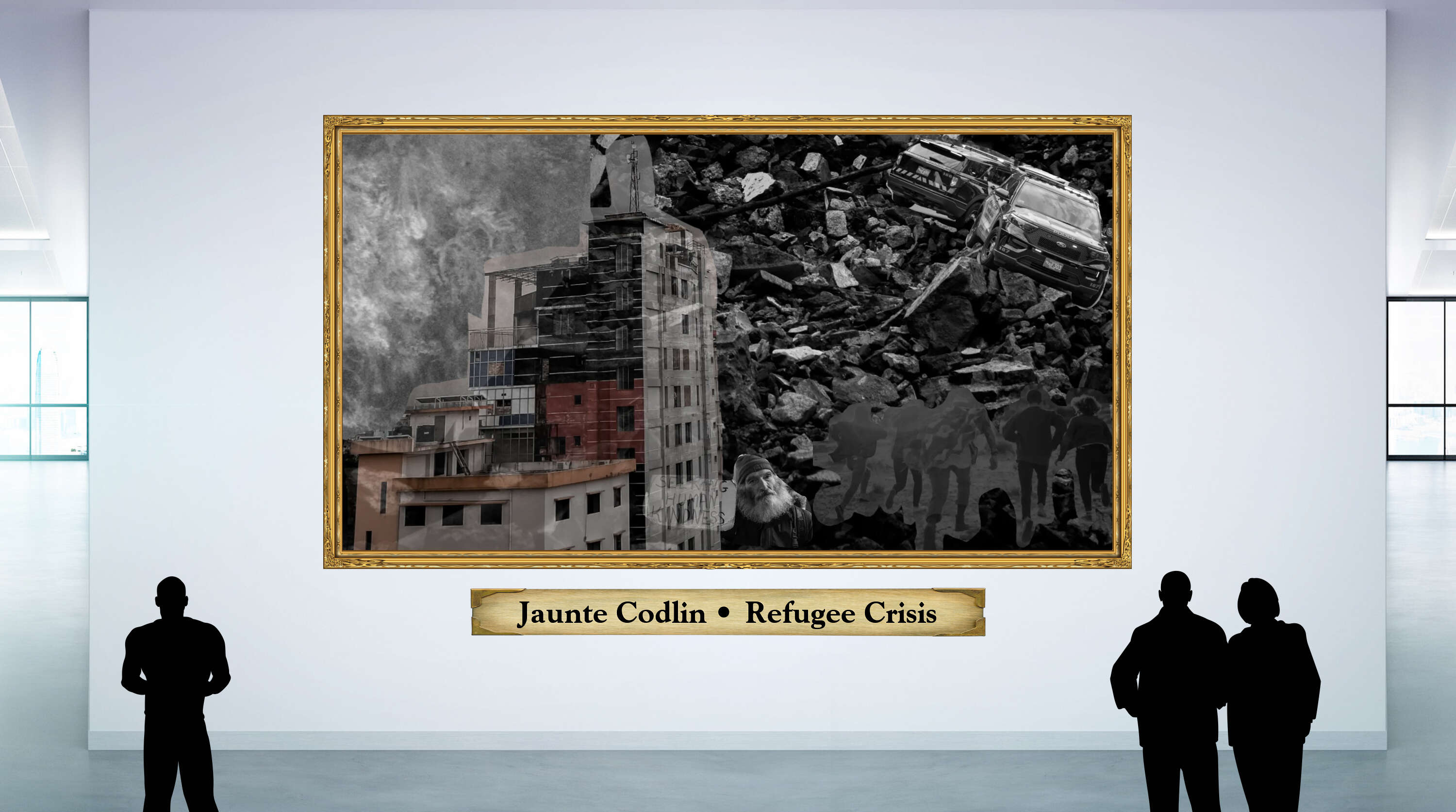 Jose Rivas Miranda • Poverty
Poverty is a big problem that has not yet been resolved and it is not close to being resolved.

I come from a country that sees itself well represented in poverty and I liked that it would be a good topic to show both parts of what some go through.

For example, homeless people who only live on what they can get by begging, and others in the harsh conditions in which they live.

To emphasize this, I used descriptive images. Many people emigrate and try to find an opportunity in another country.

The problem is from those who lead us and only take advantage of a country to steal and corrupt, while the country collapses into unemployment, poverty and poor health.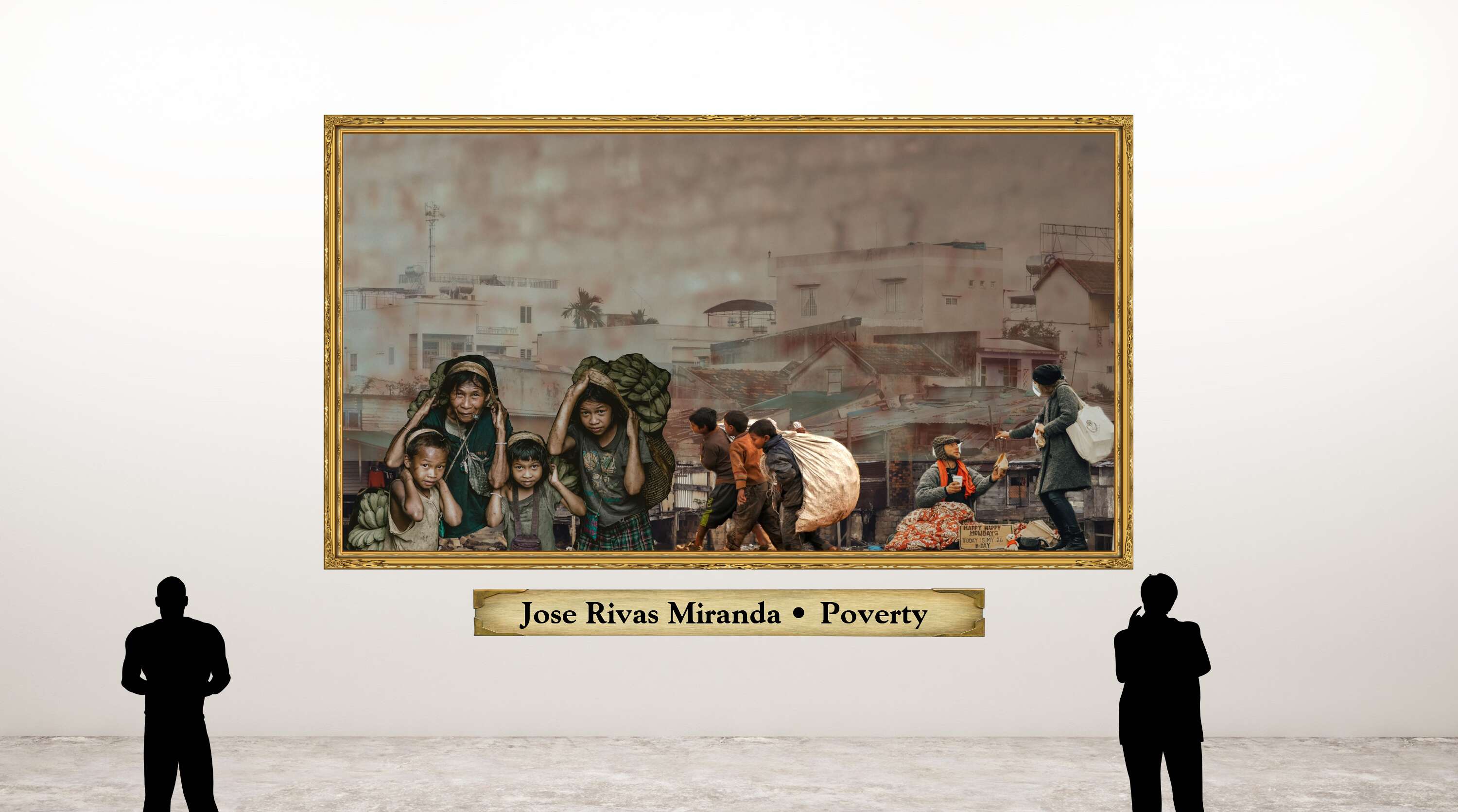 Demarri Picton • Police Brutality
Police brutality is the subject of my social justice artwork because of the way police handle citizens, not only because of race but also they know they have the authority to.

My composition shows how justice needs to be served for civilians that are innocent and it shows people wanting justice for their world.

Adding transparency added to the look and brought out the theme more.

It sends a message to people who have higher authority over others and want to abuse this power because they think they get no consequences.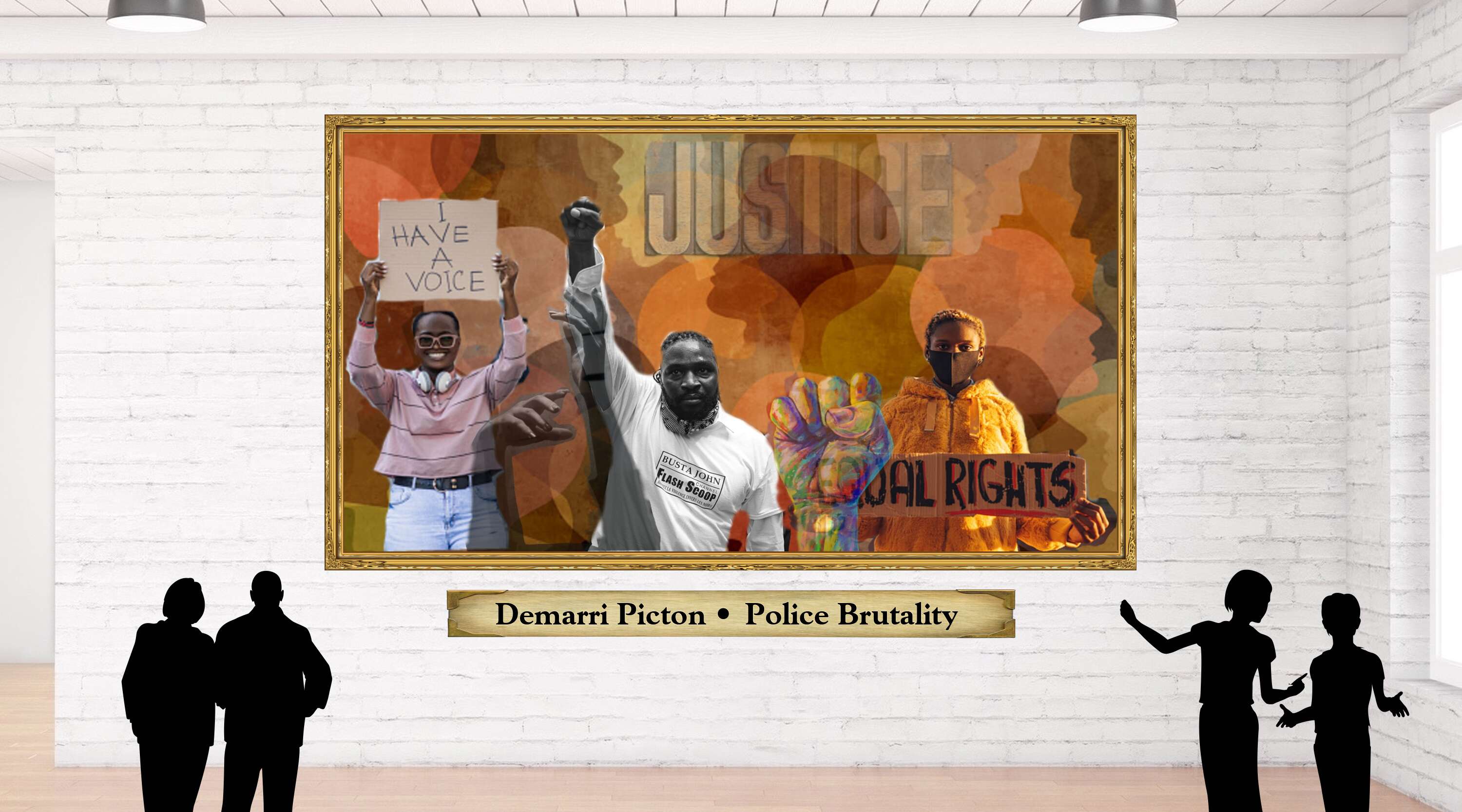 Joseph Pineda • Deforestation
Deforestation.is something that is affecting our whole planet.

My arrangement of images shows what people are doing to the millions of trees that are cut down.

My collage sends a powerful message because it could hit home that we are seriously damaging our planet.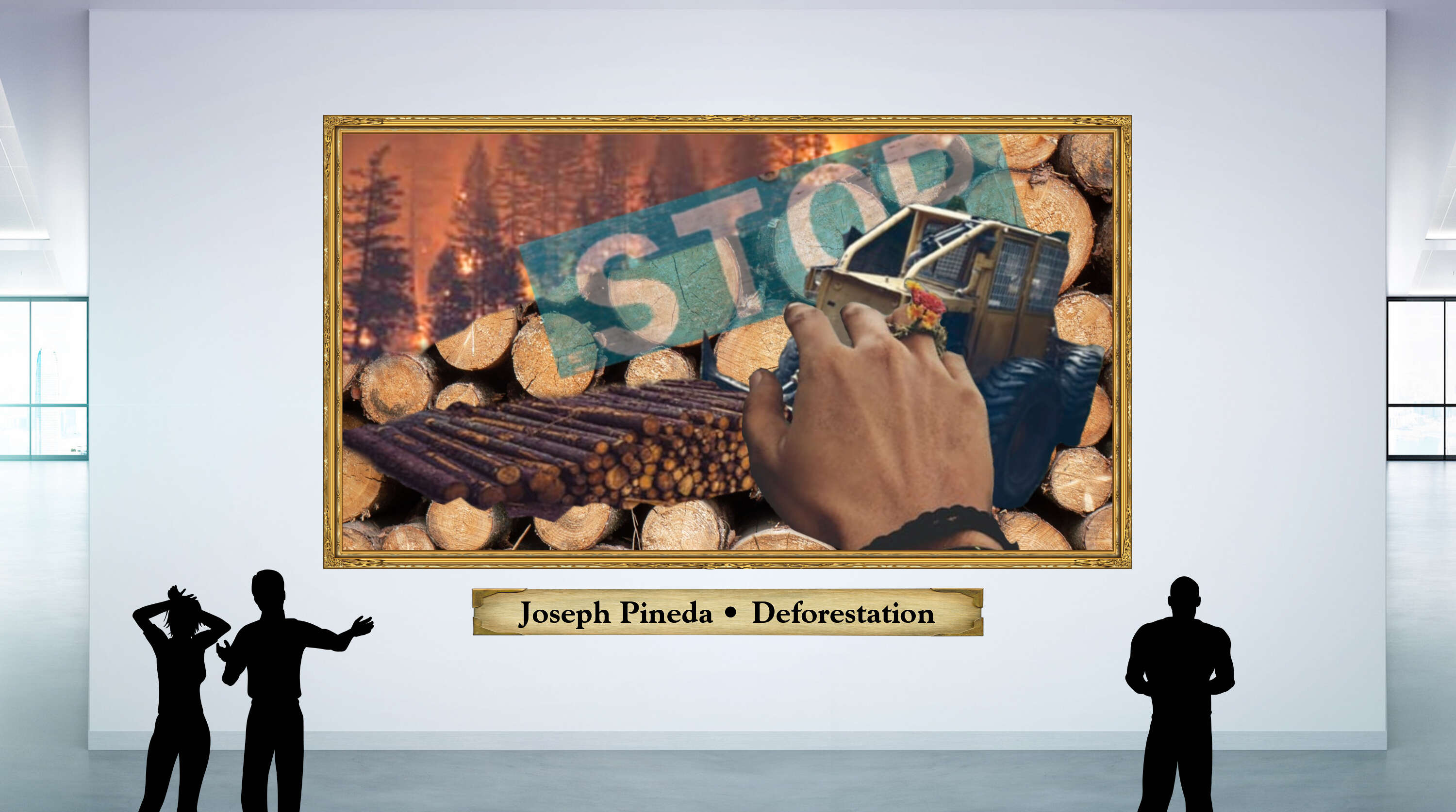 Claudine Sopchak • Your Future
In creating this piece, I hoped to portray the possibilities of the future.

On many days, the present may seem monotone and desolate, however, the hope that there is a better future for oneself is what drives many people to carry on with their dreams.

What this means to me personally is that while I may be dissatisfied or dispirited about my present life, the future could lead to much brighter possibilities that are worth living for.

The monotone area represents the "inside", whereas the colorful section represents the "outside", or, what could be your future.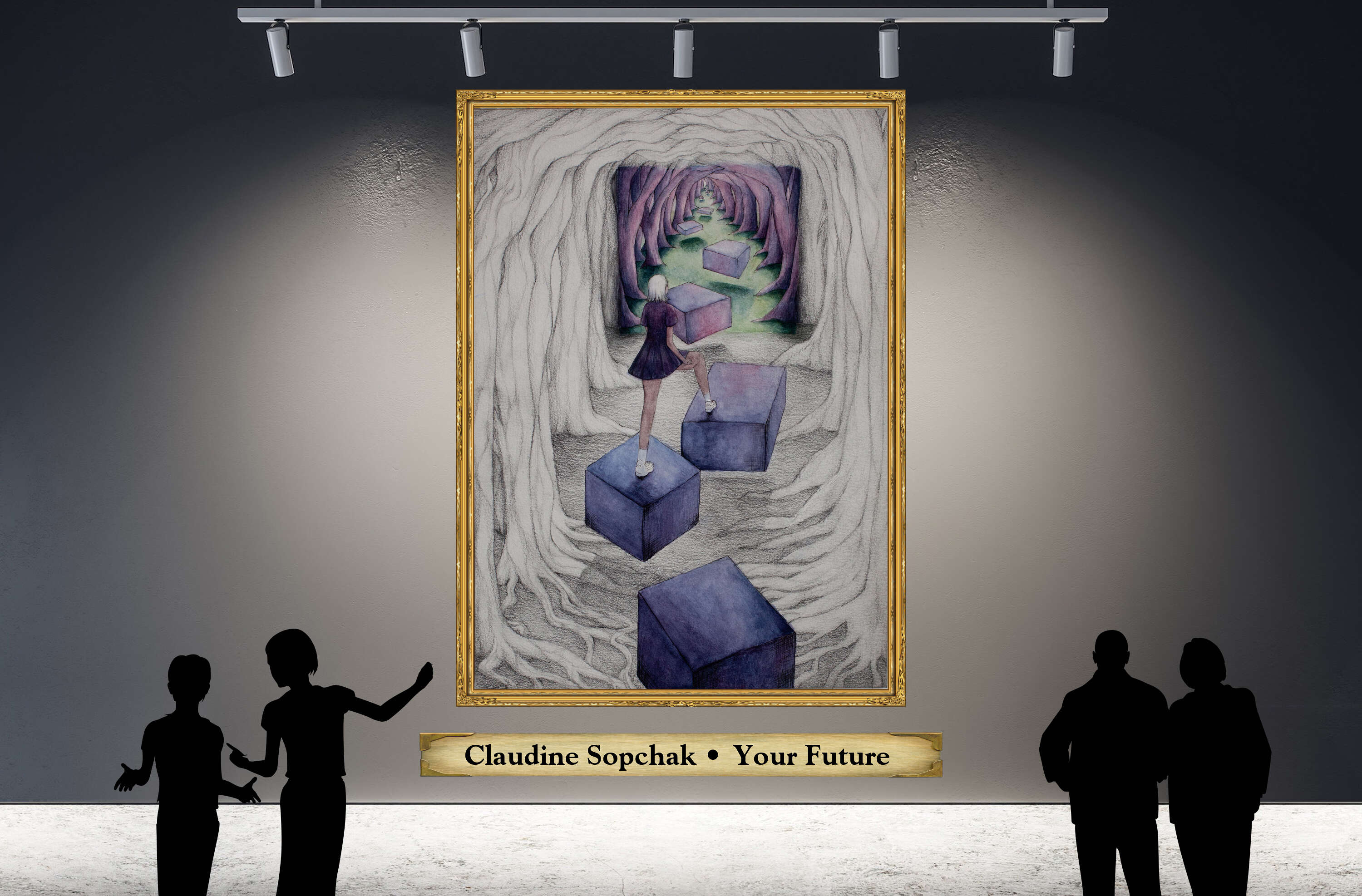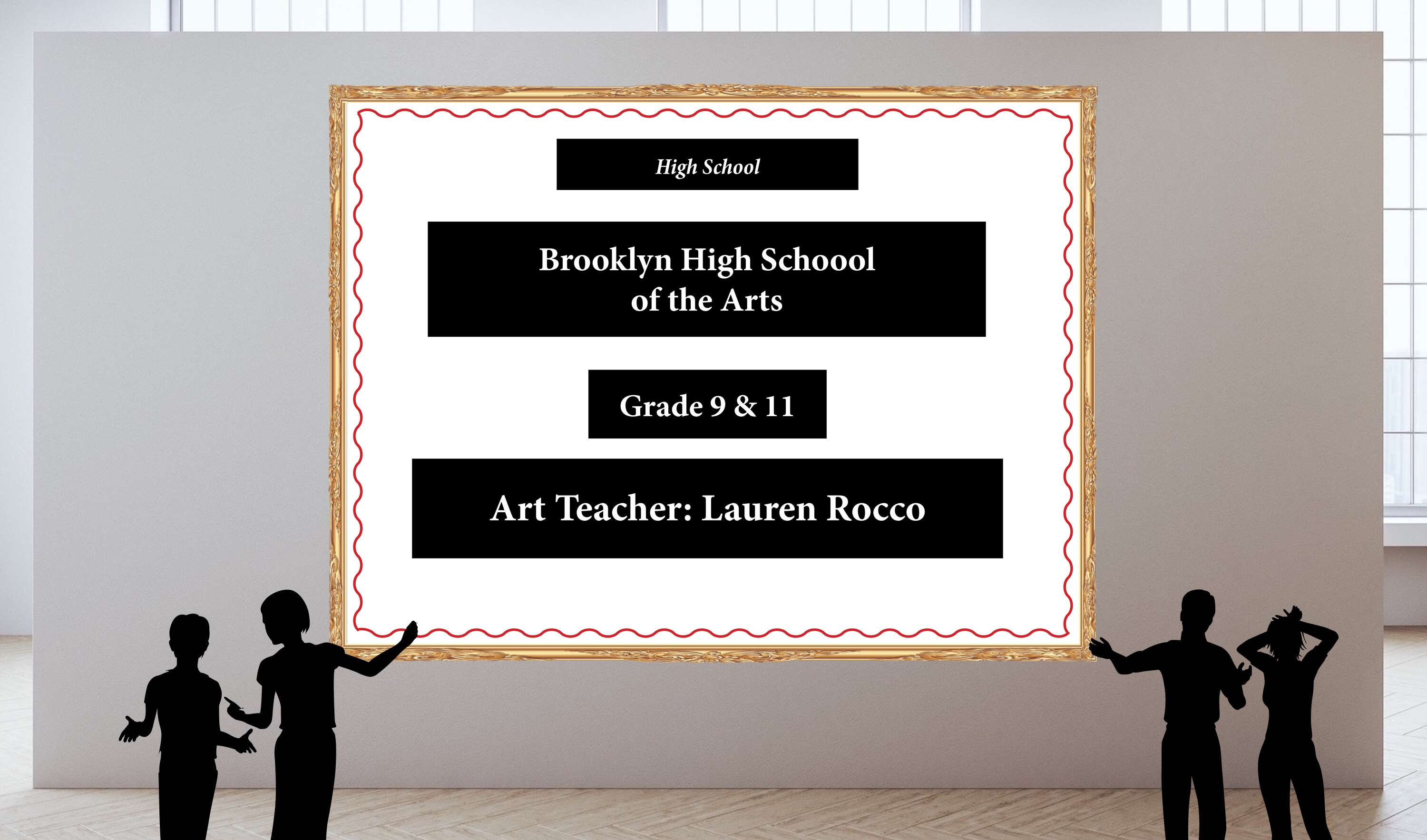 Samiya Nejum • Grade 9 • Head In The Clouds
This picture was taken to show a sense of unexpected reality.

The girl represents a fallen angel whose emotion represents the burden of reality and who she's expected to be by society.

The clouds are used to juxtapose this idea, representing the real world.

To create this image, I combined two photographs that I took. The first image is a self-portrait, and the second image was taken while I was on a plane.

I used an app to combine the images into a photomontage, turning this dream-like scene into one of reality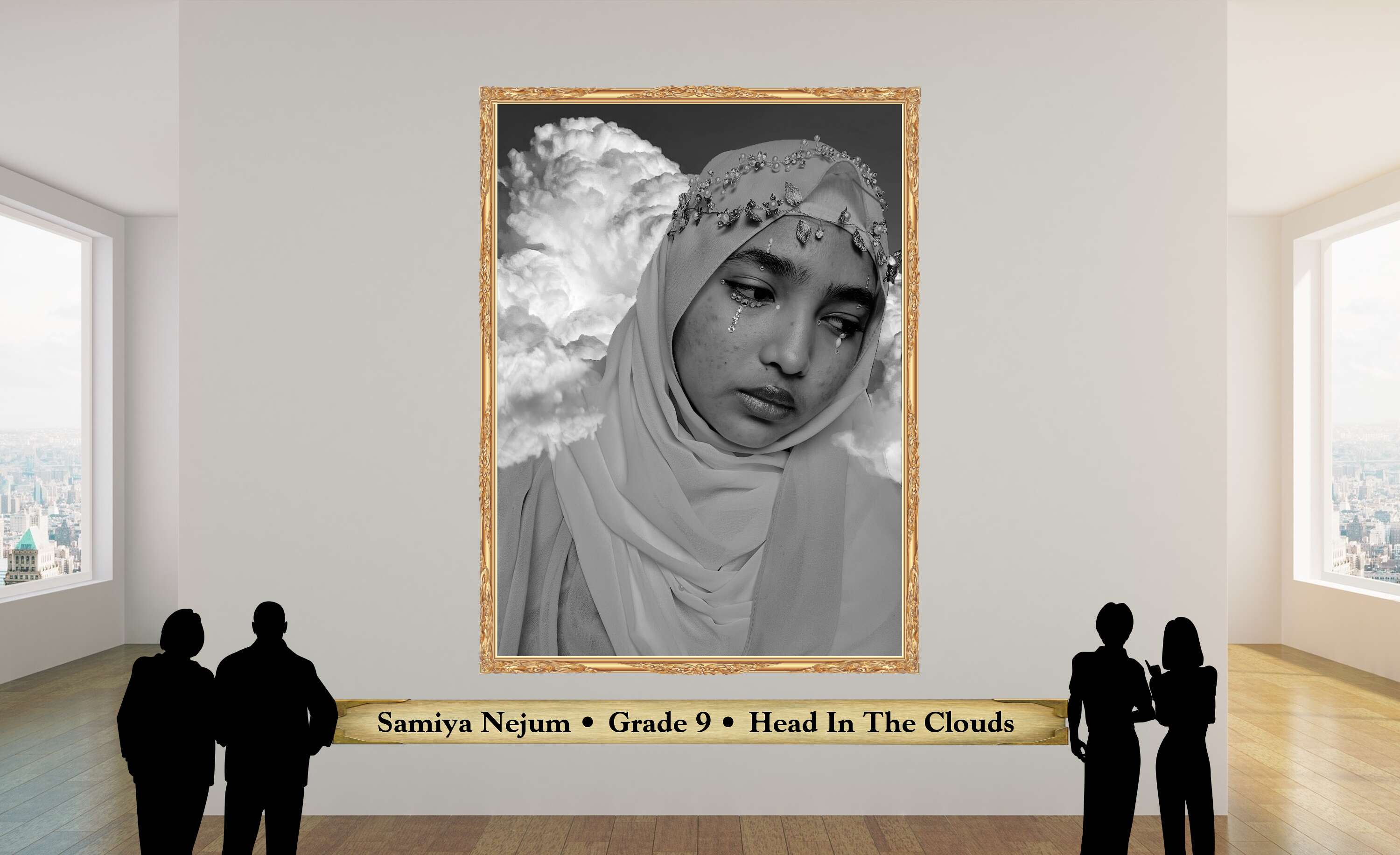 Zara Ayinde • Grade 11 • A Unicorn in the Brush
Unicorns, dragons, elves, and wizards…I was raised in an environment that submerged me in a world of magic!

My mother always encouraged me to dive deep into the art of fantasy and to this day this is something that has been a huge part of my identity and creative growth.

Most if not all my drawings take place in an enchanted setting, complete with bright colors and odd splashes of paint.

Using two of my favorite medias - watercolor and colored pencils- I put together this piece to create a window into the altered reality I dream of.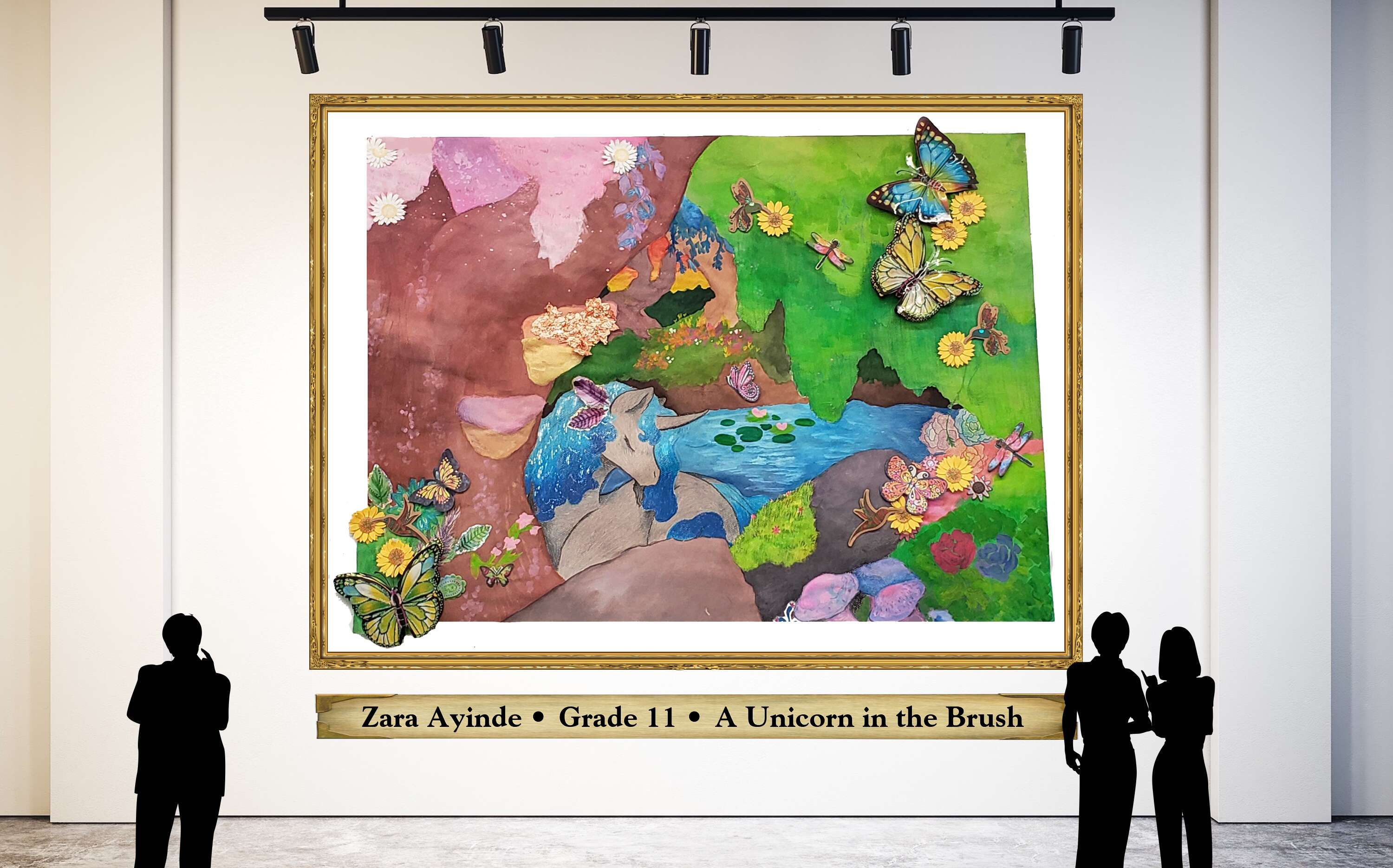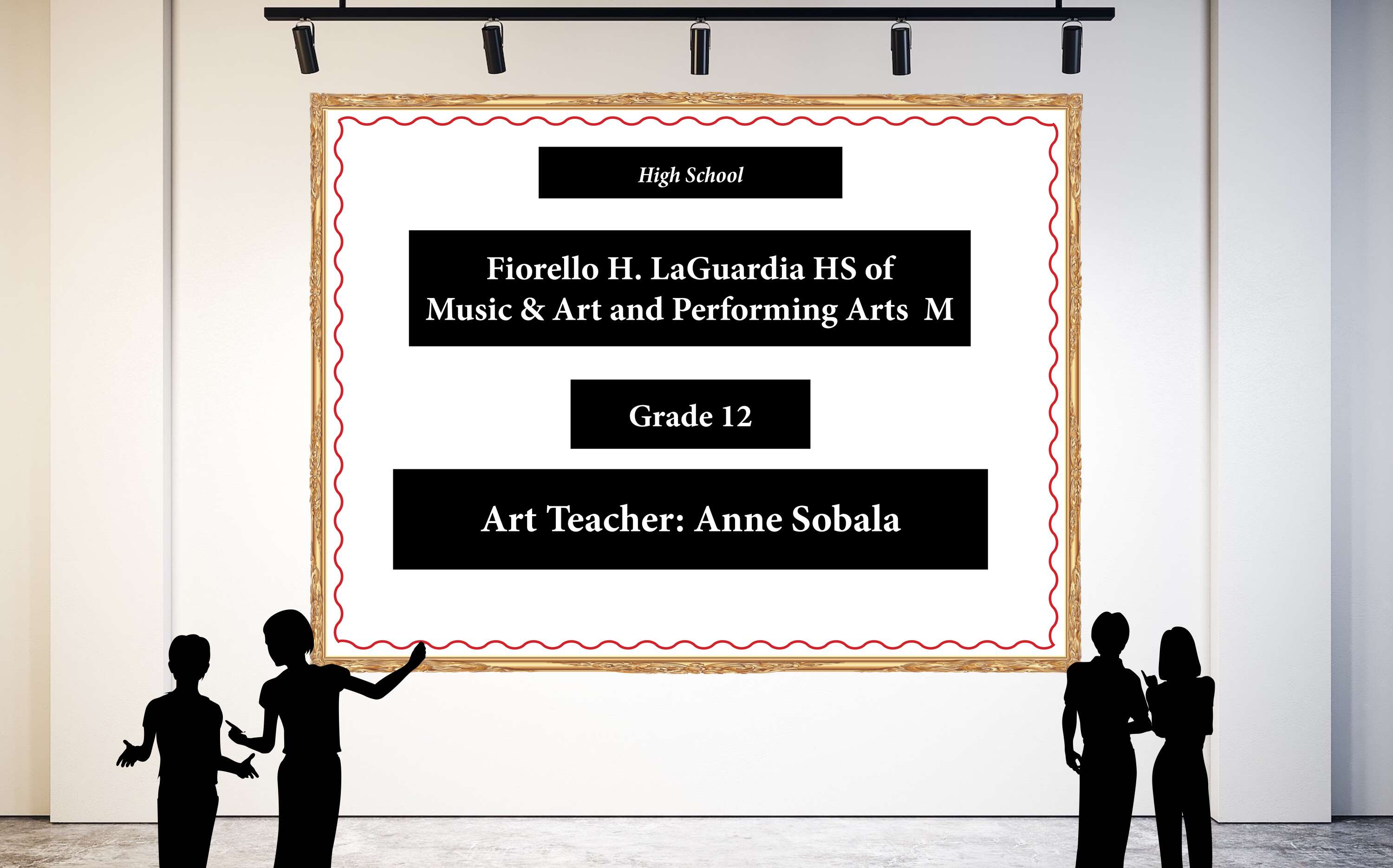 Melanie Ng • Reverie
With modern photography technology tools, like Photoshop, it is effortlessly possible to alter a familiar sight into the unexpected.

From a range of basic editing adjustments to photo manipulations, transforming two images together to create a double exposure can seamlessly juxtapose a photograph.

The layering of the photos can make one feel lost in thought and trying to pick out what the original image was.

In 'Reverie', the subject portrays that feeling of daydreaming as she sits in the Lincoln Center Plaza, while an image of the MET museum is layered on top.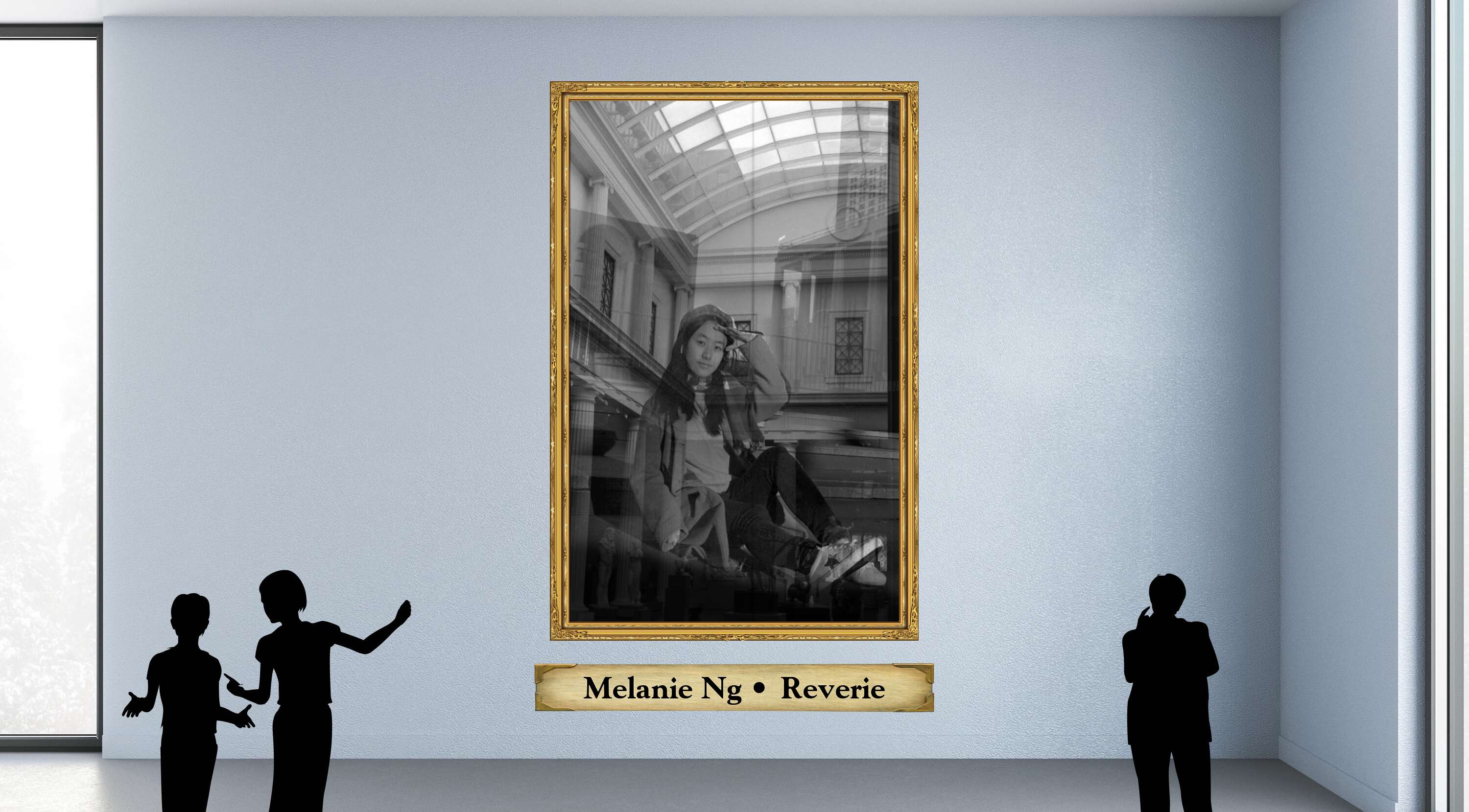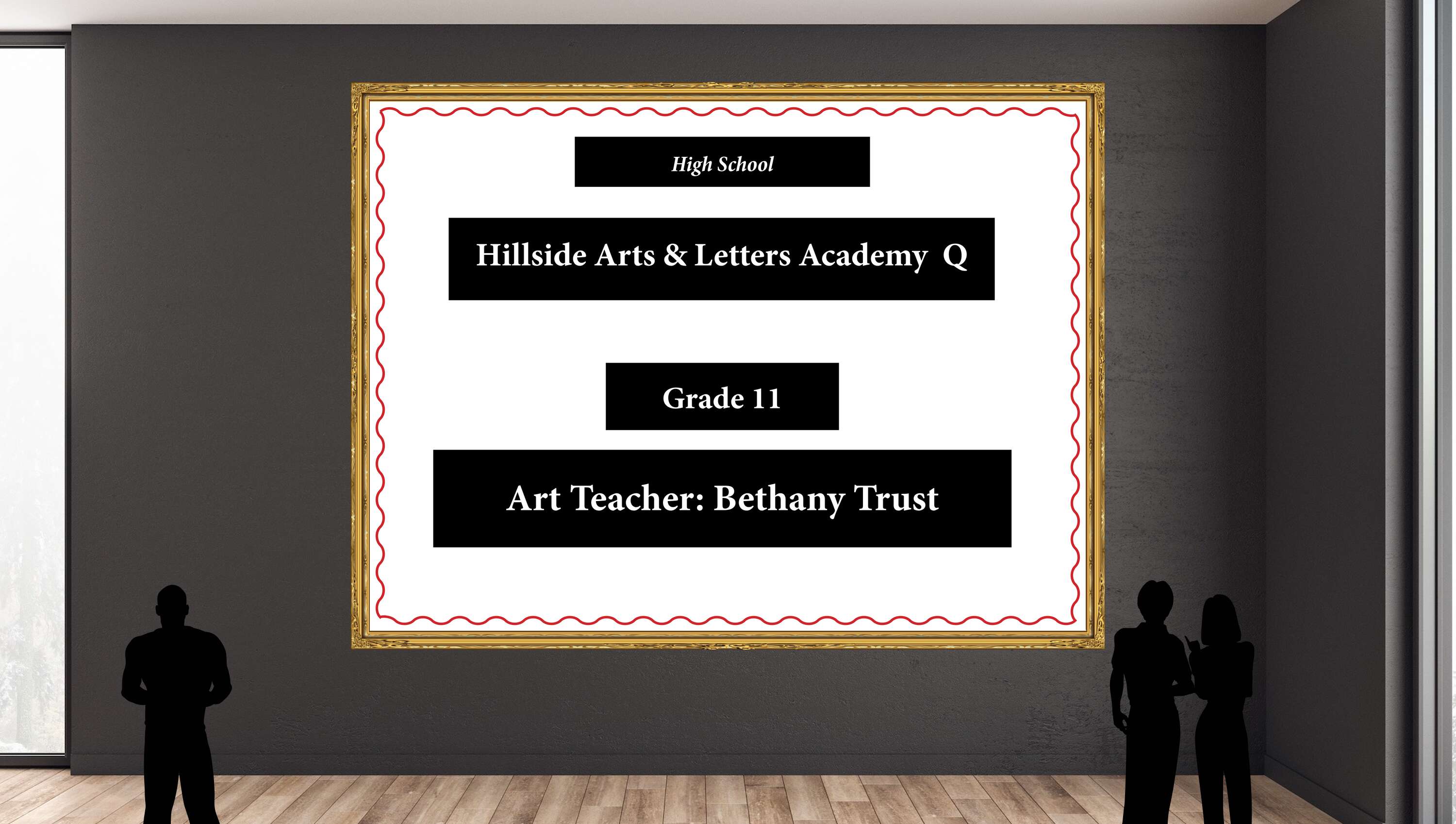 Aaliyah Lewis • The Roads to Everything and Nothing
Imagine that you are walking down a crowded street. Everyone is unique and different in their own way, including yourself.

You can choose to stop someone and talk to them, or do what you usually do - put in your headphones and ignore the world.

My art always has a double meaning. My intended message is almost always different from the way my audience perceives it.

In The Roads that Lead to Everything and Nothing, the "roads" are topographic lines that purposely lead off of the canvas. It is up to you to decide where those roads lead to.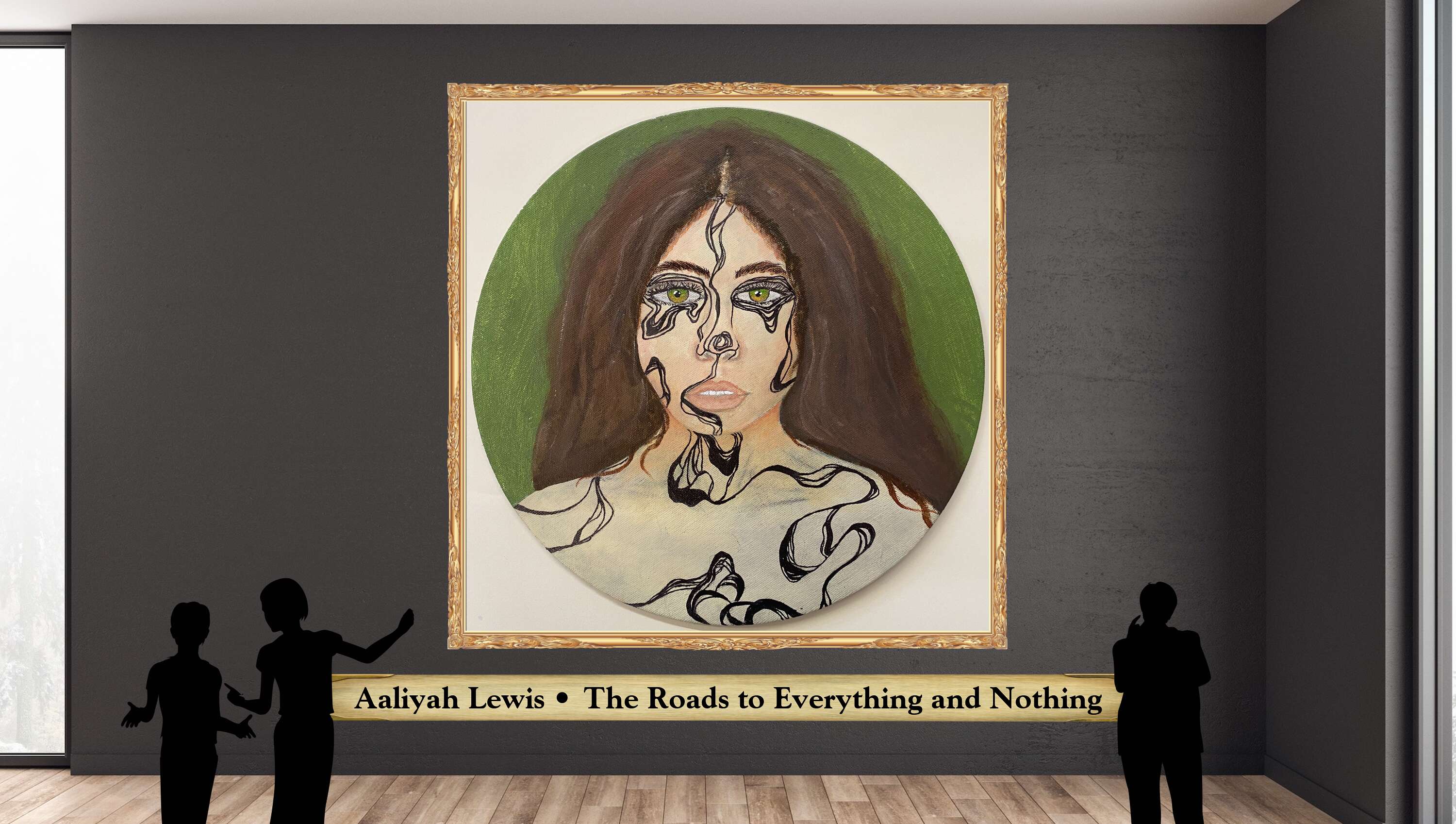 Lindsay Espana • Black Legends
Imagine if all the famous musicians once on the radio were still with us.
They would surround us with the entrancing music they had once played.
Or the melodic voice they had once used in a chorus.

To wrap you in the same comfort and aid, they would sing as if it was their last days. Or scat until they were stopped.

It wouldn't matter how long it takes, as long as we saw their oh-so prevalent spark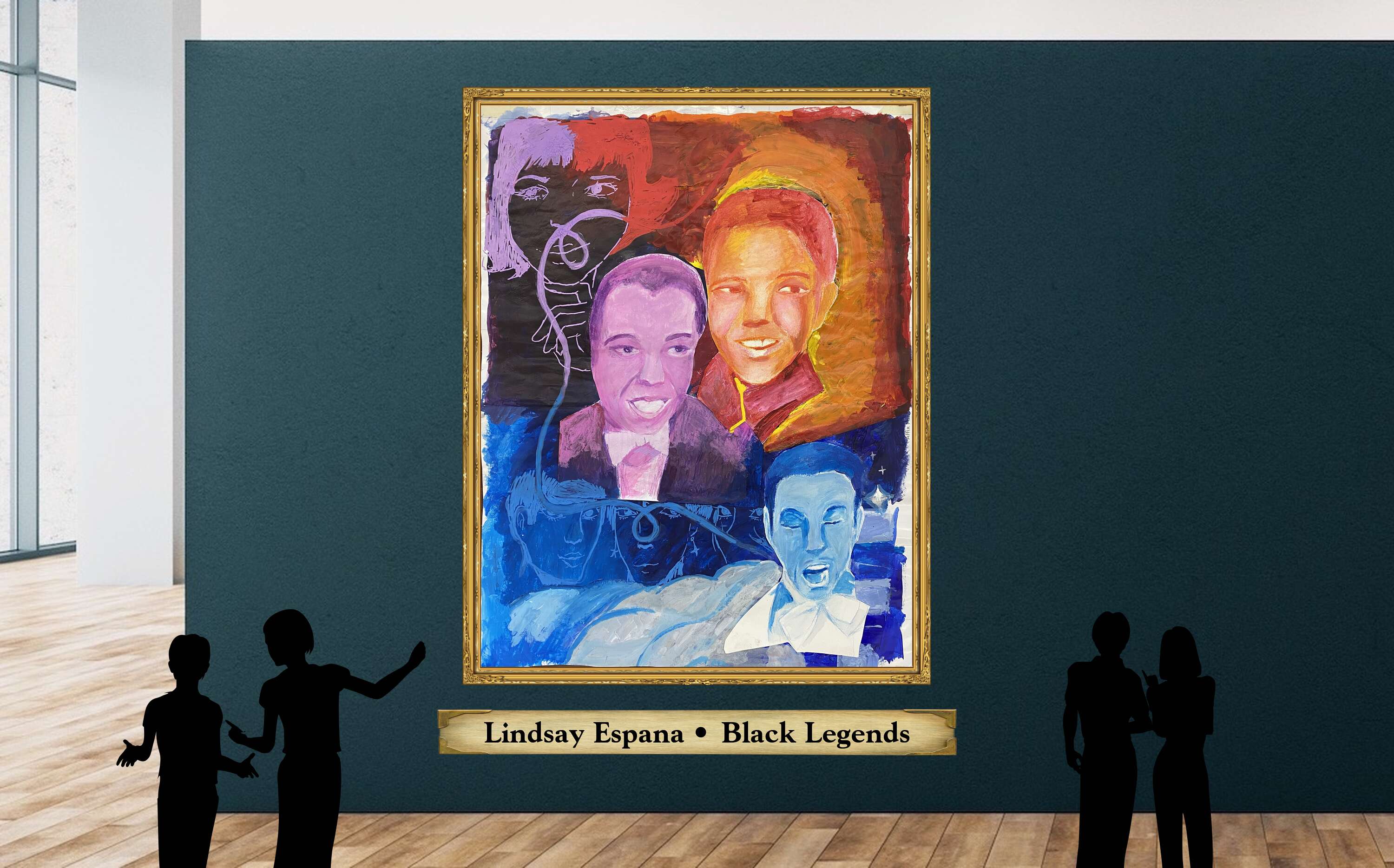 Daisy Ramos Plata • Portrait of Mei
Imagine the world at her fingertips,

Power to create intricate designs,

While discovering the world built on diverse lines.

The many powers we have at our hands,
No matter the different homelands.

Daisy Ramos Plata • Ocean In The Sky
Imagine the world beyond the blue.
Waves of emerald, sapphire, and azure whirl in the sky.
In light of all the energy of our everyday lives,
There is a peace of mind just sitting down and looking at the sky.

Isn't it nice to wind down as you see the ocean in the sky?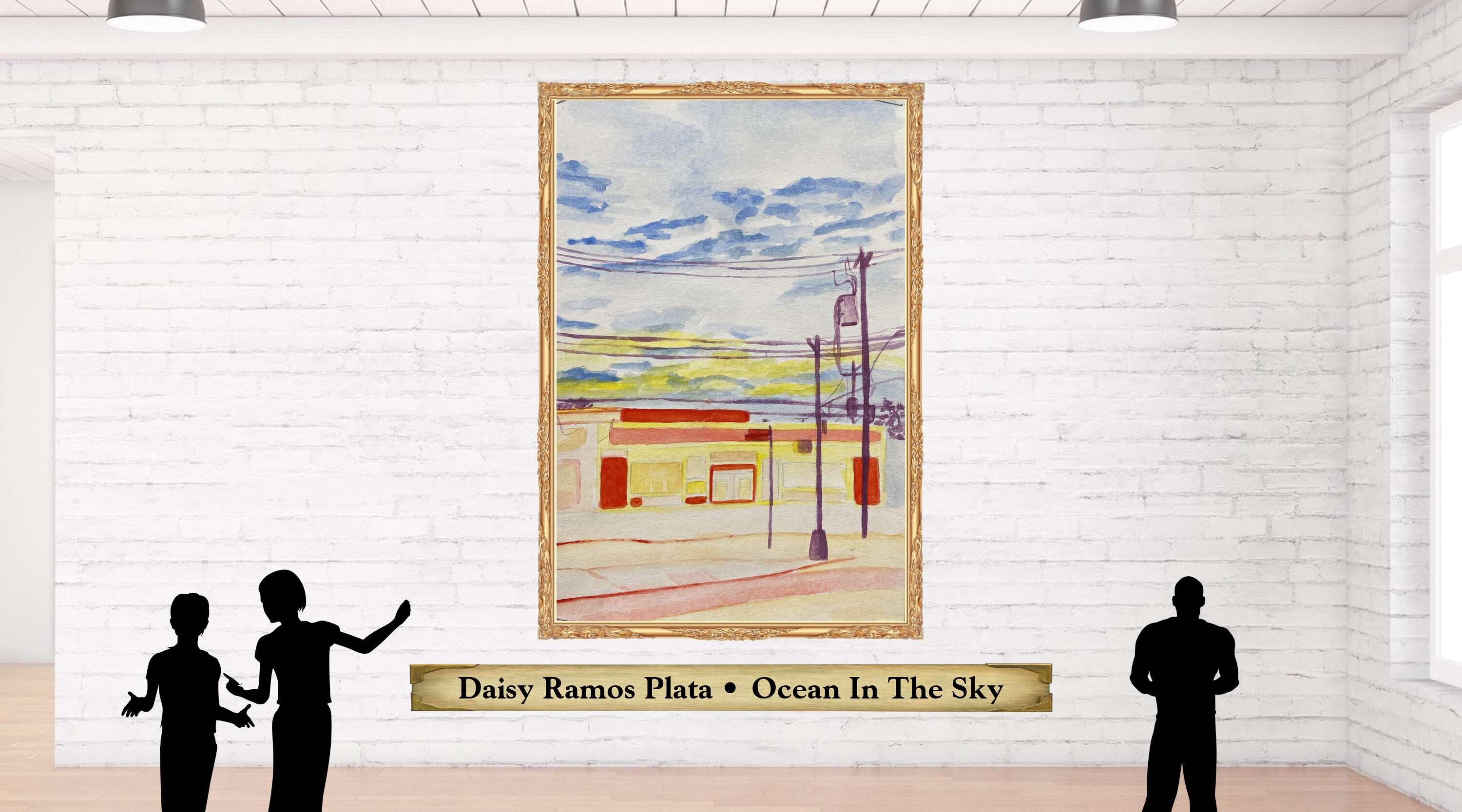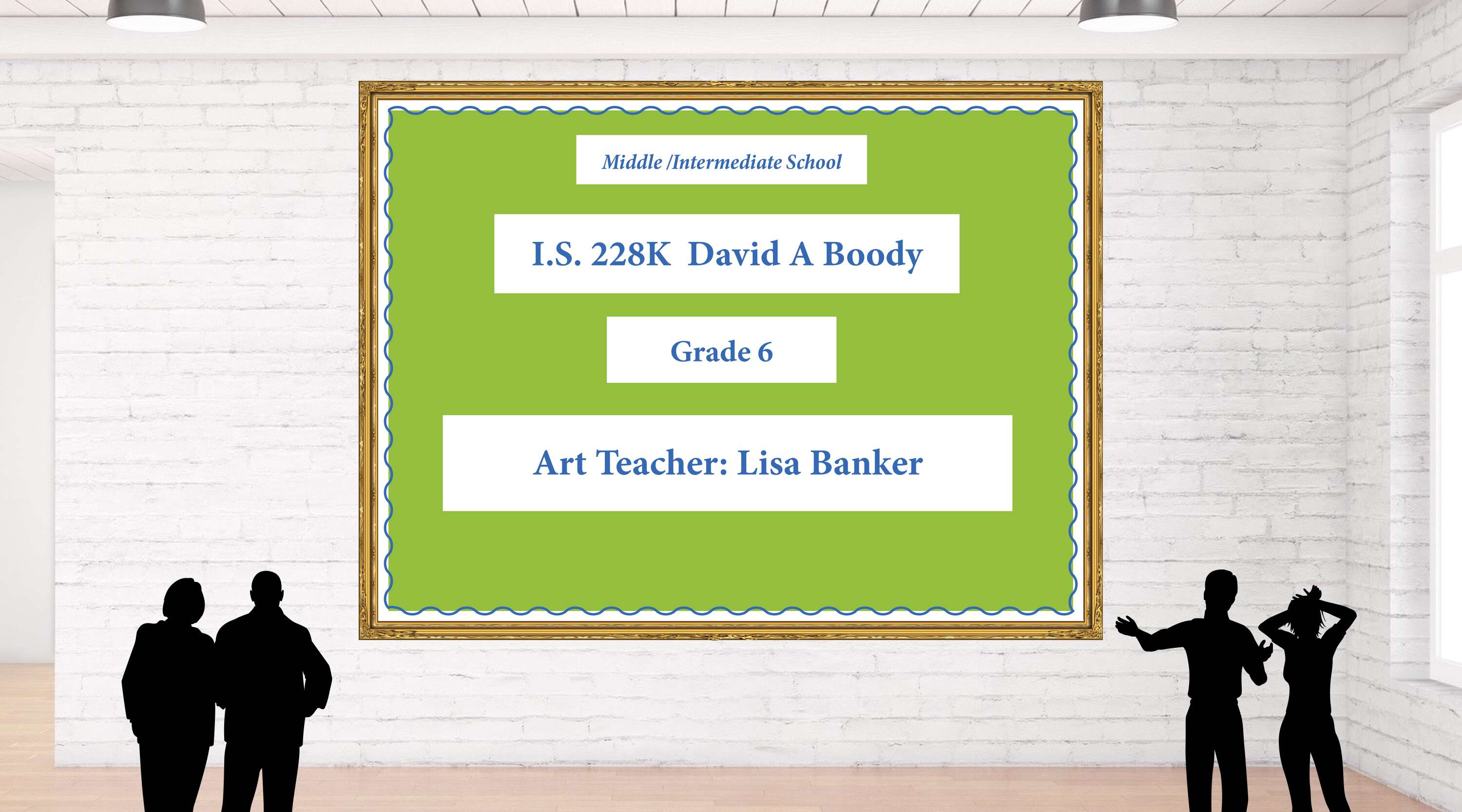 Margarita Audienko • Floating Habitats in the Universe
Imagine if there were floating habitats in the universe. My artwork is about discovering something new.

I want to explore the environment and learn new things. I would love to explore this mystical habitat.

I can imagine my explorations through this new world and the incredible discoveries I might make.

I imagine if the things I imagined in my mind weren't actually imagined at all.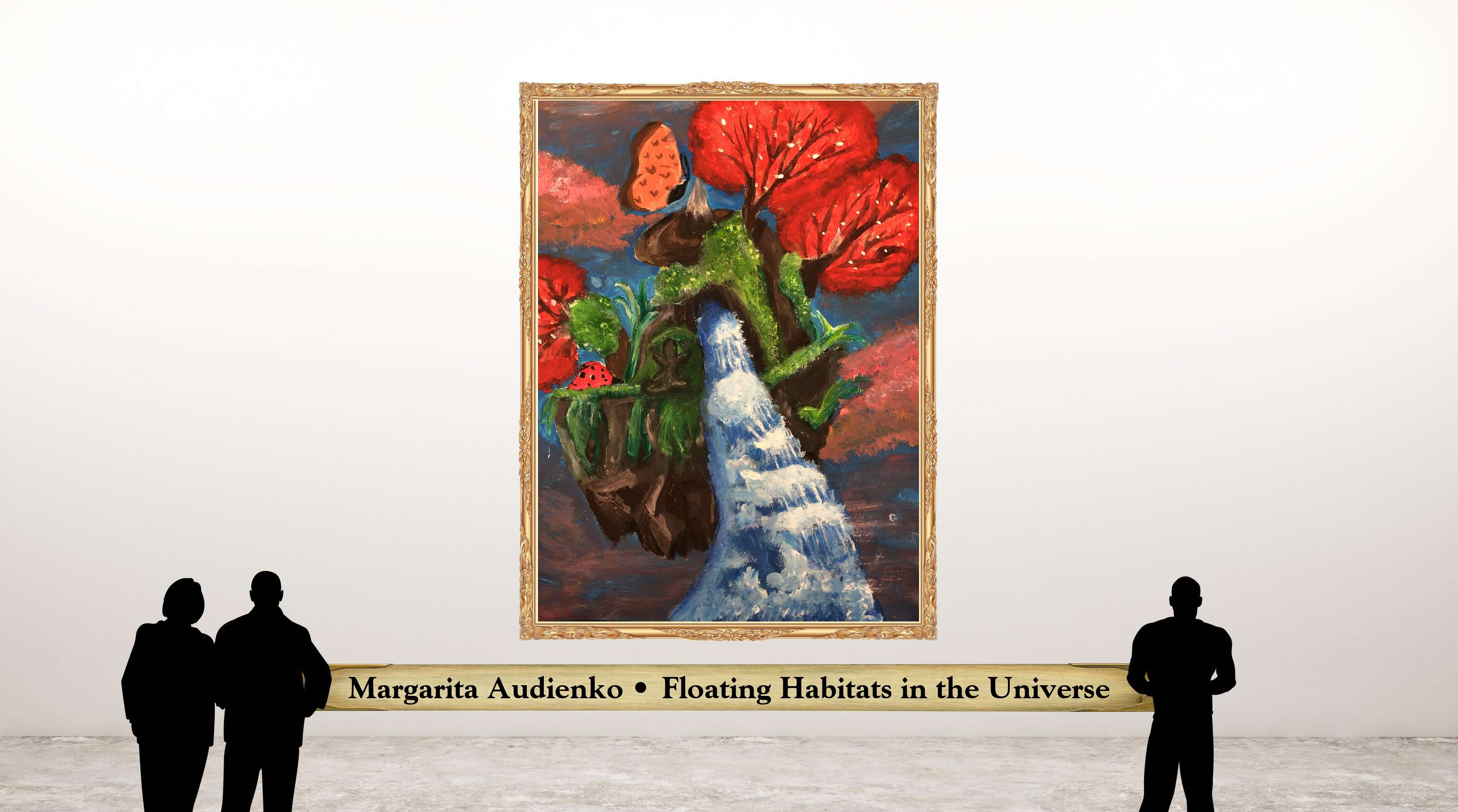 Maya Ayupova • What Lies Beneath
Imagine a secret Utopia beneath the ground.

Imagine a beautiful world where the sun is always shining over a small community, living in harmony.

This community has clean air and sparkling water. There is free housing and lots of space to run and play and swim.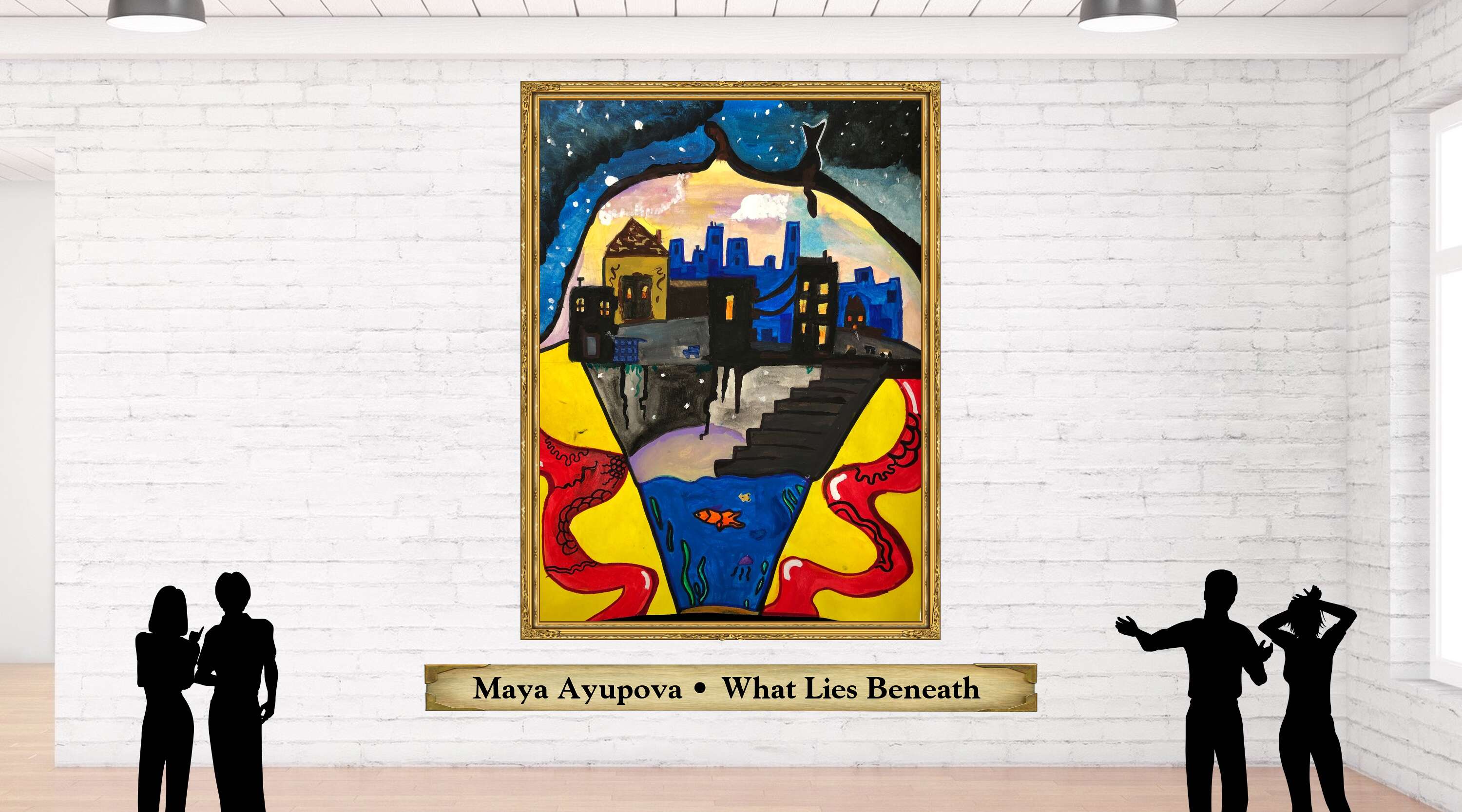 Julyana Bachharova • Living With Nature
I love the idea of living with nature. I would spend time with my friend the bear, showing him the moon and the constellations.

I would live in a beautiful tree house, with room for all the birds to nest in. I would be surrounded by, hedgehogs and horses and cats. There would fruit trees and flowers everywhere and the fresh air would fill my lungs.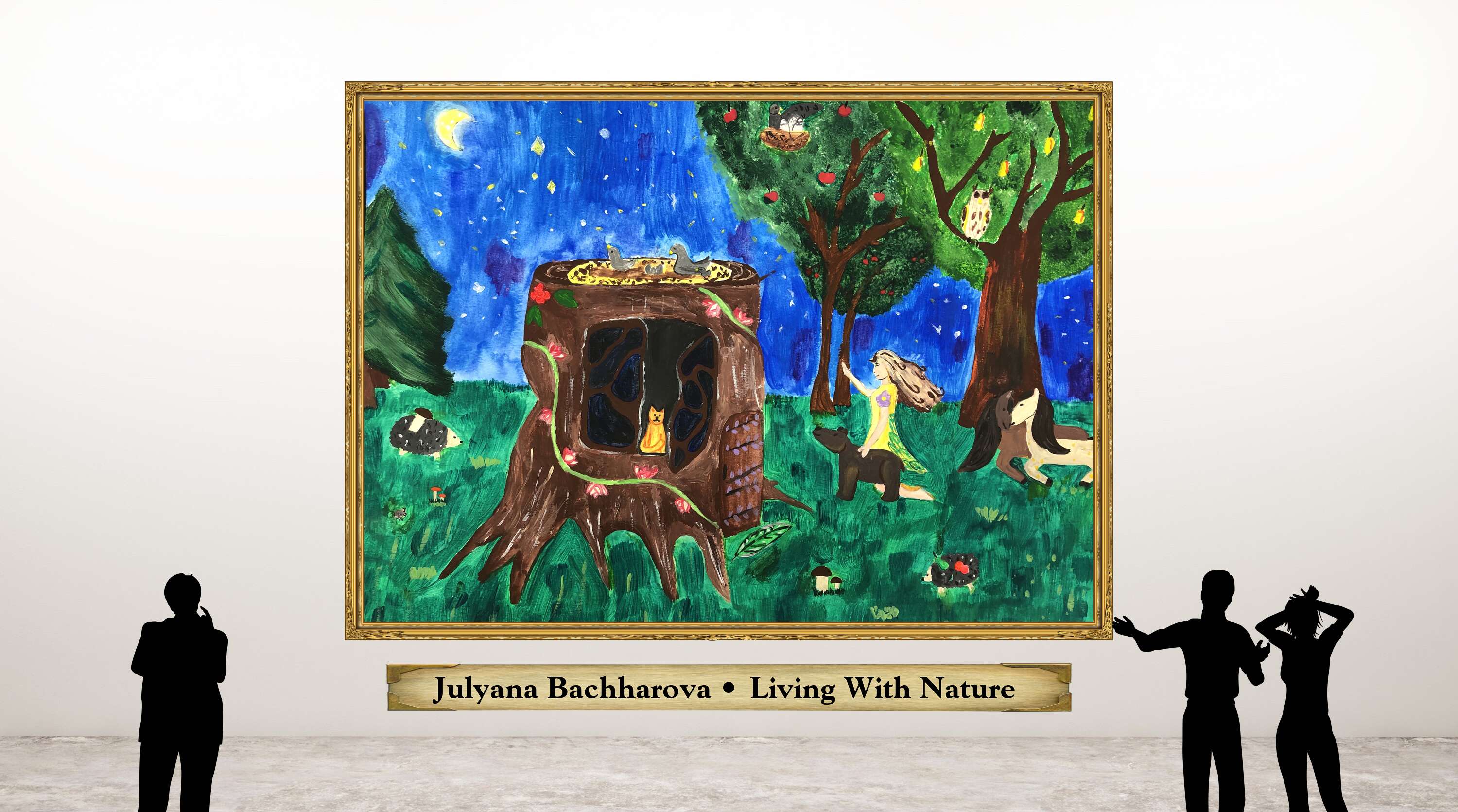 Eugenie Cherednychenko • Evolution
I imagine that dinosaurs had not become extinct. They lived on and advanced much like humans.

My painting shows two dinosaurs sitting in their living room. The dinosaurs are going about their daily routines, smoking a pipe, drinking a coffee and reading the newspaper.

I imagine their home floating in the clouds.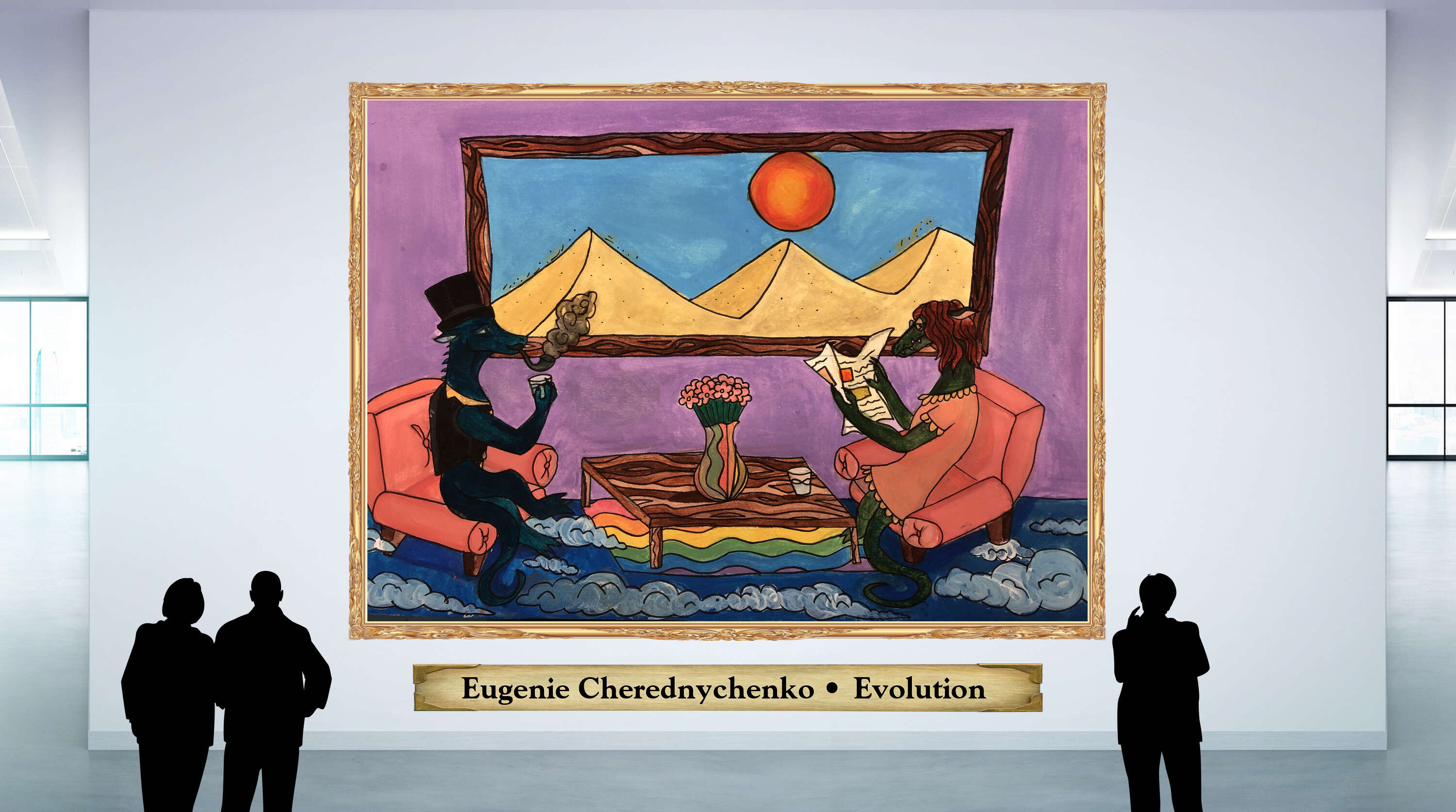 Ariana Klayn • Insect Races
Imagine if humans were tiny and held insect races, used mushrooms like trees and enjoyed the suns warm rays from the comfort of a leaf.

I imagine being the girl riding the caterpillar and winning first place. I would be friends with all the bugs and eat fruit and mushrooms. My best friend would be a spider named Spout.

I would enjoy all of the open space and I would learn to fly on the back of a butterfly.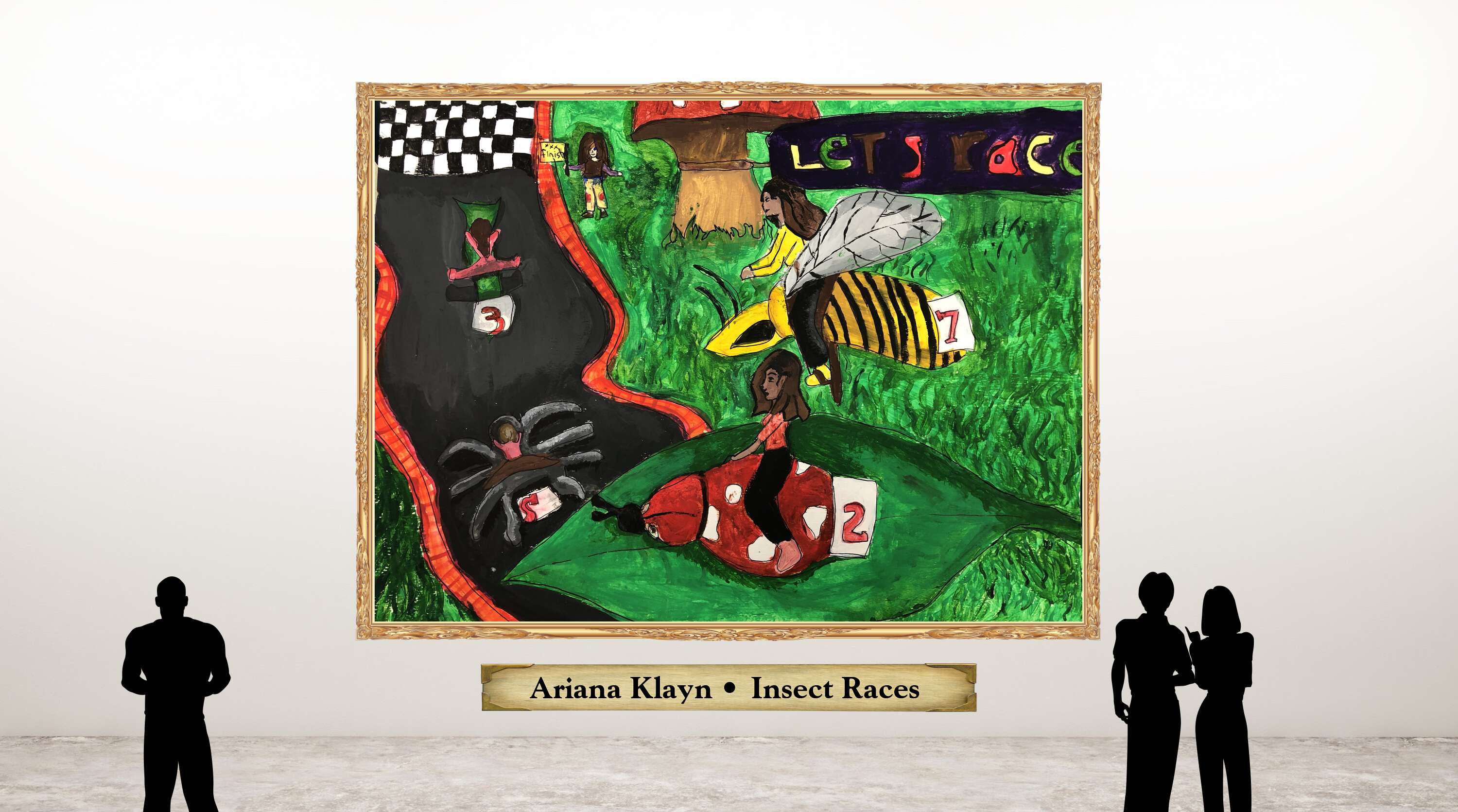 Evelyn Chabla Pastor • Wealth
Imagine if I were the richest woman in the world.

I would live in a beautiful mansion. I would have the most expensive clothing. I would wear gowns and crowns just for fun. I would own Van Gogh's Starry Night. I would have two huge staircases, one just for going up and one for going down! I would have servants that came when I rang a bell.

Life would be amazing!
Fiona Shapiro • The Horse Did It First
Imagine if Leonardo Da Vinci's Mona Lisa was not an original idea.

Imagine if Girl With A Pearl Earring was originally a mare.

What if Edvard Munch had seen a painting of a screaming horse before painting his famous painting?

My painting shows a brilliant artist, a horse, named Rosebella. Her artwork was admired by all of the greatest artists of the world.

Not only was her artwork admired, but all of her ideas and subjects were appropriated and used to gain fame and fortune!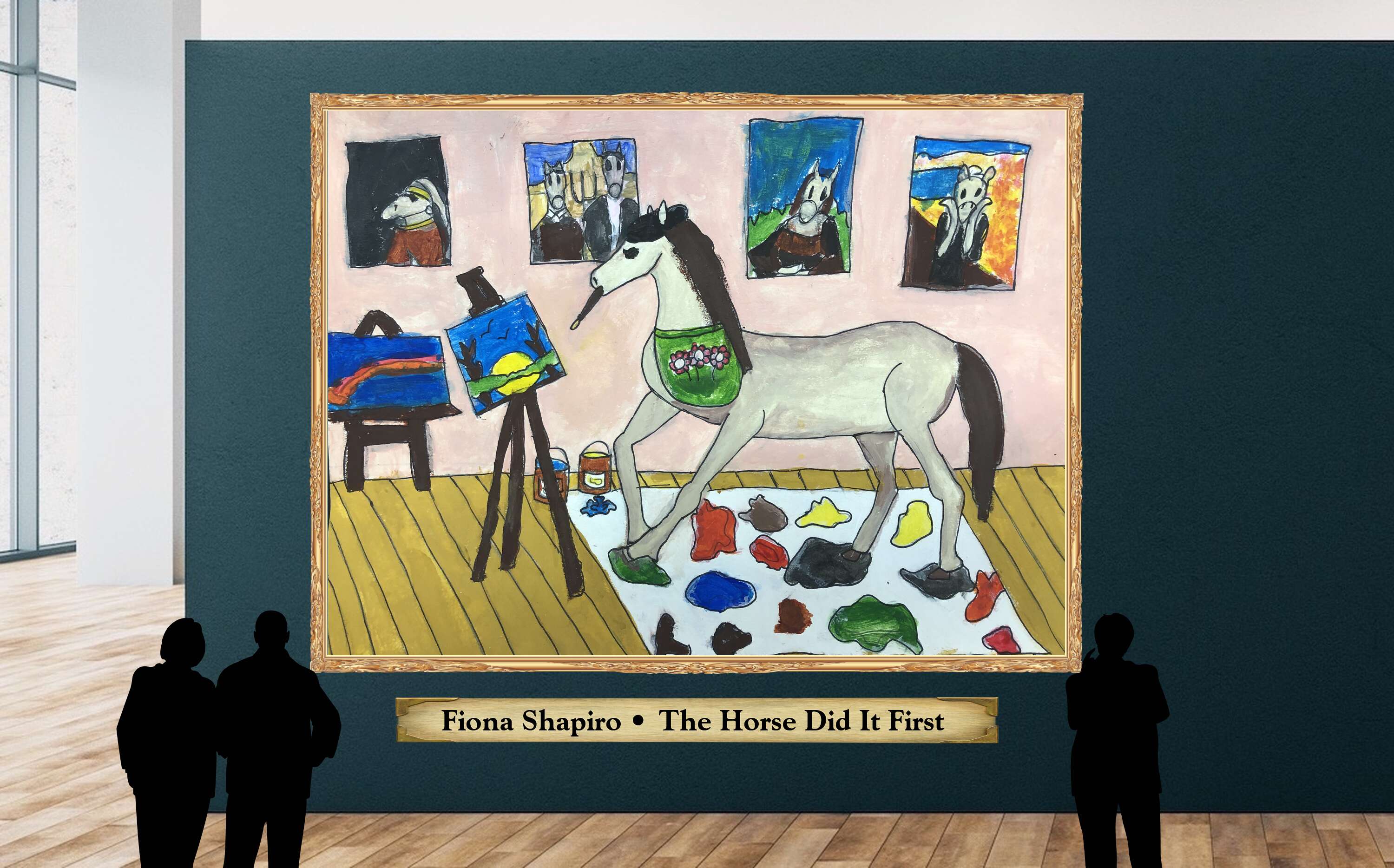 Zirui Sun • Traveling Into The Future
I imagine traveling into the future where the world is overcome by robots.

My painting shows scenes of time progressing and the events that are taking place.

The timeline begins with the creation of the robots. The robots are very intelligent and as time goes on they can communicate with animals.

The robots build and fly their own planes. The robots advance and create their own civilization.

Eventually, they take over the world and destroy all of humanity.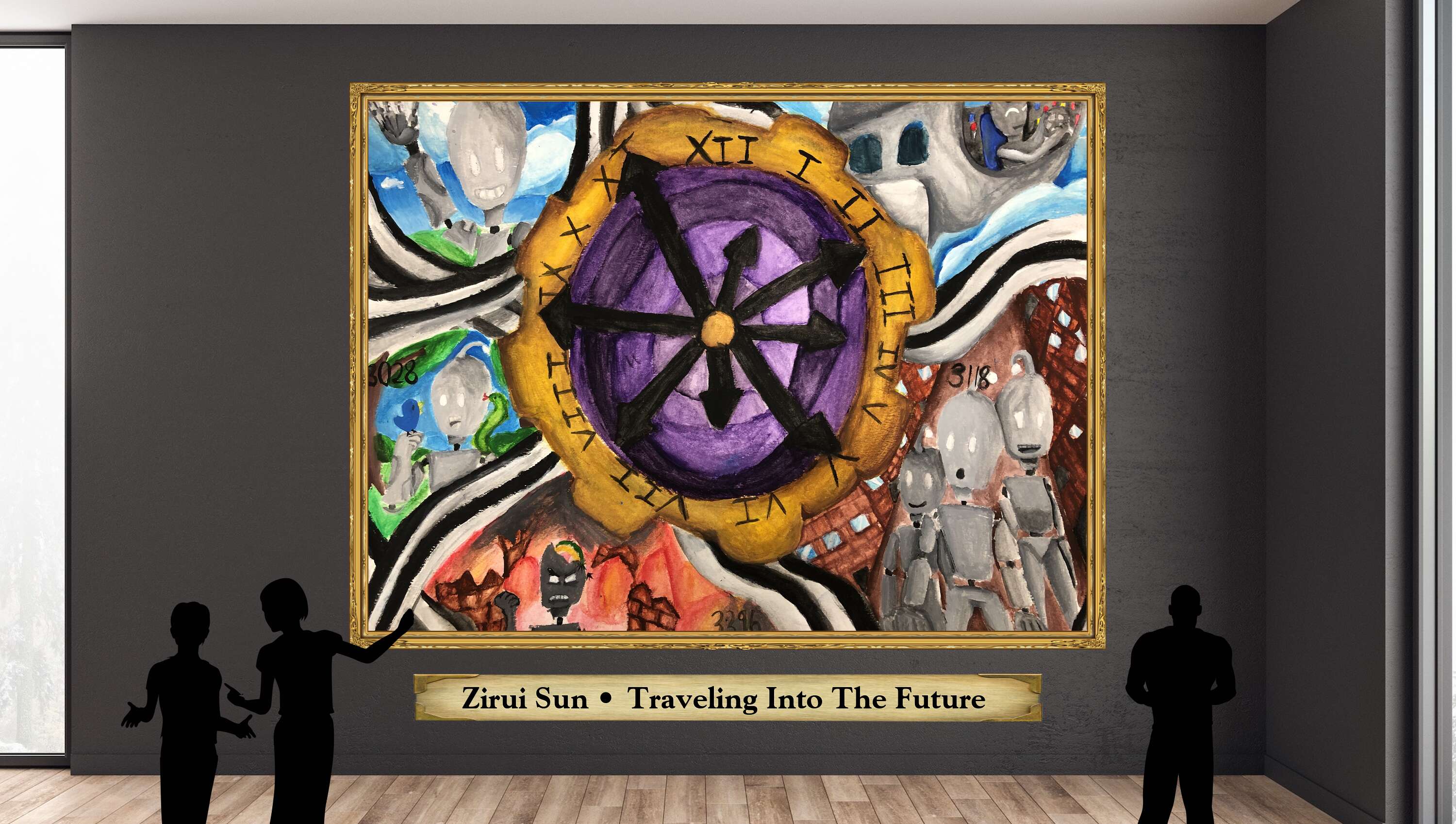 Zoe Zhong - Apex Predetor
I imagine the foods we eat have risen to the top of the food chain.

Our natural food source has become the apex predator and the roles have been reversed.

Our food has started to eat humans. We are being hunted and consumed. The only way to escape is to hide in the clouds.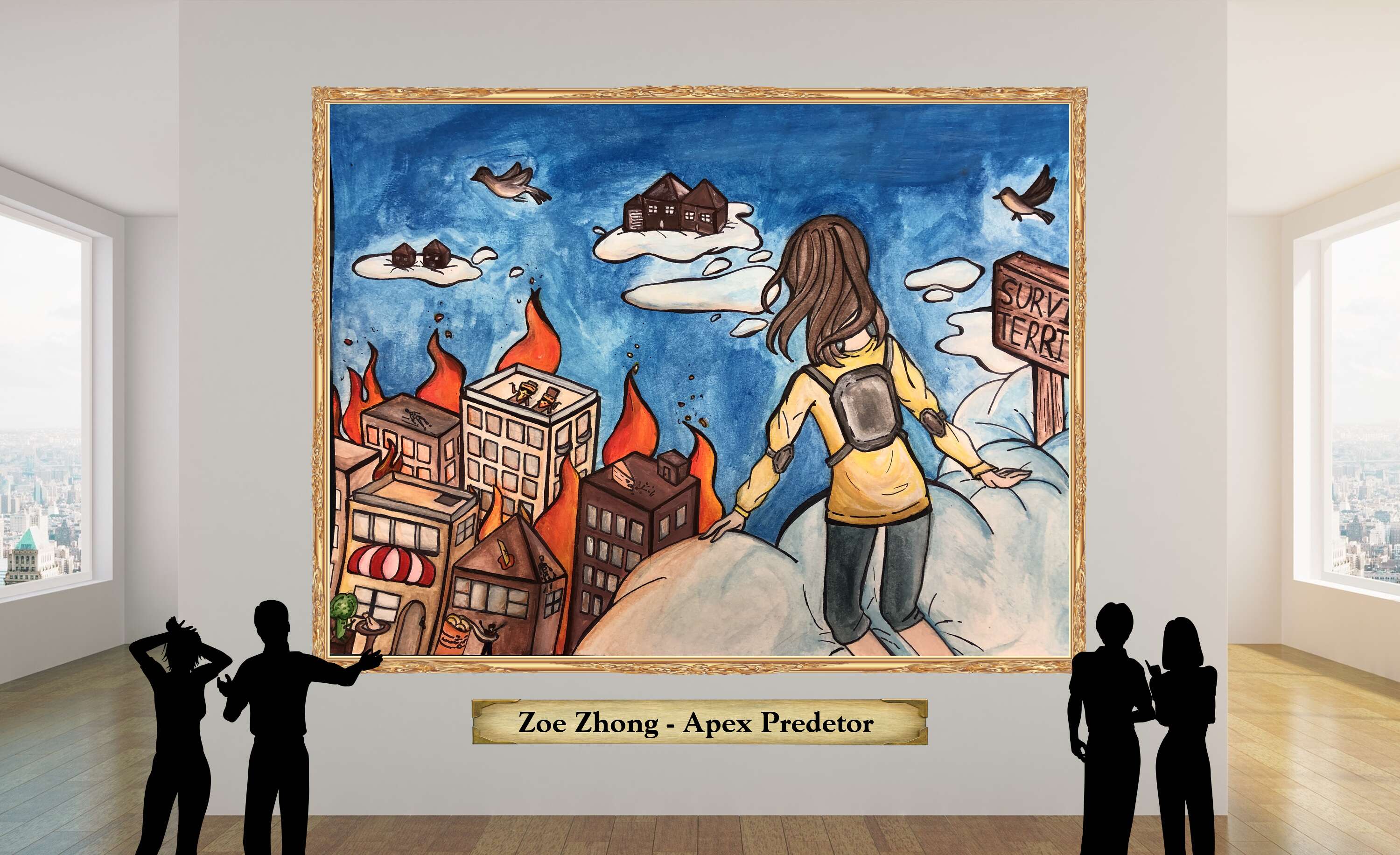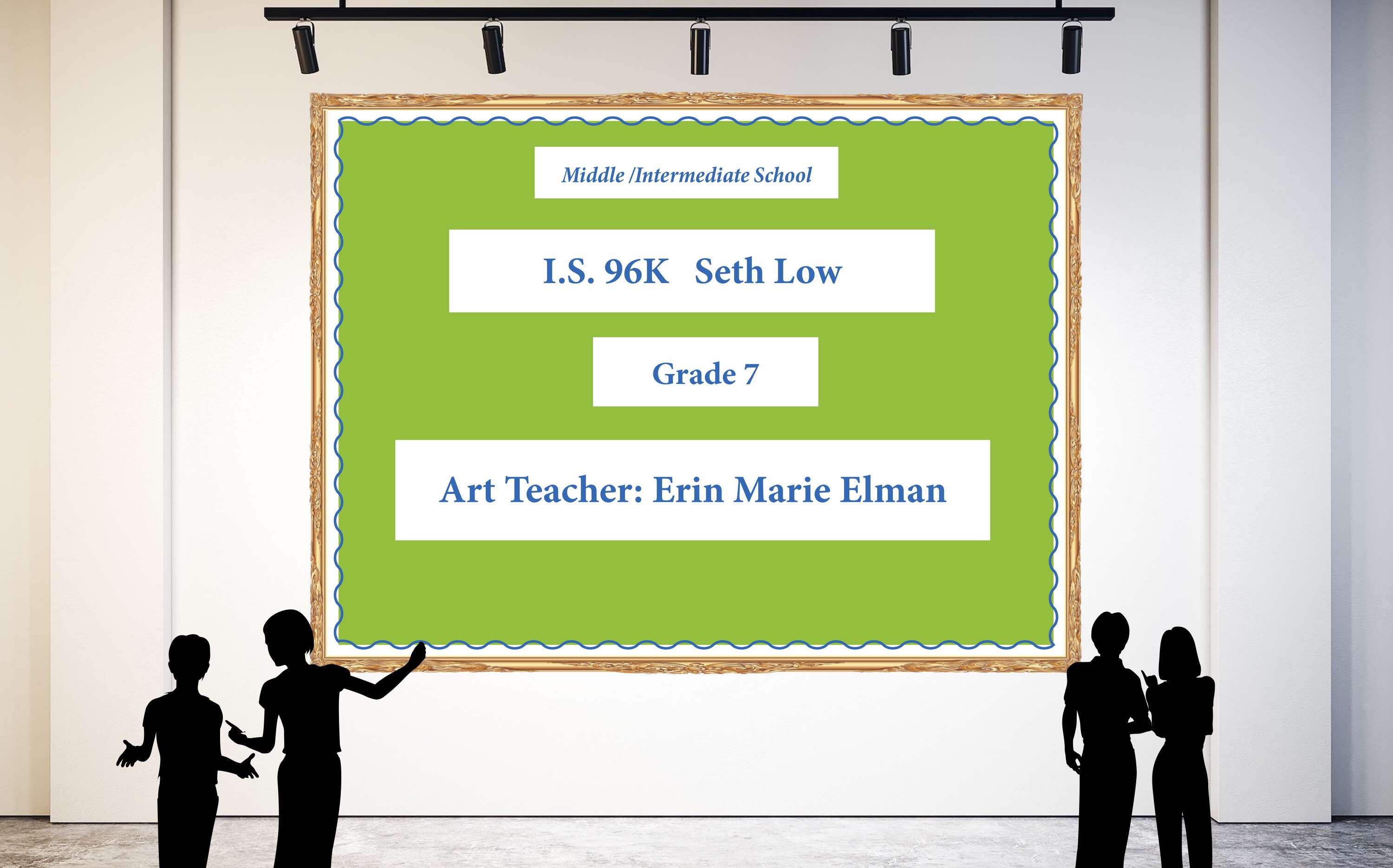 Bibi Fatima Alkalwaya • Balloon House
Imagine if there was a house floating by balloons with a magic portal that takes you wherever you want by floating in the sky.

Something that inspired me to create this composition was the thought of flying in the sky but instead of me flying in the sky. my house is flying with balloons and there is a magic portal that can take me wherever I want to go.

Some materials I used to illustrate the composition was watercolor and a thin black sharpie.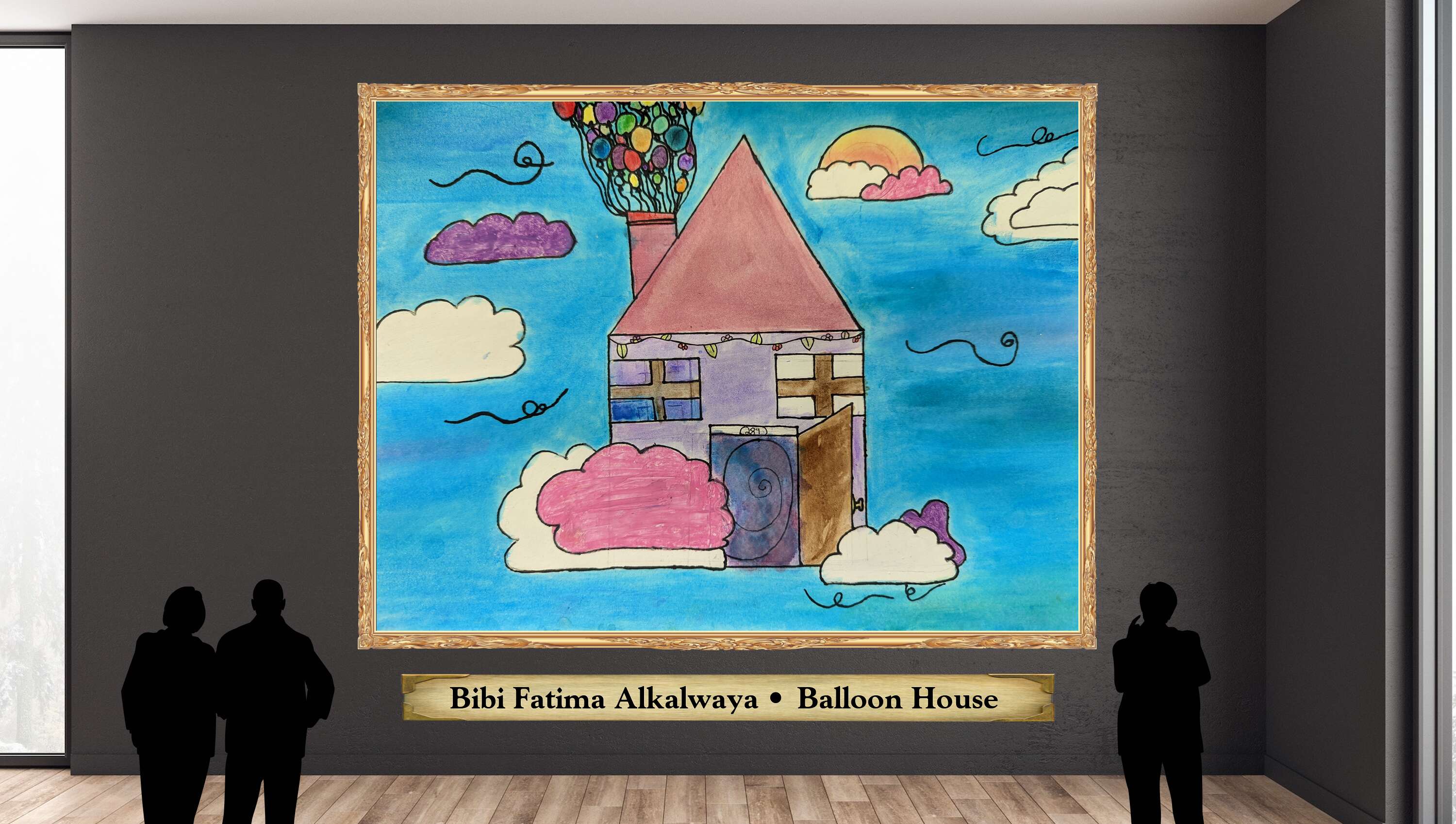 Alexander Flores • The Haunted Parking Lot
I like scary themes so I decided why not make a mouth in the middle of the parking lot.

I used a black marker to outline the mouth and tongue. I also used a black color pencil for the background and the inside of the mouth. I used a light blue for the drooling.

Surrealism helped me make the idea of making a huge mouth in the middle of a parking lot and cars crashing in.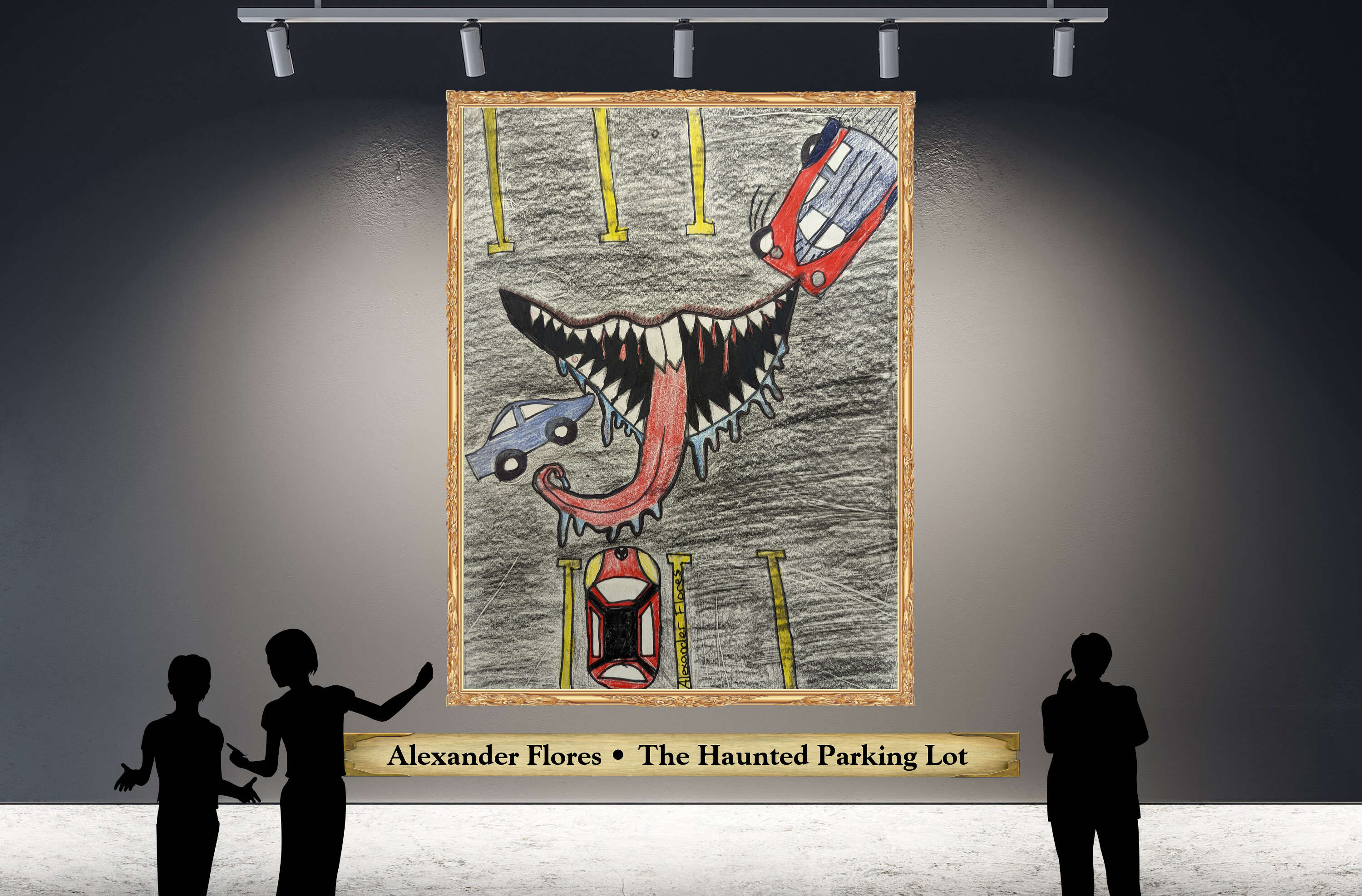 Rukhshona Ibraimova • The Only Dog In The Classroom
Imagine if we got to bring pets to school. Something that inspired me was like I want classes to be fun and why not bring our pets for one day and have fun.

I used colored pencils and watercolor paint on watercolor paper.

I put two elements together. One is realistic, which is the classroom and one that is impossible which is the pet in the classroom.

The title is: The Only dog in the classroom.
Jasmine Li • Imagine You Can't Speak or Hear
What inspired me to create this composition, was my imagination. The first thing that came to mind was another dimension where people couldn't hear or make a noise at all.

The materials that were used to illustrate this project was a paper to draw on, pencil for sketching, thin sharpie for outline and color pencils for color.

The lesson on surrealism helped me with this composition by helping me use my mind and imagination to picture something unique, it taught me how to be creative and make what comes to mind.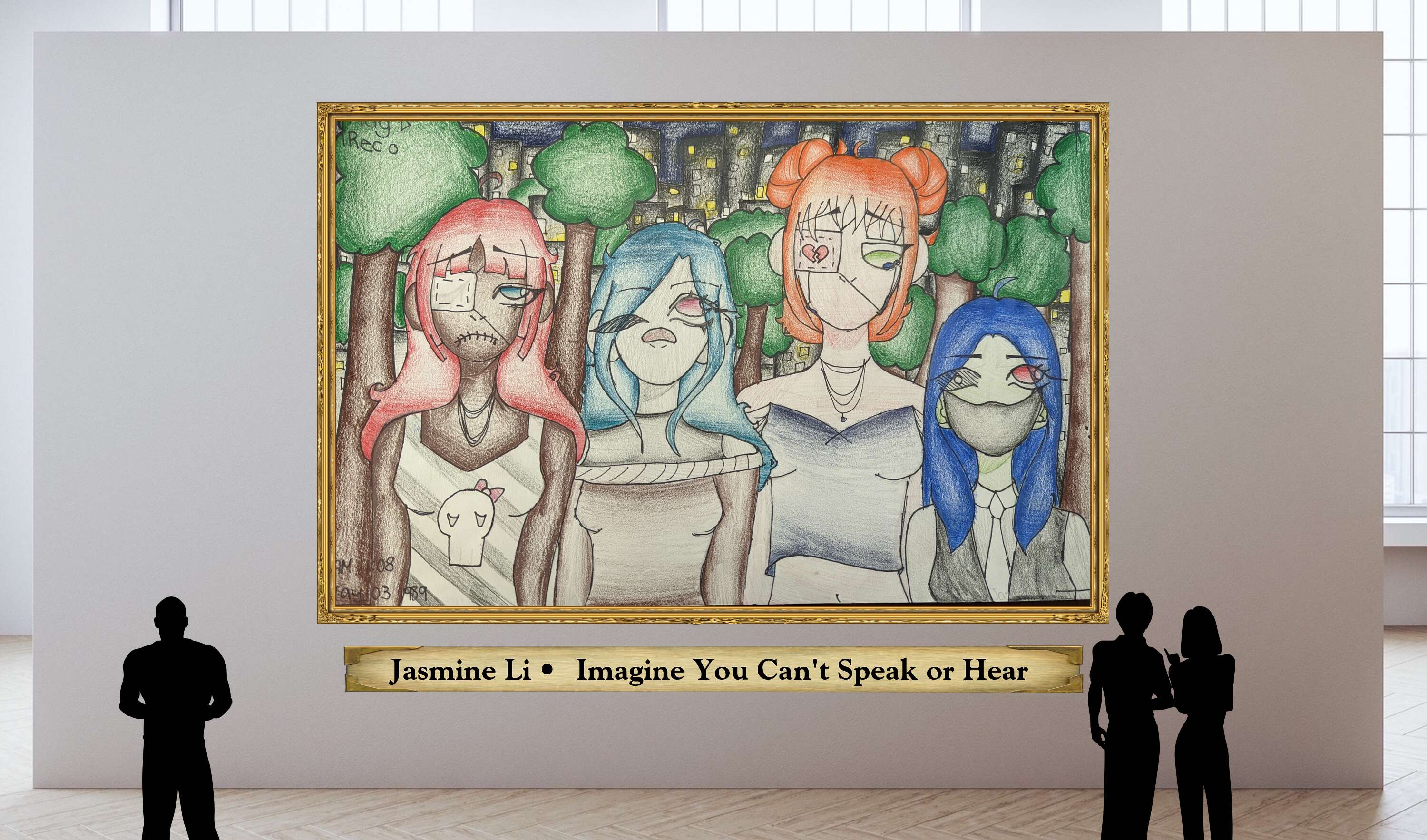 Jolee Liu • What If The World Was Upside Down?
What inspired me to make this composition were apples and surrealism.

To illustrate the composition, I used watercolor and color pencils.

The lesson on surrealism helped me convey that my composition is an upside down apple orchard with an apple as the sun.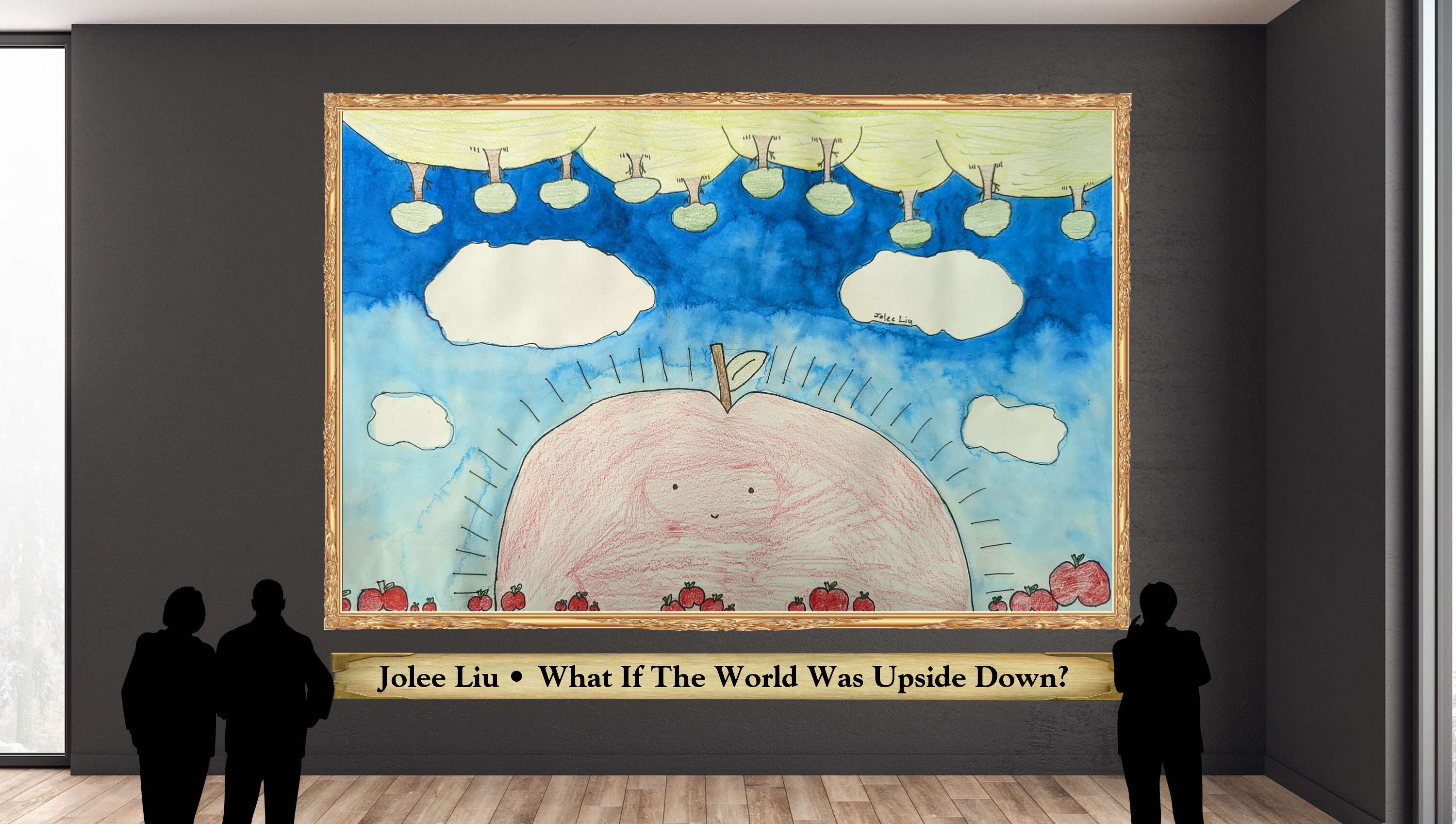 Kevin Peach • Mourning Wood
Imagine if anxieties were illustrated.

I drew it because I like to focus on what I feel inside.

I only used pencil and fine liner.

I drew a spirit in the forest who cannot leave.

Mourning wood is the name of my composition.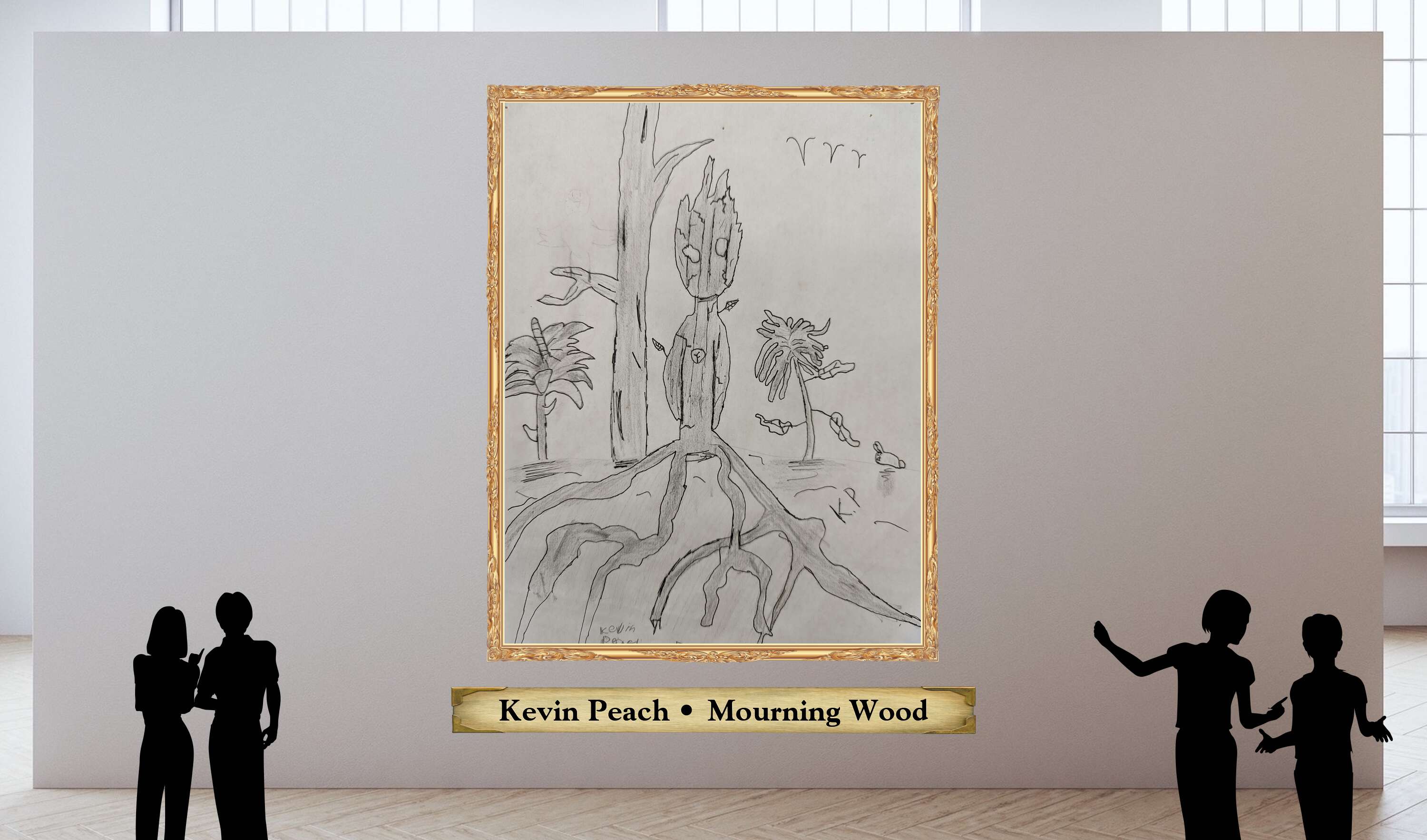 Dante Brooks Rodriguez • What If MY Friend Was A Character in a Movie "Stella"
Imagine if my friend Rebecca was in a movie!

Her name is Stella Kai,

I used a fine line marker and colored pencils.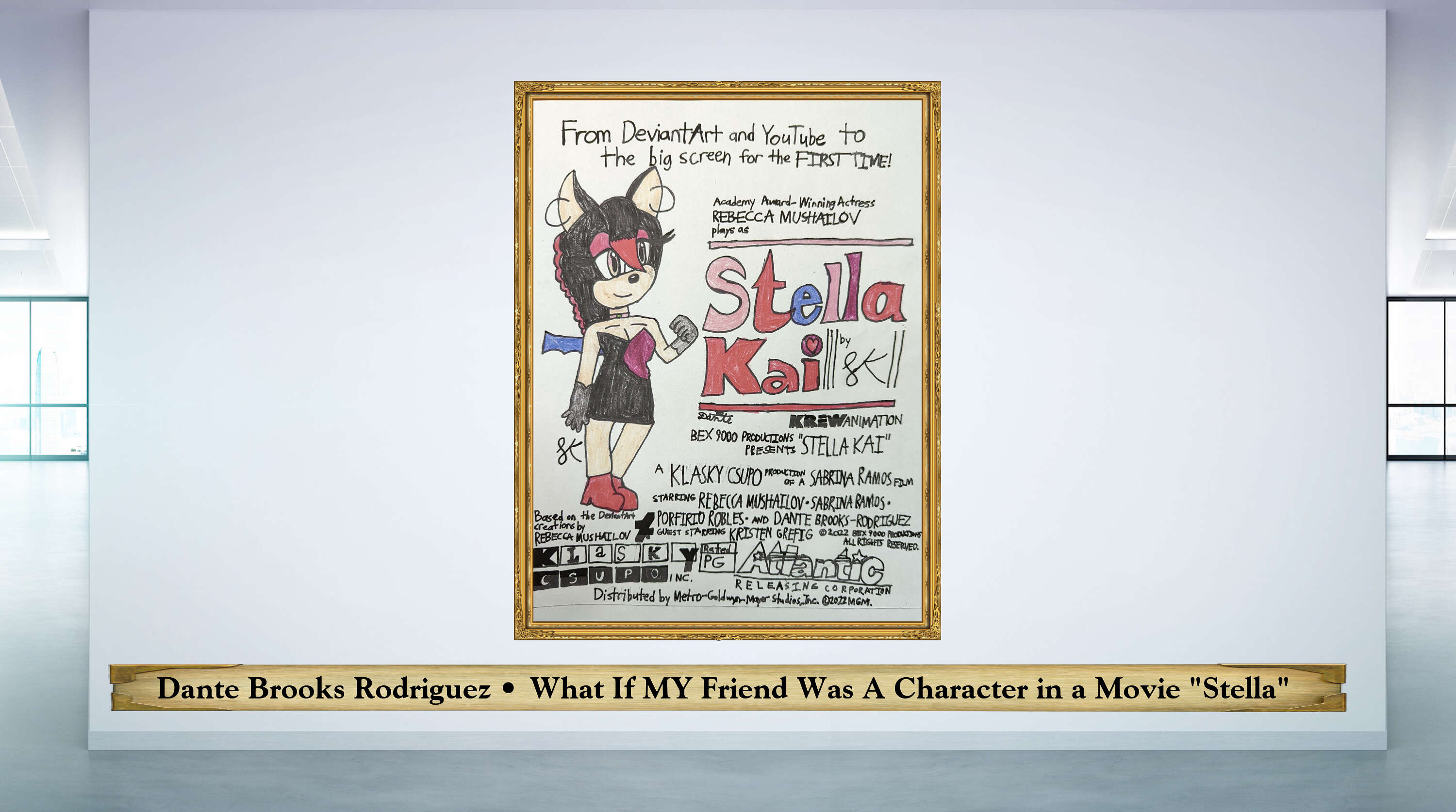 Zainab Sajid • Humans on Mars
Something that inspired me to do this art work is that I know how NASA is trying to figure out a way for humans to be on Mars so I wanted to make a drawing that might have represented that.

The materials I used for this art piece were colored pencils and thin sharpie and a regular pencil.

The surrealism lesson gave me an idea of how to show what is not real but could be real and human on Mars might be real in a few years from now.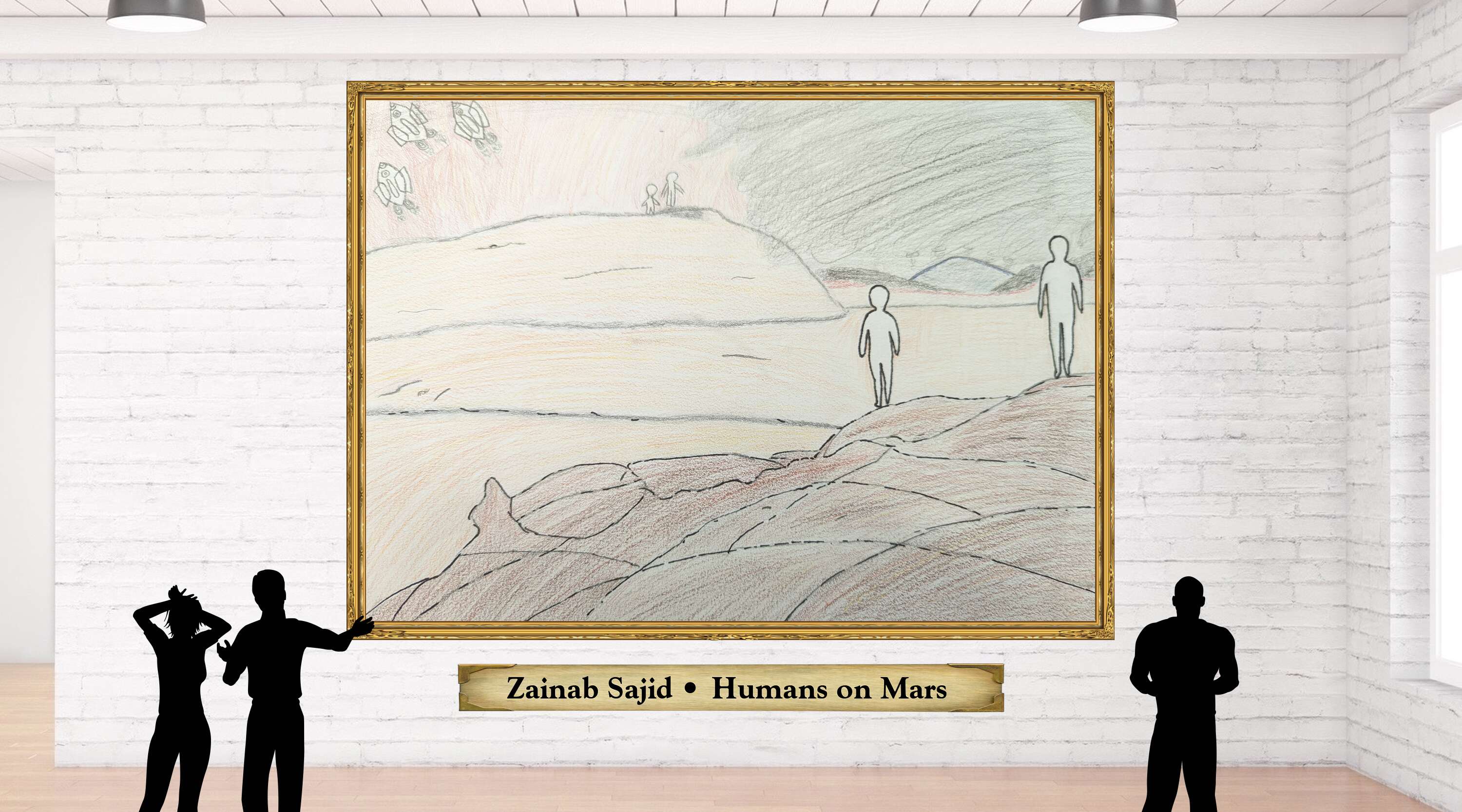 Kyle Salowitz • Two Mirror Realities
Imagine if you were in between 2 mirror realities.

I was thinking about black holes and how they look, I wanted to have a clock in the middle but decided that would be too much like the image viewed in class.

I used colored pencils and water colors to color my drawing.

The Surrealism lesson made me learn how to draw something realistically.

I made a city landscape and an alternate mirror world where the skyscrapers are plant houses.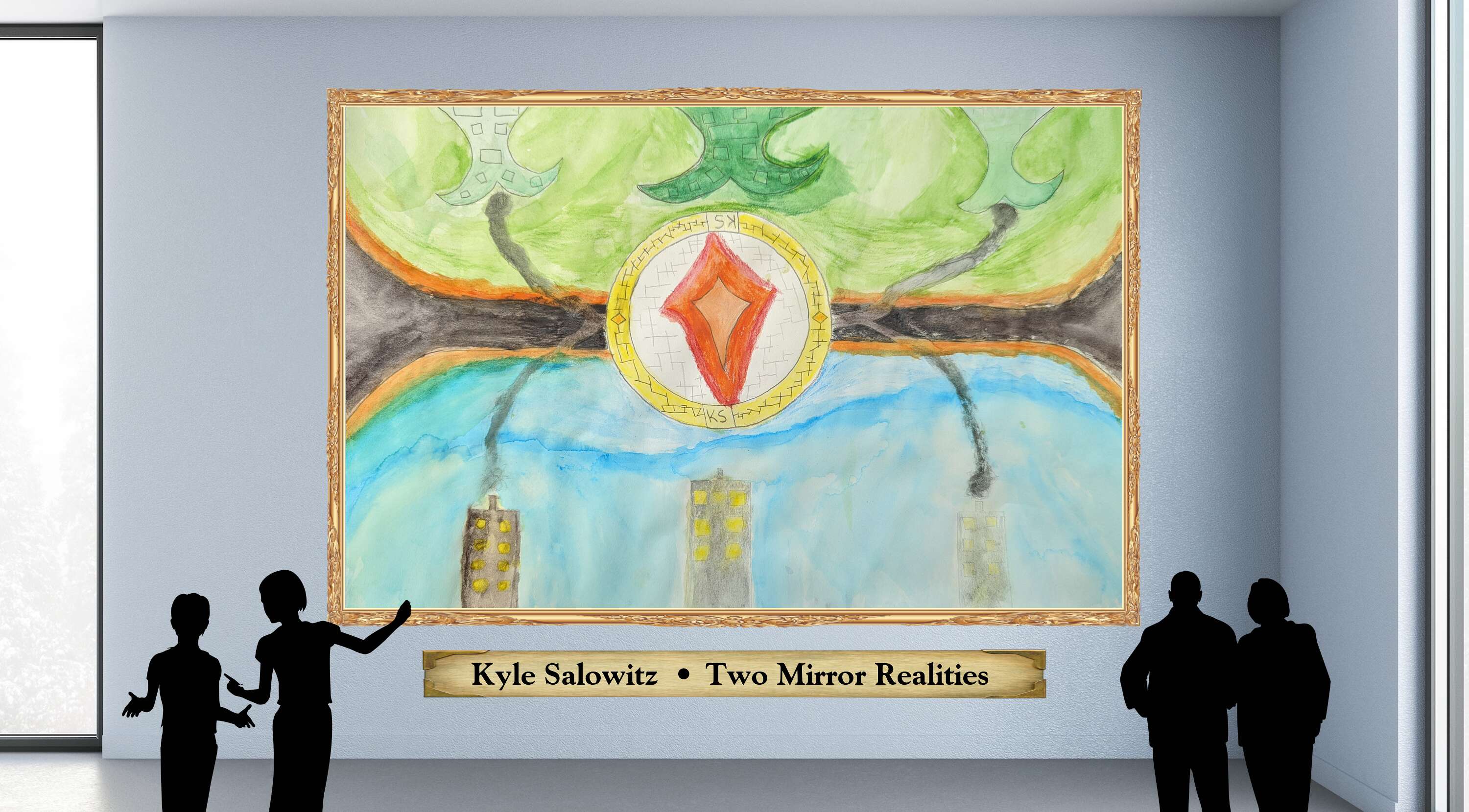 Yu Fang Zeng • The Impact of Time
Imagine if time had an impact on planet earth, where things turn abnormal, different from how we see it now.

When I was dreaming one day, I had a particular dream about 3:00 am. It changed my perspective of time and I thought of composing something similar to this.

I thought of places that seem familiar but at the same time ominous and scary, and a room with no doors was the answer.

Surrealism helped me a lot, I gained more knowledge of perspective and value as I drew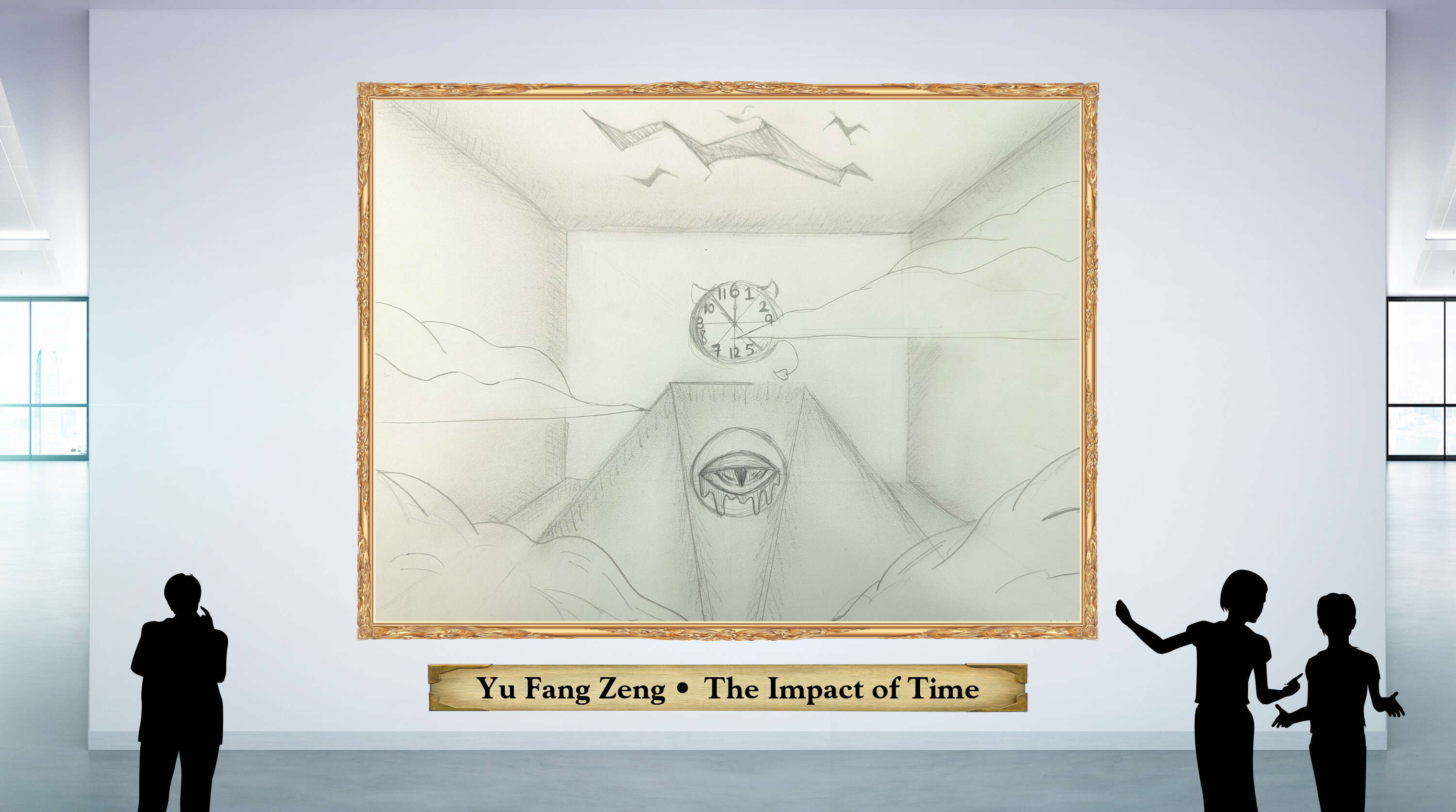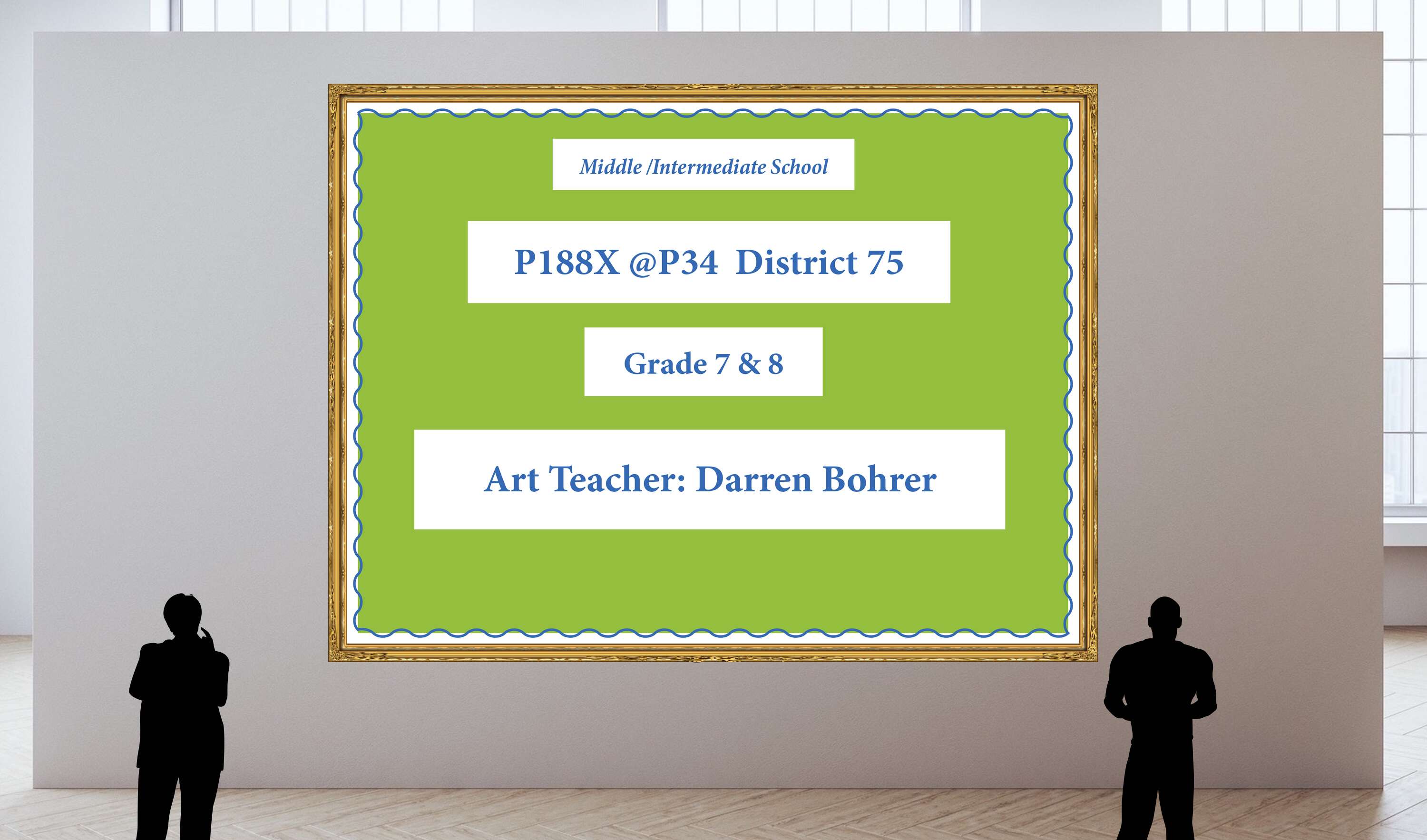 Aiden Parker • Grade 7 • Adidas Head
My sculpture is leaning on it's hand.

It has eyes like me. My sculpture needs a haircut.

I like my sculpture.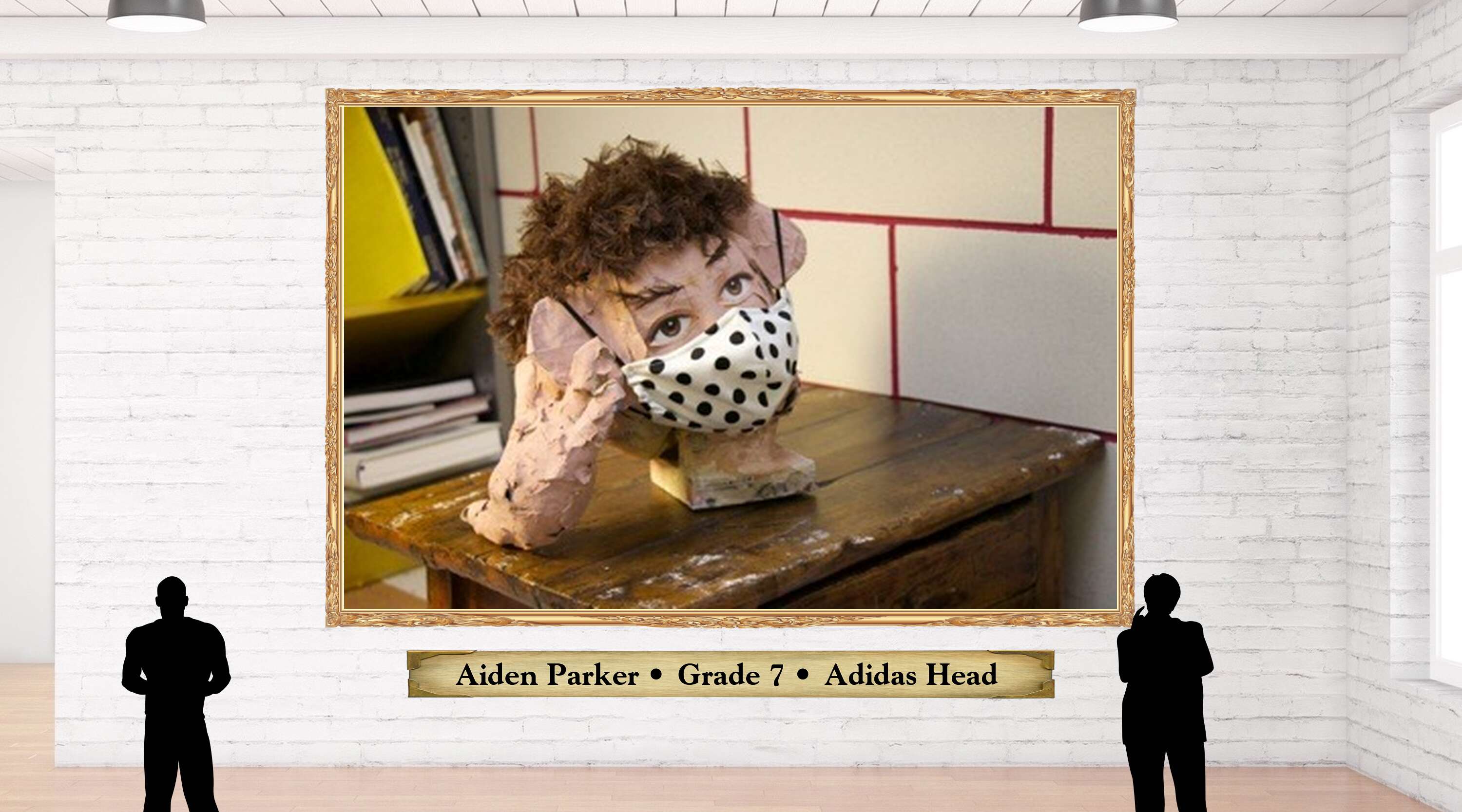 Mathew Rodriguez • Grade 7 • Self Portrait
My sculpture looks like me.

The hair and eyebrows are brown like mine.

My sculpture's head looks just like mine. My sculpture has glasses just like me.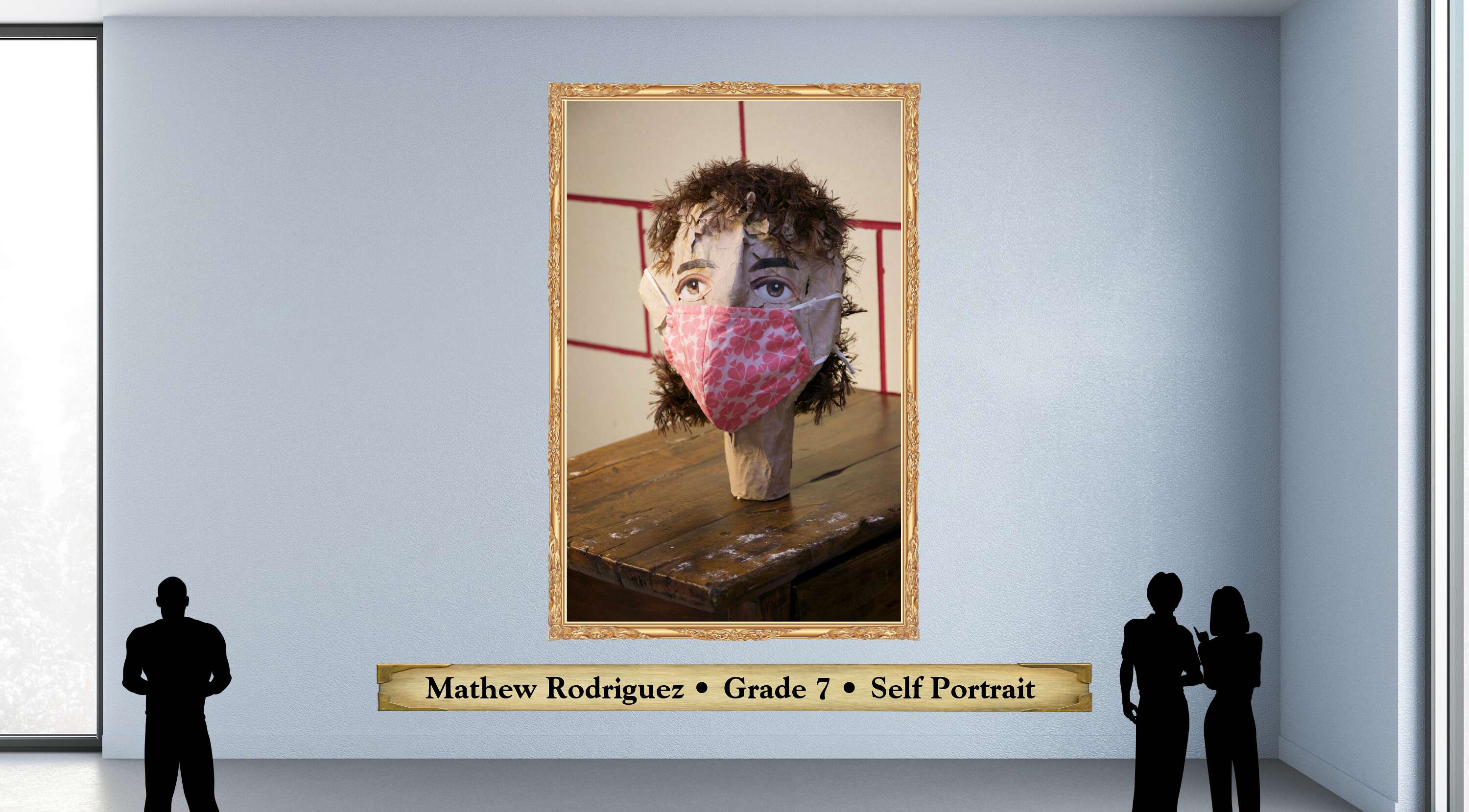 Damien Carter • Grade 8 • My Self
I made a paper mache sculpture.. My sculpture is the color brown.

The eyes are really close to the way mine look. The hair too!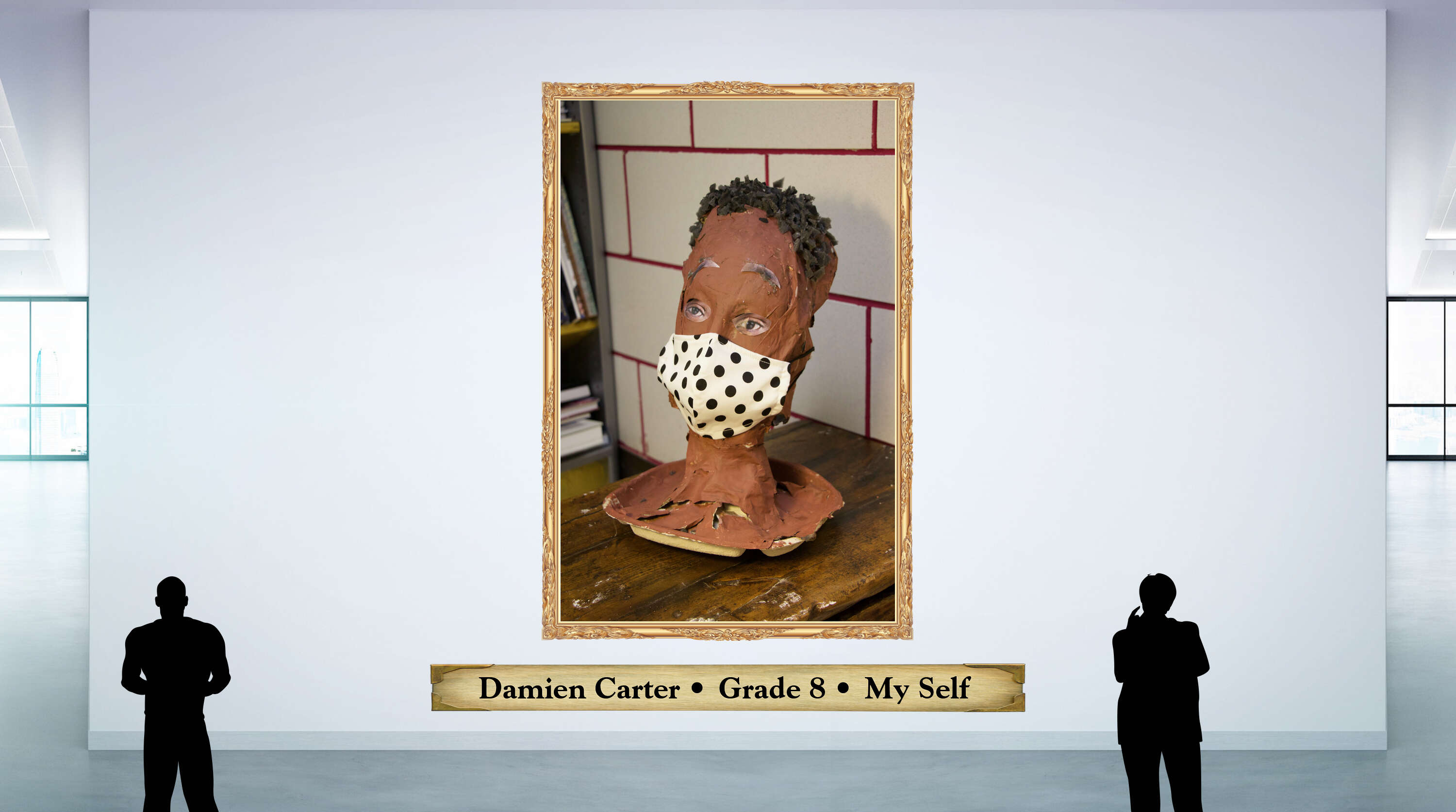 Emily Dunn • Grade 8 • Dr. Emily
My sculpture is made of paper mache.

My sculpture has long hair.

My sculpture Is wearing a mask. She wears a mask in the hospital.

I made a paper mache sculpture that looks like me.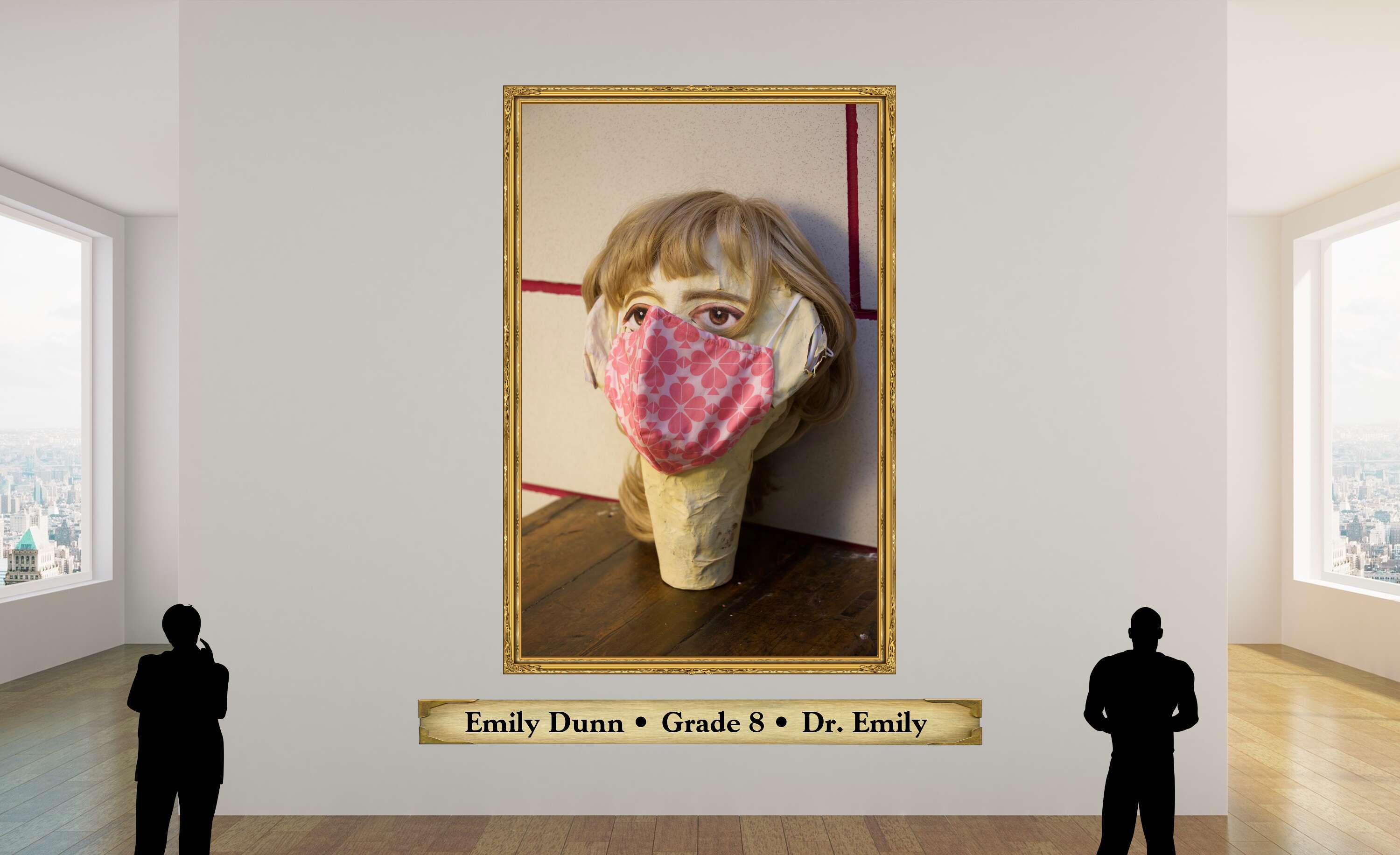 Anthony Guido • Grade 8 • Self Portrait Bust
My sculpture looks like me.

The hair and eyebrows are brown like mine. My sculpture's head looks just like mine.

My sculpture has glasses just like me.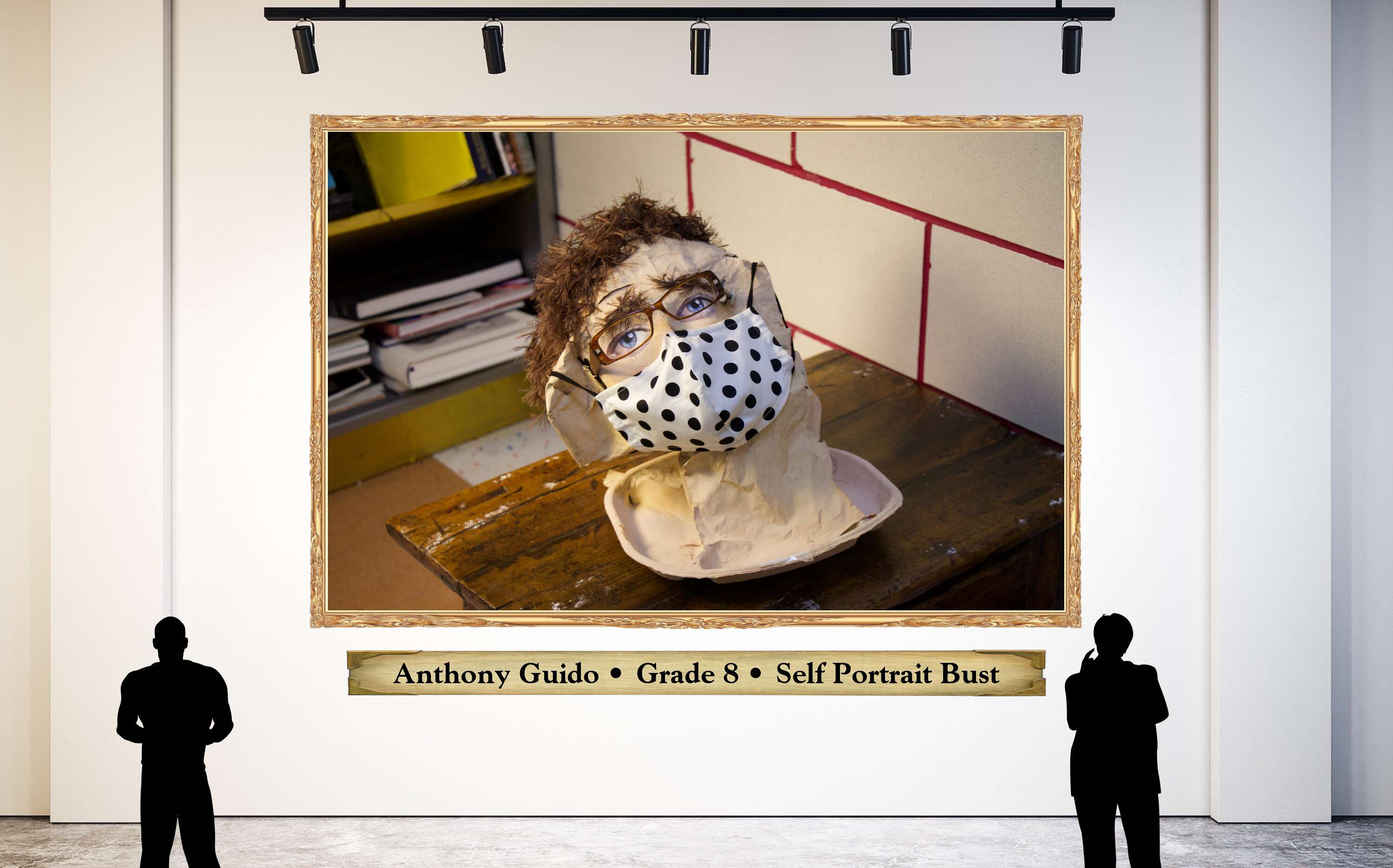 Keandre Wyche • Grade 8 •Keandre
I made a paper mache sculpture about me.

My sculpture has eyes like me.

My sculpture is like me.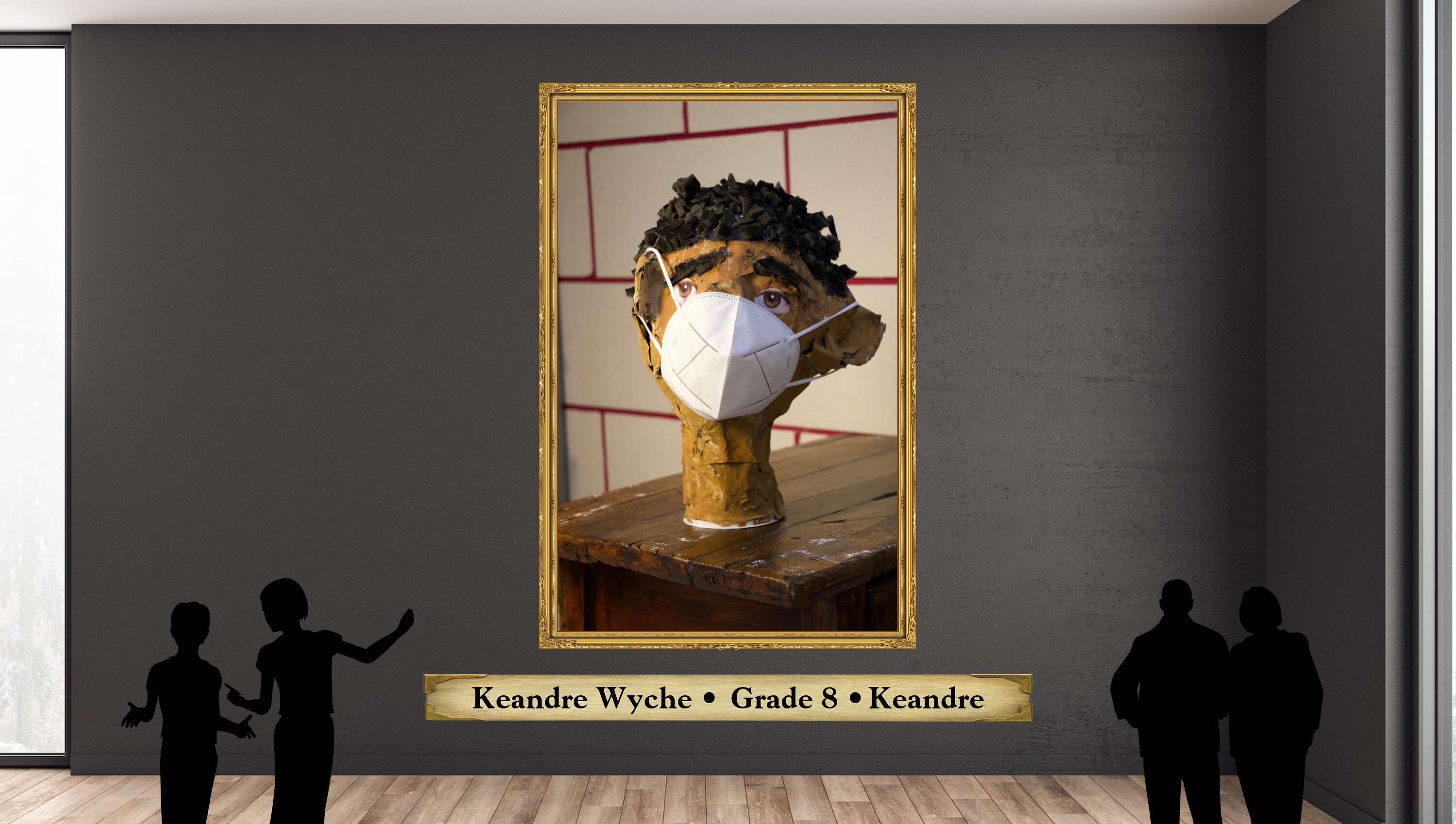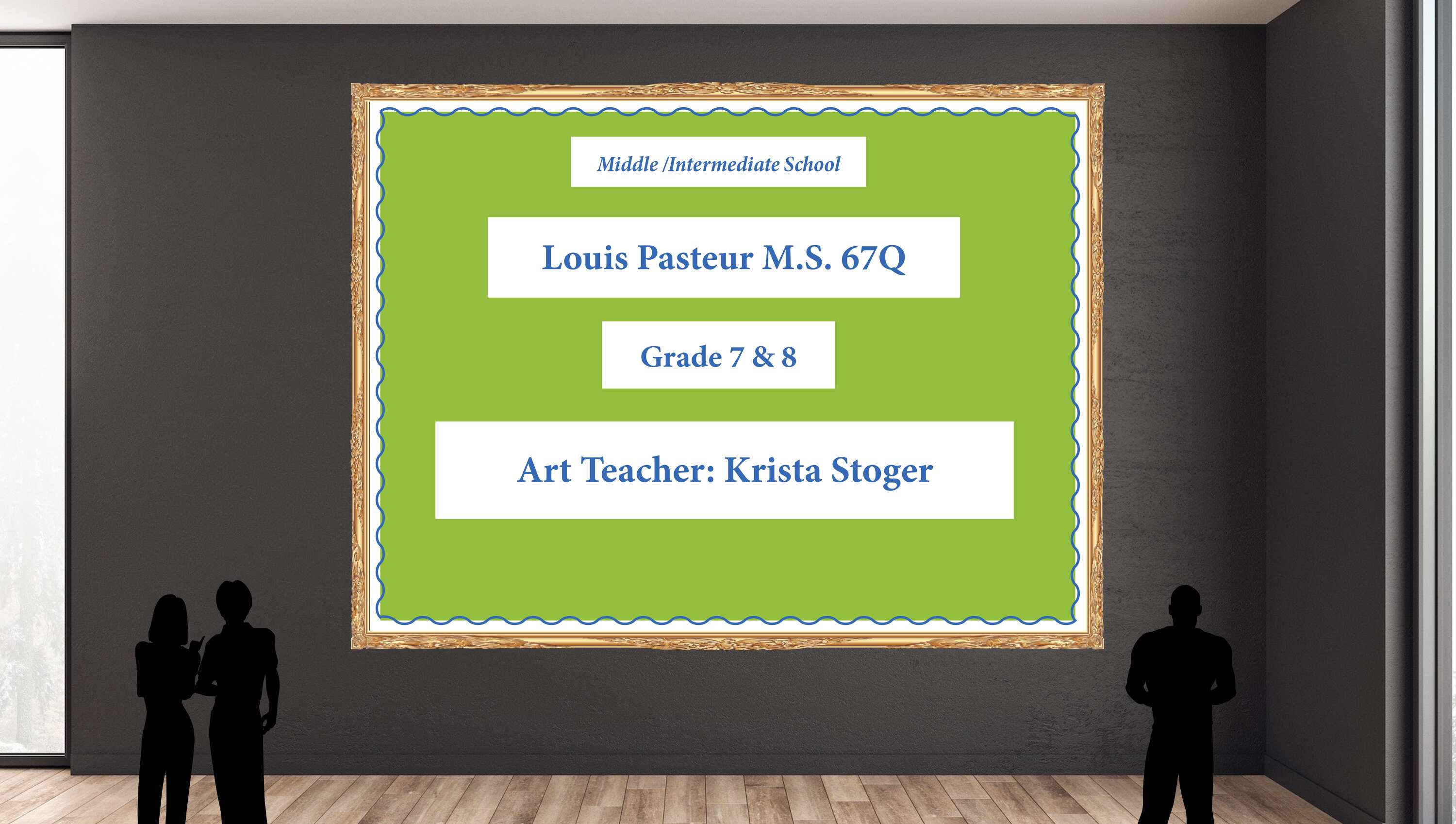 Mark Kim • Grade 7 • Golden Stairs & Blue Trees
Tall golden staircase
Reaching for the tranquil trees
Blending together.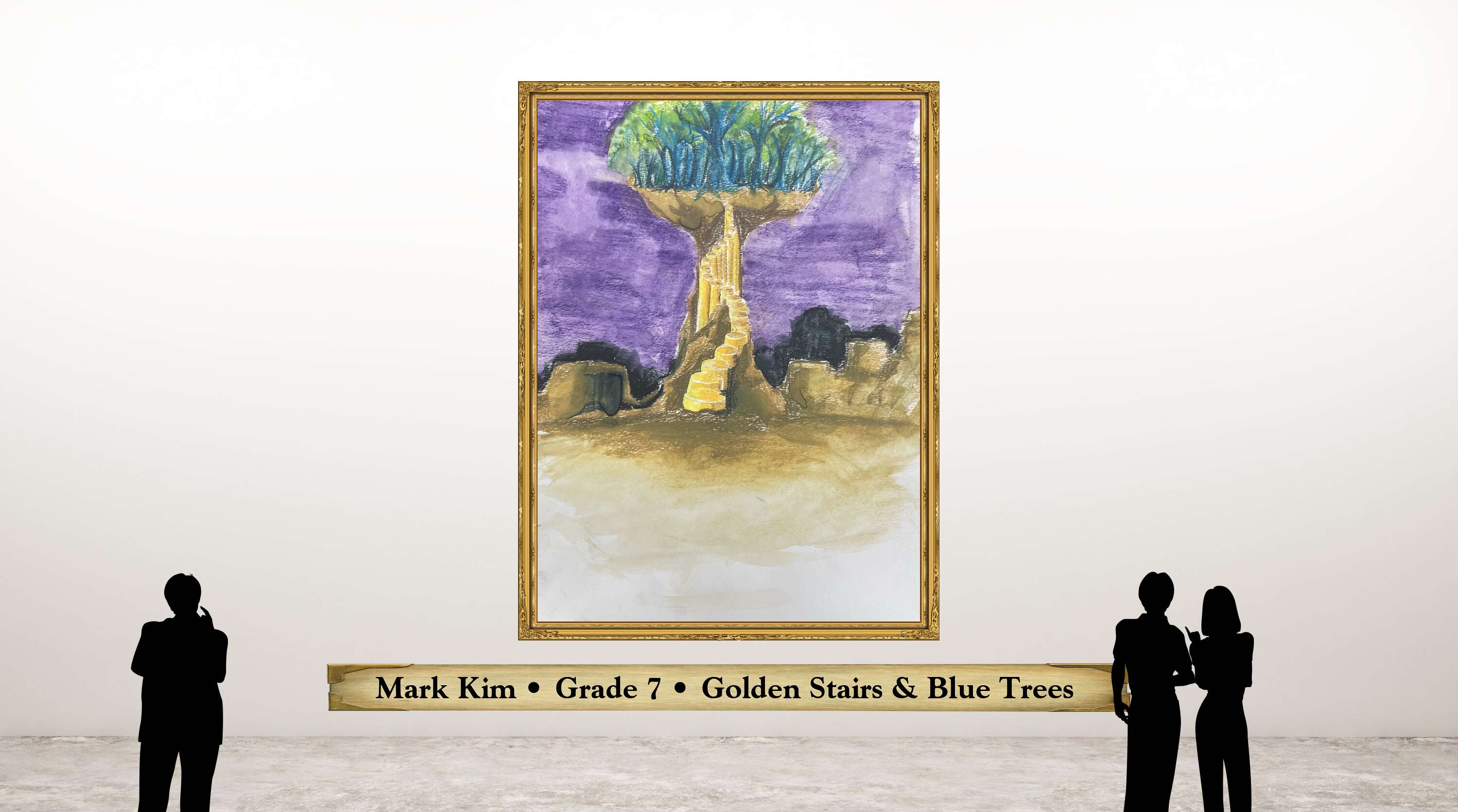 Jamila Jamali • Grade 8 • Not Everything Is Perfect
Imagine if you tried to be like the others.
It would be scary.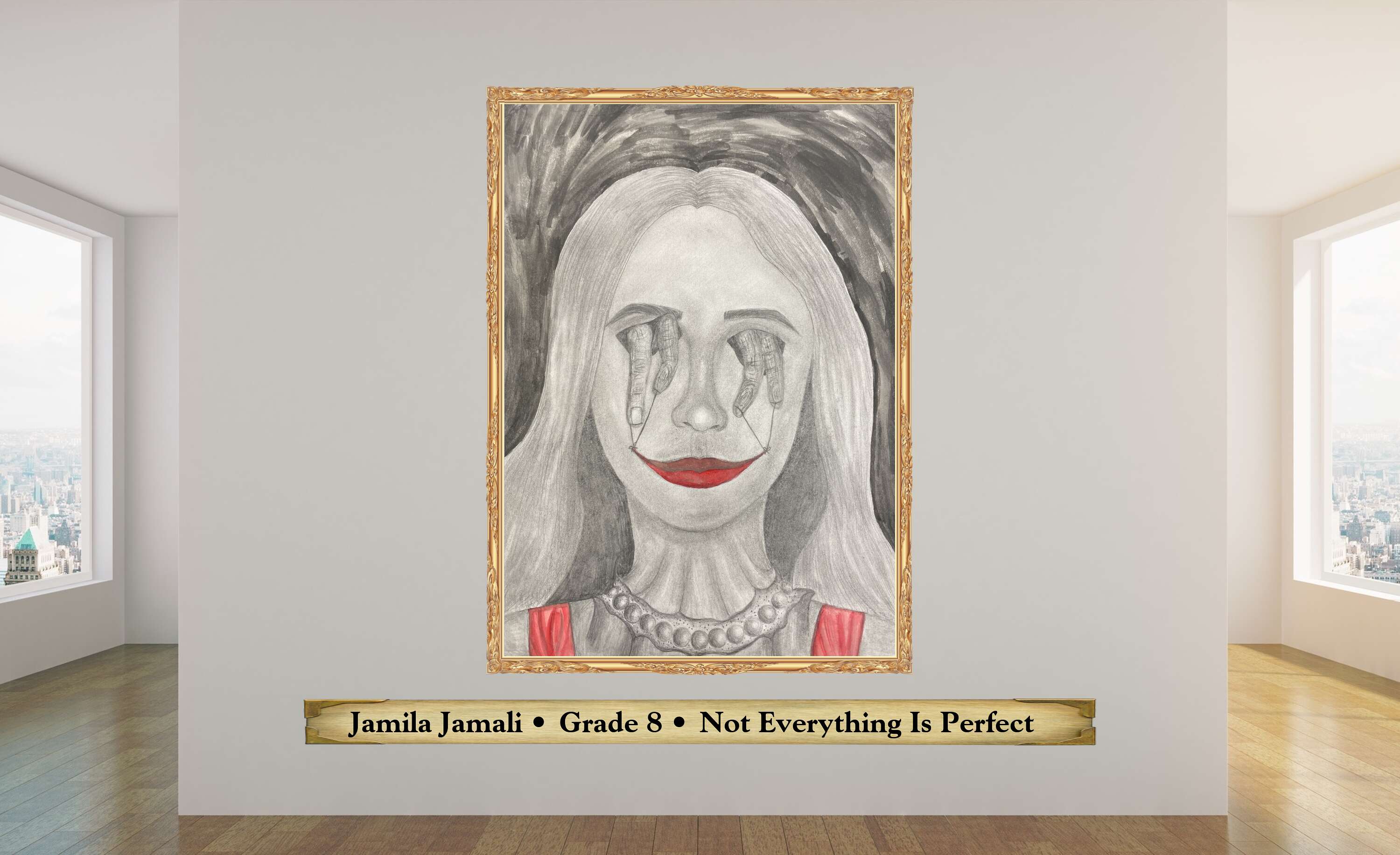 Kaitlyn Peets • Grade 8 • Eternal
Imagine watching a dancing sky.
The water flowing beneath the everlasting mountains.
Imagine If the stars shined so bright you can see them for miles
And the clouds are sprayed with sunlight.
Imagine If you're in an Eternal Paradise with the mountains so high
And the grass so green.
Imagine If you're at peace with yourself and the Nature around you.

Be that peace.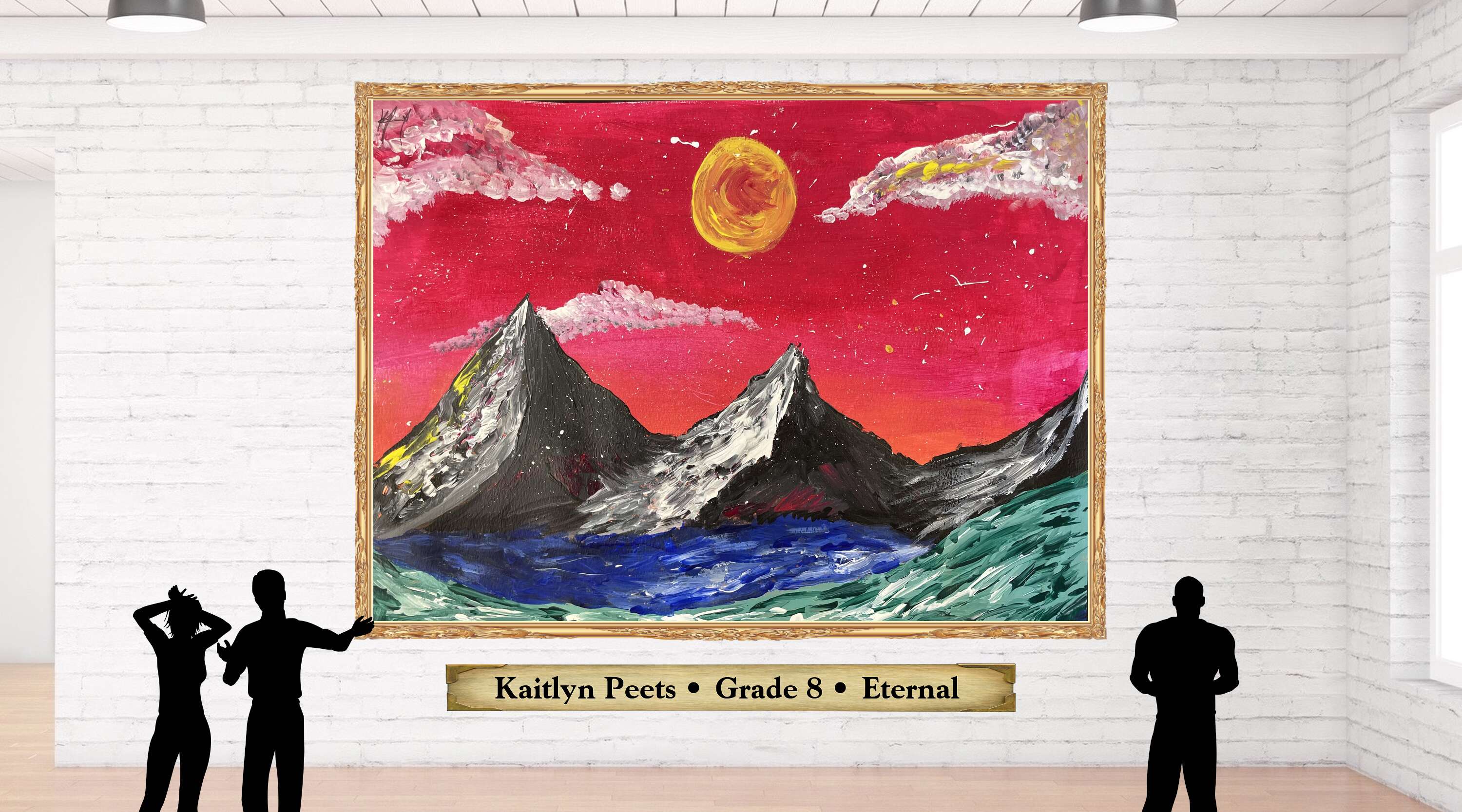 Simran Singh • Grade 8 • When the Dream & Real Combine
Colors spread through the air
sky night or dark.
The real and imaginative combine.

People can see the unreal
or what you can't imagine.

Dream the colors of your heart
Into a world of new.

Tradition and life combine.
Gold and black bring old and new.

The world is new.
Dreams are made real.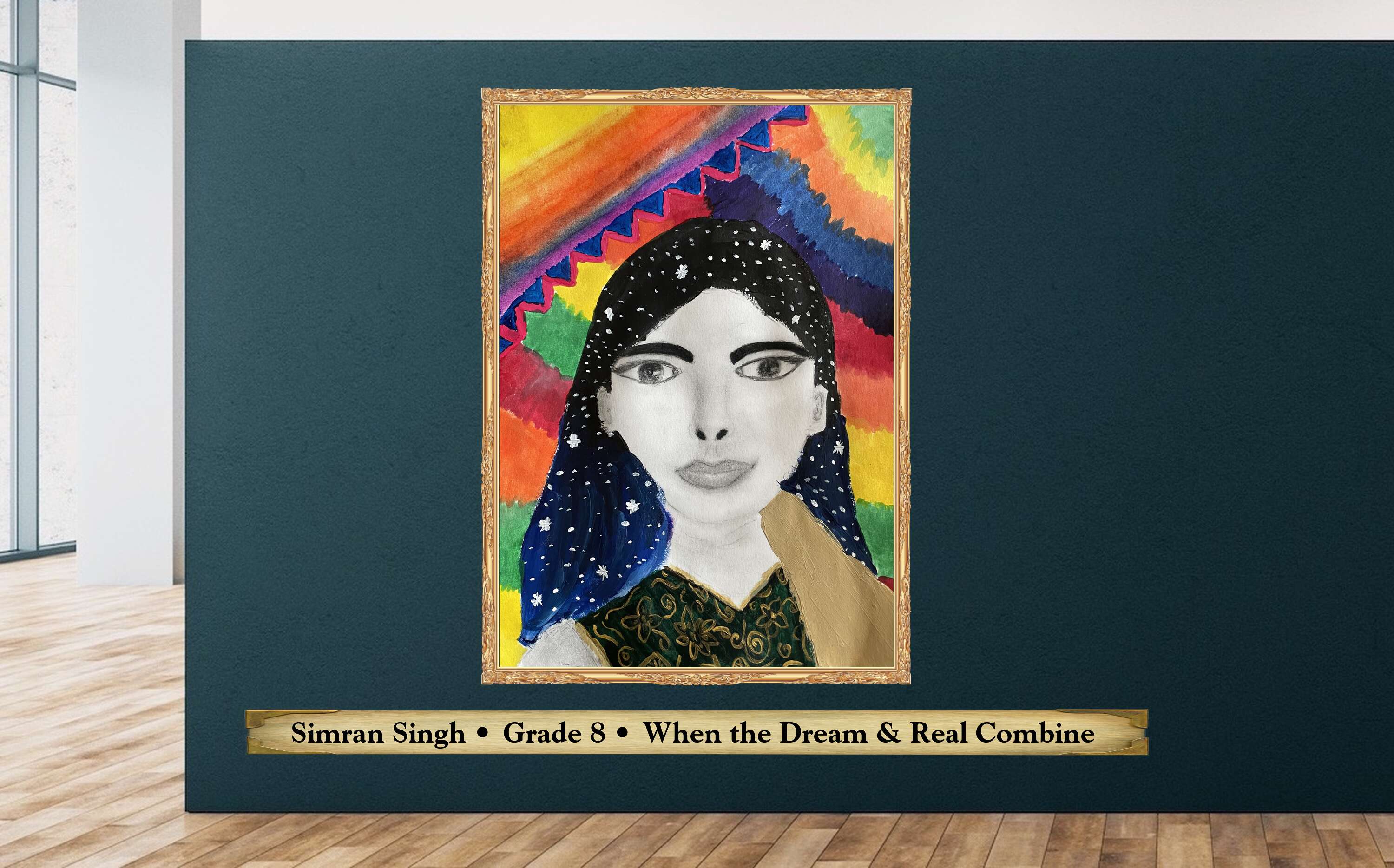 Winnie Yang • Grade 8 • Imagine IF...Self Portrait
Imagine if I…
Wasn't so confined inside
The world in my head.